Last Steel Beam Set On Aquarium's Pacific Visions Wing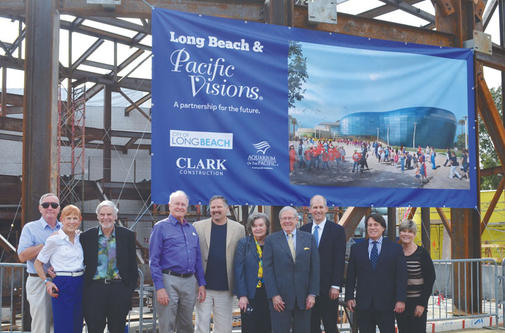 Pictured from left are Pacific Visions donors: Bob Hoffman, Aquarium trustee; Val Hoffman, Aquarium volunteer and trustee; Steve Mayer, former Aquarium boardmember; Steve Conley, Aquarium trustee and former boardmember; Molina; Margaret and Jerry Schubel; Erik Wedin, manager of corporate relations for American Honda Motor Co., Inc.; Steve Center, vice president of Honda's Environmental Business Development Office; and Polly Escovedo, chief of bonds and grants for the California Natural Resources Agency.
The Aquarium of the Pacific celebrated the placement of the final steel beam (pictured at right) of its 29,000-square-foot Pacific Visions expansion project on January 30. More than 100 people signed the beam during a VIP ceremony, including Aquarium President and CEO Jerry Schubel, Mayor Robert Garcia, 2nd District Councilmember Jeannine Pearce, Aquarium Board of Directors Chairman John Molina, and Clark Construction's Western Region Senior Vice President Marc Kersey and Senior Project Manager Tom Farrar. One of the Aquarium's Magellanic penguins also 'signed' the beam by walking across it with paint on its feet.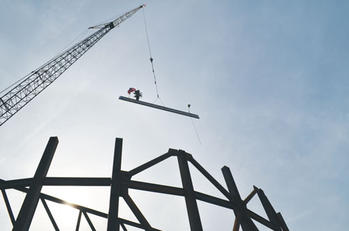 "Pacific Visions will provide an aquarium experience unlike any other and will help our visitors gain a deeper understanding of their relationship with our planet," Schubel said. Once completed, the new two-story, sustainable biomorphic structure will emulate the form of a whale while evoking "the size, depth, variability, luminosity and biological diversity of the Pacific Ocean."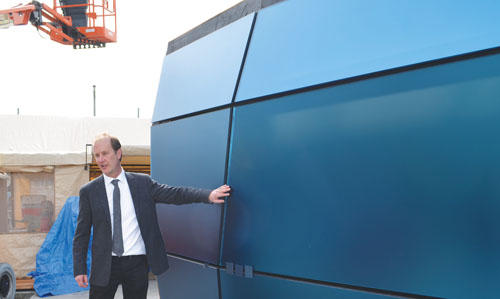 Top right: EHDD architects' Principal-in-Charge Duncan Ballash discusses the design of Pacific Visions, including the triple-layered glass facade that will cover the new buildings' exterior.
The development includes a state-of-the-art 300-seat immersion theater, an exhibition and art gallery space, and an additional live animal exhibit space. The $53 million project, which broke ground last February, is the Aquarium's first major expansion since opening in 1998. Pacific Visions is scheduled to open to the public in spring 2019. (Photographs by the Business Journal's Pat Flynn)
13th Annual Amgen Tour Of California Begins In Long Beach On May 13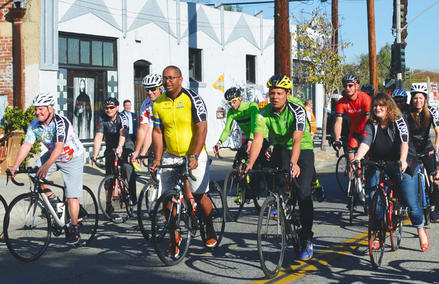 The first leg of the men's 2018 Amgen Tour of California begins in Long Beach on Sunday, May 13, as professional cyclists and their teams race along the city's waterfront from Shoreline Drive downtown, along Ocean Boulevard to the edge of Belmont Shore on the southeastern end, then adding a loop around 4th Street's Retro Row before returning downtown. Cyclists will complete 12 laps on the course, totaling about 83 miles. The seven-day, Tour de France-style road race then heads north to Ventura for Stage 2, followed by races in King City, San Jose, Stockton to Elk Grove, and Folsom to South Lake Tahoe. The final stage is in Sacramento on May 19. Cyclists are expected to travel 645.4 miles. The Amgen Tour of California is owned and presented by AEG, and is considered the largest cycling event in the U.S.

"I'm excited about the season ahead and will be working hard to make the 2018 season a hugely successful one," Mark Cavendish, a race veteran with 30 Tour de France stage wins, said of the event. "The Amgen Tour of California has always been an incredibly special race for me, and will once again be a priority in my race calendar this year in the lead-up to the Tour de France." To mark Long Beach's participation, a ceremonial bike ride was held February 8 beginning at Portfolio Coffeehouse at 4th Street and Junipero Avenue. Participants included City Manager Pat West, Vice Mayor/9th District Councilman Rex Richardson, 2nd District Councilwoman Jeannine Pearce, former Olympian and Long Beach Bike Ambassador Tony Cruz, and Kristin Klein, senior vice president of AEG Sports and executive director of the Amgen Tour of California. The Long Beach leg is expected to attract thousands of residents along the route to cheer on cyclists. (Photograph by the Business Journal's Pat Flynn)
Hector Cademartori Named Official Artist
For The 2018 Toyota Grand Prix Of Long Beach
Buenos Aires-born artist Hector Cademartori has been named the official artist of the 2018 Toyota Grand Prix of Long Beach – the event for which he produced his first official race poster in the U.S. in 1984. That poster featured the #40 Indy Car of then-driver Chip Ganassi.
Cademartori, who lives in LaVerne with his wife, Florencia, started out drawing Lotuses, BRMs and Ferraris in his note pads at school, and his fellow students loved them, according to a statement from the Grand Prix Association of Long Beach. "Over time," the statement continued, "he learned to appreciate the history of racing in the 1930s, '40s and '50s, and the romance of those years which lend themselves to beautiful art."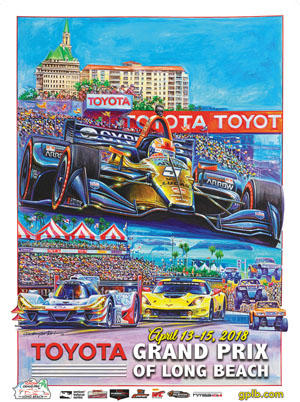 "I just wanted to be in racing. I wasn't a mechanic or a fabricator, or designer, or driver, or sponsor, so I used my artwork to be in the racing business," Cademartori said. "I consider myself a racer with a brush. I hope this won't disappoint those who follow my work, but I used my art to be around racing . . . my priority isn't art but motor racing." He races his 240Z in two vintage racing associations.
Cademartori moved from Argentina to the U.S. in 1983 to specialize in motor racing art. His client list includes racing teams, corporations, magazines and private commissions and his work includes art in Dan Gurney's All American Racers offices, Indy 500 yearbook covers, Lucas Oil, The Mitty, SVRA, La Carrera Panamericana of Mexico and Auto Club Speedway posters, national  automobile and motorcycle magazines and book publishers, as well as manufacturers such as Kawasaki USA, American Honda, and Yamaha USA, Toyota Motorsports, TRD and many others.
Tickets to this year's race range from $22 for a Friday General Admission ticket to $147 for a three-day ticket that includes Saturday and Sunday reserved seating in grandstand upper levels. For more information about tickets, special packages and the events surrounding the race, visit:  www.gplb.com.
Fans can also follow the Toyota Grand Prix of Long Beach on Facebook at GrandPrixLB, Twitter @ToyotaGPLB, Instagram at ToyotaGPLB and Snapchat at ToyotaGPLB.
Former Comfort Inn Debuts As New Boutique Hotel, The Cove
The Cove Hotel, a 76-room boutique lodging at 200 E. Willow St., made its debut in January. The owner, MS Investments Inc., had operated the property as a Comfort Inn & Suites since 2006 before making extensive upgrades and rebranding the hotel this year.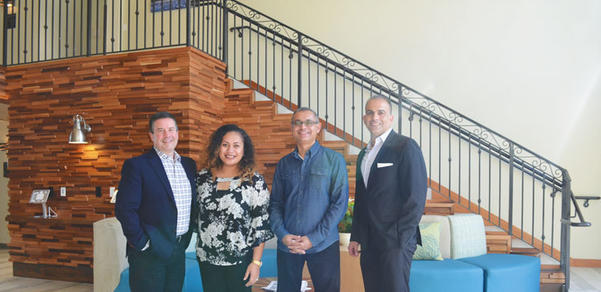 Long Beach Area Convention & Visitors Bureau (CVB) President and CEO Steve Goodling, left, recently paid a visit to the city's newest boutique lodging, The Cove Hotel at 200 E. Willow St.. Pictured in the hotel's lobby with Goodling are, from left: Noeleen Bette Taufete'e, general manager; Sanjay Patel, president and CEO of parent company MS Investments; and Michael Markarians, president of Tee Hospitality, a firm that provides sales and marketing services for the hotel. Marie Hawkins, below left, is the front desk clerk for The Cove. The beach-themed boutique hotel features 76 guest rooms, a heated pool, a bar, and a variety of in-room amenities such as Wi-Fi, 50-inch HDTVs and more.
"The past 10 years, business has been good," Sanjay Patel, president and CEO of MS Investments, said. "We had the occupancy demand, but we weren't able to move the ADR [average daily rate] needle, I felt because of the brand," he explained. "That was the vision behind putting more money into the project, putting in a bar, and having a food component so that we can basically increase the ADR."
The new hotel is described as having a "contemporary coastal style," with guest rooms designed in a color palette of blues, creams and beiges. A variety of options are available for guests, including one-bedroom suites, two-bedroom suites, king junior suites, double queen rooms, king rooms and king rooms with a balcony. For groups, four interconnecting rooms with separate living areas are available.
The property's multiple buildings have been connected so that all rooms are accessible via the lobby elevator. Upgraded room amenities include high-speed Wi-Fi, 50-inch Smart HDTVs with HBO, rainfall shower heads, Keurig coffee machines, microwaves and more. The outdoor heated swimming pool includes new lounge chairs and cabanas, as well as a large fire pit. The property also features a lush courtyard, Patel noted. The hotel now includes a wine and beer bar and, while it does not have a full kitchen, is working on a menu of items such as sliders, pizza and sandwiches, according to Patel. There is more than 1,400 square feet of meeting space at the hotel, which is able to accommodate groups of up to 100.
Patel said he chose to rename the property The Cove Hotel to evoke a sense of tranquility, peacefulness and a place of shelter.  (Photographs by the Business Journal's Pat Flynn)