New Long Beach-based investment real estate advisory firm Centennial Advisers is changing the way its experienced brokers do business. Formerly employed by longtime local firms, the company's advisers are working in a more collaborative environment than ever before.
"I think it's the natural evolution of the business, really," Director Justin White said. "Historically, [at] the places I've been in the past, it was very siloed: you control your [own] information, you don't share, and ultimately it's a detriment to the client. Here, with how open we are and working together and sharing information, we can get more real-time information in the hands of these clients so they can make more profitable decisions."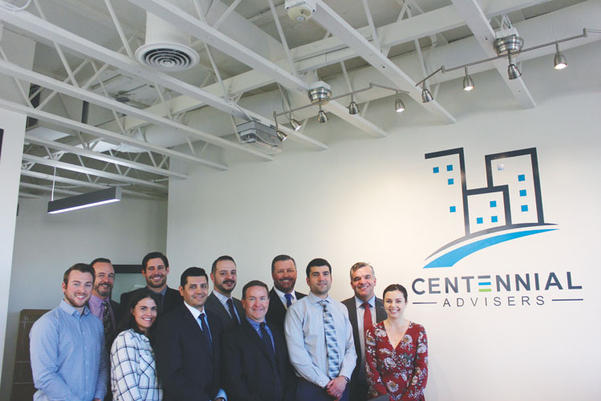 Centennial Advisers, a new Long Beach-based investment real estate advisory firm, operates as a collaborative unit in an effort to bring clients a higher and more profitable level of service. Managing Director Justin White explained that real estate brokers often keep deals and information close to the chest, but that his philosophy is that teamwork brings the best results for both the company and the clients. Pictured from left: Kevin Green, research analyst; Eric Christopher, senior investment adviser and director; Jolene Vredenburg, operations analyst; Michael Alper, multifamily investment adviser; Ryan Rayburn, senior investment adviser; Stelios Zoumberakis, multifamily investment adviser; Doug Shea, director of commercial sales and leasing; Mark Beat, multifamily investment adviser; Peter Pappageorge, commercial sale and leasing adviser; White; and Anna Beckman, transaction analyst. (Photograph by the Business Journal's Brandon Richardson)
White, a Long Beach native, has 18 years of experience as a salesperson, broker and office manager up and down the West Coast. He joined Investment Property Group, now Tricor, in 2014, where he stayed until undertaking the development of Centennial last November.
In January, with infrastructure and support in place, Centennial Advisers simultaneously opened offices in Tustin, Burbank and Long Beach, which serves as the company's flagship operation. In all, the company has 10 advisers and five support staff between the three offices, which all work together to create a unique and beneficial environment for clients.
At Centennial's office at 5508 E. Britton Dr., above E.J. Malloy's Pub & Grill, all employees and advisers work in a common open space to promote teamwork and collaboration. Centennial Partner Doug Shea explained that this setup gives brokers better awareness of others' needs and information is shared more quickly.
"If one guy is hearing about a transaction that you're doing, maybe he can help and bring another client in," Shea said. "You're hearing other deals, you're hearing people say, 'Hey, I need this,' and, boom, right away you have it. Instead of hiding behind a closed door saying, 'Man, I wish I had another 20,000-square-foot retail center,' now you say it out loud and this guy over here has it. It's more collaborative and it works."
Centennial focuses on commercial real estate, including office, retail and industrial space, as well as multi-family residential. Shea is leading the commercial division, while the company has several brokers focused on multi-family. Adviser Pete Papageorge concentrates on the niche market of self-storage facilities. He said Centennial's business model keeps him more motivated and driven by being able to collaborate with others. He added that White keeps the team on its toes and holds them to high standards.
The goal is to ensure that the Burbank and Tustin offices – as well as potential future offices in Los Angeles, the Inland Empire and San Diego – perform on par with the Long Beach office, according to White. He said the most difficult aspect of expanding is finding the right people for the job.
"The challenge with growth is making sure you bring in great people who are aligned with the mission of the firm versus just trying to get as many different business cards and addresses as you can," White said. "It is a very siloed, very individual industry. But here you have to make the commitment that you are going to make your contribution for your clients to benefit from the collective expertise of our entire team."
After one month of operating, Centennial has 12 listings and is preparing to close its first deal. The group represented both the seller and buyer of a six-unit apartment building at 1501 E. South St. in Long Beach. White said Centennial competed with five other brokers from four companies for this opportunity and ultimately proved they could offer the best service.
The private seller from Washington put the property into a charitable remainder trust to benefit disabled veterans. Navy veteran and Centennial Senior Associate Eric Christopher brought in the buyer, who already owns investment properties in Long Beach, to close the deal at $970,000. This equates to about $300 per square foot and 18 times gross, which is a record for Long Beach in this cycle, according to White.
"I came in here on January 8. Mike [Alper, a multi-family adviser with Centennial,] had a listing, [and] I had a buyer I knew would be perfect for it. We got together . . . and in 17 days we had our first deal done," Christopher said. "We work as a team, we have better representation. It's actually really cool when you think about it compared to what everyone else does – screw your neighbor, hide your listing, try to get both sides."
Centennial adviser Mark Beat, who has more than 15 years of industry experience, said the collaborative business model is "a breath of fresh air." Though he said the transition was scary at first – leaving a stable position for something new – the new environment is what he needed to re-inspire him in his work. Ryan Rayburn, senior associate at Centennial with 13 years of broker experience, said it is refreshing coming from a company some would describe as a "shark tank," to the collaborative environment of Centennial.
In a business where money is made through commissions on sales, White said that collaboration will not necessarily mean less money for Centennial's advisers. Commissions will be split based on the effort each individual put into a given sale, he explained. However, he continued, working as a cohesive unit will likely facilitate more deals and more money to go around. White said the number of listings Centennial accumulated in its first month is proof of the method.
"Through collaboration, the number of successful closings will increase compared to those places that are more siloed and individual. If there is a bigger pot of success to share, everybody ends up doing better," White said. "The clients do more deals because they have better opportunities, and the advisers end up making a little more in the long run because they did some deals that they never would have been able to do on their own."