Sustainability is increasingly becoming a priority for couples planning their big day, according to local events professionals. In Long Beach, there are plenty of venues and vendors at the ready to help engaged couples incorporate sustainable elements into their weddings.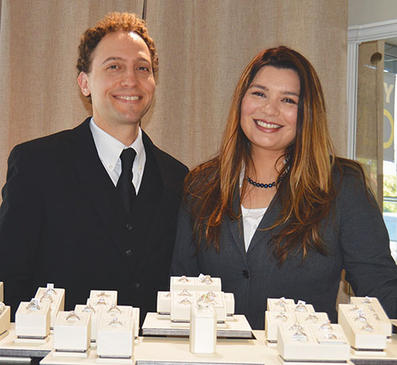 Lourdes Valles, right, co-owner of Gems & Jewels Fine Jewelry, said there are several options for sustainably sourced wedding rings, including vintage rings, man-made diamonds and moissanite, a diamond substitute. She is pictured with co-owner Jeffrey Winnick at Gems & Jewels Bixby Knolls location, 4130 Atlantic Ave. #102. (Photograph by the Business Journal's Larry Duncan)
More couples are opting to have their weddings at scenic locations during the daytime, thereby cutting back on waste from decorations and energy use from lighting, according to Sofia Riley, president of Long Beach-based Thank Goodness It's Sofia (TGIS) Catering.
"Both ranchos have become so popular because in a garden setting you don't really need to spend a lot or bring in a lot of decor," Riley said, referring to Long Beach's Rancho Los Alamitos and Rancho Los Cerritos. "The setting is really most of the decor."
Riley noted that she has also seen more people being mindful of the impacts of traffic and travel, with fewer couples opting for destination weddings. "The other thing that is really popular right now is the ceremony and reception being in one area so people are not having to drive from one to the other," she added.
In addition to using existing greenery for decor, some couples are opting to incorporate reusable living walls of plants for backdrops, according to Dan D'Sa, director of Grand Food & Beverage. "They are actual floral walls that set a visual as a backdrop. And you farm it as if it were a crop," he explained. Similarly, reusable hedge walls have also become popular, he noted.
Couples focused on sustainability are also increasingly using potted plants rather than cut flowers for centerpieces. "What we're seeing is a lot more succulents," D'Sa said. "It is more of a natural thing that can be replanted, rather than an individual flower that gets chopped and it's beautiful for the day and then you throw it away."
Erica Noriega, special events manager for the Aquarium of the Pacific, noted that couples using the Aquarium as a wedding venue often opt for centerpieces that do not involve cut flowers, such as rented faux floral arrangements. "People will rent them so that they are not just being used once," she said.
"Quite a few greenies" have gotten married at the Aquarium, according to Noriega. "A lot of people who have their events at the Aquarium are already sort of eco-friendly minded anyway. We definitely have had people who want to incorporate that into their event with everything from the catering to centerpieces to gifts and trying to make sure that people stay local," she said.
All of the seafood available through the Aquarium's catering service is sustainably sourced. "We have a person on staff who keeps track of the latest trends and what's going on in the oceans to make sure it's the right season for certain fishes and to make sure that we're using sustainable fisheries," Noriega said. "And then we also compost, and we have got a food bank that will pick up unused food to make sure that we're wasting as little as possible."
The Aquarium also recently joined an initiative to cut back on plastic use, and it has committed to eliminating single-use plastic straws and bags in its operations. Additionally, the venue has solar power and uses graywater for much of the horticulture on site, and it uses the greenest cleaning products and other supplies as possible, Noriega noted. "All of our construction at the Aquarium has been done to LEED Gold Standard or higher. So we do pretty much everything we can do to make sure we are walking the walk," she said.
Riley said that her company offers "curated local cuisine" and organic options free from pesticides or hormones. More couples are also opting for sustainable dinnerware. "More and more of our brides are insisting on china because it's reused time and time again. But when we reuse disposable wares, it's sustainable," she said.
The Grand's president and CEO, Jim Choura, has made it a company practice to source produce locally for years, according to D'Sa. "We only utilize our local farmers market and the L.A. produce market. We don't buy any of our produce from any food vendor. We personally drive out three times a week and pick it up," he said. "Jim has been passionate about that forever because it keeps money in our community and it benefits our local area."
The Grand recently hosted a vegan wedding where sustainability was a top priority, including when it came down to food presentation. All of the serving plates for the event, for example, were made from palm fronds that had fallen to the ground. "People farm it. They go and pick it all up. They compress it down and they mold it into plates," D'Sa said. The plates are biodegradable. "It has got a beautiful, natural look to it where you can actually see the palm detail to it."
D'Sa noted that The Grand is a green operation. "We go as light as we possibly can on all paper goods. All of our cleaning products are green," he said. The venue also features all-LED lighting, solar power and its own generator.
Both Riley and D'Sa also pointed out that many couples are using vintage or rented items for table dressings and décor throughout the event.
Sustainably-sourced engagement rings and wedding bands are also higher in demand, according to Lourdes Valles, co-owner of Long Beach's Gems & Jewels Fine Jewelry.
"We absolutely do see more requests for items that have a low footprint on the environment. And engagement rings are actually something that can be very easy to make sustainable because there are so many options," Valles said.
Pre-owned gemstones or vintage rings are one popular option. An existing ring can be redesigned to meet a couple's desires, or existing gems can be incorporated into new or vintage settings, according to Valles. Using existing materials reduces environmental impacts and saves resources. "In reality, there are so many gorgeous stones, especially the vintage ones, that are available that can be used for engagement rings that have virtually no impact on the environment," she said.
Man-made diamonds are another option. "They are made in a facility that has equipment that can pressurize carbon and make the diamond," Valles explained. "There isn't much difference in quality. It looks the same and it conducts the same heat." Moissanite, a diamond substitute, is another choice for a sustainable ring, she noted.
Noriega pointed out that couples are also cutting back on the use of mailed invitations to their weddings and pre-wedding parties such as bridal showers. Some go even further to help the environment. "We have had couples, especially if they have been together for a really long time or if it's a second marriage, we have had people who have asked in lieu of wedding gifts to make a donation to us or another environmental charity," she said.
"You sort of see people caring about the earth more and more as that messaging gets out there about climate change and all of the things that are going on in our world," Noriega said. "We see people just more concerned about not being part of the problem but part of the solution."