When it comes to trends for bridesmaids and groomsmen – from clothing to their roles during and leading up to a couple's wedding day – flexibility is the new name of the game. While some couples still opt for more traditional aesthetics and roles for their wedding parties, others are opting for more relaxed, personalized touches and involvement from their entourages.
"Just in general, everything is a lot more flexible now," Camille Simmons, owner of Long Beach events planning shop Planning Pretty, told the Business Journal. "There used to be some strict traditions, and some people don't want to follow strict traditions and roles of bridesmaids and groomsmen."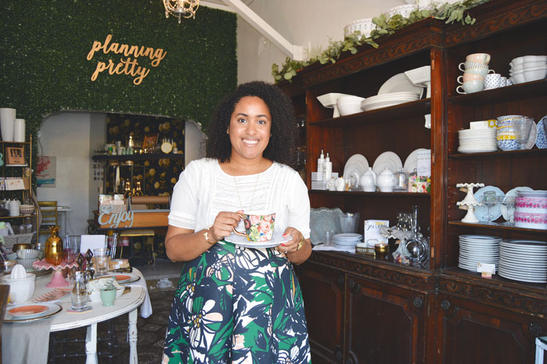 Camille Simmons, owner of Planning Pretty at 2742 E. Broadway, said that bridesmaids often each take on a responsibility when planning a bride's bachelorette or bridal party. (Photograph by the Business Journal's Larry Duncan)
Perhaps one of the most noticeable ways tradition is increasingly being eschewed is through co-ed wedding parties. Traditionally, women are bridesmaids and men are groomsmen, but according to events professionals, that is changing.
"I know many brides have a man of honor instead of, you know, the traditional [maid of honor]," Lisa Lyons-Gentile, senior catering sales executive at the Renaissance Long Beach, said. "So people are a little bit more again relaxed, a little bit more inclusive. I know they are even doing co-ed bachelor or bachelorette parties or trips," she added.
Simmons pointed out that bachelor and bachelorette parties, which are typically planned by wedding party members, are increasingly becoming more laid back. "It's not just your typical Vegas weekend anymore," she said. "Especially in Southern California, a lot of people go off to Palm Springs now to relax. . . . Or people go to San Diego or Santa Barbara."
Simmons noted that bridesmaids and groomsmen are more frequently taking on bigger duties during the wedding ceremony, such as reading passages during the ceremony or event officiating it. "I had a wedding in the fall, and one of the bridesmaids was the officiant," she said.
"I think it's good to find out what people want to offer, what they feel like they could contribute and where their strengths are, and then include them," Simmons said. If a bridesmaid or groomsman is a videographer, photographer, singer or has some other useful skill, they might be willing to contribute their talent to the wedding, she explained. "It is just important to have a conversation with them to find everybody's comfort level."
Daisy Prestwood, catering sales manager at the Long Beach Marriott, noted that wedding party members occasionally lead an icebreaker activity at the reception. "They are questioning the bride and groom on what their likes and dislikes are," she said, explaining that this trending game is a funny way for guests to see how compatible the couple is.
While the wedding party typically enters the reception with a playful dance, some are getting more creative, according to Ivy Jacobson, digital editor of the wedding magazine and planning service The Knot.
"If they are into sports, they can do like kind of an NBA lineup style, introducing each wedding party member with an interesting fact about them and having the DJ do it so they feel like they are at an NBA game," Jacobson said. "People are doing balloon and confetti and rose petal drops to give it like an extra effect when they come in. And some people even do kind of a silhouette screen where they can do a pose behind it beforehand and then get revealed to the crowd."
When it comes to asking friends or family members to be members of the wedding party, brides and grooms are increasingly gifting boxes of goodies through online subscription services with an accompanying note, according to Jacobson.
"A lot of brides are using subscription services that have like a little box already put together with maybe a mini bottle of wine, a wine glass, a piece of jewelry and a little card in there that says, 'Will you be my bridesmaid?'" Jacobson said. "Other brides do it in fun Instagrammable ways. Like, we have seen some brides put the note inside a balloon with confetti so they have to pop it to read the note, which is really cute to capture for social media."
Yet, Jacobson said, "There is still nothing like a handwritten note explaining how much their friendship means and detailing why they want them to be a bridesmaid. That will always be in style."
More relaxed, personalized looks are becoming more frequent when it comes to wedding party fashions. "A lot of people still do matching bridesmaids dresses, but we are seeing a huge spike in mismatched dresses," Jacobson said. "The bride could say, 'I want everyone in blue, but I don't care what color blue.'" The cut of the dresses is also often mismatched. "They kind of want everyone to embrace that personalized feel and wear something they feel good in," she explained.
Lyons-Gentile said she has recently noticed a trend of two-piece bridesmaids' outfits. "They are kind of like a beautiful formal skirt. And the upper part is more like a very dressy top," she said.
Traditional black suits for groomsmen are now more often being cast aside for other hues like gray or navy, according to Lyons-Gentile. "Textures are really big in men's attire. They are wearing tweed," she said. Formal shoes are occasionally swapped out for tennis shoes on the groom's side of the wedding party, according to Prestwood.
It is typically the responsibility of the wedding party to purchase their own outfits, and there are many other costs involved in participating in a wedding as well, as Jacobson pointed out. The Knot's 2016 Real Weddings Study found that the average amount spent on accommodations, a wedding gift, travel, attire, accessories and footwear combined is $1,154.
"I think it's really courteous to give your wedding party your expectations from the beginning so . . . if they are going to face a financial hardship, they know from the beginning and they can decide whether they proceed or not," Jacobson said. "Having all information upfront is a really courteous thing to do for your wedding party because they have lives and budgets of their own, too."