Long Beach is a city with many unofficial mascots of sorts, from the Queen Mary to the Aquarium and even the air traffic control tower-reminiscent Holiday Inn Long Beach Airport. From major landmarks that identify the city to outsiders to more locally well-known gems, there are a number of sites like these where die-hard locals can get hitched, Long Beach style. Here's a look at some of them.
The Queen Mary
The Queen Mary permanently set down anchor in the Long Beach harbor in December of 1967. She has been a beloved landmark of the city ever since, having been converted to a permanent attraction and hotel with Art Deco-style events venues and views of Downtown Long Beach, the coastline and the harbor.
"It's the icon of the city. It is to Long Beach what the Statue of Liberty is to New York," Nicole Ellis, catering sales manager for the Queen Mary, said.
It is perhaps no wonder, then, that many of the couples who get married aboard the historic vessel are from Long Beach, according to Ellis. "We have people who were married here because their grandparents got married here or their parents got married here. We host anniversaries for people who are celebrating their 20th, 30th or 40th anniversary from being married on the ship," she said.
Long Beach's own mayor, Dr. Robert Garcia, is one of many who will have a special memory to cherish aboard the Queen Mary. On the 4th of July, it was where he proposed to his partner, Matthew Mendez.
The Queen Mary has four venues for wedding ceremonies and can host as small as an intimate wedding with just the couple and as large as a 400-person event, Ellis said. History buffs or maritime lovers can wed in the ship's wheelhouse, but there are also more traditional venues such as an outdoor gazebo and an indoor chapel.
The ship has even more space for receptions, with eight venues including salons, restaurants and outdoor decks. "We can accommodate receptions for up to about 700 people in our Grand and Windsor salons," Ellis noted.
"We do about 200 weddings a year," Ellis said. "Many of them come locally. Some come internationally."
The Aquarium Of The Pacific
Since opening in 1998, the Aquarium of the Pacific has seen millions of visitors pass through its doors, including scores of local school children attending for field trips or even proms. Many of these children are now grown and, when the time comes, choose the Aquarium as their wedding venue, according to Erica Noriega, special events manager.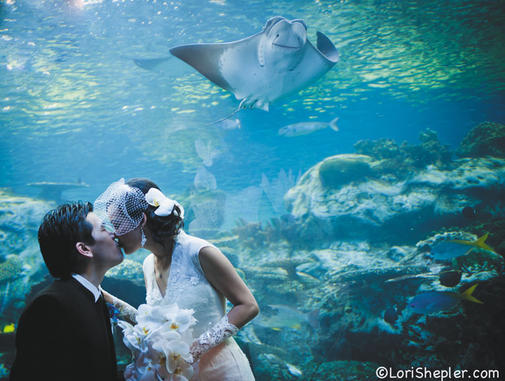 The Aquarium of the Pacific can easily host up to 350 guests for weddings – not counting the fish. (Aquarium photograph by Lori Shepler)
"We have a lot of couples who the Aquarium is really special to them for a variety of reasons," Noriega said. "We have had people who have gone on their first date at the Aquarium who have done weddings there, gone to prom there, their fiancé proposed to them there. So there are definitely a lot of people who have a very strong affinity for the Aquarium."
Ocean lovers might choose to wed in front of the floor-to-ceiling tank in the Great Hall or perhaps hold their reception there. A more intimate setting is the Aquarium's tunnel, where couples and a few guests are surrounded by swimming sea life on all sides. The venue also has an outdoor patio and a variety of other spaces that wedding parties can use.
"I think between the Aquarium and the Queen Mary, those are sort of the two things you think about when you think about Long Beach," Noriega said. Most couples who wed at the Aquarium come from within a 50-mile radius, she noted. The Aquarium can easily accommodate up to 350 wedding guests.
The Hotel Maya
Long Beachers who want to wed with their city as their backdrop need look no further than the Hotel Maya, a DoubleTree By Hilton that has multiple wedding ceremony and reception spaces with sweeping views of the Downtown Long Beach skyline and the Queen Mary.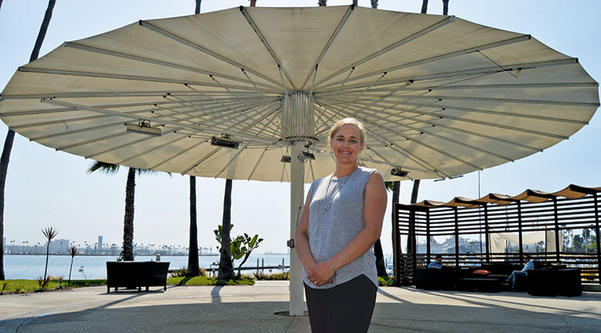 The Esplanade, an outdoor venue at the Hotel Maya, is capable of hosting 220 wedding guests with views of the downtown Long Beach skyline as a backdrop, according to Lisa Duncan (pictured), director of catering and convention services for the hotel. (Photograph by the Business Journal's Larry Duncan)
"Seven of our eight venues offer a view of the skyline, starting with our private beach that we have on property that is overlooking the Queen Mary over to the lighthouse and then our Esplanade space," Lisa Duncan, director of catering and convention services for the hotel, said. The Esplanade is an outdoor, covered courtyard on the water with a view of the skyline.
"Then we have a second-floor reception room that is quite popular, and that has an unobstructed view of the entire skyline from Queensway Bridge over to the Queen Mary," Duncan said. "And our newest space, our Vista Del Mar and our Lagunita Pavilion, also offer that really unobstructed view of the skyline. So it is quite unique from that perspective with how many options we have for those great views of the city."
The Maya can host up to 450 people for weddings. Couples often choose to wed at the Maya because its placement on Queensway Bay coupled with its tropical greenery and décor makes it feel like a destination wedding without having to travel far, Duncan explained. "But when you look back across the water, you're like, 'Oh, yeah, there's Long Beach too.'"
The Sky Room
Couples looking for sky-high views of the Long Beach waterfront turn to The Sky Room, a restaurant and bar in the historic Breakers building at 40 South Locust Ave. The 1920's-era building was originally a Hilton hotel, and it has a storied history.
"The top floor, which is The Sky Room now, was Elizabeth Taylor's penthouse at one point," Amber Davis, catering manager, said, adding that Conrad Hilton had been married to Taylor. "Way back in the day, it was the Hollywood elite place to go in Long Beach."
On a clear day, the restaurant offers views of Catalina Island to the south and the Hollywood sign to the north. "There are breathtaking panoramic views. . . . There are not many places you can see that kind of thing in Downtown Long Beach," Davis said.
A rooftop bar above The Sky Room called Cielo features the same views but in an open-air, intimate setting. "We actually have a couple of different spaces that we utilize for events," Davis said. In addition to Cielo and The Sky Room, the ground floor of the building has an all-white chapel, a wine lounge and a ballroom, she noted. Up to 250 people can be accommodated.
The Holiday Inn Long Beach Airport
For locals and architecture nerds alike, the Holiday Inn Long Beach Airport is something of an unofficial mascot for the city's east side. The round tower is one of a handful of identical Holiday Inns built in the 1960s and 1970s, and it is identified by the Los Angeles Conservancy as a "treasured" landmark. Its shape, which General Manager Mooyon Kim noted mimics an air traffic control tower, and its proximity to the airport hearken back to the city's aviation roots.
"This hotel opened as a Holiday Inn. The construction was completed in 1968, and it has been since operating as a hotel," Kim said. The hotel recently underwent a $30 million renovation.
The hotel's thirteenth floor bar and restaurant, VUE, can be booked for wedding receptions, according to Charlene Tritipeskul, director of catering. The venue offers miles of views on all sides, including of the airport runway.
Additionally, the hotel has an outdoor courtyard that is ideal for wedding ceremonies, as well as other reception spaces, including a ballroom. As many as 320 guests can be accommodated at the hotel, Tritipeskul said.
The Earl Burns Miller Japanese Garden
Well-known to locals but perhaps unbeknownst to passersby – it is, after all, tucked away behind walls on the campus of California State University, Long Beach – is the Earl Burns Miller Japanese Garden. Designed by Long Beach landscape architect Edward Lovell Jr., the garden was gifted by philanthropist Lorraine Miller Collins and named after her husband. It was completed 30 years ago.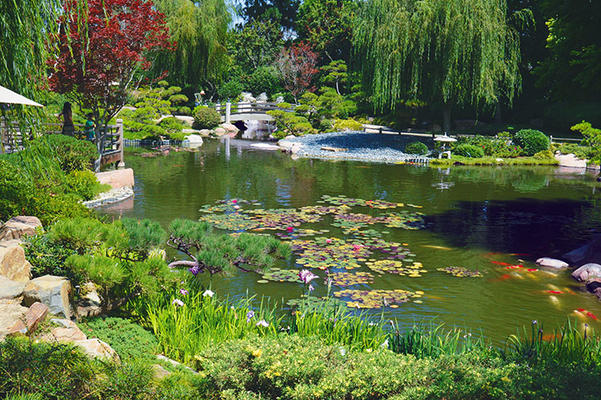 The Earl Burns Miller Japanese Garden on the campus of California State University, Long Beach was designed by a local landscape architect, and is celebrating its 30th anniversary this year. The garden's director said staff and former students of the university often wed there. (Photograph by the Business Journal's Larry Duncan)
"Ed Lovell was quite a well-known landscape architect, and he took a lot of care in designing this garden so that it would meet Lorraine's expectations and also serve the campus and the city," Executive Director Jeanette Schelin said. "He worked with Edward Killingsworth, who was the master plan architect, so the two men had this team approach between the buildings and the landscape. It really produced a beautiful campus."
Because the garden was designed for four seasons, something is always in bloom, Schelin said. "We get used to sort of two seasons in Long Beach, but the Japanese garden really does provide those four seasons. So it is really nice, and our brides appreciate that," she said.
About 40% of couples who marry at the garden have an affiliation with the university, according to Schelin. "We're on campus, and students discover the garden while they are here with their studies. And then we also hear that there were a lot of first dates at the garden, that it was a special place for people to come," she said. "And when they think about doing their wedding or their photos, you know, this is the place they want to come."
Schelin reflected, "The amount of effort that we put into maintaining this garden, we do it because we're maintaining a cultural treasure of the City of Long Beach."
The Long Beach Museum Of Art
Located on the bluff off of Ocean Boulevard is the Long Beach Museum of Art, a historic landmark home, art museum and restaurant rolled into one. The main building is the 1911 Elizabeth Millbank Anderson House, which Executive Director Ron Nelson said was built by a banking and finance family from New York City.
After World War II, the home became a social club and, later, a club for Navy chief petty officers, Nelson said. In 1950, it became an arts center and has been amassing a collection of art ever since. In 2000, the museum's gallery pavilion was completed, adding another building to the property. Its restaurant features both indoor dining in the Anderson House and outdoor dining on the bluff, overlooking the ocean and Queen Mary and port.
"We try to leave the galleries open when there is a wedding because there is always a period of time to kind of capture another audience with that," Nelson said. "And I think it is a nice sort of respite between a service and a reception . . . that can be a period of time when the bride can change if she wants and meet special people there." He added, "It has a real spiritual and emotional appeal to it."
Many Long Beach locals have married at the museum, including Nelson. "Of course, I am heavily lobbying the mayor," he said with a laugh, referring to the recently engaged Garcia. The museum can host up to 275 people for weddings.