Epson America Inc., a wholly owned subsidiary of Japan-based Seiko Epson, has called Long Beach its home for the past 17 years, after moving from Torrance to the Kilroy Airport Center office complex adjacent to the 405 freeway at Long Beach Airport. The tech company – which is responsible for the sales, logistics, financing and marketing of all Epson products in both North and South America – is weighing its future options in Long Beach as it continues to grow.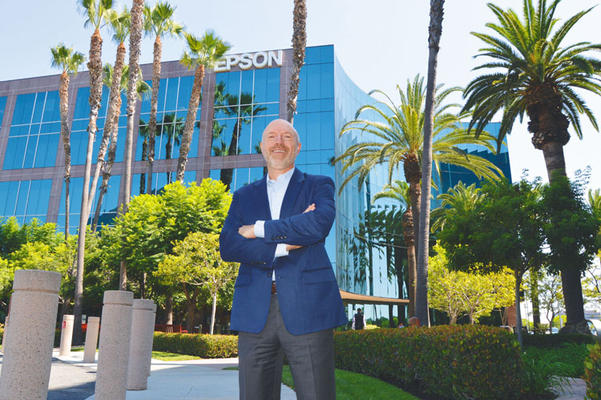 Epson America Inc.'s headquarters are currently located in Long Beach's Kilroy Airport Center, where the firm leases a five-story building that accommodates about 600 employees. The growing company is looking at options to expand its space when its lease expires next year, according to President and CEO Keith Kratzberg, pictured. (Photograph by the Business Journal's Larry Duncan)
"We have approximately a couple thousand employees in the Americas, and there are approximately 600 here in the headquarters in Long Beach," Keith Kratzberg, president and CEO of Epson America, said in an interview at the firm's offices.
The company operates 13 subsidiaries in Latin America; an office in Toronto, Canada; and large logistics centers in the cities of Carson and Indianapolis, according to Kratzberg. Epson's parent company, Seiko Epson Corporation, takes in $9 billion to $10 billion globally on an annual basis and operates a family of more than 80 companies with about 88,000 employees worldwide. Of these, Epson America generates the most sales, Kratzberg noted.
Epson's lease at Kilroy is due to expire in 2019, and the firm is assessing a number of options for its headquarters. "We have been growing, so we are trying to assess what's the best way to meet our space requirements," he said. "We are looking at all the possibilities – remodeling this location, building another location, moving to another facility. We are looking at everything. But we need more space, is the main thing." In the end, whatever option wins out will come down to "the numbers," he noted. Epson currently occupies a five-story building with about 136,000 square feet of space.
"I think Long Beach has been really good for Epson," Kratzberg said. "We do a lot of things at the convention center. We have a lot of meetings, a lot of visitors. So we use many of the hotels, many of the restaurants, things like the Aquarium, the Queen Mary."
Some markets Epson sells to – such as the textiles industry – have regular trade shows at the Long Beach Convention & Entertainment Center, Kratzberg noted. Proximity to three regional airports is also helpful for frequent visitors to Epson's headquarters, he added. Additionally, the San Pedro Bay ports are "very important" to the firm, he said.
"Long Beach is a very central location. A lot of our employees live in Long Beach, but it goes far beyond that," he said. "I think it has worked out really well for us, and I would say I am very hopeful that we can find a good solution here and stay here in Long Beach."
Today, the Epson brand may be synonymous with printers, but the company maintains one of the world's largest portfolios of patents for a wide range of technologies, from robotics to scanners to wearable tech and more, according to Kratzberg. The company ranks first in number of patent applications for inkjet printers, projectors, quartz crystal devices and robotics in both the United States and Japan, according to data provided by Epson. Epson ranks seventh for the number of registered patents it holds in Japan, and it ranks 15th in the United States. The firm launches hundreds of products per year.
The roots of Epson America go back to 1942, when Daiwa Kogyo Ltd., the predecessor of Seiko Epson Corporation, was established in Nagano, Japan. In 1964, the company – then named Seiko Group – got its big break thanks to the Tokyo Olympics.
"The very origins of the company [and] the name of the company come from the 1964 Olympics, where they got a contract to make a high-precision timing device to time the races and then to print out the times," Kratzberg said. "Then they took that technology and turned it into a product called the EP-101. EP stands for 'electronic printer.' And then we made a number of products which are basically dot-matrix printers using that technology," he explained. "And these were the sons of the electronic printer, the EP-101. And that's where the name of the company comes from: Epson."
In addition to leading to the development of dot-matrix printers, the foray into the Olympics led Seiko to introduce the world's first quartz analog watch in 1969, another significant moment in the firm's history, according to Kratzberg.
Epson introduced personal use dot-matrix printers in 1978. "The dot-matrix printer came around right about the same time as the personal computer. And those sort of grew tremendously together. That was a lot of growth for Epson," Kratzberg said. "Fast forward quite a few years, and we developed the world's first photo-quality inkjet printers. And that was right at the time that the digital camera came on the scene. . . . So just like we complemented the personal computer, we complemented the digital camera."
The vast majority of photos are now printed on home printers like those Epson manufactures or are printed out at stores that typically use Epson technology, according to Kratzberg. "I think that we are most broadly known for our consumer/small office printer multifunction devices [and] scanning, copying capabilities," he said. Tens of thousands of stores in North America, including big box stores like Target, Walmart and Costco, carry Epson products, he noted.
Epson has developed a scalable printing technology, the Micro TFP (thin film piezo) PrecisionCore print chip that offers precise, "highly productive" printing, according to Kratzberg. "What's amazing about it is that we now have $100 consumer inkjet multifunction [printers] that use PrecisionCore technology, and we have million-dollar industrial digital presses that utilize hundreds of the same PrecisionCore chips," he said. "It is a very powerful, very precise but also very scalable technology."
In addition to consumer printing, Epson specializes in industrial printing for a number of markets, including the textile industry, commercial printing and art print production, according to Kratzberg.
"Our newest area in this professional graphics area, which is really exciting, is textile printing. . . . And that gets us into the world of this exploding market of fast fashion," Kratzberg said. "The whole fashion industry is changing. You know, now the fashion brands need to get their designs to market much quicker. . . so being able to produce things closer to the market in faster, shorter runs with really high quality is really important. And Epson has a whole portfolio of products for the textile industry."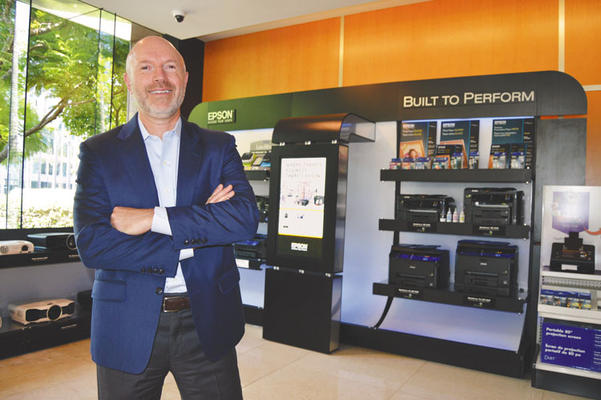 Keith Kratzberg, president and CEO of Epson America Inc., has been with the company for 22 years. While perhaps best known for its printers, the Long Beach-based company also specializes in scanners, robotics and wearable technologies. (Photograph by the Business Journal's Larry Duncan)
But printers and scanners are far from the only technologies Epson produces. "We have a line of small to mid-sized robots that are known for extreme precision and reliability," Kratzberg said. "And they are used for electronics manufacturing, medical devices, automobile parts and a variety of other markets."
Epson is also well-known for its projectors. "The biggest market for projectors is education. At this point, a very large percentage of classrooms throughout all of the Americas have an Epson projector in the classroom," he said. The company's most advanced projectors feature 3LCD technology combined with a laser light source. These are currently being rolled out on a broad basis for corporate, educational and home use, according to an Epson spokesperson.
Using its organic light-emitting diode technology that it developed for use in its projectors, Epson created Moverio Smart Glasses – one of its wearable tech offerings. "The way that the Epson Moverio Smart Glasses work is that there are micro projectors in the temples that project the image into prisms that sit in front of your eyes," Kratzberg said.
"It's an emerging technology," Kratzberg said of the firm's smart glasses, noting that they could be of use to any professional who is required to look at a screen while working. Surgeons and dentists, in particular, could benefit, he noted. "Then there are things like museum tours where people wear the glasses. The museum will rent them out, and it can project . . . over the art and then can explain through the headphones what you're looking at."
Epson has a partnership with DJI, a major manufacturer of drones, to pair its Moverio glasses with drones for photographic use. "If you have the glasses on, you can see the drone and you can see what the camera is taking a picture of at the same time," Kratzberg said, explaining that users of drones are required by law to keep their eyes on their drones at all times.
Epson America coordinates with its corporate team in Japan to develop and refine new products, according to Kratzberg. "That's my favorite part of the job. My background is [as] an engineer," he said. Kratzberg holds a bachelor's degree in applied mechanics from the University of California, San Diego and an MBA from UCLA's Anderson School of Management. He has been with Epson for 21 years, having started as a product manager in the company's printing group, eventually becoming CEO in 2016.
"Epson is a great company. We have incredible technology. We are consistently innovative," Kratzberg said. "We have really great people here in Long Beach, across the Americas and all around the world."