Many technological advancements over the past few decades have been driven by the desire to increase connectivity among people, access to information and ease of communication – just think of the Internet, e-mail, cell phones and tablets. This same desire is driving innovation in the health care industry as new technologies are being introduced to improve patients' overall health care experiences.
Some of the major technological advancements in health care in recent years were implemented to provide patients with greater access and connectivity to health care resources. Telehealth or telemedicine programs, which involve using the phone or online video conferencing to connect patients with physicians, have been a new focus for many health care systems and hospitals.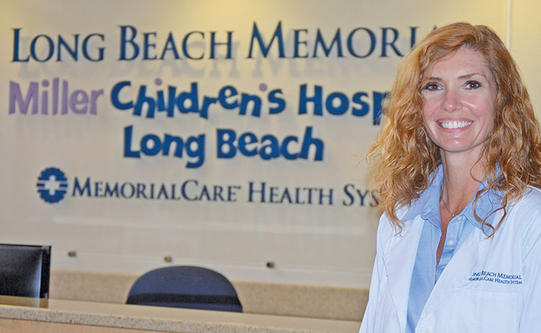 Dr. Kristen Mascotti is the quality medical officer for MemorialCare Health System's three hospitals in Long Beach, which include Long Beach Memorial Medical Center, Miller Children's & Women's Hospital Long Beach, and Community Hospital Long Beach. (Photograph by the Business Journal's Larry Duncan)
The U.S. Department of Veterans Affairs (VA) has implemented a telehealth program – now available for patients at its Long Beach medical campus – to help veterans have better, more convenient access to health care. Any veteran with a secure Internet connection and a webcam can participate in the program, according to Richard Beam, director of public and community affairs for VA Long Beach Healthcare System.
In a telehealth appointment through the VA, a patient is able to see a primary care physician via a video call. "There is no driving, no parking. You can do it from the comfort of your own home," Beam said. The program is particularly useful for veterans who may be isolated from health care resources, he noted.
For example, there are approximately 120 veterans living on Catalina Island, according to Beam. To provide more convenient access to the VA Long Beach, the VA's telehealth program has been set up at the island's medical center. "There is a small hospital on the island. Veterans can show up at that island clinic and connect with us via telehealth all through the Internet," he said.
In addition to connecting veterans with primary care providers, telehealth also connects them with specialists, although Beam pointed out that some appointments do require in-person consultations.
The VA is investigating ways to expand upon the program. "We want to take telehealth to our college campuses," Beam said. "We know there are a significant number of post 9/11 veterans who are going to school using the GI Bill. . . . How many students are going to leave their college campus, drive 20 or 40 minutes here, wait for an appointment and drive 20 minutes back?" he continued. "So, what if we can give them that appointment at the college campus so they don't even have to leave? Our thought is that will help them make it through school, graduate college and get the two- or four-year degree."
The overall concept driving the VA's telehealth program is a shift in thinking, from expecting veterans to seek out care to focusing on bringing care to them, Beam explained.
Kaiser Permanente recently implemented its own telehealth program to provide its patients with more convenient care. While patients have been conditioned to expect face-to-face appointments for any urgent or non-urgent health care matter, Kaiser estimates that a medical appointment can take up to three hours when factoring in driving, parking, checking in and waiting, according to Ozzie Martinez, chief administrative officer overseeing the organization's South Bay area, which includes Long Beach and Signal Hill.
As a timesaving and convenient solution, Kaiser decided to test out a telehealth program, beginning with primary care appointments via phone calls, according to Martinez. "We started looking specifically at primary care – patients who perhaps have colds or coughs or minor acute issues that can be addressed without having to come in and sit in the waiting room where possibly they will be exposed to other patients who may not be feeling well," he explained. Kaiser also now offers video appointments.
"At the beginning of last year, about 6% of our visits were virtual appointments," Martinez said. That figure has since grown to 20%, he added. "It provides flexibility because we're integrated into their day," he said. If a physician prescribes medicine during the virtual appointment, the patient can pick it up at any Kaiser facility or pharmacy in his or her area, he noted. "If there is additional assessment needed, we work with them on the phone to make sure we get that patient in, or if necessary, get them in to the emergency department or urgent care."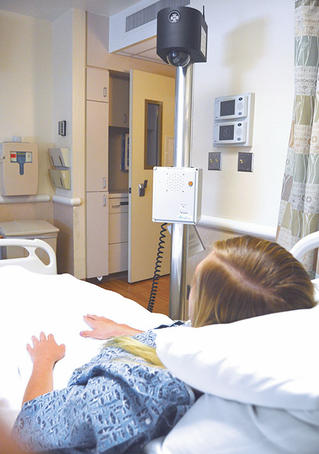 A patient at Long Beach Memorial Medical Center is monitored by a tele-sitter, a robot that features a camera with a 360-degree view of her hospital room. The tele-sitter live streams footage of the room to a station where multiple rooms outfitted with the robots are monitored, allowing nurses to monitor the well-being of many patients at once. The tele-sitter features an audio system so nurses can communicate with patients when necessary. (Photograph by the Business Journal's Larry Duncan)
MemorialCare Health System's three Long Beach hospitals have had telemedicine in place for quite some time now, primarily to connect patients with specialists. Miller Children's & Women's Hospital Long Beach, for example, has been connected with Orange Coast Memorial Medical Center for years to provide the Orange County hospital with pediatric expertise, according to Dr. Kristin Mascotti, quality medical officer for MemorialCare's Long Beach hospitals.
Recently, Long Beach Memorial Medical Center has begun using robots to expand on telehealth services. A pilot program is in place in the adult intensive care unit in which a remote-controlled robot on rollers allows a physician who is in another part of the hospital or out of the area entirely to consult with a patient by his or her bedside, Mascotti said.
The robot features a bed-height stand with a screen on which the patient can see the physician in real time, and vice versa. Mascotti said the robot might also be used to connect patients with family members who aren't able to be at the hospital. So far, patient reactions have been positive because they are able to have a face-to-face interaction with their caregiver when they otherwise would have had to wait, Mascotti noted.
The hospital has also begun using robots called telesitters to help nurses keep watch over several patients at a time, 24 hours a day. "We have implemented this for patients who have cognitive impairments like in our neurology units – stroke patients or trauma patients – as well as for patients with a high fall risk," Mascotti said. "There is a pole with a camera that has an eye that rotates 360 degrees so it has full view of the room," she explained.
The telesitters have a two-way interface so the nurses monitoring these patients can speak to them if a problem occurs. "They are able to see when patients are getting sort of agitated or anxious, and then they can say, 'What's happening? What do you need?' before they get out of bed," Mascotti explained.
"In talking to patients, they said that at first it's a little intimidating. But they understand why it's there, and they are happy to get a quick response," Mascotti said. Patients' families are also happy with the technology because it provides extra reassurance that they're being appropriately monitored, she added.
New technology is also being used to benefit children. Patients at Miller Children's, for example, are now able to use cinema vision goggles during their magnetic resonance imaging (MRI) sessions. MRI machines make loud banging noises and often cause feelings of claustrophobia, so young children often cannot sit still for the imaging process and have to be sedated, Mascotti explained. Miller Children's, however, has a solution.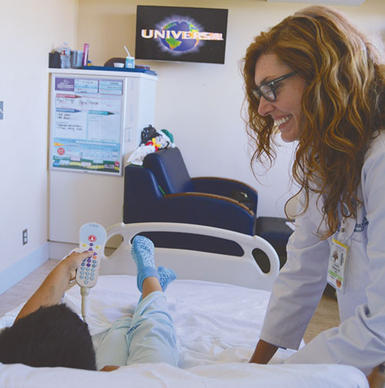 Dr. Kristen Mascotti, the quality medical officer for MemorialCare Health System's three Long Beach hospitals, shows a patient at Miller Children's & Women's Hospital Long Beach how to access a variety of educational programming and entertainment on a monitor in his room. (Photograph by the Business Journal's Larry Duncan)
"They're virtual reality goggles that the children put on, and they are able to be completely distracted by or absorbed in a movie or TV show or listening to music," Mascotti said, adding that her own children have used the technology during MRI sessions. "It really decreases the necessity for sedation. . . . I think it's a big win in terms of technology and the patient experience."
Patients at Miller Children's also have access to interactive programming on TVs in their rooms to connect them with educational materials or help them learn about their own care and upcoming procedures, Mascotti said.
The health care industry is also using technology to give patients access to their records. The VA Healthcare System, for example, has My HealtheVet, a website where veterans are able to access their records, see test results, view upcoming appointments and even e-mail anyone on their care team, Beam said. "This website allows them to see what's going on with their care, ask questions and potentially not have to come in for an appointment but instead stay at home and send an e-mail," he explained. The website is available on any device that has Internet access, such as computers, smart phones and tablets, he added.
Additionally, the VA has multiple mobile applications available both to its patients and to the general public, including PTSD Coach, an application designed to help manage post-traumatic stress disorder, according to Beam.
Kaiser Permanente recently began offering patients the choice to opt in to notifications via text and e-mail. These could include returned messages to schedule appointments, notifications to pick up prescriptions and more, Martinez said. "What that's done is provided a lot more flexibility both operationally for us as a business as well as for our patients to be more mobile and not have to sit by a phone and wait for a call," he explained.
Ultimately, what Kaiser seeks to do by implementing new technology is to provide "a better care experience" and be more efficient in its delivery of care, Martinez explained. The VA and MemorialCare, too, are focused on integrating new technologies into their care models to provide better patient experiences, whether it is by creating greater access to care or making care more convenient.