When the Long Beach Convention & Visitors Bureau gives a presentation, don't expect a lone sales person at the head of a room, tucked behind a podium, doling out the least boring bits of a PowerPoint Presentation. Rather, when the CVB shows up for a sales pitch, they come armed with representatives from all the teams on staff – sales, marketing, public relations, social media and management. And, on sales missions where big bucks are at stake, Mayor Robert Garcia, and in previous years former Mayor Bob Foster, has even been known to make appearances.
It's this well-oiled machine that is dedicated to bringing convention and tourism business to Long Beach, and the numbers show that it's working.
Transient occupancy tax, revenue for the City of Long Beach generated by hotel room night stays, has increased by $6 million over the past five years, according to the CVB. Hotel occupancy is now at about 79 percent – the highest it has been in years.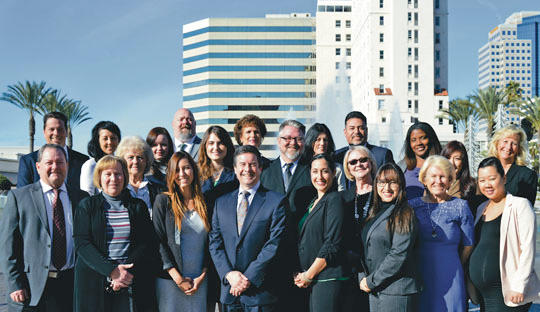 The staff of the Long Beach Convention & Visitors Bureau is dedicated to attracting visitors to Long Beach for conventions, meetings and leisure. Pictured in the back row, from left, are: Quentin Roberts, vice president of sales; Jennifer Kohatsu, national sales director; Pauline Taylor, sales coordinator; Jenni Pearl, senior convention services manager; Jeff Forney, vice president marketing and membership; Nicole Zylstra, digital communications manager; Jan Miller, membership director; Gary Watters, sales coordinator; Susan Valen, national sales director; Paul Romero, senior national sales director; Loren Simpson, digital communications manager; Kelly DeSimas, sales coordinator; Barbi Mason-Ajemian, CMP, vice president convention services. Pictured in the front row, from left, are: Bob Maguglin, director of public relations; Kathy Ford, sales coordinator; Jaime Dominguez, social media coordinator; Steve Goodling, president and CEO; Heather Gonzalez, national sales director; Iris Himert, executive vice president; Lilian Olguin, sales coordinator; Cindy Robbins, controller; Sarah Nguyen Noh, executive assistant. (Photograph by the Business Journal's Larry Duncan)
The success of the Pacific Room at the Long Beach Arena, which is just a portion of the convention center's business, has alone generated an estimated $104.1 million in estimated economic impact for the city due to events held there over the past two years.
To shed some light on how they bring in business to Long Beach to fill hotels, attend conventions, visit attractions and more, CVB staffers let the Business Journal in on their inner workings.
Sales
The CVB's sales team, headed by Executive Vice President Iris Himert, has representatives placed in key markets throughout the country, as well as within Long Beach. In addition to the daily efforts of these staff members, every year the CVB travels on sales missions to its largest customer markets, including Washington, D.C., Chicago, Sacramento and San Francisco, to try to win business for Long Beach.
The CVB has four sales representatives in Washington D.C., which happens to be its largest sales mission destination due to the high volume of national groups headquartered there. "That's where most of the business is located," Himert said. "It is the mecca of associations." The CVB also has one sales representative for the Midwest, one in the Southwest, one in San Francisco and another in Washington State.
"We have people in markets in those areas because we believe strongly that they can have easier access to the people who are our prime target customers," Himert explained.
Daily, the national sales team is on the phone gathering leads on new convention and meeting business, and putting together bids in partnership with hotels based in Long Beach. "We are sort of like the broker between the customer and our hospitality partners," Himert said.
The CVB brings those partners with them on sales missions. "We really have good working relationships with all of our hospitality partners, so they tag along with us," Himert said.
A great deal of due diligence goes into planning for sales missions, which are costly endeavors. Essential to the sales team's strategy on these missions is finding unique venues to host their events to stand out among the competition. For example, on a recent sales mission, the CVB brought clients to Saks Fifth Avenue.
"We had an event at Saks Fifth Avenue, which was attended by almost 50 top clients, on how to pack so that you can dress from morning to evening at special events, and how to accessorize," Himert said, noting that this topic appealed to the group of professionals.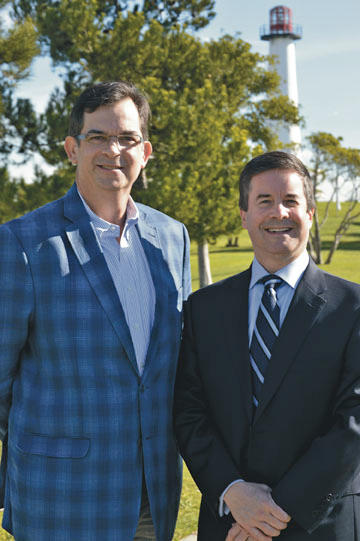 Sean Maddock, left, regional director of operations for Evolution Hospitality, works with Long Beach Convention & Visitors Bureau President and CEO Steve Goodling as the new chair of the CVB's board of directors. Evolution Hospitality is the operations firm for the Queen Mary. (Photograph by the Business Journal's Larry Duncan)
At these events, clients also watch the CVB's promotional videos about Long Beach, its convention center, and hospitality and travel options. "It is all about relationships. If somebody has a relationship with you and . . . for instance, say they have four or five other cities that they are looking at that are equal to Long Beach, it is oftentimes the strong relationship that will carry the piece of business to a close," Himert said. "So when we do those special events, we do show our videos, we do talk about Long Beach, and then we have some fun and build relationships."
Convention and meeting bookings for 2016 are behind a bit in comparison to 2015, but Himert isn't worried. Even-numbered years seem to experience lower bookings due to cyclical rotations of organizations' conventions to other regions, she explained. "The even years seem to be off a little bit, but we have been successful in filling it with short-term business." The same thing occurred in 2014, and that was "one of the most successful years for all the hotels here in Long Beach," she pointed out.
Short-term business comes in the form of corporate events from local businesses. For example, over the December holidays, four parties have been booked for the Pacific Room, with 1,200 to 2,000 guests expected for each event.
Down the road, the future is "rosy and peachy," Himert said. "2017 is through the roof."
What really sets apart the efforts of the CVB and its sales team is its commitment – Himert recounted holding a turkey leg in one hand and chatting on the phone with a client with the other over the Thanksgiving holiday – and its relationships. "We work extremely well together with the convention center team and with all of our hoteliers here in town," she reflected. "It is a collaborative effort at all times."
Social Media
Complementing the work of the CVB sales team are the efforts of its digital communications managers, Nicole Zylstra and Loren Simpson. The two build on existing relationships forged by the sales team and create new connections through proactive social media interaction via Facebook, Twitter and Instagram. Their aim? To increase the visibility of Long Beach as a great place to hold conventions and meetings, and as a vacation destination.
Zylstra oversees and strategizes social media interactions and campaigns to attract conventions and meetings to Long Beach. "We started a set of social media handles called 'Meet in Long Beach' dedicated to reaching planners of meetings and events looking to bring new groups to Long Beach," Zylstra said.
These social media accounts have proven to be an effective tool for the CVB to promote its presence at trade shows to meeting planners.
Jeff Forney, the CVB's vice president of marketing and membership, knows from firsthand experience that this method works. "I was at a show and somebody walked up, and it was because of Nicole's post [on social media]," he said. "So they came by and took a picture of us and then posted it. It put a face to the brand."
The Meet in Long Beach social media pages also engage meeting planners with glimpses of what visiting Long Beach might be like. "A meeting planner is not so much different than a regular visitor. They still want to know what their attendees will enjoy when they are here in the city," Zylstra said. Through these pages, the CVB shares social media content, such as photos generated by social media users in Long Beach to give meeting planners snapshots of the best of the city from a local's perspective.
This year, the CVB created a social media campaign to accompany its largest sales mission to Washington D.C. in June, to generate buzz about Long Beach as a convention destination. The CVB team promoted its presence with the hashtag #DCmeetLB, which they used to encourage potential clients and others to use on social media to talk about their experiences during the sales mission. The campaign generated 839 mentions of the hashtag with a potential reach of 454,200 individuals. "We had around 400 followers back then on Facebook, and, since then, we have grown it to about 4,600 followers," Zylstra noted.
The CVB also uses social media pages entitled "Visit Long Beach" to promote Long Beach as a tourism destination, an effort overseen by Simpson. In 2014, the CVB launched an online sweepstakes called Beach with Benefits, which included a sweepstakes where winners received JetBlue airfare to Long Beach, plus hotel, attraction and restaurant packages. The second phase of Beach with Benefits included weekly giveaways promoted through social media contests.
This year, the CVB brought back Beach with Benefits to increasing popularity. The sweepstakes saw a 62 percent increase in entries, and the weekly contests experienced more than a 100 percent increase in entries. Overall, Beach with Benefits generated 10.8 million impressions so far this year through social media shares and online news.
"Our social media followings have almost doubled over the last year and a half," Simpson said. "We attribute that to of course our Beach with Benefits campaign, but mostly it's changing the voice of our social handles so it's more conversational as if you are speaking to a person, versus to an entity."
For the first time, last year the CVB created a contest encouraging people, through social media, to submit videos about Long Beach. The contest generated 36 videos and 3,600 online votes. Due to its popularity, the CVB is now holding the contest again. Submissions are accepted through January 31. "We get tons of feedback, people talking about it, and sharing on Facebook," Simpson said.
PR And Marketing
In addition to using social media, the Long Beach Convention & Visitors Bureau continues to get the word out about Long Beach as a destination for conventions and travel through public relations and marketing.
Bob Maguglin, director of public relations, works with DCI, a contracted firm specializing in travel marketing, to plan press trips for writers from major publications to stay in, experience, and then write about Long Beach. In the past year, the CVB and DCI have brought in two group press trips with multiple writers, plus seven individual press trips. Five more individual press trips are currently in the works.
"That's a major way that we try to play the PR, where constantly there is always something out there on Long Beach," Maguglin said. "Stories are always hitting."
In June, a press trip brought in six writers to cover POW! WOW! Long Beach, an event in which international artists painted murals throughout the city. The posts generated by that press trip garnered 37.8 million impressions on Facebook, Twitter, Instagram and YouTube combined. A group press trip in late September brought in six writers, whose writings and postings created about 12 million potential impressions via the same online outlets.
Jeff Forney, who spearheads marketing and advertising for the CVB, said that every time the CVB's efforts result in media coverage, the digital communications team shares links and information about that coverage through social media.
Although much of the CVB's efforts to reach convention and meetings clients, as well as potential leisure travelers, have shifted to digital outlets, Forney noted that advertising in print publications is still a key strategy. "A lot of our meeting planners still like to read a publication and flip through it," he said.
The CVB previously advertised in 13 major print publications regularly, and now does so in just four, plus occasional advertisements in smaller market publications, Forney said. To determine where the CVB should spend its marketing dollars, sales representatives regularly speak with convention and meeting clients about what they read and where they get their information. "We start listening to the clients from day one every year, throughout the year," Forney said.
Longtime relationships have opened up opportunities to place ads in key publications, such as "Convene," a conventions trade magazine. "A few years ago, we had the opportunity to purchase the inside front cover spread, so now we have that every single month . . . at a discounted rate we negotiated," Forney said. The CVB also regularly markets Long Beach to meetings planners through "Successful Meetings," another trade publication.
Once a year, the CVB produces a 28-page insert for "Convene" and "Successful Meetings" showcasing Long Beach and all it has to offer. The piece is also used for marketing at trade shows and on sales missions.
To reach leisure travelers, the CVB advertises jointly with the Queen Mary and the Aquarium of the Pacific in AAA's "Westways" and "Highroads" magazines, as well as in "Sunset Magazine." The combined circulation of these magazines in 2015 is more than nine million.