Long Beach attractions and cruise companies are expecting to end 2015 with record visitor numbers and increased revenues thanks to more business from corporate professionals, travelers and locals.
The total number of visitors to Long Beach, which includes the number of attendees at conventions, meetings, major attractions and special events, has increased by about 4 to 5 percent every year over the past four years, according to the Long Beach Convention & Visitors Bureau (CVB).
The Aquarium of the Pacific is about to close out its best year ever for attendance, with the exception of its opening year, President and CEO Jerry Schubel told the Business Journal. "We will have exceeded all of our expectations in terms of visitors and revenue," he said. "Our attendance to date is 4 percent above last year, and we project we will finish the year at more than 1.5 million visitors."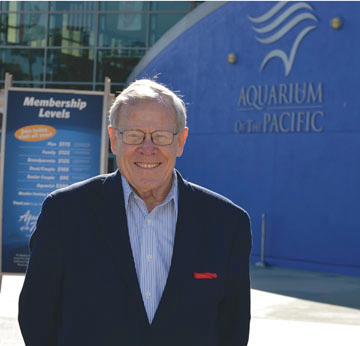 Jerry Schubel, president and CEO of the Aquarium of the Pacific, said that in 2015 the Aquarium had its most attendees ever since its opening year. (Photograph by the Business Journal's Larry Duncan)
Aquarium revenues have increased by 6 percent compared to last year. "We are right now at a little over $31 million and we still have a month to go [in 2015]," Schubel noted.
Schubel pointed out that it isn't necessarily easy for the Aquarium to attract more visitors due to what he refers to as "a very noisy" Southern California market, which features many other major attractions with longer histories and more name recognition in the area. He attributed the growth in visitors this year to the Aquarium's programs and word-of-mouth recommendations.
The Aquarium already has plenty of new programs and events planned for next year, including a new exhibit featuring sea horses and sea dragons.
Next year, the Aquarium's spring Aquatic Academy – a course series on oceanic and environmental issues – will focus on "that dreaded subject, GMOs [genetically modified organisms]," Schubel said, referring specifically to GMO crops. "We will look at it from different perspectives to try to get the public better informed about what GMOs are, what concerns are legitimate, which concerns are not legitimate, and how they may play an important role in our future when we have to feed 50 percent more people," he explained. "I'm sure it will draw some criticism, but I hope it will bring some enlightenment."
"I am very bullish on the outlook for the Aquarium," Schubel said. "I think next year will be even better, and, when the Aquarium successfully expands, it will enhance every aspect of the city by giving Long Beach a world class cultural institution," he said, referring to the institution's planned 23,000-square-foot expansion. The project is currently in the fundraising phase.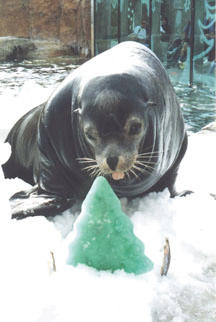 A seal enjoys an icy Christmas treat at the Aquarium of the Pacific, which is hosting holiday-themed events through Christmas Eve, including live holiday music and a diver dressed as Santa feeding fish in the Great Hall. (Photograph provided by the Aquarium of the Pacific)
The Queen Mary also expects to end 2015 on a high note, with an anticipated 7 percent increase in visitors for the year, according to General Manager John Jenkins. That translates to about 1.7 million people, he noted, attributing the increase to recent efforts to bring new attractions and amenities to the ship. Queen Mary revenues for 2015 are about 5 to 6 percent ahead of revenues in 2014.
"I'm very pleased with where we are. We continue to add new events, so it's really helped us to [attract] customers and the amount spent per customer," Jenkins said. "We have had a good year. We have increased in group business, as I think everyone in Long Beach has."
The Queen Mary debuted a brand new 4D theater on board on November 20, the opening day of its winter holiday event, CHILL, which runs through January. The state of the art theater incorporates scent and touch into the movie-going experience. "With every ticket you buy for CHILL, you get to go through the 4D theater," Jenkins said, adding that the theater is currently showing the children's holiday film, "The Polar Express." "We're very excited to be one of the few here on the West Coast that have a 4D theater," he said. "We expect to run it year round starting next year."
The ship also recently debuted a gallery featuring antique and original model ships from Cunard Line, the designer of the Queen Mary. The gallery includes an original ship model for the Queen Mary, used by Cunard to show people what the ship would look like before it was built.
The Queen Mary's special events have brought in record attendance so far this year, Jenkins noted. "Dark Harbor was the largest attendance ever, [with] about 129,000 people this year," he said, referring to the ship's annual Halloween maze. "CHILL is doing well. . . . We are on target to beat last year's numbers."
Jenkins is optimistic about the future of the ship now that a new leaseholder, Urban Commons, has taken over the Queen Mary and adjacent land. "They are very excited about what we are working on," he said. He concluded, "We're looking forward to a great 2016."
With views of both the Queen Mary and Aquarium of the Pacific from its position across Rainbow Harbor, Shoreline Village offers visitors, tourists and locals a place to shop, dine and enjoy events. This year, overall gross sales of businesses at Shoreline Village have increased by 22 percent from last year, according to Property Manager Debra Fixen. "Businesses are doing well. We are getting more traffic and more locals coming," Fixen said. "The CVB is doing great bringing more tourists and conventioneers."
A new comic book store, Shoreline Comics, recently opened at the village, and is doing well, Fixen said. Other businesses are also benefiting from increased traffic to Shoreline Village. "Our barbecue restaurant, Louisiana Charlie's, is busy constantly. It's a phenomenal business," Fixen said. "And Cafe Dia, the bakery, is expanding its menu to include Mediterranean food."
Improved marketing efforts and a greater emphasis on social media interactions has driven more local traffic to Shoreline Village, Fixen said. The village also began hosting more community events this year, such as a meet-and-greet with 2nd District City Council candidates, she noted. The new Pike Outlets, located a short walk from Shoreline Village, is also bringing in more people to the area, she said.
Cruise companies both small and large told the Business Journal that they experienced increased revenues and attracted more passengers in 2015. Harbor Breeze Cruises, a local company offering whale-watching and sea-life tours as well as event cruises in the Long Beach harbor, had about a 10 percent increase in passengers this year compared to 2014, according to owner Dan Salas.
"We are getting a lot of day-trip people coming to Long Beach just to spend time here because there are so many attractions now," Salas said. "We are seeing repeat customers that are bringing relatives or family and friends down on the weekends." Harbor Breeze has also seen increased business from corporate clients booking event cruises, he noted. "Corporate group [bookings] were up about 8 percent over last year."
Part of what's drawing passengers aboard Harbor Breeze's most popular cruises, its whale-watching tours, is an increase in whale sightings.
"With the warm water we have this year with El Niño, we had a tremendous amount of sea life right off of Long Beach," Salas said. "We had more humpback whales than we have ever seen," he continued. "People come from all over the world, and are coming to spend sometimes up to a week here in the summer time just to get a glimpse of these magnificent creatures." Like Fixen, Salas noted that the Pike Outlets are also helping to bring in more visitors to the waterfront.
Carnival Cruise Lines, which operates from the dome by the Queen Mary, is on track to have carried more than 500,000 passengers on its cruises departing from Long Beach by the end of the year, according to Carlos Torres de Navarra, vice president of commercial operations. In an e-mail to the Business Journal, de Navarra called 2015 "another successful year" for Carnival in Long Beach.
"Long Beach continues to provide consumers with a convenient embarkation point for embarking on their Carnival cruise," de Navarra said. "Guests enjoyed a wide selection of departures round trip from Long Beach – from convenient three- and four-day Baja cruises and seven-day Mexican Riviera departures to 15-day Hawaii cruises," he said.
The Carnival Miracle, a Spirit-class cruise ship, underwent a multi-million dollar refurbishment this year, providing passengers with new amenities such as the "Caribbean-inspired RedFrog Pub, the cocktail-pharmacy themed Alchemy Bar, the Cherry on Top sweets shop," and more, de Navarra said.
Next year, Carnival is adding more cruise options from Long Beach, including a 13-day Mexican Riviera cruise leaving on January 28, and two 15-day Hawaii voyages, which are scheduled to depart on October 15 and November 26. "We look forward to another successful season sailing from Long Beach next year," de Navarra said.