The boutique, 138-room Hyatt Centric The Pike Long Beach features a rooftop pool, bar and lounge, and a host of amenities – but for the Centric brand, it's the spaces outside the property that are equally important.
That's why Long Beach, with its bustling downtown and central location providing easy access to other nearby attractions, is the perfect destination for Centric – one of Hyatt's fastest growing brands, according to Hyatt Area Vice President and General Manager Mark Becker.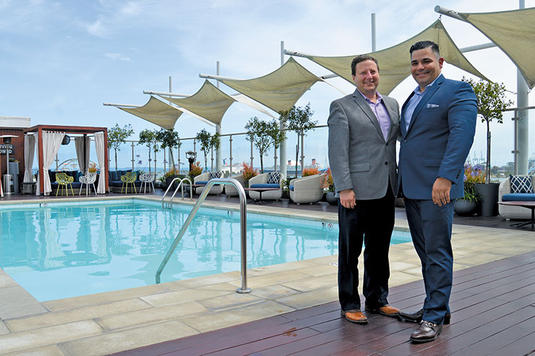 Mark Becker, Hyatt area vice president and general manager (left) joins Gilbert Santana, general manager of Hyatt Centric The Pike Long Beach, at the hotel's rooftop pool overlooking the Downtown Long Beach waterfront. The hotel recently was repositioned within Hyatt's growing Centric brand. (Photograph by the Business Journal's Larry Duncan)
"Our guest is a social-minded traveler," Becker explained. "We really are looking for that traveler who wants to get out and explore, and we want to be the conduit for them to do those things."
Hyatt The Pike Long Beach recently rebranded to Hyatt Centric The Pike Long Beach, making it one of only seven Centrics in the United States. (Other U.S. locations include Santa Barbara, San Francisco, Chicago, Miami, as well as Park City, Utah, and The Woodlands, Texas). The brand targets Millennial-minded travelers looking for an urban, downtown experience that puts them in the heart of the city, with easy access to shopping, restaurants and cultural activities.
"Thinking about Long Beach and where this hotel is located, you can't think of a better location," Becker said. "The city has done an incredible job of marketing our city and creating an environment that speaks to a particular kind of traveler. I think the downtown area continues to evolve and grow. When you think about all the events that happen right here downtown, it just speaks to our customers."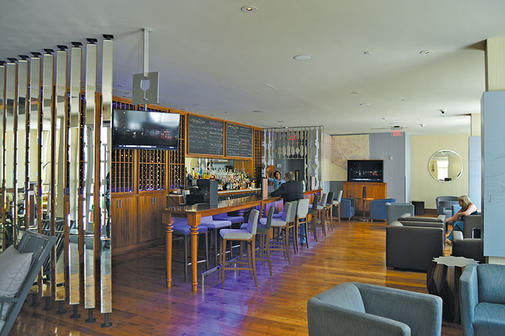 Hotel guests visit the bar and lounge at the Hyatt Centric The Pike Long Beach. (Photograph by the Business Journal's Larry Duncan)
Hotel Manager Gilbert Santana added that, unlike other hotels, Hyatt Centric actually encourages its guests to explore the local community beyond the hotel's walls. "We're not trying to force people to stay on property," he said. "We don't want to be everything to everyone. . . . We want to make sure that we are truly focused on making sure that you have that local experience."
For those guests who aren't able to explore the city and its sights, Hyatt brings local experiences straight into its guestrooms. For example, the hotel provides DryBar hairdryers in all of its guestrooms and established a new partnership with GrubHub, an online and mobile food ordering company, to offer delivery of food from local restaurants.
"Our customers want that experience of trying local restaurants, but maybe they don't have time to hit them all," Becker said. "So how cool is it to say, 'I couldn't necessarily make it out to this particular restaurant, but I was able to order it direct, hot and fresh, to my room'?"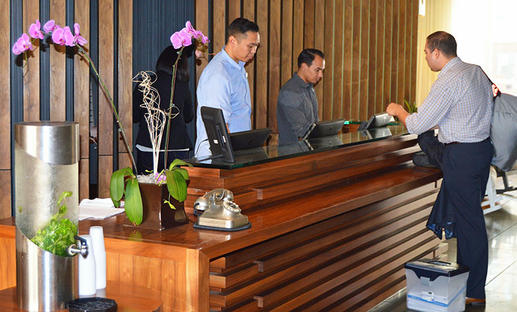 A guest checks in at the newly rebranded Hyatt Centric The Pike Long Beach, located within the Pike Outlets in downtown. (Photograph by the Business Journal's Larry Duncan)
And for Hyatt Centric, the experience is not only local but also personal. The eight restaurants currently participating in the GrubHub partnership are hand-selected by Hyatt Centric staff.
"It's a true partnership from the associates' standpoint versus a corporate standpoint," Santana explained. "For us, the narrative is that [our associates] are telling the story every day; it's not us telling them to tell the story."
Similarly, the hotel's menus are built through their associates, who share their own family recipes of everything from waffles to chilaquiles. "Our hotel is a beautiful boutique hotel [with] tremendous qualities," Santana said, "but what really tells the story are the associates and how they can really tie it back to Long Beach."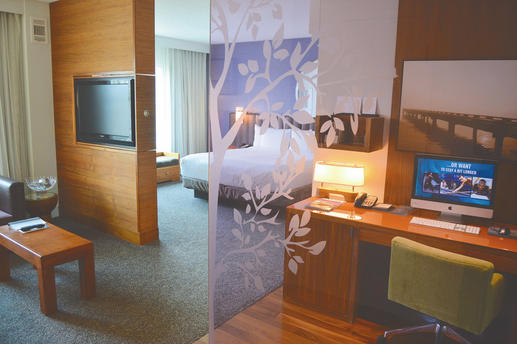 A contemporary guest room at the Hyatt Centric The Pike Long Beach. The Centric brand is "created for Millennial-minded travelers," according to a statement from Hyatt. A collaboration with the website GrubHub allows guests to order food from local restaurants and have it delivered right to their rooms. (Photograph by the Business Journal's Larry Duncan)
It's that personal connection – and resulting trust and camaraderie between long-time hotel associates and guests – that is driving the Hyatt Centric's customer loyalty and increasing occupancy levels, Becker and Santana said. In fact, Becker, who is responsible for overseeing Hyatt Regency Long Beach, Hyatt Centric The Pike Long Beach and six other Southern California Hyatt properties, is a 26-year veteran of Hyatt, while Santana has been with Hyatt for more than 22 years.
The pet-friendly hotel will soon seek to further enhance interpersonal connectivity with new updates to its key spaces. Within the next two months, the hotel will update its lobby and bar areas to feature larger, open seating areas and sharing tables. "It's all about connecting our guests with our colleagues, and our guests with our guests," Becker said.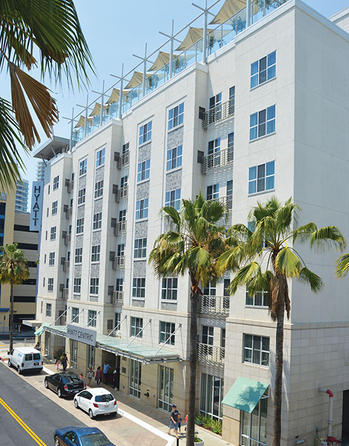 The Hyatt Centric The Pike Long Beach is one of seven Centric-branded hotels by Hyatt. The existing Hyatt hotel within the Pike Outlets shopping center was selected to be rebranded within the Centric family because it speaks to a specific kind of traveler – one looking for an urban, downtown experience, according to a Hyatt executive. (Photograph by the Business Journal's Larry Duncan)
It's a mission that has always been central to the hotel, Santana said. "We've transitioned the hotel a bit, but it really still identifies with its natural courses because Centric truly fits us," he noted. "It's almost like they built the brand around us."
Still, the rebranding has really served to define the hotel's purpose, Becker stressed. "It's a purpose that our associates and colleagues can embrace, but equally important, our guests can embrace," he said. "I think what [the rebranding has] really done is solidify what the hotel is meant to be. . . . There are many great choices of places to stay downtown, but I feel like we know who we are [and] our guests know who we are."