Starting this summer, Long Beach Airport now has more flights – plus service from a new airline – for travelers looking to get out of town.
The airport currently offers flights to 12 destinations through JetBlue Airways, American Airlines, Delta Air Lines, and the newest addition, Southwest Airlines. Regular destinations include: Austin, Boston, Las Vegas, New York, Oakland, Phoenix, Portland, Sacramento, Salt Lake City, San Francisco and Seattle. JetBlue also offers summer service to Anchorage.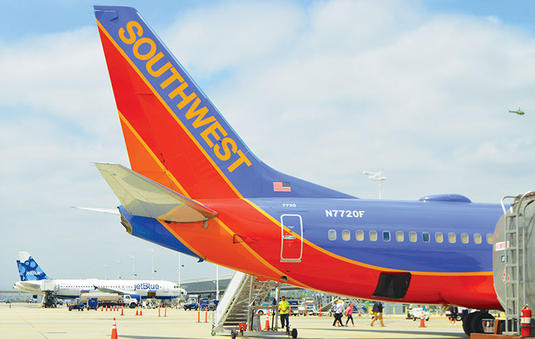 Southwest Airlines and JetBlue Airways planes sit on the tarmac at the Long Beach Airport last week. Southwest is new to the airport, now offering flights to Oakland. JetBlue, which offers the most destinations from the airport, is now offering additional flights to San Francisco, Oakland and Las Vegas, and is set to add a new destination – Reno/Tahoe – in August. (Photograph by the Business Journal's Larry Duncan)
Southwest Airlines started service at Long Beach Airport for the first time earlier this month, after being awarded four daily flight slots per the city's noise ordinance a few months earlier. "The community really seems excited to welcome us to Long Beach," Michelle Agnew, media relations spokesperson for Southwest, told the Business Journal.
The airline is using its daily flights to offer service from Long Beach to Oakland. The Bay Area city was selected because it gives travelers the option of connecting to 19 other destinations, according to Agnew.
Although there isn't currently opportunity to expand service through Long Beach, Agnew said the airline hopes to do so eventually if the city's noise ordinance permits it. "We're interested in growing eventually at Long Beach," she said. "We work closely with the airport and we really want to see Long Beach do well and offer our customers there great options."
So far, bookings are good, Agnew said. "The demand is there, and we're seeing a lot of flow traffic. Our customers are flying to destinations beyond Oakland and we're really excited," she added.
JetBlue was also recently awarded three new flight slots at the airport. It has added additional flight service to existing destinations offered through Long Beach, including San Francisco, Oakland and Las Vegas, and will begin service to a new location – Reno/Tahoe – in August. That will bring the total number of direct destinations from Long Beach Airport to 13.
"Summer is usually a peak season for us. We are up to 24 flights a day," Lou Anthony, general manager for JetBlue's Long Beach operations, said. Popular summer destinations include Portland, Seattle, the Bay Area and Salt Lake City, he noted.
So far this summer, flights are at about 90% of full capacity, which the airline is "very happy" about, Anthony said. Even sales for Tuesdays and Wednesdays, typically slower travel days, are doing well, he noted.
Delta Air Lines was allotted two additional flight slots, which it has used to add service to its one destination through Long Beach, Salt Lake City, according to an airport spokesperson. During the summer, the airline is using planes that seat about 30 more passengers than its usual 76-passenger aircraft.
Although passenger enplanements and overall travel through Long Beach Airport have declined over the past few years, this year is currently pacing ahead of 2015. Total passenger traffic is up 2.2% from January through May this year compared to the same time period last year, according to a monthly activity report.
"Summer is typically the busiest season in general for aviation. And I would probably say it's the busiest long stretch," Long Beach Airport Interim Director Juan Lopez-Rios said.
Both Agnew and Anthony noted that they are awaiting the results of a feasibility study on bringing international flights to Long Beach with U.S. Customs service. Lopez-Rios said he expects the study to be completed in August or September. The study is in two parts – one by the city attorney and one by the Jacobs Engineering Group Inc., he noted.
"We expect the feasibility study to be done very soon this summer. And we hope by the end of the year we're able to announce a positive FIS [Federal Inspection Station] vote and the potential growth that that means for the international market," Anthony said. JetBlue has been advocating for international service at the airport for some time.
Although Anthony said he doesn't know for sure which international destinations JetBlue would want to fly to, he said Cabo San Lucas, Puerto Vallarta and Cancun are possibilities, as are "any of the cities we fly to in Central America."
For more information about flights at Long Beach Airport, visit www.lgb.org.