The average cost of a wedding in Los Angeles and Orange counties is more than $36,500, according to valuepenguin.com. The five most expensive components are the ceremony site, the photographer, the reception band, the engagement ring and, most expensively of all, the reception venue at more than $13,000 on average.
However, when it comes time to plan their special day, not every couple has an extra $36,000 just laying around or parents who will (or even can) front the entire bill. Additionally, many couples may not want to start their life together with an extra $30,000 of debt, especially considering the amount of student loan debt accumulated nowadays. Sticking to a tighter budget is becoming increasingly necessary, but that doesn't mean couples need to sacrifice having a beautiful wedding.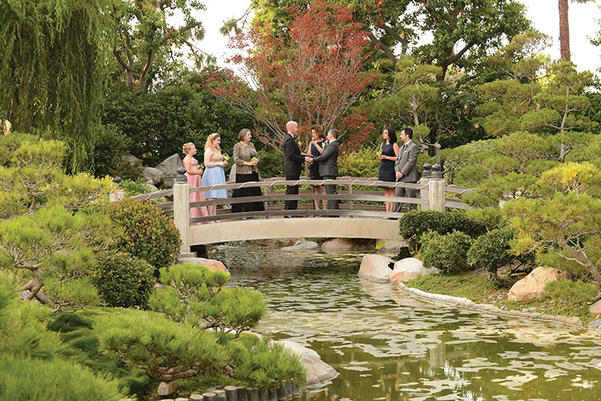 Able to accommodate up to 200 people for a wedding ceremony and reception, the Earl Burns Miller Japanese Garden at Cal State Long Beach costs couples several thousand dollars less than the regional average for wedding venues, according to garden director Jeanette Schelin. For more information, visit csulb.edu/~jgarden. (Photograph courtesy of Caught In The Moment Photography, www.caughtinthemoment.com)
With Southern California weather, outdoor weddings are almost always a viable option that can be less expensive with a more casual yet beautiful setting. Some of the least expensive options in Long Beach are the 18 rentable park community centers and six rentable beach sites, according to Jane Grobaty, community information officer for the Long Beach Department of Parks, Recreation and Marine.
"We have choices all over the city, so you can get one in your neighborhood maybe," Grobaty said. "I think people like it because they're used to the parks. They're happy with the parks. It's a safe, nice setting. There's parking, and the cost is a lot lower than a banquet hall."
Park facility rental rates are $40 per hour for events Friday through Sunday and $35 per hour every other day of the week. Additional charges for booking include a $375 refundable deposit, a $110 maintenance fee, a $30 permit fee and a $25 per hour staff fee, which doubles after 6 p.m. The social halls and activity rooms can host between 40 and more than 200 people for dining, depending on the park in which the event is held.
Alamitos, Belmont, Cherry, Claremont, Granada and Peninsula beaches have designated areas to host permitted events such as weddings. Permits can be obtained up to six months before the event but no later than five business days prior.
Permits for up to 25 people cost $30, 26-100 people cost $61, 101-200 people cost $113 and 201-300 people cost $203. Events with more than 300 people must be approved by the Office of Special Events and Filming. Each price includes a $30 nonrefundable fee, and one-day insurance must be obtained through the city's Office of Risk Management.
"Here you are in Long Beach. It's scenic. It's very pretty down at the beach," Grobaty said. "It's just a lot less formal, and I think that might speak to the bride and groom that might have that kind of attitude. They just want to be outdoors and enjoy the outdoors."
The beach does have its limitations, however. No glassware, open flames, generators or alcohol are allowed on the beach. Also, groups must be off the sand by 10 p.m.
For couples who want an outdoor wedding experience that is a little more formal but still affordable, the Earl Burns Miller Japanese Garden at Cal State Long Beach could be a good fit. The garden has been in the wedding business for more than 30 years, according to director Jeanette Schelin.
"Although we are a uniquely beautiful site, really something different, the cost of holding a wedding at the garden is very affordable," Schelin said.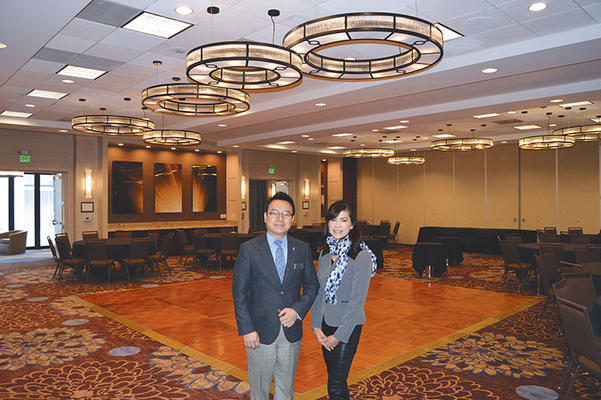 Mooyon Kim, left, the new general manager at Holiday Inn Long Beach Airport, and Charlene Tritipeskul, director of catering at the hotel, are pictured in the newly renovated, 5,000-square-foot ballroom. The space can accommodate up to 320 people for weddings. For more information, visit hilongbeach.com/weddings.htm. (Photograph by the Business Journal's Larry Duncan)
The garden offers ceremony-only packages that can accommodate 250 people or full ceremony and reception packages that can accommodate 200 people with dinner and dancing. December through February is considered off-peak with a ceremony costing about $700 per hour. However, off-peak packages do not include parking, which will add to the cost.
During peak months, wedding and reception packages are paid for by the day. For average-sized weddings, which are around 100-150 guests, Fridays cost $3,500, Saturdays cost $4,500 and Sundays cost $3,900. Schelin said the garden also offers options for small weddings of 25 people or less, which cost a very small amount.
"Once we find out what a couple is looking for, what they need, what they want, we can find the most economical opportunity for them," Schelin said. "We try to make this as easy for people as possible."
The garden has preferred vendors that offer discounts and also provides a wedding coordinator from beginning to end to help couples make the most of their wedding. With total costs as low as $9,000, Schelin said the garden falls several thousand dollars below the area's average cost for wedding venues.
"We are such a beautifully designed garden. We are an architecturally significant garden. It's completely private," Schelin said. "When you step through those wooden gates, you are transported into a different place. We're a destination wedding venue without the travel."
Another outdoor venue in Long Beach is Rancho Los Cerritos. While a little more expensive than the Japanese garden – with a starting price of $4,500 or $2,700 for a non-food event – it is not without its perks to help ease the financial burdens of a wedding. Because it is a museum and a historical site, nearly half of the venue cost is considered a charitable donation, which makes it tax deductible, according to Nora Cristobal, development associate for the rancho.
Cristobal said that since tours are held at the rancho from 1-5 p.m. and weddings are from 5-10 p.m., the rancho offers two docents dressed in 1800s or 1930s garb to be at the wedding and offer free museum tours.
A ballroom at the Holiday Inn Long Beach Airport (Photograph courtesy of Holiday Inn)
Another added perk for weddings held in the larger inner courtyard and backyard areas, which can accommodate up to 400 people, is that a photographer is provided. The average cost for a wedding photographer in Los Angeles for 2015 was more than $2,600.
"It's a beautiful space. We're tucked in the middle of Long Beach, and you really do feel like you're separated from the city, which is nice and quiet and peaceful," Cristobal said. "And we have the Moreton Bay fig tree, which is, like, 100 years old – that's always an eye catcher."
Long Beach also has an abundance of more traditional wedding options in banquet halls and hotels, including the Holiday Inn Long Beach Airport. Currently, a ceremony in the courtyard is $5 per person and can accommodate around 150 people.
Up to 320 people can be accommodated in the newly renovated, 5,000-square-foot ballroom for receptions. Reception packages include everything from the room rental down to the salad forks and start as low as $55 per person. Two appetizers, an entree plate and a cider and champagne toast are also included.
"If they have a minimum of 150 people, we also provide a gift certificate for the one-year anniversary," Charlene Tritipeskul, director of catering at the hotel, said. "On the day of the event, we also provide complimentary accommodations with champagne and chocolate in the room and breakfast for two the next morning. Also, we provide complimentary parking. I know a lot of people love that."
Some larger restaurants, such as Ports O' Call in San Pedro, offer various wedding packages that start at affordable prices. Noramae Munster, the marketing director for the restaurant, said ceremonies start at $500 for afternoons, with evenings costing $1,000, which includes the use of the bridal salon.
Receptions at the restaurant start at $48 per person, which includes a four-course meal and a champagne toast. According to Munster, the reason the restaurant can be so affordable is because the longtime staff has well-established techniques and keeps things delicious and beautiful, yet simple.
"The way we go about our business is that we create these menu offerings that are very straightforward and everything is included," Munster said. "We are the number one, best of South Bay, which also includes Long Beach, banquet facility every year since 2012."
Munster explained that there are no hidden fees or add-ons required for ceremonies or receptions – the bottom line is the bottom line. She also said the facility has everything necessary for events in each of its six different banquet rooms and three outdoor venues, so no additional rental costs are needed. Munster described all nine event spaces as picturesque and said the waterfront views, gardens, gazebos and fountains make for great photo opportunities.
"When you think of a wedding on a budget, you think you'll be in a small room with no windows in a hotel somewhere, but our experience on the waterfront is that it's expansive," Munster said. "Everything has a view. Everything has gardens and fountains. So it's not that you're giving up the beautiful ambiance you want on your wedding day."