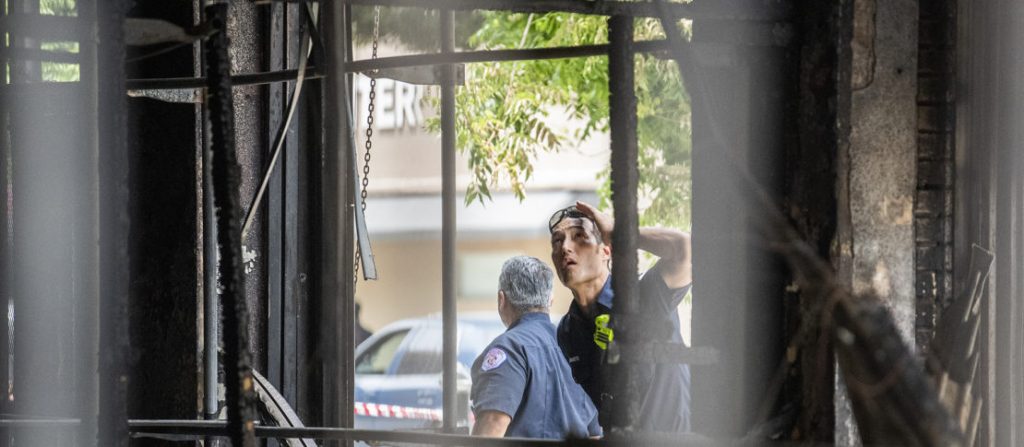 When hairstylist Mechelle Hooper returned from a weekend trip to Las Vegas Sunday night, she was shocked to see the images of violent protests in Long Beach that were dominating local TV.  
Among the scenes flashing across the screen: a raging fire at the Men's Suit Outlet on 7th Street and Pine Avenue, right next to the salon where Hooper works as an independent contractor.
Although a worrier by nature, Hooper said she told herself everything would be fine. She turned off the TV and went to bed. "It looked like it was going to be contained," she remembers thinking.
As Hooper slept, the Long Beach Fire Department finally succeeded in putting out the fire at around 1:30 a.m. It had been reignited two times following the original dispatch of firefighters at 9:55 p.m. The Men's Suit Outlet was destroyed in the blaze. But so, too, were the Legacy Salon, where Hooper worked, and several other businesses in the complex. 
Unaware of the breadth of the destruction, Hooper headed to Long Beach from her home in Gardena Monday morning to pick up a few things from the salon. When she arrived, she found the place in ashes. 
A local photographer captured the moment and posted his photos of Hooper on Instagram:
 

View this post on Instagram

 
"It was set maliciously," said Brian Fisk, spokesman for the department.
The cause of the fire is still under investigation. Fisk said the department is considering reaching out to the public for help in identifying the culprit. 
On social media, there has been an outpouring of support for the businesses destroyed by the fire, including Legacy Salon and the Urban School of Self Defense. 
Hooper, who has now lost her main source of income, said she understands why people are protesting, but that looting isn't going to bring about a resolution to issues of racial and social injustice. 
'It's not serving a purpose, it doesn't bring any justice to the situation," she said. "We need to be building this world back up. This is tearing it down."
Still, she said she has faith that eventually, the situation will turn around for the better. As for the future of Legacy Salon, Hooper has initiated a GoFundMe to support the business's recovery. 
"It's probably going to take a minute, but I still have hope, faith that things are going to change," Hopper said. "The world, society, can't go on the way it is."