Walking through the Children's Gateway Garden in Cesar Chavez Park, one can hear the pitter-patter of small sneakers on the nearby playground, children's laughter wafting over from the Jenny Oropeza Community Center and the chirping of birds in the tree crowns above. In the raised garden beds, purple eggplants the size of light bulbs sit next to bright orange pumpkin flowers and deep green chard sprouts.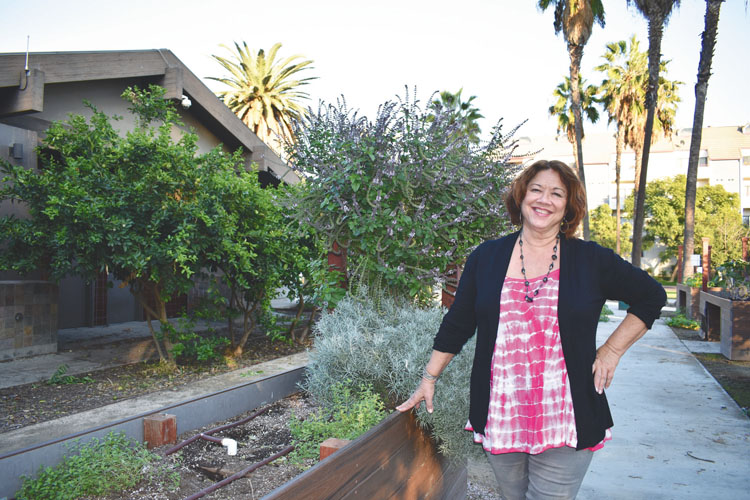 The community garden was the brainchild of Kathleen Irvine, a professional landscaper, president of the Willmore City Heritage Association and one of a number of community members who have taken action to improve their downtown neighborhoods. Determined to create what she called a 'true' community garden – no fees, no gates – Irvine designed a space for local residents to grow fresh produce at their leisure. "Having been a landscaper, I really was sensitive to what is necessary to make something really easy to maintain and for people to use," Irvine explained.
When Irvine moved to Long Beach from Los Angeles, she immediately fell in love with the Willmore area because of its proximity to downtown, the easy freeway access and the community's diversity. Still, as she settled into the neighborhood, which is located on the eastern side of the Los Angeles River, she began to notice the barriers some of her neighbors were facing, including a lack of access to fresh produce. "There aren't any immediately accessible places for fresh fruits and vegetables," Irvine said. The idea for a community garden was born, not only as a source of fresh produce, but also as a meeting point. "When we put the community garden in, the idea was to get people more involved and to try to bring [together] a cross-section of the different kinds of people who live here," she explained.
To ensure that the garden could be used by all members of the community, Irvine approached its design with accessibility in mind. The garden is equipped with drip irrigation systems to provide for easier maintenance, and the raised beds make plants accessible to children, elderly residents and wheelchair-bound gardeners alike. The fruit trees planted on the edges of the garden are "dwarf" trees, which makes it easier for people of all heights to reach the fruit they bear. Even the walkways between beds are plastered with concrete to create an easy surface for anyone to walk on. "Anybody can walk on it, whether you have high heels or a walker," Irvine said.
As downtown continues to grow and neighborhood resources improve, however, Irvine has started to notice a worrying trend: gentrification. "It's a big concern for us, because a lot of our neighbors are being evicted because of rising rents," Irvine said. "We don't want to lose our neighbors, we don't want this to become an exclusive, very expensive area." Irvine said that if gentrification can't be stopped, she wants to help provide more resources to help her neighbors, and especially children in Willmore, succeed in their changing environment. "If there is gentrification, I want them to be a part of it, not a victim of it," Irvine said.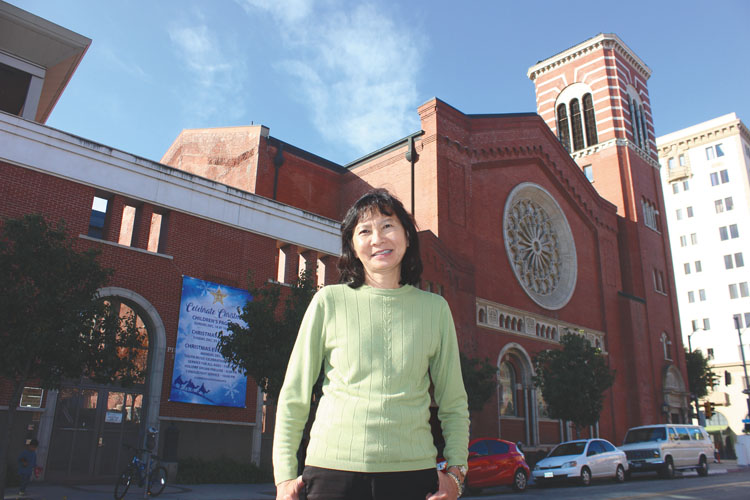 The increased cost of housing in California has also been credited as a main factor driving the state's homelessness crisis. In Downtown Long Beach, real estate development is pushing more of the city's homeless residents onto sidewalks and into the public eye. When the construction of the new civic center shut down Lincoln Park in 2016, Belmont Shore resident Julie Lie noticed that people who had previously congregated at the park began dispersing throughout downtown. Lie, now the new executive director of the Urban Outreach Center, decided it was time to take action.
"As a problem solver I just couldn't understand why homelessness was becoming a bigger problem instead of a smaller problem," Lie, who has a background in civil engineering, said. She set out to better understand the factors that could cause a person to become homeless and the system in place to help them out of it. After two years of volunteering at the Urban Outreach Center, a nonprofit set up to provide food, clothing and social services to the homeless in downtown, Lie became the organization's executive director. But many of her questions remained.
"It doesn't make sense why we have such a vibrant, wonderful, resourceful city of 480,000 people and we have – they keep telling me it's less than 2,000 – people who are homeless and we can't seem to accommodate them," she said. But instead of mulling over the various factors that contribute to the state's homelessness crisis, Lie decided to focus on the individual clients she and her team of volunteers could provide assistance to every week. "Complaining about it doesn't get us any closer to fixing it," Lie said. "Every day, the staff and I, we just try to meet our milestones and get people closer to where they need to be."
The center, which is hosted at the city's historic First Congressional Church every Sunday afternoon from 12:30-4 p.m., was founded in 2010 by Janet Rhodes, a member of the congregation. "At that time, there were not as many services and public spaces available," Elena Larssen, the church's senior minister, remembered. "The program is designed to help hungry people in the moment, on that weekend day," she explained. "The meal allows for people to create a relationship with the volunteers or with a social worker and create a pathway, perhaps, out of homelessness."
By providing a space for homeless clients to connect with services or just take care of basic needs like food and clothing, a place to charge their phone or to access the Internet, Lie hopes to meet her clients where they are. "Sometimes they just need a hand because they've been so shut out of our sense of normalcy that they just lose confidence," she explained. Lie also hopes that her organization's weekly service hours can serve as a meeting space for Long Beach residents with and without a home. "I do need people to understand the individual nature of each person," Lie said. "I think the biggest challenge is to stop thinking of them as 'them'. They're one of us, they're not 'them.'"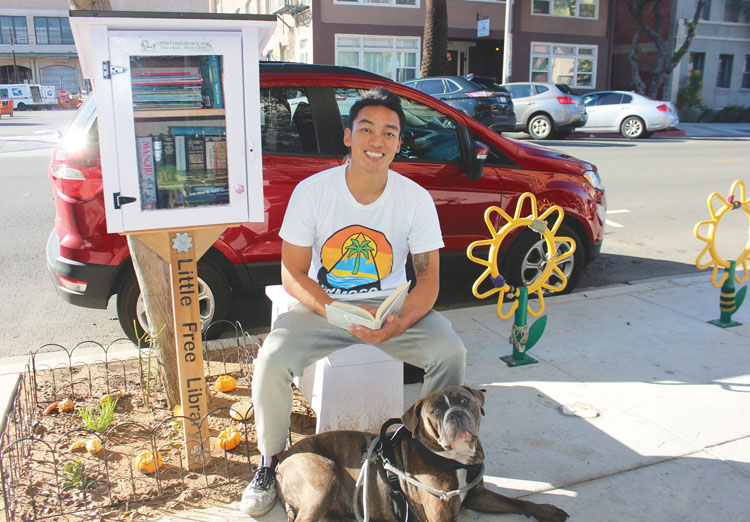 A few blocks to the east, a new generation of neighborhood organizers is getting engaged in improving their community, and East Village resident Anthony Formoso is one of them. A graduate of Long Beach Development Services' Neighborhood Leadership Program, Formoso has helped organize neighborhood cleanups and plant trees. Most recently, he set up a program of small street libraries, commonly known as "little libraries," across Long Beach. "I feel very passionately about neighborhood associations being the voice of the community," Formoso said. "We all have the power to make a difference."
A native of Stockton, California, Formoso came to Long Beach as a new student at its California State University campus in 2004. After graduation, he decided to put down roots in the city. "I love the diversity and that it's a strong, grass-roots community," Formoso explained of his love for Long Beach. With his library project, for which he received $10,000 in private donations matched by a $10,000 grant from the city, Formoso hopes to inspire others to get involved and help foster a sense of community. "You're not obligated to give a book or take a book, so it's just learning how to share and give, and not expect," Formoso said. "I don't know. I guess my goal is just to spark and influence other people to do st