Throughout her career, Long Beach resident Neyleen Beljajev has been guided and encouraged by accomplished female mentors. Knowing firsthand how such guidance can help put young professionals on a solid career path, as the newly installed 99th president of the Long Beach Bar Association, Beljajev is placing an emphasis on mentorship, as well as community outreach.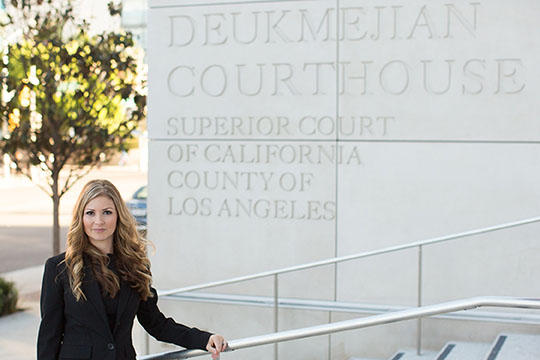 Attorney Neyleen Beljajev, president of the Long Beach Bar Association, is pictured outside the Deukmejian Courthouse in Downtown Long Beach. (Photograph by Taylor Kalander, Taylor-K Photography)
"There is such a need for mentorship, and it was shocking to me that there wasn't an established mentorship program yet within the bar organization," Beljajev told the Business Journal. She explained that, if the dean of her international studies department at Hawaii Pacific University hadn't mentored her and suggested she go to law school, she might not be where she is today. "That's why I've started a mentorship program this year: not only to bring in new members, but as a way to bridge the gap between the new members and the members with so much more experience in the law and in work-life balance."
After graduating from Loyola Law School, Beljajev worked for Los Angeles law firm Girardi Keese for eight years until launching her own firm, Beljajev Law Group, this past November. Her clients are predominantly women business owners. She has been a member of the Long Beach Bar Association since 2010, when she came on as a boardmember.
"So many women have helped guide me to where I am today, and, if it weren't for them, I don't think I would be able to manage having a successful law practice, leading the bar, having two children and a nearly decade-long marriage," Beljajev reflected. Her mother, her former college dean, and 2nd District Court of Appeals Justice Judith Ashmann-Gerst, whom she worked for in law school, have all provided valuable mentoring and guidance, she noted.
It's particularly important for women in law to support and guide one another, according to Beljajev. "We face unique challenges in that we have to decide how to make a work-life balance work – and that's not an easy task," she said. Of all the women she attended law school with, about half of them have already retired or gotten out of the business, she said.
"When I was pregnant with both my children, the most common question I was asked was whether I was coming back to work," Beljajev recalled. With student loan debt and a mortgage, she never second-guessed that she would go back to work. "Not only that, but I have worked so hard for my career. . . . My entire identity is wrapped in my career. It never occurred to me that I wouldn't go back to work," she said. Changing the perception that women who are mothers cannot or should not continue on with their careers is "a massive challenge," Beljajev said.
When asked if she feels there is gender parity in terms of women in law being able to advance to senior levels or earn as many billable hours, Beljajev replied, "I think that looking at the numbers of female equity partners [and] of women who are name partners – looking at those numbers will tell you the answer to that question."
The National Association of Women Lawyers recently released its ninth annual survey on the status of women in law, which found that 18 percent of women comprise equity partnerships in the U.S. – only 2 percent more than in 2006. The survey also found that "the typical female equity partner earns 80 percent of what a typical male equity partner earns, down from 84 percent in the first survey." Female equity partners typically bill for only 78 percent of what their male counterparts bill; however, these women reportedly worked a median of 2,224 hours, while men worked 2,198.
To resolve these issues, "We need strength, and that strength comes from mentorship," Beljajev said. "If you don't find mentors within your own law firm, then look outside your firm," she continued. "That's why the Long Beach Bar Association's mentorship program is really important."
As the association's new president, Beljajev is also placing an emphasis on giving back to the community. Each month this year, the association is going to contribute – either through services or other means – to local organizations. "This month we're focusing on For The Child, which is a phenomenal organization," she said. Based in Long Beach, For The Child is dedicated to helping families and children build lives free of abuse, neglect and violence.
One of For The Child's programs provides calm, friendly places within nine Los Angeles County Superior Courthouses for children who have to come with the parents or guardians. Each child is given a book to take home, according to Beljajev. To support this effort, the Long Beach Bar Association is holding a book drive this month.
"I love the work that I do at the Long Beach Bar," Beljajev said. "It's a great place to give back and grow our network." Like the City of Long Beach, the association is made up of diverse members, she noted. As the youngest female president and the second Mexican-American to lead the association, she hopes to build upon that diversity, and infuse new energy and ideas into the organization.