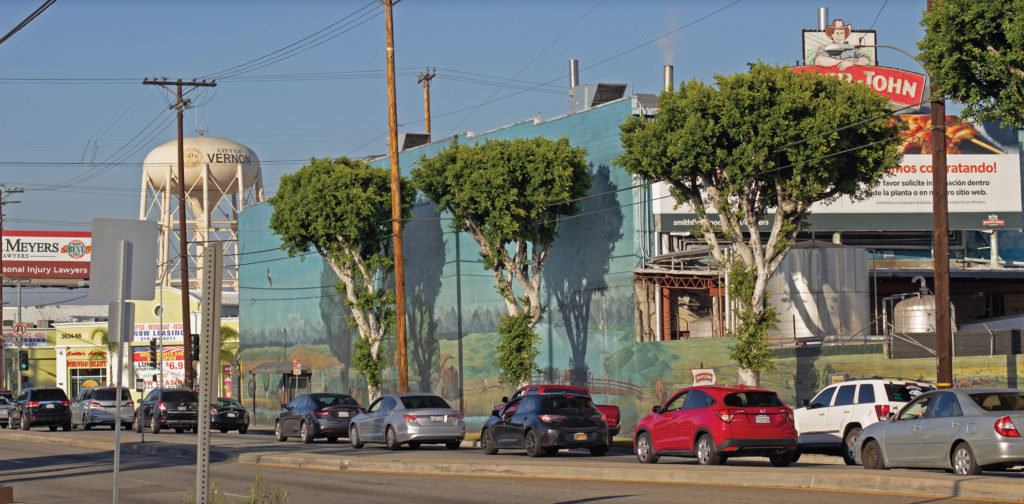 About 20 miles up the LA River from Long Beach sits the tiny town of Vernon. The city's history has been marred by corruption and concerns over hazardous waste from its many factories. And, as of late, it can add another unwelcome distinction.
Vernon tops Los Angeles County's list of cities with the highest per capita rate of coronavirus cases over the span of the pandemic. According to data published by the county's public health department, the city of just over 200 residents has seen 121 cases of coronavirus so far—a stunning case rate of more than 56,000 per 100,00 people.
But those high rankings for Vernon and the nearby City of Industry, which ranks second in the grim tally of cities, don't actually reveal the kind of viral siege among their residents that the county's numbers would suggest.
Instead, the high infection rates are largely the result of positive tests administered and recorded at their densely populated businesses and reflect the multifaceted coronavirus challenges faced by industrial and residential communities across southeast Los Angeles County.
(Interactive map of coronavirus cases and deaths provided by the Office of Los Angeles City Controller Ron Galperin)
Despite the extremely small nighttime populations of Vernon and Industry, tens of thousands of workers travel there every day for jobs in meatpacking plants, mail distribution centers and other densely populated, essential businesses. An outbreak at a Farmer John meatpacking plant in Vernon left 153 infected with the virus. At one FedEx distribution center in Industry, 110 workers were infected.
Vernon's director of health, Frederick Agyin, said he's bothered "a lot" that his city sits atop the county's list. But he concluded after talking to county health officials that it wasn't worth the trouble of trying to get them to separate the test results of residents from businesses.
"If it was an easy fix, we'd fix it. I want it fixed yesterday," he said, but added, "we have other things we have to deal with right now."
Whether in its packed workplaces or crowded residential neighborhoods, the 27 cities and nine unincorporated areas of the Gateway region of southeastern LA are being hit hard by coronavirus cases.
Pollution from heavy industries and the network of criss-crossing freeways has left many residents with underlying health conditions, such as asthma, that make them particularly susceptible to the effects of COVID-19.
Add to that the high number of essential workers and the density of housing in most of southeast LA and the Gateway cities, and the result is what local officials and advocates consider a perfect storm that has swept up many of the region's communities in its path.
"All these factors have put families living in this region at greater risk of exposure and infection," LA County 1st District Supervisor Hilda Solis, who represents many of the most heavily affected cities in southeast LA, said in a statement.
One of those areas is Florence-Firestone, an unincorporated, largely residential community east of the 110 Freeway. It has a rate of 18,924 cases per 100,000 residents, placing it in the top 20 of the 341 cities and communities listed on the county's COVID-19 data dashboard. Cudahy, Bell Gardens, Huntington Park, South Gate—all are among the top 30 cities with the county's highest infection rates.
"If a community has a lot of people who don't have the ability or, in fact, the luxury to be able to work from home, we know that every time people leave their home and share air with individuals with whom they don't live, it does increase the risk of infection," said Shira Shafir, assistant professor of epidemiology at UCLA's Fielding School of Public Health.
With housing conditions or employment patterns unlikely to change in the near future, vaccination efforts have become a beacon of hope for the region's most heavily affected cities.
Getting residents signed up for vaccinations, keeping them up-to-date with the rollout process and combating myths about the vaccine will be crucial, experts say.
"There's misinformation that needs to be cleared up and we have to do it in a way that is accessible," said Wilma Franco, executive director of the Southeast Los Angeles Collaborative, a network of nonprofit organizations serving the area.
The inclusion of residents 65 and older in the current priority group for vaccinations may also work against communities in southeast LA, which skew younger than the rest of the county but have high numbers of essential workers and case rates.
"One of the consequences of an age-based strategy is we may end up seeing that those who are essential workers may be less likely to be vaccinated in a timely manner," said UCLA's Shafir. "The communities most significantly affected by COVID infection right now will not necessarily be communities that are being reached with greater efficacy with respect to vaccinations."
Supervisor Solis, whose office declined to comment directly on the switch to an age-based strategy, instead focused on the need for more vaccination sites.
"It is critical that Southeast Los Angeles, a community that has been systematically denied access to services and programs that have been readily available to other populations, be prioritized," she said in her statement. "I expect a new vaccine site—one that is accessible—to be stood up in Southeast Los Angeles quickly."