In order to bring new businesses to the city and foster growth and sustainability for those already here, the City of Long Beach has many programs and incentives and is working to educate entrepreneurs and simplify processes.
The main focus of the Long Beach Economic and Property Development Department is to establish a data-driven approach that will lessen the time it takes for entrepreneurs to open their doors and for developers to get approvals, according to director John Keisler.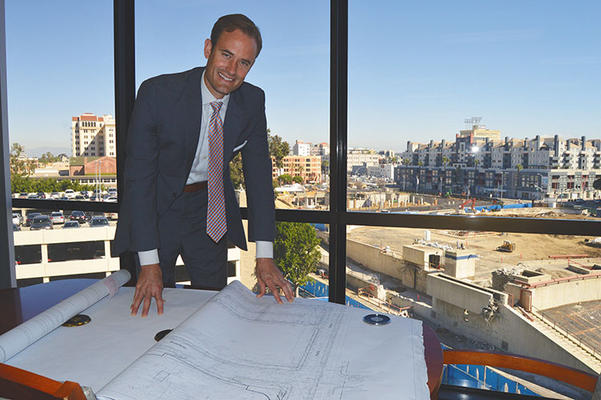 John Keisler took over as director of the Long Beach Economic and Property Development Department in January. He said the main focus of his department is the transition to a data-driven approach to cut the red tape and streamline the process of opening a business in Long Beach. (Photograph by the Business Journal's Larry Duncan)
"Helping them open their doors fast is key. They don't mind the work. Sometimes they don't even mind the cost. But speed is really important to them," Keisler said. "Certainty, clarity and speed [are vital] so they can start making money as soon as possible."
When starting a business, entrepreneurs have to obtain as many as 26 different licenses and permits from up to 10 agencies at the local, county, state and federal levels. After interviewing business owners, the city's Innovation Team (i-team), led by Keisler, who served as director until December, learned that there was no one-stop shop for those wanting to open a business, making the process overly confusing, cumbersome and time-consuming.
The team monitored and tracked the median days to approval – the time from submitting an application to obtaining a business license – during 2016. In that time, the department was able to reduce the number of days from 27.9 to 18 by better preparing entrepreneurs for the process and making internal adjustments.
"That is a significant improvement in terms of the median speed at which applicants are getting through the process," Keisler said. "I think it was an accomplishment. But I think that was the low-hanging fruit because now we've automated some of the application process. We've improved communication. We've improved the resources available to the entrepreneur. Now it becomes much harder."
Keisler explained that staff is currently examining which types of businesses have the longest and quickest days to approval and which steps of the process cause the most delay. By analyzing these trends, Keisler said staff could then focus on those areas to enhance the process for entrepreneurs.
Cutting red tape for businesses is not just about governmental policy, according to Keisler; it also entails educating entrepreneurs and providing them the tools to navigate the process. Last October, the city launched BizPort, an online portal that acts as a one-stop shop to help explain and guide entrepreneurs through the licensing and permitting process, connect them with support resources, and better prepare them to be a stronger applicant.

Long Beach Planning, a division of the Long Beach Development Services Department, is located on the 4th floor of Long Beach City Hall, 333 W. Ocean Blvd. Information on licensing, permits, building, planning is readily available in person from city staff, or visit www.lbds.info/. (Photograph by the Business Journal's Larry Duncan)
BizPort allows potential applicants to chat with support staff if they have questions and provides a comprehensive checklist of each agency and corresponding license and permit required to start a business.
"The other thing, in terms of cutting red tape, is internal. What can we do to improve policy, regulation, and clarity within city hall. So it's not just blaming the victim," Keisler said. "What can we do from a policy standpoint, and what can we do from an operational standpoint to fix ourselves and help the process be easier and faster and everything else."
Internally, Keisler said his department is looking at ways to streamline the process by better understanding various governmental policies to improve information sharing and the application and review system.
Already, to improve the process, the city has introduced tools for entrepreneurs, such as BizPort, and allowed online applications for business licenses, which began in August of last year. The city has also automated some services, including scheduling building inspections.
Keisler explained that last year there were 87,000 building inspections but only about 12,000 permits approved. He hopes the new system will lessen the number of inspections per permit.
BizPort also connects people to other programs and assistance, such as business planning at the Small Business Development Center (SBDC) hosted by Long Beach City College (LBCC), in addition to classes and various business loan and grant opportunities.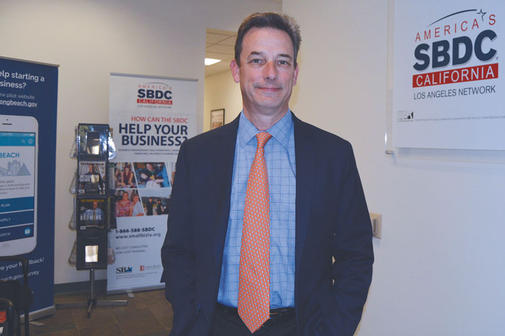 Director Brad Pollak heads up the Small Business Development Center (SBDC), which offers various programs to assist small businesses just starting out as well as those wishing to expand. Since its inception, the SBDC has assisted 55 business startups, helped create 200 jobs and helped businesses citywide obtain more than $13 million in capital. (Photograph by the Business Journal's Larry Duncan)
The city has programs in place that provide business owners with seed capital in the form of loans, grants or other contracts with the city. Many of the loans range from $25,000 to $100,000 dollars, but some can go beyond that. The smaller loans are reserved for small business startups. The larger loans are paid for through the Grow Long Beach Fund, which is guaranteed by the U.S. Small Business Administration.
Another program, which is typically utilized by large shopping centers or car dealerships for major renovations and expansions, is a shared sales tax. The city incentives the development project by sharing a portion of the sales tax with the developer for a predetermined amount of time to offset the cost. This program is reserved for companies that generate a minimum of $5 million annually.
Business startups located in the Community Development Block Grant area, which is primarily North and Central Long Beach, can apply for a Business Start-Up Grant. This grant is designed to assist new businesses by providing up to $2,000 to defray costs associated with starting a business.
Other incentives are in place for businesses to relocate to or expand in the city, to create jobs, and to renovate or improve facilities, as well as for manufacturing businesses. For relocating to or expanding in Long Beach, business owners may be eligible for monetary incentives equal to the amount of their first year's business license, typically ranging between $350 and $520.
For business owners paying for construction or renovations that cost $2,000 or more, which are not covered by the landlord, the incentive is equal to one year's worth of business license tax costs. If the owner spends $4,000 or more, the incentive is worth two years of license tax costs. This incentive ranges from $700 to $1,035.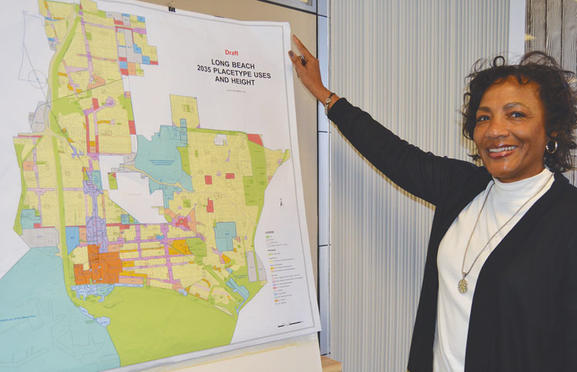 Planning Bureau Manager Linda Tatum explained that her department is currently working to ease certain processes required to open a business in the city, including streamlining permits procedures and a review to lessen turnaround times. (Photograph by the Business Journal's Larry Duncan)
The city offers incentives ranging from $36 to $70 for every new employee that a small business hires. The incentive is equal to four times the amount of the incremental license tax for each new employee and is paid as a credit against the current year's business license tax bill. Manufacturing businesses opening a new location in the city are eligible for an incentive equal to the amount of the first two years' business license tax costs, ranging from $700 to $860.
Last year, the SBDC saw 55 business startups and 200 jobs created, and helped businesses citywide obtain more than $13 million in capital. One small business perk through the SBDC is free business consulting through its partnership with MADE by Millworks, a consignment store downtown.
Recently, LBCC and the SBDC launched the International Business Accelerator program, which assists early startup companies and small businesses with expanding into global markets. Participants receive assistance such as free coaching, mentorship, market research and consulting research. Applicants can be pre-revenue, early stage or established businesses with strong global growth potential, a proven prototype and a founding team of two or more.
LBCC is also a participant in the Goldman Sach's 10,000 Small Businesses program, which the college has been running since 2012 as the Southern California Regional Center. The nearly 100-hour program is free for business owners or co-owners who have been in operation for two years, have at least four employees and have a minimum of $150,000 in revenue. Participants are taught modules in finance, marketing, human resources, employee and customer management, and outreach by successful businesspeople from around the country. The program has had around 700 scholar graduates, 30% of whom were Long Beach businesspeople.
According to Planning Bureau Manager Linda Tatum, her department is also doing its part to relieve some of the stress of opening a business in the city.
"I think probably the most recent effort is the request by one of the councilwomen who led the charge to have the city examine the CUP process," Tatum said. "The conditional use permit is probably one of the more common processes that businesses are subject to."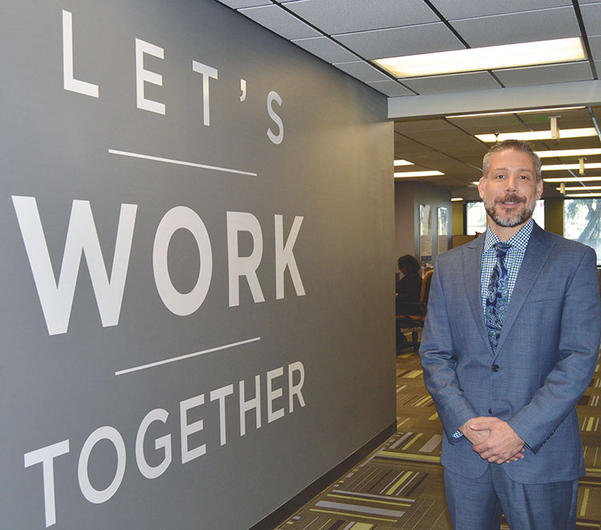 Nick Schultz, executive director of the Pacific Gateway Workforce Investment Network in Long Beach, said the most effective program the organization offers is its work experience. Eligible businesses can be reimbursed anywhere from 50% to 90% of new employee wages during a training period. (Photograph by the Business Journal's Larry Duncan)
A CUP is an additional level of project review, which requires a public hearing. These permits take a critical look at potential negative impacts on a community. Noise pollution, alcohol sales, chemical use – these are just some of the reasons a project might require a CUP.
Tatum explained that the city is currently looking into ways to make the CUP process more efficient, cheaper and a little easier on the department and business owner alike, including digitizing certain aspects.
The bureau is also taking a critical look at the site plan review process to make it more efficient, Tatum said. This would make the process more predictable with regard to turnaround time, from the start of the review process to the end.
Additionally, Tatum said the department offers expedited plan check for an additional fee, which will get owners and developers through the process more quickly. Tatum also explained that the planning department prides itself on the level of customer service it provides and works hard to coordinate with all the agencies involved with entitlements and permitting processes.
Tatum said one way to accelerate the process is for developers and business owners to take advantage of the department's free consultation before submitting a project. By doing this, she explained city staff can point out problematic aspects before the process begins to ensure it is as smooth as possible.
Throughout the general plan overhauls, such as the Downtown Plan, Midtown Specific Plan and the current discussion on Land Use Elements, city staff has built in California Environmental Quality Act (CEQA) standards. This means projects that fall within each plan do not need to go through the CEQA process, and projects that receive variances and are not within the plan already have a head start.
"We think that the incentives are truly built into that document, in terms of not just achieving the city's vision for those corridors and the changes that will go into it over the long term," Tatum explained, "but the benefit to the neighborhood as a result of new investment and new development in some of the key corridors."
Once a business is established in the city, the Pacific Gateway Workforce Investment Network can assist in areas of workforce development. Eligibility for assistance depends on employee wages, according to executive director Nick Schultz. He explained that Pacific Gateway looks for companies with starting pay around $17 per hour.
The network can post job openings, screen for qualified applicants, customize sorting, provide interview space, set up interviews and conduct large-scale recruitments. One of the most effective tools, according to Schultz, is the work experience program, which can be used for new employees or to offer established employees a chance at increased wages.
"I think it's really the on-the-job training program that's the most utilized and seems to be the most effective because what it does is it actually abates some risks on behalf of the business owner," Schultz said.
Through the work experience program, employers can be reimbursed for new employee training done in-house by Pacific Gateway or on the job. Employers are reimbursed a minimum of 50% of the trainee's wages for the training period. Schultz explained that in a tight labor market, the reimbursement could sometimes be as high as 90%.
Despite the various support systems, Keisler said the city could always improve. He hopes that monetary incentives, such as small business loan programs, can be expanded to help more businesses reach their full potential.