JetBlue Airways has relinquished 10 flight slots at Long Beach Airport (LGB). The voluntary forfeiture was made after the air carrier failed to meet the city's new minimum use requirement for flight operations at LGB, effective January 2019. Under the Flight Slot Allocation Resolution, commercial and cargo carriers are required to use their allocated flight slots at least 70% of the time per calendar quarter. JetBlue did not meet the requirement in the first quarter of 2019, and on April 9 announced that it would give up seven permanent and three supplemental flight slots.
Philip Stewart, manager of corporate communications at JetBlue, told the Business Journal that the airline intends to use its 24 remaining flight slots at LGB in accordance with the reduced flight schedule the company announced in April 2018. "The changes were made following the city's decision to vote down our proposal for a customs facility at the airport," Stewart said, referring to a proposed federal inspections services facility that would have enabled LGB to provide international flights. The Long Beach City Council voted against the facility in January 2017. "Our restructured schedule . . . meets customer demand, while also operating within the limitations of domestic-only flying in Long Beach," Stewart said.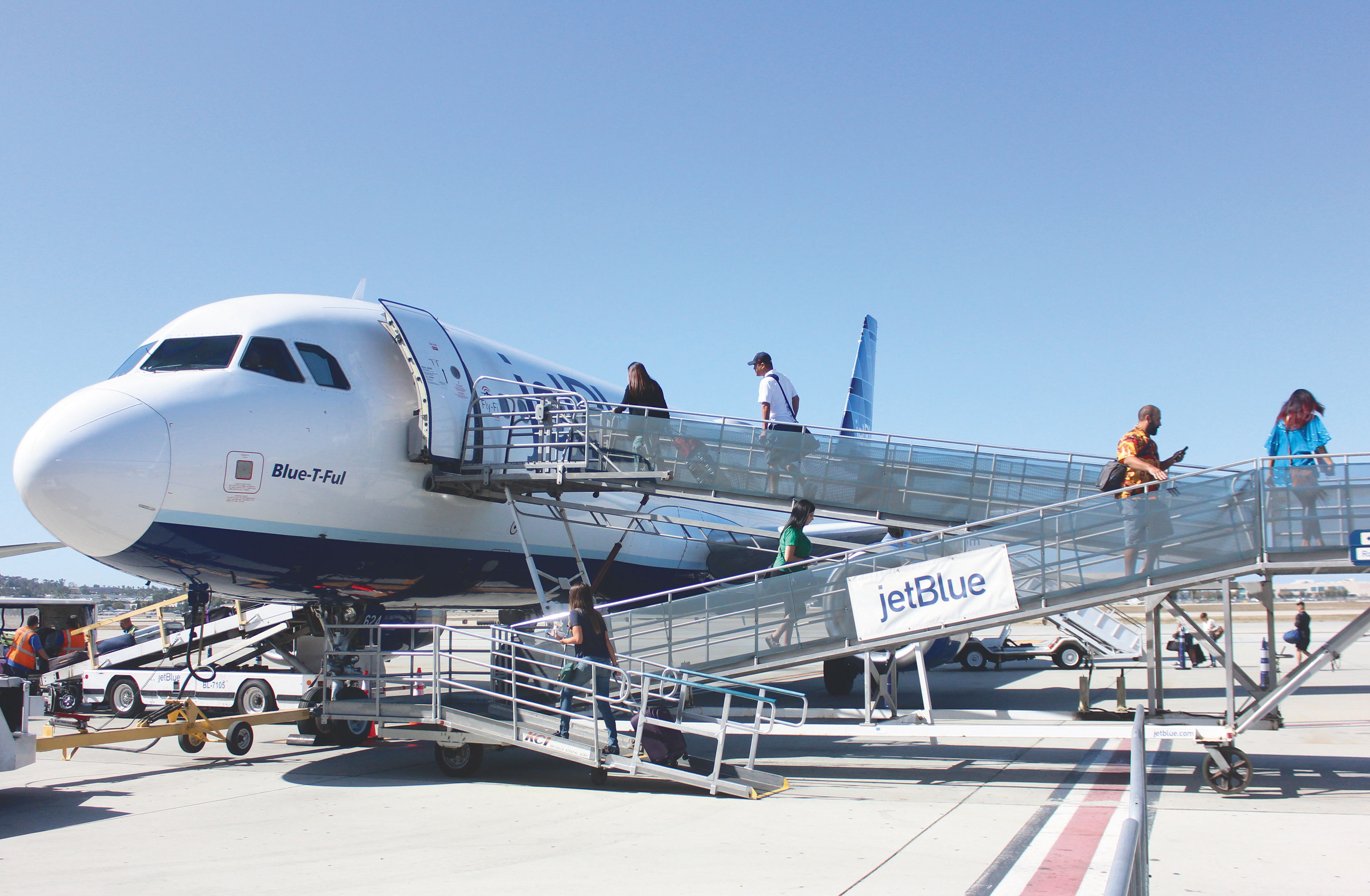 The city's Airport Noise Compatibility Ordinance permits a total of 50 daily flights among commercial and cargo air carriers at LGB. This includes 41 permanent flight slots and nine supplemental slots. Supplemental flight slots, unlike permanent flight slots, can be revoked depending on the "noise budget," or maximum amount of noise that aircraft generate throughout the day, Interim Airport Director Claudia Lewis explained. Cargo carriers FedEx and UPS use one permanent slot each. The remaining 48 slots are used by the five commercial carriers that operate at LGB: JetBlue, Hawaiian Airlines, Delta Air Lines, Southwest Airlines and American Airlines.
Under the old requirements for flight slot utilization, carriers had to use a slot to fulfill at least four flights per week over any 180-day period, or 57% of the time over six months. In a November 2018 report to the city council, former LGB Director Jess Romo noted that this state of affairs "arguably provides for the potential to engage in anti-competitive behavior by maintaining flight slots that are underutilized." In other words, one airline could prevent another from offering more flights by effectively "squatting" on its unused slots. Interim Airport Director Claudia Lewis said that this not only created a disadvantage for affected airlines, but also reduced the capacity and utility of the airport.
In November, the city council amended the airport's allocation resolution to set new minimum use requirements. Now air carriers must use their slots at least 60% of the time each month, 70% each quarter and 85% each year. The ordinance also states that carriers failing to meet this standard may have their slots revoked or reduced, and potentially disqualified from receiving further slots. "Increasing the utilization requirements creates a fairer playing field and makes those slots not being used available to a carrier that would use them most," Lewis said.
For years, JetBlue has held the majority of flight slots at LGB, which is the airline's regional headquarters. The slots it forfeited were already being used by other airlines on a temporary, monthly basis, city staff explained in an April 10 statement. Beginning in October, these slots may become permanently available to the airlines, with Hawaiian, Delta and Southwest waitlisted for priority. "This is an opportunity to diversify the airport's business model and create a better balance among airlines that service LGB," Lewis said.
When asked how she would characterize the airport's relationship with JetBlue, Lewis said, "We appreciate our partnership with JetBlue, just as we do all carriers that service LGB. We respect the fact that they, like any other carrier, have to make decisions to better position themselves in a competitive market like the one we are fortunate to have at LGB."