Much of the debate on higher education today focuses on getting students into college. But for Doug Otto, president of the Long Beach Community College District Board of Trustees, it isn't enough to count heads on the first day of class and declare victory.
"We need to increase access so we can get more people into classes. But we need to improve completion and time to completion – how quickly they do it," said Otto, who is running for reelection for the District 4 seat that he has held since 2004. (The Business Journal recently endorsed Otto, along with Councilman Daryl Supernaw and Long Beach Board of Education members Felton Williams and Jon Meyer in their 2016 reelection bids.)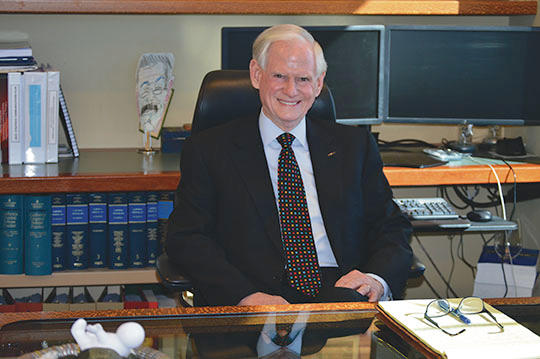 "Right now, the average student will graduate in six years from community college. We want to take it from six to three. That is part of what I'm trying to do. Only 54 percent of UC students earn their degrees in four years. Only 19 percent of CSU students complete in four years. We have to improve that."
Otto has played high-profile roles in many critical community activities. A private attorney, Otto has been involved in a wide variety of issues involving the city's past and its future, from historical preservation to transportation, from the arts to downtown development, from a master plan for the Aquarium of the Pacific to strategic planning for the city.
What Otto brings to higher education administration is a broad perspective of how college fits into society as a whole. And what he has worked on in the past is aimed at creating a positive impact on the future of the state. As he sees it, few other activities have the potential to improve California's future to the extent that an effective higher education program has. And failure has the same potential to damage it.
"If community college students don't succeed, our state, our communities, are in a lot of trouble," Otto told the Business Journal. "The Public Policy Institute of California said that by 2030 we're going to need about 1.5 million more college graduates. If we hit line drives and accomplish everything that we can right now, we'll have a million. We'll underperform by half a million.
"The jobs of the future are going to require post-high school education. The jobs are going to be jobs that require you to know enough math and know enough English to be able to do those jobs. We have to have those graduates. If we don't have those graduates we're going to wind up with lower-paying jobs, more people out of work, social welfare will go up, we'll have more people committing crimes. Even now, more than 50 percent of the tech jobs that we have, the STEM-type jobs, are filled by people who are not from California. We want people from California to take those jobs.
"It's not just enough to get students into community colleges. It's about getting them through the community colleges and into the state's four-year schools. That was once the overarching goal for higher education in California," Otto said, but that model has crumbled.
"What we have is cafeteria model for education. You go to a community college and you pretty much enroll in classes. So you get kids saying, 'I'm going to do this, and I'm going to do this, I'm going to take a semester off, I'm not going to take a full load this time, I got enough of this,' but they don't have enough concentration of classes that will get them to move on to the UCs or CSUs or a private university," Otto said.
"I call it a cafeteria style because what happens is that you just open the catalog and say, 'Oh, that looks good. I'll take that, I'll take that.' It's like saying, 'I'll take that Jell-O salad, I'll take that pizza.' It's not structured, it's not focused, it's not what we need to do to get kids to complete. If kids don't complete, they're not only hurting themselves, they're taking up places for people who want to get in and get an education and move on."
During Otto's tenure on the five-member board, the district has worked toward getting its students through community college and ready for university studies. The Promise Pathways program uses an innovative method of placing students, requiring them to enroll full-time (because full-time students are more likely to complete their education) and meet certain academic goals immediately. The program works hand in hand with the state's transfer degree mandate, which requires community colleges to create simple, easily defined educational plans that meet the transfer requirements for CSU and UC schools.
"It's a structured pathway. Instead of a cafeteria, you say, 'This is where I'm going and how I'm going to get there,' and Long Beach is one of the leaders in creating these articulated pathways," Otto said.
According to the district, the Promise Pathways program has had another effect: the achievement rates of those early academic goals for students of color exceeded the rates of achievements for the highest-achieving students. Otto called education "the civil rights issue of the 21st century" and said that education is the most effective way of providing opportunities for all members of the community.
"I believe very strongly that education is the ticket out of most of our problems," Otto said. "If people get an education, then that creates opportunities for them."
To deliver the kind of education that creates opportunities, Otto said the district's focus should follow four basic ideas:
• Making student success a priority.
• Professional development for board members, helping them to understand better what is happening within their schools, and to react more effectively to meet the needs of the students.
• Keeping a scorecard that quantifies success and effectiveness.
• Deploying its resources where they have the greatest effect on student success. This includes reducing remediation, focusing on the progress of students through their educational career and creating "structured pathways" to community college completion and transfer to universities.
Otto sees the community college as part of an educational process that starts years before the student arrives at Long Beach City College and continues well afterward. In the future, incorporating that vision results in a better California, he said.
"The Long Beach City College of the future will include the structured pathways that we talked about, more college classes in high school – we need to do that to help move people through – so that when they get to us, they don't have to take Psych 1 because they've already gotten that out of the way," Otto said. "And the big word is accountability. We need to hold our public institutions accountable. Community colleges should not get a free ride."