In honor of Long Beach Arts Month, the Business Journal is profiling six local artists from a variety of backgrounds and with equally wide-ranging talents, from filmmaking to drawing, singing, dancing and more. Some of these artists are Long Beach natives. Others relocated here to pursue their careers. All have chosen to remain residents of Long Beach because of its burgeoning arts scene and supportive community. Profiled in our Focus On The Arts In Long Beach are: Gary Alvarez, filmmaker; Rudy De Anda, musician; Shy But Flyy, singer and spoken word artist; Dave Van Patten, visual artist and illustrator; Megan Wilcox, ballet dancer; and Angela Willcocks, visual and social practicing artist.
Gary Alvarez, Filmmaker
For Long Beach resident Gary Alvarez, a cross-country road trip through Mexico ended up being the driving force in a career shift into filmmaking. Now a screenwriter, director and producer, the Los Angeles-born Chicano artist has an M.F.A in film from Chapman University and is working on a series of projects.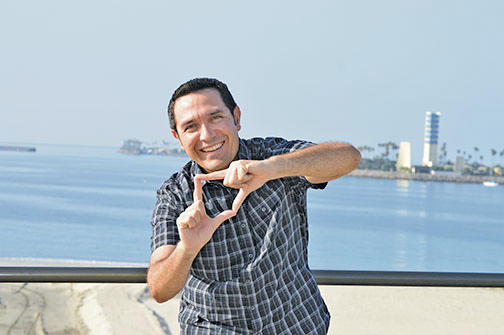 Alvarez taught in the Downey Unified School District for about 10 years after completing his undergraduate work in Chicano Studies at the University of California, Berkeley. In 2003, he moved to Long Beach, and a year later took off on the road trip that would alter his career path.
A child of Mexican-born parents, Alvarez was inspired by Jack Kerouac's famous novel, "On The Road," to travel across Mexico from Tijuana to Tulum. "The plan was for me to write the manuscript for a novel I wanted to publish when I got back," he said. Instead, when pitching the novel to a friend in the film industry, he was told the story was cinematic and should be adapted to film.
"I had never written a screenplay before, so I took a screenwriting workshop at Long Beach City College that I enjoyed very much," Alvarez recalled. He also took a workshop in directing, and eventually decided to enroll in Chapman University's graduate program in filmmaking through its Dodge College of Film and Media Arts.
Alvarez had his first breakthrough in film while studying at Chapman, where, competing with 75 other filmmakers, he won a $25,000 grant to fund his eight-minute short film called "A Good Man." The film, which was screened on campus, was well received. "That was like a highlight of my career at Chapman," he recalled.
As a writer, Alvarez is inspired by everyday life and his family's working class and immigrant background. "I have Mexican heritage mixed with my American upbringing. Sometimes there is a clash in the cultures," he said. "In the process we try to reconcile the two. That experience also influences the stories that I tell."
Alvarez has dabbled in filming dramas, documentaries and more. His current main project is a self-written, -produced and -directed comedy web series called "Scumbags," which he is currently pitching to video streaming companies like Netflix and Hulu.
When he isn't making films, Alvarez teaches his craft to elementary and middle school children through a program of the Latino International Film Institute.
Rudy De Anda, Musician
A self-described "genre-bending" and "experimental artist," Long Beach's Rudy De Anda has been playing local venues since he was a pre-teen. Now 27, the musician, perhaps best known as a member of the band Wild Pack of Canaries, has struck out on his own with a new solo EP record and a different sound.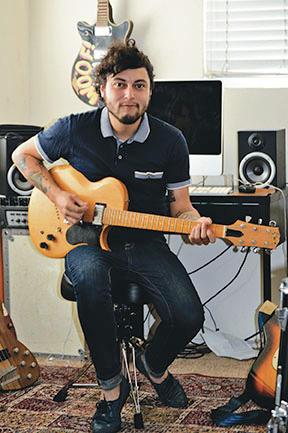 De Anda moved to Long Beach in the early 1990s after his family home in South Central Los Angeles burned down during the L.A. Riots. The rest, he said, is history.
Growing up, De Anda's influences ranged from Spanish ballads to Bob Marley, Leonard Cohen, The Mars Volta, The Beatles and more. When he was 12, he saw a Red Hot Chili Peppers concert and decided it was time to get a guitar. By the age of 15, he already had about 200 gigs at local venues under his belt.
Long Beach's eclectic music scene had an influence on De Anda's style. "Long Beach has always been that kind of town where you could listen to punk rock or gospel or salsa music, or whatever it may be," he said.
De Anda's life experiences also inform his music. "In the past . . . playing a show for a sold-out crowd then the next night washing dishes and mopping floors till 3 in the morning is like a very humbling experience and brings you back to earth really fast," he reflected.
While De Anda previously stayed away from common themes like love and relationships, he has since changed his tune. "Now I am enjoying writing more literal songs about more common themes . . . because I do feel there is a void in pop music of today where there are not that many crooner-type singers like there was with Neil Diamond in the past," he said.
Nowadays, De Anda describes his sound as "contemporary psychedelic pop paying tribute to 1960s and '70s music." He is planning to go on tour to promote his EP "Ostranenie," and continues to write new music.
"Everyone knows this town is a ticking time bomb when it comes to music," De Anda said of Long Beach. "I think we have been overshadowed by L.A., and at this point we're just gearing ourselves up for it to be one of the next big music towns of California."
Shy But Flyy, Singer And Spoken Word Artist
Don't try to put Long Beach singer and spoken word artist Shy But Flyy in a box – chances are, you wouldn't find one big enough for her performance repertoire, anyway. One night you might find her giving a poetry reading, while the next you'll find her singing the blues with her band, The Cold Shoulders. Other times, you might catch her painting live onstage.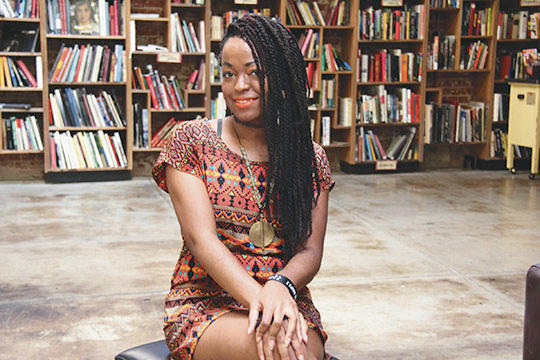 Shy But Flyy grew up in San Pedro and moved to Long Beach after high school because its arts scene inspired her. "I went to Long Beach City College and took music, English and creative writing classes," she said. "I met a lot of people who were doing the same thing I was doing and it inspired me."
Shy But Flyy, who goes by Shy for short, said her self-chosen moniker is a reflection of her personality. "Growing up, I was really shy and quiet," she said. "I would write a lot and sing a lot, but I wouldn't share it."
One day, Shy got up the courage to participate in an open mic night, and discovered the "Flyy" side to herself. "The response was mind blowing," she recalled. "It broke me out of my shyness, sharing my art and meeting other artists."
"I would say that I am versatile, because I sing and I play drums and I do poetry," Shy said. "People come see me and they won't know what I will be doing at that particular show."
Shy has published a book of poetry called "The Meaning Of The Blues," which contains musing on life experiences and her love for music. As a poet, she draws inspiration from author Jack Kerouac and the beatnik movement. "When I do poetry . . . I like to have percussion behind me, like conga or djembe, and the phrasing is free form," she said.
As a singer, she is most drawn to the blues. "I like Muddy Waters, Robert Johnson, Etta James. They really inspire me," she said. Shy and her band, The Cold Shoulders, perform both original works and old standards.
In addition to performing and working on her next book of poetry and a music EP, Shy often hosts events for the arts community. She is also a teacher's assistant for the Long Beach Unified School District.
Angela Willcocks, Visual And Social Practicing Artist
After traveling the world for several years, Australian native and visual artist Angela Willcocks eventually settled down in Long Beach, where she has become known as a social practicing artist – a type of artist who immerses herself in a community and partners with locals to produce art that benefits that community.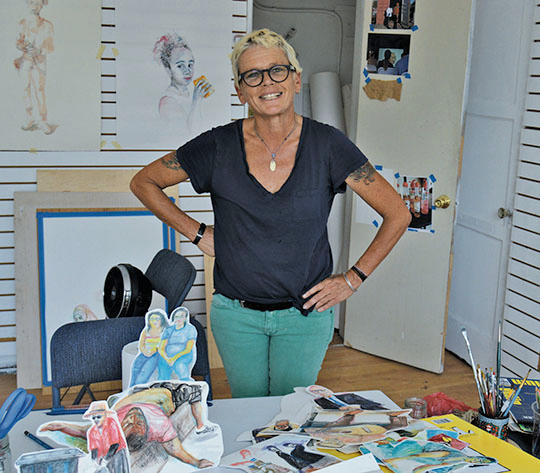 As an artist, Willcocks said she is influenced by her experience as an immigrant. "I work with people who are disenfranchised," she said, referring to undocumented immigrants and others who struggle to "get a sense of place."
Following her participation in an A LOT exhibition, a temporary art installation in North Long Beach sponsored by the Arts Council for Long Beach, Willcocks was drawn to the area. "When I was up in North Long Beach, I noticed that only one in 10 shop fronts were being used," Willcocks said.
"What I also noticed was there were about 20 barbershops within a one-mile radius. Being from Australia, it was really engaging for me because the barbershop culture is a very American Hispanic and African American culture. And I thought it would be really interesting to spend time in the community."
Willcocks invested in a small storefront on Long Beach Boulevard near Artesia Boulevard and began calling on local barbershops, where she drew images of patrons and business owners. Each shop got a copy of the artwork, which in some cases were turned into animations to play within the shops. "I was putting art not into galleries or museums, but actually [giving it] to the people who rarely have access to art," she said.
On a daily basis, Willcocks paints and draws in her shop, engaging with anyone who walks through her door. "Since the shop front has been open, I get anywhere between two and 20 people from the neighborhood just dropping by and chatting, picking up art supplies or letting me photograph them," she said. "If kids come in I will give them art lessons." It's also not uncommon for local gang members to wander into Willcock's shop and let her draw them as they chat about art.
In addition to working with the North Long Beach community, Willcocks teaches art at regional universities and city colleges, and exhibits her artwork nationally.
Megan Wilcox, Ballet Dancer
A ballet dancer since age four, Megan Wilcox has traveled the country and the world, performing and competing. She was brought up in the Long Beach Ballet by the organization's artistic director – and her father – David Wilcox.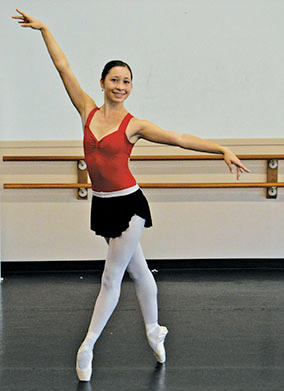 "Performing is the best thing in the world," the 19-year old dancer said. "Nothing gives me more joy, to be in the arts." Although Wilcox has been training with Long Beach Ballet and performing in the company's annual production of "The Nutcracker" since she was four, it wasn't until she was 12 and began entering competitions that she knew dancing was for her.
"When I was 12 years old we started to compete in Youth America Grand Prix, and I would do that every year. Eventually, I started making it to the finals in New York," she said, referring to a ballet competition where she has garnered a number of accolades, including First Place, Senior Contemporary in 2014. Other competitions Wilcox found to be "amazing experiences" included the Prix de Lausanne in Switzerland and the USA International Ballet Competition in Jackson, Mississippi.
As a competitor in the Youth Grand Prix, Wilcox was spotted by the director of Dresden, Germany's Somperoper Ballet and was asked to relocate to Dresden to apprentice with the company. After a year performing with the international ballet company, Wilcox just recently returned home.
Wilcox credits her experience dancing with the Somperoper with helping her grow as a performer. "My whole life people have said, 'You have very good technique.' But . . . even though my dad would emphasize artistry and bravura, I couldn't quite get it until the past couple of years," she said. "Coming back [from Dresden], people have said they've noticed that."
"My dad is my No. 1 inspiration," Wilcox said. "He raised me and mentored me my whole life in ballet. He would say 'technique is important,' but he would always focus on the artistry and bravura you should have [as a dancer]. . . . And that's what makes ballet fun, just showing who you are while you dance."
Some of Wilcox's favorite roles include Jasmine in "Aladdin," Odette in "Swan Lake" and Swanilda in "Coppelia." While she is still dancing with Long Beach Ballet, Wilcox is taking this year to experiment professionally, and is considering auditioning for contemporary ballet companies.
Dave Van Patten, Visual Artist And Illustrator
Dave Van Patten is a visual artist with a self-proclaimed "twisted" sense of humor inspired by the likes of Monty Python, Chris Farley, Salvador Dali and even his mother. A Long Beach resident for the past 15 years, Van Patten's work has become in demand in the local arts scene, appearing on album covers and band posters, in storybooks and comics, and even gracing the walls of downtown buildings.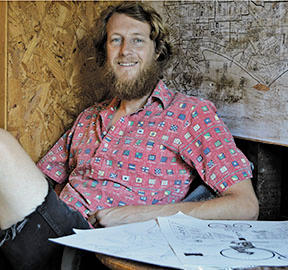 Van Patten's illustrations are typically drawn in pen and colored digitally. "Usually I try to make the piece somewhat humorous, surreal, and mind-bending in an Escher-esque kind of way," Van Patten said. "I also like to have a hint of subversive truth in there."
The artist started to make a name for himself while working at a coffee shop in the East Village Arts District. "I put together a homemade graphic novel with a bunch of twisted humor comics . . . [and] started passing those out for free to people," he recalled.
Shortly thereafter, the late Markus Manley, founder of WE Labs in Downtown Long Beach, asked Van Patten to hold his first art show. "He said, 'Hey, I want to host an art show for you but we need bigger work.' That's when I started drawing bigger stuff," he said.
Over time, Van Patten's illustrations became a little less nonsensical. "I used to draw total weirdo stuff," he said. "One time, a friend told me, 'Your work is very powerful and can move people, but why don't you draw images that matter?'" he recalled. "You have the power to draw anything in the universe," he reflected. "So why not do something that is really meaningful and says something about society or even just about own our little sad, joyful lives?"
Van Patten now supports himself solely through his artwork, which is commissioned by musicians, individuals, companies and organizations, and is also sold online. In his free time, he is working on a graphic novel with one of his favorite authors.
As an artist, Van Patten feels Long Beach is the right place to be. "It's a really good place to grow artistically because the community is so tight-knit," he said. "If Long Beach likes your work, you can take it to the rest of the world, potentially."
(Photographs by the Business Journal's Larry Duncan)