With more than 35 years in the Long Beach arts community and a gallery full of works by the likes of Picasso, Salvador Dali and Marc Chagall, it may come as a surprise to some that Michael Levy found his niche in the art world by happenstance.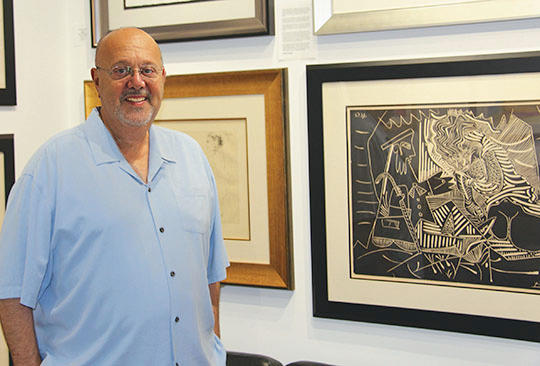 Michael Levy has been a part of the Long Beach arts scene for more than 25 years. Pictured behind Levy at his gallery are works by the famed artist Picasso. At lower right is a 1972 Picasso lithograph entitled "Luncheon on the Grass." (Photograph by the Business Journal's Erin Kleekamp)
"I came out to Long Beach from New York City and went to work for Charley Brown Restaurants," Levy recalled during an interview with the Business Journal at his business off Pacific Coast Highway, Michael Levy Gallery. "The owner of the upstairs gallery was a regular customer at the restaurant two or three times a week, and he always kind of courted me. He'd say, 'Come work for me.'" Eventually, Levy did just that.
"I got a promotion [at the restaurant] and didn't like it at all, and went back [to the gallery owner] and asked if the job was still open, and he said yes," Levy said. "I started in 1979, and then I fell in love with being surrounded by art and being in the business of art."
The gallery Levy worked for closed after the owner sold the business a few years later, but Levy decided to remain in the business of art. "I went out on my own. I worked in San Francisco for six months helping someone I knew open a gallery," he said.
Shortly after his stint in San Francisco, Levy decided to travel to Europe to take in as much art as he could. "I was gone for about seven months. I just wanted to see every art museum in Europe," he recalled. "I'd say I saw 50 percent of what was out there in France, Italy and Spain. I had a great time. I came back and then decided I was going to open my own gallery."
In 1984, Levy opened his gallery in Long Beach. "About that time, the whole industry had changed," he said. This was during the advent of the Internet, technology which Levy foresaw would change the art dealing industry. "With the Internet, it took a lot of people and put them out of business, because now people could compare pricing and shop," Levy said. "I saw that coming."
For that reason, Levy decided to deal strictly in high-end art with auction histories because such pieces have a documented history of value. "I based value on auction history rather than retail, because the clients became more savvy with the Internet," Levy said of the art he sells.
By chance, shortly after opening his gallery, Levy found a niche role in the art world that has proven quite successful for him. Around 1985, a bank contacted Levy because it had acquired a small Rembrandt etching through a client that it needed appraised and wished to sell.
"Then lawyers and banks started contacting me, and all of the sudden, before I knew it, I was getting crates [of art] coming from all over the country," Levy said. "The bottom line is having the opportunity to liquidate blue chip art for banks and insurance companies was a big key for me."
Levy estimated that about half his client base is made up of other art dealers, and only about 5 percent of his business is walk-in. He has clients across the nationa and abroad, as well as locally. "Sometimes somebody walks in and they want to consign something. If it is a good quality piece, we will take it and look at its auction history value," he said.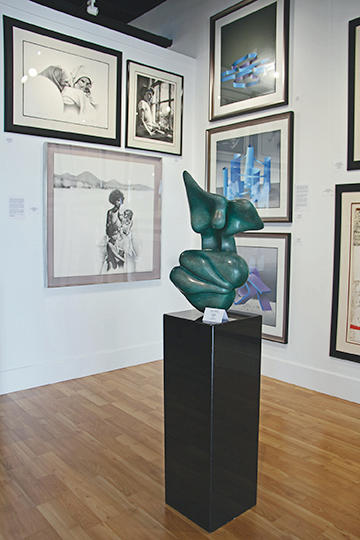 This 1989 bronze sculpture at the Michael Levy Gallery was crafted by Erwin Binder and is entitled "Phoenix." To the left are works by Gary Wiethorn, and to the right are pieces by Kurt Larisch. (Photograph by the Business Journal's Erin Kleekamp)
While for the first 20 years or so Levy did a lot of shows for emerging artists, he said he no longer holds shows and tends to stick to established artists. "It is pretty eclectic, because you never know what's going to come in from estates. Most of it tends to be 19th or 20th century modern art," he said of the works in his gallery. "If I had to give you a grouping [of artists] I would say Picasso, Chagall, Miro, Salvador Dali, Alexander Calder and Rufino Tamayo."
"We sell to the most sophisticated collectors around Los Angeles and Orange Counties, but we try to have something for all levels of art collecting," Levy said. In fact, he said nothing excites him more than helping people get their start at collecting art.
"For a person who is a beginning collector who just wants to buy a starter piece of art, they can come in here and buy a beautiful quality piece of blue chip art for a couple thousand dollars," Levy said. "We tell people to just buy one good quality piece this year. Take all the money you were going to spend on decorating and putting posters on your walls and do that every year for 20 years," he continued. "And in 20 years, you have a blue chip collection, rather than things you are going to sell at a garage sale for nothing."
Levy has an uncommon exchange policy that puts his clients – particularly new ones – at ease. "For anything they buy in the gallery we give them indefinite exchange privileges, which is unheard of," he said. "The reason we do that is first, it takes the fear factor out for them. Plus, if no garbage goes out, no garbage can come in. So if we sell quality art, we have no problem taking it back because it's good art."
The policy has "made a lot of people buy their first piece of art" and, in some cases, keep coming back until they've purchased 100 pieces, Levy said. "You'd be amazed at the level of art that is here in Long Beach. I can't mention names, but I'll tell you, it would roll your socks," he said. "And I feel so privileged and proud to have helped them build it."