The numerous development projects underway and planned throughout the City of Long Beach will result not only in more residential units, but also office, retail and industrial space that will need to be filled by new or expanding businesses. To attract business and foster growth and sustainability with those already here, the city has a number of programs to educate and assist entrepreneurs.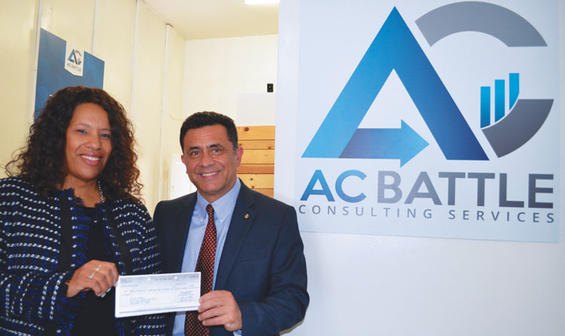 AC Battle Consulting Services received $35,000 through one of the Long Beach Economic Development Department's (EDD) business loan programs. The loan was used to open the business's first brick-and-mortar location. AC Battle CEO Angela Battle is picture with EDD Economic Development Officer Seyed Jalali at the company's North Long Beach location. (Photograph by the Business Journal's Pat Flynn)
"We've recognized that it's hard to open a business and that many people are willing to do the work because they are passionate about their idea and business plan," John Keisler, director of the City of Long Beach Economic Development Department (EDD), said. "There are certain milestones in the process where people need a little extra support or a little push to get the project over the finish line. We think it is very important to offer a range of incentives and assistance that can be used at different times of the business startup process or expansion."
One of the first stops for budding entrepreneurs is the city's various data-based and technology-driven resources, such as BizPort and DataLB, among others. Through these data resources, prospective entrepreneurs or business owners looking to expand can determine what part of Long Beach, if any, is appropriate for their concept. These data include everything from population and business demographics to zoning requirements and land use.
A primary goal of the EDD is to not only attract business but ensure that they survive, Keisler said. With the free accessibility of these online data resources, he said prospective businesses have a leg up on those who go into an area blindly.
"One of our key performance measures is to what degree we can help businesses survive at a higher rate than you would see in the region or at the national level," Keisler said. "Nationally, within five years 50% of businesses are failing."
Once a business decides to locate in Long Beach, the Los Angeles Regional Small Business Development Center (SBDC) Network offers free services to assist in the startup process. Hosted at Long Beach City College (LBCC), the SBDC is a technical assistance provider that offers free or very low-cost monthly workshops and training on anything from how to start a business to leveraging online marketing to learning QuickBooks.
A primary focus of the center is confidential one-on-one advising for new and existing businesses, according to Patrick Nye, executive director of the Los Angeles Regional SBDC. Prospective business owners are partnered with one of the network's roughly 115 business advisors, depending on what topic they need assistance with. Advisors are available to handle the entire spectrum of issues a small business might encounter, Nye added.
"It's really to help small business owners navigate a very complex marketplace. We often find that small businesses have a ton of expertise in whatever their field is but they may not understand how to set up a business or ways to get funding," Nye said. "Coming to us gives them a much better chance, an entire network to help them succeed, and [a chance to] not make wrong decisions or the same mistakes that someone else has experienced."
One of the SBDC's latest programs at LBCC, The Portal, partners businesses with students who provide services at a competitive rate. The program went through its pilot phase last year by partnering businesses with students who handled accounting services and bookkeeping, services that were overseen by teachers to ensure the work had been done properly. The students were paid for the work and gained practical client experience, while business owners saved on their costs. Now that it has proven a successful program, Nye said it will be expanded into other areas such as international trade, online marketing and programming.
"There are a lot of online services. It's very common for businesses to come find us after they have gone to services like Legalzoom and stuff like that," Nye said. "We find that clients are actually paying for a lot of services that would otherwise be free but they just don't realize it. If they come to us first, we can help them really keep their various entry costs down."
Annually, the SBDC assists over 1,000 businesses, Nye said. Funding for the SBDC is provided through the U.S. Small Business Administration, which requires the center to certain metrics such as the number of small business startups and the amount of capital the SBDC helps businesses acquire. Last year alone, the center helped launch more than 300 small businesses, and helped businesses obtain $140 million in loans, equity and investments in the region, which covers Los Angeles, Santa Barbara and Ventura counties.
The City of Long Beach has several loan programs to assist entrepreneurs in starting or expanding their businesses. The Grow Long Beach Fund is a partnership between the city and the National Development Council Grow America Fund, which provides between $100,000 and $2 million for businesses that have been operating in the city for two years. Loans awarded through the fund can be used for expenses such as construction, tenant improvements, equipment and working capital.
The city's Microenterprise Loan Program provides $25,000 or more for startup and existing businesses with five or fewer employees and can be used to finance expenses such as equipment, fixtures and furniture, and working capital. For every $35,000 borrowed, the business must create one full-time job.
The Kiva Loan Program is the city's most recent addition to its arsenal of financial assistance. The program is a partnership between the city and the Los Angeles Local Initiatives Support Corporation, and allows entrepreneurs to borrow between $500 and $10,000 from one or more private donors. The 0% interest loans are repaid over a 36-month period.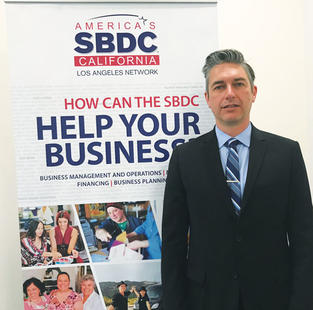 The Los Angeles Regional Small Business Development Center assists more than 1,000 businesses every year, according to Executive Director Patrick Nye, pictured. Last year alone, the center helped launch more than 300 businesses and helped businesses obtain $140 million in capital, he said. (Photograph by the Business Journal's Anne Artley)
"These are extremely crucial programs. Banks are not in the business of taking risks but . . . the city has the ability to take a risk and believe in someone's business plan," Seyed Jalali, economic development officer for the EDD, said. "We are sort of unique in the region in that we have these opportunities and are able to deliver these services. It's really important when it comes to startup businesses as they are limited to services and programs outside the city government. Access to capital is extremely important."
While the city plays a leading role in numerous forms of assistance for business, Jalali said there is a limit to what it can do. For assistance beyond what the city government can provide, businesses may come together and form a business improvement district (BID) through the city. Currently, there are 10 BIDs citywide. The city and county collect fees through business licensing and property assessments, which are passed directly back to the BID for the implementation of various programs to bolster business within the area.
Jalali said the city is a strong proponent for the formation of BIDs throughout the city because they have already proven successful in areas such as Bixby Knolls, which has made large strides in improving business success.
Keisler said that acquiring capital is equally as important as a solid business plan, but that the latter must be completed first through research, mentoring and educational services provided by the city and the SBDC. He likened the process to sailboats, noting that the wind (capital) is necessary for the boat to move but, unless the boat is built properly first (a business plan), it won't float.
"You don't have to be rich and famous or come from a wealthy family to have a business in Long Beach. We really believe this can be a city of opportunity for anybody who is willing to work hard and has a good plan," Keisler said. "Local small businesses provide the environment that makes the community such a dynamic place to live. We are a partner in that and we are always looking for ways to develop and deliver programs and incentives that actually help. We want to be the wind in your sails."