The Long Beach Airport (LGB) saw more than 3.78 million passengers depart and arrive through its concourses in 2017, 250,000 more passengers than originally projected by airport staff. At an increase of more than 33% over 2016, last year was a record for LGB in terms of passenger traffic, according to Airport Director Jess Romo.
"I think there continues to be a strong response for using Long Beach as an alternate airport," Romo said. "We have a finite number of seats on the market but we're seeing the load factors – or the average number of passengers to what the flight capacity is – go up across the board for pretty much every carrier. Not every flight is full, but they are very strong numbers."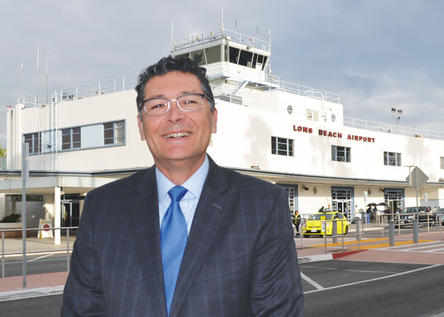 Long Beach Airport had a record-breaking year in 2017, with more than 3.78 million passengers traveling through its concourses, according to Director Jess Romo, pictured in front of the historic terminal building. (Photograph by the Business Journal's Pat Flynn)
As passenger traffic increases, Romo explained that the airport sees increases in revenue through additional concession sales and carrier activity. These increases have resulted in a strong financial position for the airport, which, along with its tenants, generates more than $10 billion in estimated economic impact and 45,000 jobs for the Long Beach region, including an estimated $1.1 billion in tax revenue at the federal, state and local levels, according to a 2016 economic impact study by Jacobs Engineering.
According to Romo, the Airport Fund remains strong due to the growth the airport has been experiencing. He said the largest source of aeronautical revenue comes in the form of landing fees, which increased with full flight slot utilization. Aside from paying for capital improvement projects and employees, the Airport Fund pays for on-site public safety to the tune of more than $4 million for police and more than $5.7 million for fire last year. Romo explained that, as long as revenue continues to greatly exceed expenditures, which it has for several years, the airport will remain in a financially stable position.
"It certainly appears, based on the health of the overall market – globally, nationally and regionally – that there's a strong demand for air service," Romo said. "But things can always change. That's why I caution people that we should never get too comfortable. So, we're always cautious, but right now things are looking good for Long Beach."
Finite seats are the results of the airport's strict noise ordinance, which limits the number of flights at the airport each day. In 2016, the number of daily flight slots increased from 41 to 50.  Romo said that, since 2016, all 50 slots have been utilized every day, with few exceptions due to unforeseen events such as weather delays. In the future, as technology advances and aircraft become quieter, Romo said it is not unreasonable to think additional slots would be added.
The most recent announcement related to the airport's limited flight slots came in January, when it was announced that Hawaiian Airlines would begin a daily flight from Long Beach to Honolulu on June 1.
"Demand for a Hawaii vacation and our brand of Hawaiian hospitality continues to grow among West Coast travelers," an airline spokesperson told the Business Journal in an e-mail. "We wanted to expand and diversify our Los Angeles network to keep up with demand and offer more options and convenience to our guests, and Long Beach provided us with an ideal location and airport size."
The new route will utilize the A321neo, which is Hawaiian's newest and quietest aircraft in operation. The spokesperson said the flights, which went on sale in January, have been well received and that the company expects this to be a popular route out of Long Beach.
Airport staff is undertaking a cursory study on the impacts the new Hawaiian route will have on the airport and the city, according to Romo. He explained that the study, which is based on current projections, should be complete in two or three months and will be updated early next year to compare those initial projections with actual performance.
JetBlue Airways operates the bulk of the airport's slots with 35 daily flights. According to Lou Anthony, general manager of JetBlue's Long Beach operations, performance has been good with load factors regularly between 70% and 80% and few self-inflicted flight delays.
"The team here is doing a great job of delivering our product," Anthony said. "My team loves the opportunity to work in and support the community they live in. We're all just very happy to be here."
One difficulty JetBlue is experiencing is ground delays in the Bay Area and storms in the northeast. These complications have caused the airline to have late night flights here in Long Beach, resulting in noise ordinance violations and fines. Anthony said ground delays in the Bay Area are adversely impacting the airline more than other regions.
The airport's noise ordinance violation fine structure is currently being reviewed, with a proposal to increase them for all violations. The current fine structure is as follows: a warning for the first and second violation each month; $100 for the third violation; and $300 for each violation thereafter. The proposed fine structure would cost an airline $2,500 for the first five violations within a 24-month period, between $3,500 and $5,000 for six to 10 violations in the same period, and between $5,000 and $10,000 for each violation thereafter. If an airline violated the ordinance more than 20 times in a 24-month period, it could lose a flight slot.
Kevin McAchren, president of Airserv, an aircraft ground support and ground equipment leasing company, said the noise ordinance, including its fine structure, has been successful for all parties involved for more than 20 years and that it should not be tampered with.
"The problem is that, if you tinker with this thing, it opens it up for the federal government to come in and say, 'We approved it back then as it was written and now you are changing it, so we also have some input into this,'" McAchren said. "I think the efforts to do this should be dropped. They're getting ready to open up a Pandora's Box."
Aside from potentially opening up the ordinance to federal scrutiny, McAchren said the main issue is with JetBlue, as the airline operates a majority of the slots and commits the most violations. He said it is unfair for other operators who might have occasional violations to have to pay increased fines because of JetBlue. Instead, the situation should be worked out by the airport and JetBlue, without a change in policy that affects all airport operators, McAchren said.
However, Romo said the more robust fine structure would act as a much stronger deterrent and force all operators to reduce the number of ordinance violations. Last year, the airport received 16,620 noise complaints, a majority of which came from Orange County and only 6% from Long Beach residents. Romo noted that the proposed fine structure is similar to those already in place at John Wayne Airport in Orange County.
"There are a lot of moving parts to this, and we are doing it very deliberately and patiently in terms of outreach to the carriers and the community," Romo said. "In the end, should a new fee structure go into place . . . will it work [as a deterrent]? We don't know."
In addition to administrative fees paid for noise violations, several airlines, including JetBlue, have consent decrees with the city, which are separate fines for each violation. In the case of JetBlue, each violation carries a fine of $6,000, which goes directly to the city's Library Fund for books and resources. The funds are not to be used for salaries. The decree has resulted in hundreds of thousands of dollars in fines for JetBlue annually.
Southwest Airlines, which began operating out of Long Beach in June 2016, focuses on operating within noise ordinance restrictions during its scheduling process, according to Leah Koontz, vice president controller of finance and executive sponsor for Southern California at Southwest.
"We've learned from the three occurrences [violations] attributed to Southwest since we initiated operations at Long Beach . . . and further refined our schedule and our process," Koontz said. "We have not had any occurrences since early February of last year and will continue to strive to maintain that record."
With six daily flights, Koontz said the airline is encouraged by customer response to its Long Beach routes. She explained that load factors have remained steady around 70%, even exceeding 77% in the second quarter of 2017. According to Koontz, Southwest's Long Beach operations have been an instant success, and the airline is looking forward to a bright future in the city.
Airport Improvements
In addition to increased activity, the airport has a number of improvements underway or in the planning phase. The airport's shortest and most-utilized runway, 25L (to be renamed 26L upon reopening), is currently under construction, which began in January. The asphalt cover and base material were removed and are being rebuilt. The project is currently on schedule and is expected to be completed sometime in July. According to Romo, runway and taxiway improvement projects have been programmed out over the next eight years, including relocating and rebuilding projects that will take place every two years.
In August last year, the City of Long Beach released a request for proposals for the development of 31 acres on the west side of the airport, adjacent to the former Boeing C-17 site. Two proposals were submitted: Ross Aviation, which would transfer space it already occupies on a month-to-month basis into its lease, allowing the company to construct a new hangar; and Gulfstream, which would expand its LGB presence with a new development. The submissions require city council approval once negotiations have concluded.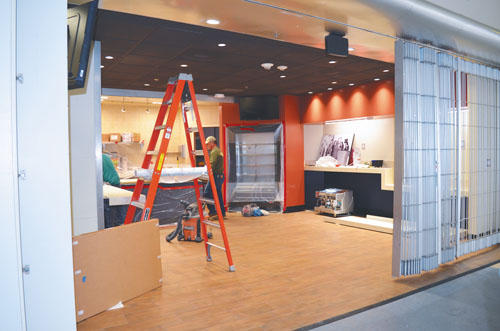 Construction is underway on the Little Brass Cafe express inside the airport's historic terminal building. (Photograph by the Business Journal's Pat Flynn)
Airport facilities have not had a major overhaul since the passenger concourse, TSA passenger screening and Parking Structure B improvements were completed in 2012. On March 15, the Long Beach Airport Advisory Commission received a presentation on phase two of the Terminal Area Improvement Project. According to the presentation, phase two will renovate and simplify the pre-security check-in process, rehabilitate and improve functionality of the historic terminal building, and revitalize and streamline pedestrian and vehicle accessibility.
"[The project] will be bid through a competitive process that we hope to take to council with a recommendation to award it in early May," Romo said.
As part of the project, the ticketing area will be moved from the terminal building into a new indoor ticketing lobby to be constructed just south of the terminal. The TSA bag screening area will move from behind the terminal building to behind the new ticketing lobby, allowing the terminal building to open up into the courtyard. The courtyard will nearly double in size and a small concession area will be constructed on its north end for "meeters and greeters" to enjoy while waiting for passengers to exit the concourse, Romo explained. The three baggage claim areas also will be consolidated to one area just off the courtyard to simplify the process for passengers.
The vacated terminal building's electrical, plumbing and HVAC systems are slated to be upgraded. Once this is complete, the first floor of the building will be converted into the rental car transaction area and include a new concession area, Little Brass Cafe Express, operated by the former owner of the now-defunct Brass Lamp in Downtown Long Beach. Once cleared of the rental car modular buildings, the parking lot beside Parking Structure A will serve as a new ground transportation area, including valet parking. Rental car storage and a ready return lot will replace the current valet storage and aircraft parking to the north of the terminal building.
"There are other components you will still see, but they won't be as labor intensive. We'll be making roadway improvements, like widening in some areas to eliminate some choke points," Romo said. "We'll also be doing a complete rebranding of our wayfinding signage as you come into the airport. You can tell that over the years it has kind of been cobbled together and there's not really a theme."
The project is estimated to cost between $65 and $75 million and is fully financed by the Airport Fund, requiring no General Fund dollars. The Long Beach Planning and Cultural Heritage commissions are scheduled to vote on the project during their April 5 and April 9 meetings, respectively. The project should go before city council in either May or June, and has an estimated completion of fall 2021.