From restaurants using bicycle couriers for food deliveries to commercial developers incorporating the use of cargo containers in a retail project, businesses in Long Beach are finding new ways to become more sustainable and eco-friendly.
In many cases, conserving natural resources and protecting the environment have become a part of everyday life for businesses large and small.
Proactively taking actions to improve the environment by decreasing pollution and reducing waste can often increase efficiencies, raise worker productivity and save money, according to the city's office of sustainability, which for nearly six years has recognized green businesses for their efforts.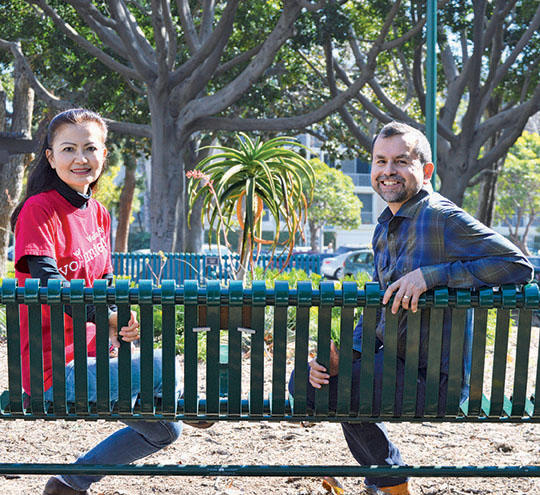 Jia Luo, left, CFA, investment manager for Wells Fargo, and Daniel Rodriguez, fiduciary procedural consultant and president of Wells Fargo's Long Beach Green Team, occupy a bench in Bixby Park that the bank donated as part of local volunteer environmental efforts in the community. (Photograph by the Business Journal's Larry Duncan)
Take, for instance, Dana Robertson, who, shortly after opening her restaurant called "Restauration" at 2708 E. 4th St. nearly two years ago, began composting leftover food scraps, also known as organic waste.
After starting with just one compost bin provided by the city, she now fills up two every week, she said. The compost is picked up twice a week and brought to an urban farm in North Long Beach called The Growing Experience to be used as fertilizer.
"I have more recycling day pickups than regular trash day pickups," said Robertson, who composts at home as well. "It's so easy to do and it seriously diminishes how much trash you throw away, because so much is food product that you can just throw into a compost container."
In addition, the restaurant owner uses seasonal produce from her own on-site garden in the back patio and from local farms within a 90-mile radius, such as Farm Lot 59 in Signal Hill. Robertson hopes to eventually expand her garden to the back alley, she said.
Most everything used at the restaurant is made in-house, aside from hot sauce and ketchup, and to-go containers are made out of compostable, biodegradable materials, said Robertson, who added that she purchases locally as much as possible to help out nearby businesses and lessen the restaurant's carbon footprint.
Luis Navarro, owner of Lola's Mexican Cuisine and The Social List in Long Beach, both of which are also on 4th Street, said he recycles 100 percent of cardboard boxes, bottles and plastic containers that come in the doors. In addition, Navarro said he discontinued using Styrofoam several years ago and uses only biodegradable containers for takeout.
A growing trend among restaurants in Long Beach is the use of bicycle couriers for food deliveries.
Gus Sverkos, owner of Kafe Neo, yet another 4th Street restaurant, said he uses the services of Maritime Bicycle Courier, which provides bicycle delivery services from 10 a.m. to 9 p.m. from downtown to Naples and up to Anaheim Street.
Bicycle deliveries, mostly popular in New York and San Francisco, have started to catch on in Long Beach as a way to not only be more efficient but also become more environmentally friendly, he said, adding that about 30 to 40 restaurants in Long Beach, including Restauration and Lola's, are now using bicycle food delivery services.
"It's a pretty efficient way to do it," Sverkos said. "[Bicycle couriers] can get through the traffic congestion a lot easier a lot of times and don't have to worry about parking. Obviously, they're not burning any fuel and it really works."
He said that his restaurant also serves water only if customers request it, and leftover water is saved for plants as a way to conserve water during the drought. In addition, Sverkos said the restaurant only uses paper products and recyclable to-go containers.
Green Developments
Commercial and residential developers are also doing more to lessen their carbon and waste footprints, whether it's through recycling construction materials or designing buildings that are now almost entirely sustainable.
Being environmentally friendly has been a core value of Howard CDM, a commercial development general contractor based in Bixby Knolls, since its inception, said Christopher Duvali, a project manager for the company.
"Essentially, it's our company's philosophy," he said. "We're very coherent and conscious of the impact we have on the environment and that goes on multiple levels, because we're a design-build firm."
By designing and building developments, the company is able to take into account impacts on the environment through the design process that may be caused during construction or from the building itself, Duvali said.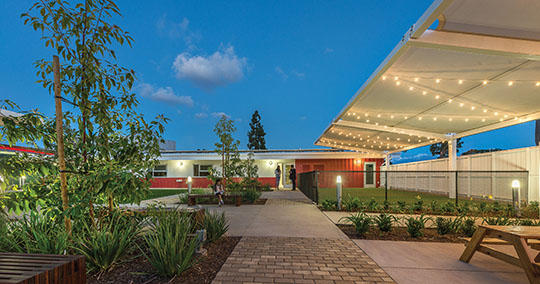 The EcoHouse, a center for Long Beach nonprofit Children Today, is certified Leadership in Energy & Environmental Design (LEED) Gold for its use of natural light and sensor-operated utilities. The building was developed through a partnership between Howard CDM and architecture firm Studio One Eleven. (Photograph provided by Howard CDM)
He said the contractor makes an effort to divert 75 percent of its construction waste from landfills by utilizing demolition waste removal services, and also takes measures to prevent hazardous waste from entering storm drains.
Design elements, such as utilizing natural light or solar panels, enable a building to become more sustainable or "off the grid" from the electrical network, Duvali said.
In a recent project that involved building a center called the EcoHouse for Children Today, a nonprofit that provides development services to homeless children, the building was certified Leadership in Energy & Environmental Design (LEED) Gold, he said.
"The intent is a self-contained, energy-efficient facility," Duvali said. "We employed solar panels intentionally to be off the grid relative to the demand for the facility. The lighting, heating and air conditioning is only in use when the facility is occupied."
Howard CDM's next project, currently in the design phase, includes building a multi-tenant commercial complex partly made out of shipping containers. The complex, to be called SteelCraft, will be in Bixby Knolls and include food and craft beer tenants along with spaces for public entertainment and music concerts, he said.
"Reconditioning" cargo containers in a development is a new concept to Los Angeles County, Duvali said, adding that the only other project in which such a concept has been used is a retail facility in Orange County.
Sustainability remains a corporate mandate for Irvine-based Sares-Regis Group (SRG), which has built industrial buildings in Douglas Park adjacent to Long Beach Airport and has strived to create sustainable "work-live" environments for several years.
Patrick Russell, senior vice president of commercial development for SRG, said in an e-mail that the company's commitment to sustainability goes beyond development management activities, noting that, under SRG's corporate green committee, the company continues to conserve energy while recycling 70 percent of waste and slashing water use by more than 30 percent.
"Our position is firm," he said. "We know that our actions today can have a positive influence on our environment in the future. We are committed to design, construction and operational measures within our projects that provide for a cleaner, healthier and more livable environment."
Environmentally friendly and sustainable development is also a main focus of Long Beach-based Studio One Eleven, a division of Perkowitz + Ruth Architects, which plans to revamp the City Place shopping center downtown and move into the former Nordstrom Rack building as an anchor tenant.
Michael Bohn, a licensed architect, and principal and design director for Studio One Eleven, said the plan is to adaptively reuse the building that has been vacant for nearly three years, converting it into office and retail space. Plans call for the building to become LEED Gold certified and the first WELL-certified building in Long Beach that focuses on wellness of employees, he said.
"We have to have water fountains within 100 feet from desks, provide good, balanced natural light and good air," Bohn said. "We have other things that we're doing now that we'll expand like our yoga classes, and [provide] free fruit to encourage healthier eating. . . . We think it's going to be a much more enjoyable and healthier space to work in."
Green Hotels And Attractions
Hotels, venues and attractions throughout Long Beach have also been heeding the call to become more environmentally friendly.
Holiday Inn near the Long Beach Airport, for instance, has undergone major renovations, many of which involve changes to become more green and eco-friendly, said Robert Smit, the hotel's general manager.
A few years ago, the hotel, which is certified by the Green Lodging Association, replaced its 16 green outside floodlights with light emitting diode (LED) lights that are more constant and efficient, he said.
Recent renovations include installing new energy-efficient, double-paned "e-glass" windows, which reduce the need for air conditioning by preventing ultraviolet (UV) rays from entering the building, he said.
In addition, new digital thermostats and water-conserving toilets and fixtures have been installed in guest rooms, Smit said.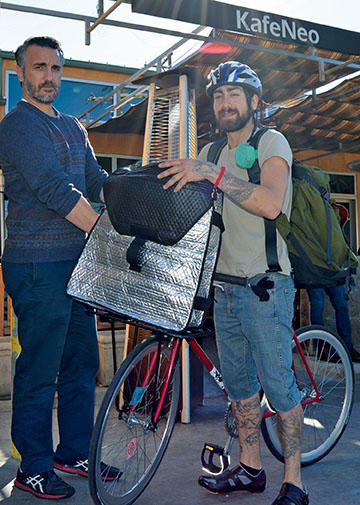 Gus Sverkos, left, co-owner of Kafe Neo on 4th Street and Temple Avenue, hands off a food delivery to Dave Ramirez of Maritime Bicycle Courier. There are currently about 30 to 40 restaurants in Long Beach that use bicycle food delivery services. (Photograph by the Business Journal's Larry Duncan)
He added that Holiday Inn partners with the Conservation Corps of Long Beach for recycling services and is the first hotel in Long Beach to join a program called Clean the World, in which used shampoo, conditioner and soap left by guests are recycled and sent to impoverished, third-world countries.
The Aquarium of the Pacific, meanwhile, has taken steps to curb energy needs, save water and reduce greenhouse gas emissions. According to the Aquarium, the attraction has kept energy use at a constant level, reduced water usage by a third and cut its carbon footprint by 25 percent.
The Aquarium also actively participates in a wide variety of conservation and research projects, conducting a program for volunteers to assist in the San Gabriel River Pacific Green Sea Turtle Monitoring Project at the Los Cerritos Wetlands. It also encourages local restaurants to use "sustainable seafood."
Also on the waterfront, Catalina Express, which provides boat services from Downtown Long Beach to Catalina Island, continues to meet the latest emissions qualifications for commercial vessels, said Marketing Director Chris Austin.
He said Catalina Express is two to three years ahead of state and federal qualifications for commercial vessels that include replacing engines with more fuel-efficient ones. In addition, Catalina Express has an active recycling program and plans to phase out non-biodegradable products, Austin said.
"It's been a real priority for us to have a green fleet," he said. "We have a beautiful destination and we want to keep it that way."
Conservation In Health Care
The healthcare industry is also focusing on becoming more environmentally friendly, such as installing new sensors for utilities and light emitting diode LED lights to conserve energy and overhauling irrigation systems to be more efficient and save water.
Long Beach Memorial and Miller Children's & Women's Hospital Long Beach, for example, have taken on a number of activities over the years that have dramatically decreased the use of energy on its campus, according to Tamra Kaplan, chief operating officer (COO), Long Beach Memorial.
She said the hospitals have lowered water usage by hundreds of thousands of gallons, reduced their carbon footprint, encouraged employees to be more eco-friendly, and have ensured their very high volume of food usage purchases for patients, staff and visitors is "healthier, fresher and locally grown."
Kaplan said Long Beach Memorial and Miller Children's & Women's also encourages employees to contribute to a more sustainable environment by offering scores of electric car charging stations, and preferred parking and other incentives for carpooling.
The hospitals have also significantly cut down on the use of paper, and provide tips for conserving energy and water in homes and communities, she said.
St. Mary's Medical Center is currently converting all exterior lights to LED lights throughout the hospital's 18-acre campus, said Paul Czajka, the hospital's vice president and COO. In addition, four electric car chargers are to be installed in the main parking structure, he said.
Czajka said the hospital also recycles tons of paper after it is shredded and has an active recyclable container program that saves in excess of about $50,000.
In all, about 27 percent of the hospital's waste is diverted from landfills, he said, adding that a recent project that retrofitted boilers has reduced greenhouse gas emissions by more than 40 percent.
"We're continuing to identify and look at industry standards to try to achieve more environmental friendliness," Czajka said.
Long Beach-based Molina Healthcare, a national managed-care provider, has also taken company-wide efforts to be more sustainable. According to company spokesperson Sunny Yu, the care provider implemented a rideshare program for employees in Long Beach and provides employee shuttle service between sites in the city.
In addition, the company has installed electric vehicle charging stations and continues an active recycling program while installing LED lighting in all new remodeling projects, along with heat and glare reduction window tinting at some buildings, she said.
Sustainable Investments
Financial institutions, meanwhile, have not only invested in sustainable communities but have also taken eco-friendly measures at local branches while offering opportunities for employees to volunteer in projects.
Wells Fargo operates an entire environmental services division that oversees the bank's various green teams throughout geographical locations across the nation, focusing on voluntary, employee-led environmental efforts.
The idea is to educate employees about how to conserve natural resources in and out of the office, said Daniel Rodriguez, fiduciary procedural consultant and president of Wells Fargo's Long Beach Green Team.
"We try to focus on education and also work with the community in local efforts," said Rodriguez, who said he rides his bike, walks or takes public transportation to work as much as possible.
While making commitments, such as eliminating the use of Styrofoam cups and printing less paper, to become more environmentally friendly, Wells Fargo has also taken action on a volunteer level in local communities and has invested millions of dollars in sustainable projects nationwide.
In Long Beach, Wells Fargo provided a $25,000 grant for a project to restore 18 acres of degraded wetlands known as the Colorado Lagoon. In addition, the bank donated a bench to Bixby Park and employees have volunteered for monthly cleanups, among other environmental projects.
Since the bank's five-year grant program began in 2012, Wells Fargo has funded more than $9.8 million in grants to more than 250 nonprofits to date that promote conservation and environmental sustainability in communities across the United States, and is committed to funding $15 million through next year.
Farmer's & Merchants Bank's (F&M) customer care center in Seal Beach, meanwhile, has developed technological innovations in an eco-friendly environment, according to a company statement.
"State-of-the-art features enhance F&M's online outreach and expands individual and corporate banking services," bank representatives stated, adding that the bank has implemented eco-friendly initiatives, including adding furniture made with materials from managed forests, using soy ink and a implementing a comprehensive recycling program.
Other eco-friendly initiatives promoted bank-wide include using e-statements to reduce the paper waste of printed statements, and using paper coffee cups instead of Styrofoam cups in branch offices.
"Our company culture has always been to lead by example," said Daniel Walker, CEO and chairman of the board at Farmers & Merchants Bank, in a statement. "Farmers & Merchants is a bank first, but social and environmental accountability are an important aspect of serving both our clients, employees and our community."