From day one, Virginia "Ginny" Baxter's career as head of the Long Beach City College (LBCC) Foundation has been all about relationships. In her 33 years with the foundation, she's helped increase its assets from $500,000 to $17 million. Cultivating significant community investment in a city college begins, as she said many times in an interview at the Business Journal's office, simply with "being nice to people."
When Baxter was hired at Long Beach City College in 1970, she was 23 years old. She started as a U.S. history teacher and in 1975 became LBCC's assistant dean of student affairs. In 1983, she joined the LBCC Foundation as Beverly O'Neill's assistant. At the time, O'Neill – who later became mayor of Long Beach – was the head of the foundation. When O'Neill became president of LBCC in 1987, she handed the reins of the foundation to Baxter.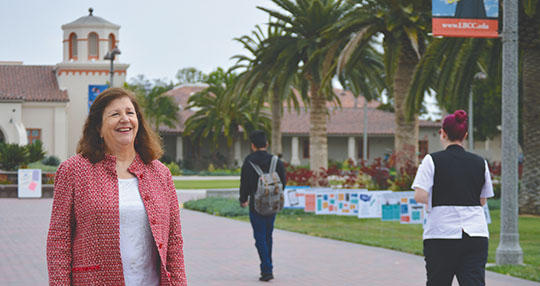 Virginia "Ginny" Baxter has served as executive director of the Long Beach City College Foundation for nearly 30 years. In that time, she has helped increase the foundation's assets from $500,000 to about $17 million. At the end of June she is retiring from the position, but is continuing her elected role on the college's board of trustees. (Photograph by the Business Journal's Larry Duncan)
Baxter, who also serves as Area 5 trustee on the LBCC Board of Trustees after her election in 2014, is retiring from her position with the foundation in about 45 days. She's staying on while the new executive director, third-generation Long Beach resident Elizabeth McCann, learns the ropes. "It's a very complex office. You've got to know the people. . . . So I'm just there to help her kind of digest," Baxter said.
When Baxter came on to the foundation in '83, it was raising about $50,000 a year. "We had really good people who were out there doing really good things, but no one was out there asking for money," she said.
She recalled one instance early on in the job when a local man donated $50,000 to the foundation, but "no one paid attention to the guy." So Baxter did. "I went down to meet him at his apartment on Ocean Boulevard and told him, 'thank you so much,'" she said. "Anyway, that was the biggest thing I felt I should do, was to build relationships with people."
It's this approach – taking care to say 'thank you' to donors and to make sure they feel involved – that Baxter emphasized as the key to fundraising success. The foundation now raises millions each year, with about $5.1 million raised last year alone. According to Baxter's board of trustees biography, she has helped the foundation raise more than $35 million.
The first person Baxter ever asked for a donation was Martha Knoebel, a Long Beach local and philanthropist for whom the dance theater at California State University, Long Beach is named. In this case, Baxter said, "being nice" made all the difference.
"She was in the retired teachers' group and she was giving scholarships. I found out she'd never had a birthday party. She was an only child – German parents, very strict," Baxter said of Knoebel. "So I gave her an 80th birthday party. What I did is I had it on campus and I invited all the deans. . . . She had this whole room full of people singing happy birthday to her."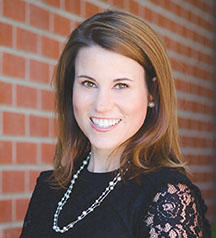 Third-generation Long Beach resident Elizabeth McCann is taking the reins as the new executive director of the Long Beach City College Foundation at the end of June. (Photograph provided by LBCC)
It was a gesture Knoebel didn't forget. Soon after, she offered to pay for a brick walkway with a gift of $100,000. "Then it just kept blossoming. And she felt good," Baxter said. "Here's a lady with no heirs, no relatives and a ton of money. And she's doing good things. We still have her money today because it's in an endowment." The endowment is $1.7 million.
Fundraising, Baxter said, is all about relationships. "And not only that, being good to people after they give. Stewardship is very important," she said.
While throwing someone a birthday party might not be an everyday gesture, Baxter often does little things to let people know they're remembered. For example, she often sends postcards to donors and prospective donors. "I send them postcards when I go on a trip. 'I'm in Italy having a great time, thinking of you,'" she said. It's this sort of relationship building that Baxter hopes to impart to her successor, she said.
In addition to keeping a list of prospects, she also is working increasingly with the school's alumni association to cultivate new relationships. In particular, she noted that the association's Hall of Fame holds great potential for identifying future donor relationships.
Another way Baxter has cultivated relationships with potential donors is through annual travel trips held by the foundation. She's been running these trips for 30 years. "The light bulb went on. Who goes on trips? People with money," she said of the idea, with a laugh. The purpose of the trips wasn't to fund-raise, but for Baxter to get to know potential donors. "We generate some money, but the big thing is [later] generating the money through bequests and gifts."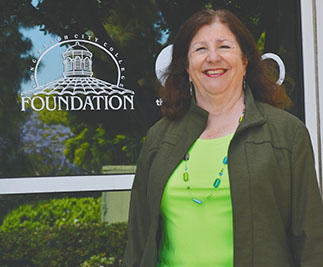 Virginia "Ginny" Baxter has served as executive director of the Long Beach City College Foundation for nearly 30 years. In that time, she has helped increase the foundation's assets from $500,000 to about $17 million. Ninety percent of the funds raised by the foundation go toward student scholarships. At the end of June she is retiring from the position, but is continuing her elected role to the college's board of trustees. (Photograph by the Business Journal's Larry Duncan)
Baxter plans to continue co-hosting the trips after she retires. "I'm taking 17 people to Washington, D.C., in June. [Congressman] Alan Lowenthal is getting us into the White House," she said. Other previous trips were to Cuba, Antarctica and the Galapagos Islands – the LBCC Foundation has taken people to every continent, Baxter noted, adding that she pays her own way.
Ninety percent of funds raised by the LBCC Foundation go toward student scholarships. Many of these are a part of the Long Beach College Promise, through which the foundation grants Long Beach Unified School District students who meet certain academic requirements a full year of paid tuition. In the current fiscal year, that amounted to $375,000 in scholarships given out through the foundation.
On top of that, the foundation gave out an additional $1.5 million in scholarships to LBCC students.
Baxter partially attributes her fundraising success to her focus on pushing for endowments – in which an asset is placed in a fund that earns interest and has an annual payout for the beneficiary – over lump sum gifts. "When I talk to people, I say to them, 'I want you to think about an endowment because, first of all, it's perpetual, and over time it will pay more,'" she said.
Endowments also allow the foundation to maintain strong assets and save up for a rainy day. "Let's say we earned 8 percent [on an endowment]. We don't spend that. We only spend 75 percent [of the 8 percent], so that when the rainy day comes – and it's come three times since I've been in this job – we've got money to give out," she explained.
Board Of Trustees
Baxter said she has a unique perspective on the board of trustees, especially with her background as an educator and as someone who understands the importance of cultivating relationships through her foundation work. This perspective came into play during recent contract negotiations with faculty members.
"The teachers were sending me things, and I always say, 'Thank you very much for sharing your opinion with me,'" Baxter said. "I don't say you're right, I don't say you're wrong. But there are people [trustees] who don't even respond. And I think that's rude. If somebody sends you something the least thing you can do is acknowledge it," she said.
"Being in office, and I tell this to people all the time – this is even true of the President of the United States – you think you can do more than you can," she reflected. "And when you get in there, it's hard because our board is a policy board. And I do interfere, because I can. But you can't really change that much. You can kind of nudge and kind of push."
Two priorities Baxter is pushing for are free textbooks and free bus passes for students. "It's not the tuition. It's the textbooks that are the killer," she said. She and Sunny Zia, trustee for Area 3, recently came together to start a fund benefiting homeless students. When purchasing textbooks for these students, Baxter saw firsthand how expensive they are. "I mean, just a stupid little book is like $50. Ridiculous," she said.
"The other thing I'm involved with is this group called Move LA," Baxter said, referring to a nonprofit that advocates for clean, financially responsible and comprehensive public transportation in L.A. County. "There is evidently money in Sacramento that could give free bus passes to students," she said. "Do you know how expensive a bus pass is? . . . If you're a student, you have to wait six weeks for them to process [your application] to get you a cheaper bus pass."
Moving forward, Baxter said she hopes to establish a permanent food pantry for homeless and underprivileged students. Trustee Zia is also on board with the effort, she noted. "We wanted a food pantry at each campus where kids could come and eat, because nobody should be starving in this city," she said. College administration had indicated they would build one, but still haven't acted, she explained. "Do you know where the pantry is? My office. On June 30 I'm leaving. I can't expect my successor to be in the food pantry business." Regardless of the pantry's current location, she said people have been very generous in donating to it.
In the future, Baxter would said she would love to extend the College Promise to more students attending Long Beach City College, noting that while the campus has 27,000 students, fewer than 5,000 are enrolled under the College Promise.
"I think our greatest success is taking people who really have not been successful their whole lives and changing their lives for the better," Baxter said of the college. "We have the chance to change lives."