The rocket scientist of the Apollo program would look at today's run-of-the-mill economy car with wonder, envy and perhaps even a bit of bewilderment. The sheer computing power of nearly every new vehicle on a dealer's lot dwarfs that of the spaceship of just a few years ago.
Universal Technical Institute's new Long Beach campus trains the people who keep those earthbound science fiction machines running. And the campus recently was chosen for another first – it is the nationwide school's only location to offer its new Infiniti Technical Training Academy.
The program, which focuses on the luxury vehicle arm of Nissan, is an extension of the school's long-standing partnership with Nissan. And it is a further development of the organization's Long Beach campus in Douglas Park, a key component in the 51-year-old school's educational system.
The Long Beach campus of the Universal Technical Institute has been chosen as the site for the Infiniti Technical Training Academy. The campus currently has about 400 students being trained in a variety of programs, but can accommodate up to 850. (Photograph by the Business Journal's Larry Duncan)
"We've had a partnership with Nissan for years now – it's our second-largest manufacturer-specific program," Larry Hohl, president of UTI's Long Beach campus, told the Business Journal. "We've trained students on Nissan and Infiniti vehicles. The new program will be Infiniti-specific. It's the first of its kind for Infiniti anywhere in the country, and the Long Beach campus will be the first and the only campus that will have that program in the UTI system."
"As Infiniti continues to bring new innovations to the automotive industry, it's important to ensure that we have a vibrant pipeline of talent to provide our retailers with trained, certified technicians who are at the top tier in their field," says Nat Mason, director of aftersales for Infiniti Americas.
UTI's educational and training programs represent a nexus of independent training and manufacturer involvement. While the institute exists independently of any automotive company, it works closely with manufacturers to ensure that its training programs accurately reflect the requirements needed to maintain and repair specific vehicles.
Currently, UTI has partnerships with more than 30 different automotive brands for manufacturer-specific training programs, Hohl says.
"From a prospective student's standpoint, it gives the student confidence [that] the manufacturer is willing to co-brand with us and train on their behalf," Hohl says.
"Secondly, the relationships with these manufacturers suggest that they invest significantly in not only their programs but our facilities. They ensure that we are remaining current with the technology changes in the industry."
Remaining current with modern technology is no small challenge. A modern car is a technological miracle, compared to what was available on a dealer's lot a couple of decades ago. Laden with computers, advanced materials and technologies, it sips fuel, warns its driver of road and traffic hazards, and is 'this close' to being able to drive itself better than any human can. (To illustrate: The Porsche 919 Hybrid that won the 24-hour race at Le Mans in 2015 averaged 139 miles an hour for a day and a night – and got nearly seven miles per gallon while blazing along at twice the speed limit of most of the U.S. interstate highways.)
Needless to say, the people who are competent to work on such a vehicle, be it designed to win at Le Mans or get you to the grocery store, bear little resemblance to the stereotypical "grease monkey" of yore.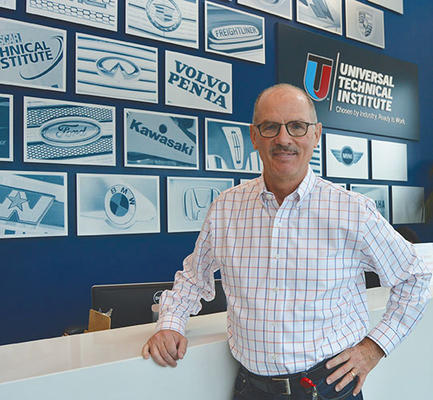 Larry Hohl is the president of the Universal Technical Institute's 143,000-square-foot Long Beach campus, which opened recently at Douglas Park. (Photograph by the Business Journal's Larry Duncan)
"One of the things that illustrates the point: there are today more computers in the average car than there were on the spaceships that took people to the moon. Technicians and the technician jobs are very different than they were 15 years ago," Hohl says. "Our students spend at least as much time in front of the computer screen running diagnostics as they do under the hood. They have to be as comfortable operating a computer as they are turning a wrench."
UTI started training those technicians of tomorrow at its Long Beach campus in August of 2015. The school now has 12 campuses in eight states, and offers training programs for cars, diesel engines, motorcycle and marine equipment, as well as a specialized program focusing on training technicians to work on NASCAR stock car racing vehicles and teams.
The 143,000-square-foot Long Beach facility offers automobile, diesel and collision repair training programs. The current student population is approximately 400, with an ultimate capacity of 800 to 850 students, Hohl says.
Long Beach was chosen to meet the needs of both students and employers in the region, Hohl says. Almost all of the students enrolled at the Long Beach campus already live within 50 miles. This means that, once they graduate, they will be ready to meet the demand for trained automobile and diesel technicians in the region.
"Our research showed that there was a prospective student population and clearly an employment base that was underserved," Hohl says.
"We have a facility in Rancho Cucamonga, but the Inland Empire and the Los Angles/Orange County areas are two different worlds."