At a time when Long Beach is experiencing an influx of investment and development, Long Beach Heritage is recognizing a local architecture firm for its philosophy of preserving the old while ushering in the new. At the nonprofit organization's 30th Annual Preservation Awards ceremony on March 8, Studio One Eleven, a subsidiary of Retail Design Collaborative, will receive the Excellence in Architecture and Urban Innovation Award.
"Studio One Eleven understands the value of the combination of the old and the new architecture. It makes for an exciting, vibrant community," Cheryl Perry, president of Long Beach Heritage, said in a joint interview with Studio One Eleven Principal Michael Bohn at the firm's downtown headquarters, which is situated inside a former Nordstrom Rack. "It's sort of like with metals – if you combine two different metals, you make an alloy that's stronger than either one. And with the old buildings and the new buildings together, it's a win-win."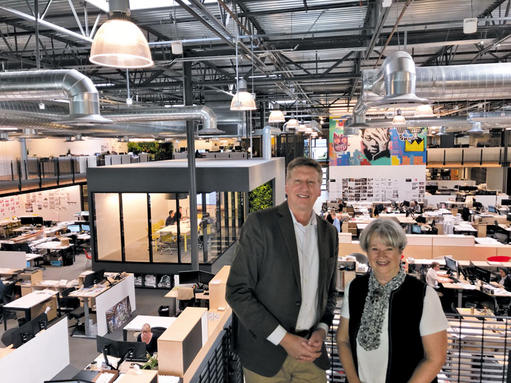 Studio One Eleven Principal Michael Bohn and Long Beach Heritage President Cheryl Perry have a shared appreciation for preserving historic architecture and adaptively reusing existing structures. They are pictured at Studio One Eleven's headquarters, a former Nordstrom Rack that the firm shares with parent company Retail Design Collaborative. Studio One Eleven is set to receive Long Beach Heritage's Excellence in Architecture and Urban Innovation Award on March 8. (Photograph by the Business Journal's Samantha Mehlinger)
"Across the country, we're finding that a lot of people, young and old, are moving back into downtown areas," Perry said, noting that the National Trust for Historic Preservation calls this movement "reurbanism." She said that the leadership of Studio One Eleven understands this concept, as exemplified in their local work.
Studio One Eleven has completed many projects throughout Long Beach, including several within downtown. "We find that adaptive use, particularly in downtown, just makes so much more sense from a socio-economic, sustainable value," Bohn said. For example, Studio One Eleven designed the adaptive reuse of a former office building at 200 W. Ocean Blvd. into apartments – a project currently underway. "Converting it to luxury housing and preserving the original lobby with the marble and the glazing and the key elements of the building and bringing new life into it for residents is much better than tearing it down and starting from scratch," he said of the project.
"Another project we're very proud of is Fourth and Linden," Bohn said of Studio One Eleven's conversion of historic buildings in the East Village Arts District into creative office and retail space about 10 years ago. The area is now bustling with activity, from popular retailers like Fingerprints to the well-trafficked eatery Berlin Bistro, and a new development (also designed by Studio One Eleven) by Sares-Regis under construction. "It was at a time when it wasn't very fashionable to save older buildings," Bohn said of the project.
Bohn and Alan Pullman, also a Studio One Eleven principal, personally invested in the buildings with two other local investors in order to preserve the structures, Bohn noted. "In uncovering the facades, we found what John Thomas [a local preservationist and historian] thinks is one of the oldest murals or Art Deco friezes in Long Beach," Bohn said. "Those are the wonderful things about older buildings – as you kind of peel off the bad remodels that were done over time, you really can discover some great finds."
Perry said that efforts to preserve Long Beach's history, particularly in the downtown area where there are larger historic structures, is an "incredible" benefit to the community. She pointed out that even adaptively reusing non-historic structures, such as what Studio One Eleven did with the old Nordstrom Rack at the shopping center The Streets, can have a positive effect on the surrounding area. "It attracts other businesses. I mean, look at all the new restaurants and breweries and stuff that are going in," Perry observed. "It also encourages the adaptive reuse of some of the other buildings."
Bohn agreed. "We invested about $2.5 million in this building," he said. "The first year we were able to associate another $19.5 million [of investment] that followed us."
When approaching any project, Bohn said his firm examines a block or two around the property to understand the character of the neighborhood. "One example was an affordable housing project or development on Pine Avenue, where we talked to the community," Bohn said. "We saved four older buildings and the community said, 'We have a parking problem. We have cars going too fast here.' . . . . We convinced the developer to put diagonal parking in and to put in a roundabout."
Bohn said he hopes developers investing in Long Beach will consider incorporating existing structures on their properties into their designs. "I think that's what makes Long Beach unique, is retaining some of its history and understanding we need greater density downtown to make it a more walkable, vibrant, viable area."
Bohn has been volunteering with Long Beach Heritage for the past 30 years. The organization has about 400 dues-paying members and many volunteers who maintain and give tours at the historic Bembridge House in the Willmore City Historic District. The organization also regularly hosts walking tours in historic areas of the city.
At the March 8 annual awards ceremony, Long Beach Heritage is also recognizing several conservation and rehabilitation projects, including the adaptive reuse of the Immanuel Baptist Church into a senior living complex, the steeple restoration of St. Luke's Episcopal Church and more. The organization is also celebrating the 40th anniversaries of the passage of the Long Beach Preservation ordinance and the establishment of the Long Beach Cultural Heritage Commission.
The awards take place at the Queen Mary's Grand Salon at 5:30 p.m. For more information, visit www.lbheritage.org.