A major reason Long Beach has been able to withstand numerous recessions over the years is its diversity of industries. If one is hit hard by economic conditions, another picks up the slack. This has been especially true of the Port of Long Beach, which remained strong during the recent Great Recession. The port's economic stability also came into play when in the early 1990s McDonnell Douglas (now Boeing) began reducing its large workforce of 40,000-plus in the city. Container traffic through the port, especially from China, was taking off and scores of trade-related businesses were moving into the city.
Health care and tourism have a significant and growing presence in the city, while the financial services and aviation industry have remained steady and aerospace is experiencing a new wave of business openings. The tech sector is finally seeing an injection of new activity, primarily from smaller creative-type firms. Real estate is booming, with more that 50 projects recently completed, under construction or in the pipeline. A complete list of projects is featured in this publication.
Following is a further glimpse at several of the city's major industries.
Aviation And Aerospace
Long Beach has a long, rich history in aviation and aerospace and has been home to many of the most prominent names in those industries.
Douglas Aircraft Co. opened its Long Beach manufacturing plant during World War II, which played a major role in delivering C-47 Skytrains (DC-3), SBD dive bombers, C-54 transports, A-20 and A-26 attack bombers and B-17 bombers to the war effort. In 1967, attempting to keep up with demand for its DC-8 and 9 and the A-4 Skyhawk, Douglas merged with McDonnell Aircraft Corp. to become McDonnell Douglas Aircraft Co.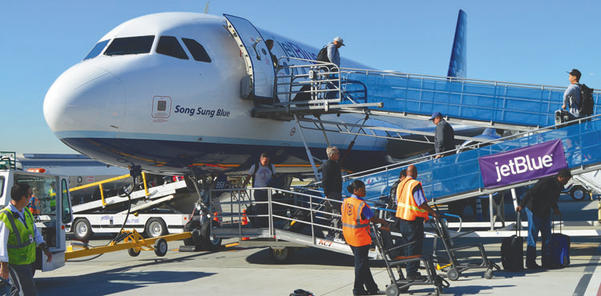 In 1997, McDonnell Douglas merged with rival Boeing, ending the more than 75-year history of Douglas Aircraft Co. The merged company continued manufacturing the Boeing 717 until 2006 and Boeing C-17 Globemaster III, the last aircraft assembled in Long Beach, until 2015.
Virgin Galactic, a branch of Sir Richard Branson's Virgin Group, leased a 150,000-square-foot facility on former McDonnell Douglas property, now referred to as Douglas Park, in February 2015. On March 2, 2017, it was announced that the Long Beach facility would be rebranded as the headquarters of a new arm of the company called Virgin Orbit. The new company will continue to design and manufacture the company's small satellite launch vehicle, LauncherOne.
Other notable aircraft and aerospace companies in Long Beach include Gulfstream Aerospace and Flight Safety International at the airport, Neill Aircraft Company on the industrial west side of the city, and Rubbercraft and Shimadzu Aircraft Equipment USA, both located adjacent to the airport at Douglas Park.
Aside from manufacturers, the city hosts JetBlue Airways, Delta Air Lines, American Airlines and Southwest Airlines at Long Beach Airport (LGB). Between 1910 and 1919, prior to the establishment of the municipal airport, planes would land on the beach during low tide. In 1919, Earl Daugherty opened a 20-acre flying field for his flight training school. From there, the field grew and eventually became the 1,166-acre airport we know today.
LGB is one of only a handful of municipal airports nationwide that operate under a strict noise ordinance, which limits the number of flights based on noise levels and is sanctioned by the FAA. Last year, it was found that technological advancements have reduced noise pollution, and additional flight slots were added to bring the total to 50 flights per day.
Along with the major air carriers, LGB is home to many aviation businesses, including flight school Long Beach Flying Club & Flight Academy, fixed-base operators Ross Aviation,  Aeroplex Aviation, Signature Flight Support and JFI Jet Center, and scores of small businesses providing a wide range of aviation services from helicopter operations to maintenance facilities.
Recently, the airport announced a pilot program to allow ride-sharing companies such as Lyft and Uber to pick up passengers beginning Wednesday, April 5. Prior to the program, such companies were only permitted to drop off passengers.
Financial Services
Long Beach is home to many financial resources and institutions. Residents, visitors and business owners have access to nearly every major and mid-sized banking institution in the Western United States, including two local, independent banks – International City Bank (ICB) and Farmers & Merchants Bank (F&M).
Specializing in Small Business Administration (SBA) loans, ICB was established in 1984. With knowledge of the local financial landscape, the company has locations in Long Beach and Irvine and focuses on products and services for businesses. Founded by C.J. Walker in 1907, F&M has remained in the Walker family for over a century and has grown to be known as one of the strongest banks in California. The bank has 24 branches throughout Los Angeles and Orange counties, including its main office and five other branches in Long Beach.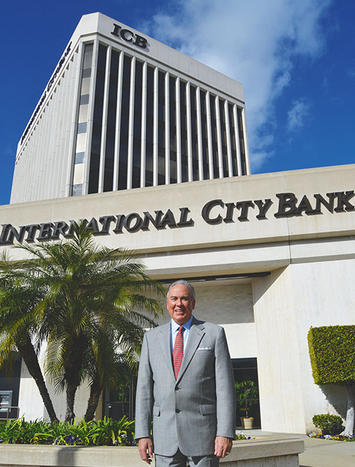 Mike Miller is president of International City Bank, established in Long Beach in 1984. (Business Journal photograph by Larry Duncan)
Other financial institutions in Long Beach include Wells Fargo Bank, Chase Bank, Comerica Bank, First Bank, City National Bank, Bank of America, OneWest Bank, Bank of the West, Citibank, U.S. Bank, Banc of California, United Business Bank, VA Desert Pacific Credit Union, Luther Burbank Savings, LBS Financial Credit Union, Union Bank and California Bank & Trust.
Additionally, the city is home to a spectrum of financial service companies, including certified public accountants, stock brokers, retirement planners, life insurance brokers, small business startup advisors, tax advisors and workers' compensation insurance brokers. The city offers a wide variety of small independent operations to major firms with a national and international presence. The city has several financial services firms that were founded in Long Beach decades or longer ago and remain in the city to this day, including: Kelly Williams Insurance Agency, providing business and personal insurance since 1895; Windes, an accounting, assurance, tax and business consulting firm since 1926; fiduciary investment management firm Halbert Hargrove since 1933; and Bryson Financial, providing employee benefits, retirement plans, insurance and wealth management services since 1969.
Residents and business owners have all the tools necessary to manage their finances for today, and to plan for the future.
Health Care
With four major hospitals, a Fortune 500 health care firm, a senior health plan provider, a Veterans Affairs medical center and a support network of medical providers throughout the city, health care is one of Long Beach's major industries.
MemorialCare Health System operates three hospitals in Long Beach. First opened as Seaside Hospital in 1907, Long Beach Memorial Medical Center houses eight institutes of health, including programs focused on adult and pediatric sleep, breast health, heart and vascular care, joint replacement, strokes and cancer. It also houses an imaging center. A spinal program is being launched this month, according to a hospital spokesperson.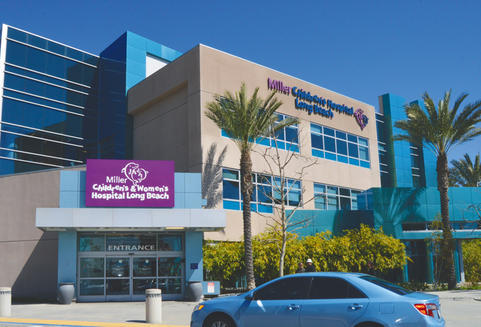 Miller Children's & Women's Hospital Long Beach treats more than 8,000 children per year. Only 5% of all hospitals are solely dedicated to treating children, according to Miller Children's. (Photograph by the Business Journal's Larry Duncan)
Miller Children's & Women's Hospital, which is located adjacent to Long Beach Memorial, is also operated by MemorialCare Health System. The hospital provides primary and specialty care for children and expectant mothers. About 5,500 babies are born at the hospital each year.
The final phase of the hospital's pediatric intensive care unit is nearing completion, according to a spokesperson.  The hospital's board is soon voting on plans for a pediatric outpatient village – a complex of outpatient medical offices that will house pediatric specialists conveniently near Miller Children's.
MemorialCare Health System also owns Community Hospital Long Beach, which provides 24-hour emergency and intensive care services, and specializes in mental health and wellness, cardiovascular care, occupational medicine, diabetes services and more, according to the hospital's website.
Combined, these hospitals employ 4,576 full-time employees, 760 part-time employees and 436 contract or resource workers, according to a spokesperson. In addition to its hospitals, MemorialCare also operates a number of imaging and outpatient centers in Long Beach. Seaside Health Plan, an affiliate health plan of MemorialCare, is also based in Long Beach.
St. Mary Medical Center was founded in 1923 by the Sisters of Charity of the Incarnate Word and is now operated by Dignity Health. The 389-room hospital has clinics dedicated to children's health, expectant mothers, families and seniors, as well as specialty care clinics, according to its website. The hospital has 1,481 employees.
A spokesperson for St. Mary Medical Center said one of the hospital's focuses is providing health care and education for those affected by HIV in the community, efforts that are made possible by a grant from the Los Angeles County Department of Public Health.
Founded in 1980 as an affordable health care clinic, Long Beach-based Molina Healthcare is now a Fortune 500 company providing Medicaid, Medicare and other government-funded health plans in 15 states. The firm operates multiple health care clinics and is opening a new one soon in Long Beach's 6th District.
Companywide, Molina employs more than 36,000 people. Within Long Beach, Molina Healthcare employs nearly 10,000 people, including part-time and contracted workers, making it the largest private sector employer in Long Beach.
SCAN Health Plan, a Medicare Advantage plan, was founded in 1977 in Long Beach with the mission of keeping seniors healthy and independent. It remains headquartered in the city, where it employs 1,026 people. In addition to its health plan, SCAN provides services and support to seniors, disabled adults and their caregivers. The company operates throughout California.
Long Beach is also home to its own Veterans Affairs medical facility, VA Long Beach Healthcare System, which employs more than 2,200 full-time employees and serves more than 50,000 veterans, according to its website.
In addition to these major health care operations, there are many other network providers, physician groups and independent medical offices operating in Long Beach.
Hospitality And Tourism
Last year, the hospitality and tourism industries had their best year ever with millions of visitors for conventions, meetings, major attractions, festivals and special events, according to the Long Beach Area Convention & Visitors Bureau (CVB).
With hundreds of restaurants and bars throughout the city – from large, national chains to small, local hot spots – residents and visitors alike are never far from a happy belly. And with countless independent, local retailers and several large shopping centers, including the Pike Outlets, Shoreline Village, Long Beach Towne Center and Marina Pacifica Mall, people are also never far from a lighter wallet.
Both of the city's biggest attractions – Aquarium of the Pacific and Queen Mary – draw huge crowds annually and are each undergoing a facelift. The Aquarium recently broke ground on its first major expansion since it opened in 1998, which will include animal and art exhibit space and a large, state-of-the-art interactive theater. The Queen Mary is currently undergoing ship renovations, and leaseholder Urban Commons is expected to release preliminary designs this month for a massive development project on the surrounding 65 acres of land and water.
Adjacent to the Queen Mary is the Carnival Cruise Line terminal, where passengers embark to various destinations such as Alaska, Hawaii and Mexico. The company is in the process of expanding its Long Beach terminal, housed within the dome that once housed the Spruce Goose. The expansion will allow the company to service more customers and utilize larger vessels.
The Catalina Landing at Downtown Long Beach offers residents and visitors ferry service to and from Catalina Island. The terminal offers overnight parking and serves beer, wine, appetizers, breakfast, lunch, dinner, cappuccinos, lattes and smoothies at Catalina Bistro.
Longtime annual events, such as the Toyota Grand Prix of Long Beach, the Long Beach Lesbian and Gay Pride Festival and the JetBlue Long Beach Marathon, draw big crowds from across the country. Newer events, such as Music Tastes Good, Buskerfest and downtown's New Year's Eve street party, draw large regional crowds. Combined, events have helped to transform and shape the city's culture and atmosphere.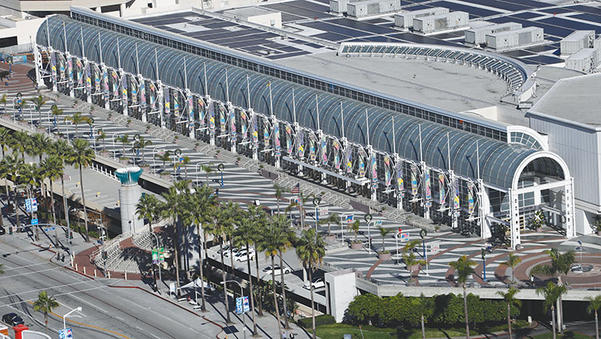 Pictured is the Pine Avenue entrance for the Long Beach Convention and Entertainment Center, which features 572,387 square feet of event space, including exhibit hall floor, breakout and meeting space and a ballroom. (Business Journal photograph)
Annual events and conventions at the Long Beach Convention & Entertainment Center are the driving force behind the city's ever-increasing hotel occupancy rates, which was just shy of 80% as of August. Last year, the city tallied 212,804 room nights for conventions guests, exceeding the CVB's goal of 200,000.
The city has many options for visitors in terms of hotels. Various concepts by Hilton, Hyatt, Marriott, Choice Hotels and Best Western are dispersed throughout the city and can be found near the airport, downtown attractions and freeway access points. Other accommodations include the Queen Mary Hotel, The Westin Long Beach, The Varden Hotel, Hotel Current, Holiday Inn, Days Inn, Motel 6, Super 8 and Vagabond Inn.
Oil
In 1921, oil was discovered in Long Beach, spurring the erection of hundreds of oil derricks across a large portion of the city, including what is now the City of Signal Hill. Fast forward to 2017. Long Beach is no longer covered in oil derricks, long since replaced by homes and businesses, but the industry is still alive and well.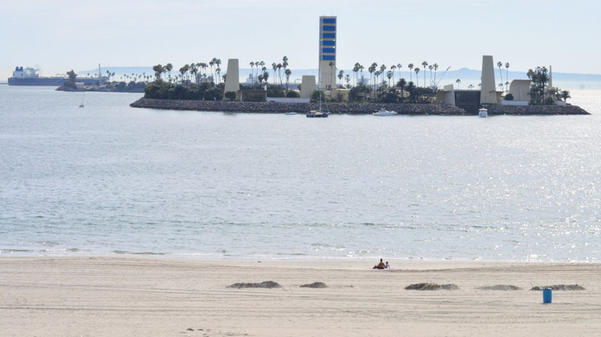 California Resource Corporation's Long Beach operations include THUMS Long Beach Company, which operates the offshore portion of the Wilmington Field. Oil derricks on four islands are camouflaged to mimic apartment buildings to maintain the aesthetic of the Long Beach community. (Photograph by the Business Journal's Larry Duncan)
Revenues from oil production continue to fund many projects in the city through the Uplands and Tidelands oil funds, which contribute to infrastructure development projects, beach maintenance and services such as police, fire and lifeguard. Currently, funds are allocated for beach concession improvements, safety improvements and a revitalization project for an aquatics center in the Belmont Shore area, among other projects.
California Resources Corp., the state's largest oil and natural gas producer on a gross-operated basis, oversees the City of Long Beach's oil field properties. Two field contractors operate the Wilmington oil field, which is partially in Long Beach: Tidelands Oil Production Co. handles onshore operations and THUMS Long Beach Co. oversees offshore drilling. THUMS was named for Texaco, Humble, Union, Mobil and Shell, the original contractors.
THUMS operates offshore drilling at four artificial islands off the Long Beach coast. Rigs on the islands are camouflaged by structures meant to mimic high-rise apartments and include landscaping and mood lighting. The islands were renamed after the first four American astronauts to lose their lives: islands Grissom, White and Chaffee are named after the crew of Apollo 1 and Island Freeman for the astronaut who died while piloting a T-38 Talon jet.
Other private companies work the oil fields, including Signal Hill Petroleum, which extracts from areas on the border of Long Beach and Signal Hill. Many high-paying jobs are provided by the oil industry, including several oil service-related companies in the area.
Real Estate
The Long Beach real estate market includes a large selection of office, retail and industrial space, as well as a wide variety of residential homes, condominiums and apartments. Demand for real estate, both commercial and residential, continues to rise in the city.
Industrial space in the city has been increasingly difficult to come by in the last several years, with extremely high occupancy rates, primarily in the Westside industrial area. The area is notably desirable due to its easy access to the Port of Long Beach and the 710 Freeway and is popular among warehouse, distribution and export companies.
Douglas Park is creating more industrial and office space for the city along Lakewood Boulevard north of Long Beach Airport. Numerous buildings already occupy the site and offer a wide variety of office and industrial space, and several projects are under construction to bring even more options. Several large industrial buildings, 100,000 square feet of office condominiums and a massive, 26-acre retail center are all expected to come online in 2018.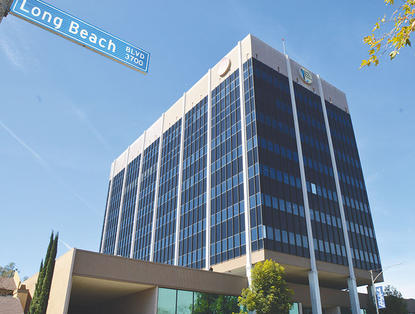 Long Beach offers a variety of choices for office space, from ocean views to airport and freeway close to transit friendly. The city has dozens high-rise buildings such as this one at 3711 Long Beach Blvd. in Bixby Knolls. (Photograph by the Business Journal's Larry Duncan)
Just south of the airport are Kilroy Airport Center and Long Beach Airport Business Park. These complexes offer office space for large and small businesses adjacent to the 405 Freeway. The parks are conveniently located between the Los Angeles and Orange County markets.
In Downtown Long Beach, office space ranges from Class C buildings to the city's three Class A buildings – Landmark Square, World Trade Center and Shoreline Square. The downtown area has recently been experiencing an increase in creative office space, with several buildings, large and small, undergoing renovations.
Office space can also be found throughout the city scattered in various suburban neighborhoods, such as Bixby Knolls. The Freeway Business Park offers space near the interchange of the 405 and 710 freeways, while office space can also be found near the traffic circle at Pacific Coast Highway and Lakewood Boulevard and in Southeast Long Beach near the Orange County border.
Retailers large and small have opportunities throughout the city for any size space – from large shopping centers to stand-alone shops to the ground floor of residential complexes. High-traffic shopping and dining districts include Belmont Shore, Downtown Long Beach, 4th Street's Retro Row and Bixby Knolls. Large shopping centers around the city, which feature many national brands as anchor stores, include Long Beach Towne Center, The Pike Outlets, Marina Pacifica and The Marketplace.
The Long Beach Exchange at Douglas Park will add 266,000 square feet of retail and restaurant space near Long Beach City College and the Lakewood Village neighborhood. Additionally, several projects are underway or planned in the downtown area that feature restaurant and retail space on the ground floor of residential apartment buildings.
Many commercial real estate brokerage companies operate in Long Beach to help new or expanding businesses, including Coldwell Banker Commercial BLAIR WESTMAC, INCO Commercial, Lee & Associates, Cushman & Wakefield and Marcus & Millichap.
With a population inching its way closer to 500,000 people, numerous development projects are planned or already under construction to bring more residential housing to the city. Projects include high-rise apartment complexes, several mixed-use buildings and a development featuring 40 single-family homes near the Long Beach Towne Center on the Long Beach-Hawaiian Gardens border.
Technology
Technology continues to be one of the fastest growing industries in Long Beach, as well as across the country, with creative firms seeking space in the downtown and surrounding areas.
Along with fresh, new businesses, the city is home to well-established technology companies, including Epson America Inc., which develops high-tech office equipment and home entertainment devices; Laserfiche, a privately owned software development firm with international operations; DENSO Products and Services Americas Inc., a subsidiary of the Japanese automotive manufacturer DENSO Corporation; and FreeConferenceCall.com, which provides state-of-the-art teleconferencing services.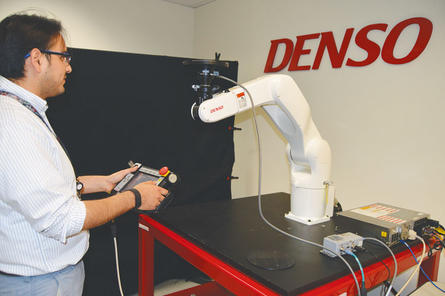 Long Beach-based DENSO Products and Services America Inc. Robitics Engineer Carlos Lopez teaches positions for a DENSO six-axis robot arm integrated with a force/torque sensor. Technology is one of the fastest growing industries in Long Beach. (Photograph by the Business Journal's Larry Duncan)
In addition to tech companies, the city government has seen a push for Long Beach to be a pioneer for new technologies at the request of Mayor Robert Garcia. In 2015, Garcia created the Technology & Innovation Department (TID) and corresponding commission to support the city's use of technology and increase efficiency. As a result, the city has a slew of mobile apps that allow residents, businesses and visitors to access city hall 24/7. GO Long Beach, LBPL, GO LBPD, Long Beach Airport, VOTE Long Beach and EZparkLB are among a few apps that allow citizens to report potholes, graffiti, and crime, and access a plethora of city information.
Earlier this year, the TID unveiled DataLB, an online portal that provides city data in easy to read formats, such as tables, charts and graphs. The site provides information on business licensing and where Measure A dollars are being spent around the city, among other things.
The Innovation Team (i-team), which is a group funded through a $3 million grant from Bloomberg Philanthropies, has also focused on open data policy. Several months before DataLB, the i-team released BizPort, another online portal dedicated to assist businesses in navigating startup or expansion processes.
True to Garcia's wish that the city could be a test bed for new technology, for two weeks in December, the i-team installed several new technologies at Harvey Milk Park for the public to test and experience. The effort was meant to introduce new ideas and also to activate the space.