At its April 17 meeting, the Long Beach City Council unanimously approved a ban on single-use food and beverage containers made from polystyrene, known as Styrofoam, in an attempt to reduce pollution in the city, beaches and ocean.
The City of Long Beach plans to phase in the ordinance over 18 months. Within three months, the municipal government must stop the use of the containers in city-owned facilities and at city-permitted events. After nine months, large food providers such as restaurants (those with more than 100 seats), grocery stores and food trucks must comply. And 18 months after adoption, the ban will be enforced at small restaurants (those with fewer than 100 seats). The ordinance also bans the sale of Styrofoam ice chests, bean bags and craft materials within 18 months.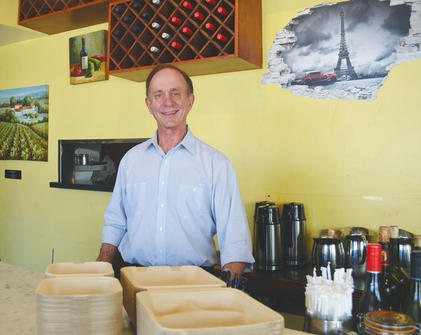 Mark Russell, the owner of Creme de la Crepe, said he was always in support of the city's ban on single-use food and beverage containers made from Styrofoam. He is pictured here with his takeout containers made from recycled cardboard. (Photograph by the Business Journal's Pat Flynn)
First District Councilmember Lena Gonzalez stated that she introduced the item due to the high volume of litter in the city. "[Styrofoam] is one of the main litter culprits in our streets and waterways," she wrote in an e-mail to the Business Journal. "In addition, the ordinance was presented because of the greater benefits to the environment; we know this product cannot biodegrade and is not easily recyclable."
Matt Sutton, the senior vice president of government affairs and public policy at the California Restaurant Association, expressed appreciation of the city's efforts to study the impact of the ordinance on smaller establishments.
"We are appreciative of the measured approach taken by the council to do an impact study of the proposed ban before requiring [small] restaurant operators to implement it," he stated in an e-mail to the Business Journal. "This approach has made it clear that the council is willing to listen to the over-100 Long Beach restaurants who opposed the proposed ban."
To conduct outreach, Gonzalez stated that she and her staff visited every business improvement district in the city. Many local businesses, such as Creme de la Crepe and Robert Earl's BBQ, have already started implementing changes.
"Styrofoam stays in the earth for millennia. There are biodegradable alternatives that work just as well that don't pollute the earth," Mark Russell, the owner of Creme de la Crepe, said. Russell uses recycled cardboard takeout containers. He signed a petition to implement the ban when the issue went before the council last fall.
Russell also pays a "couple of pennies extra" for recyclable trash bags. "I'm very much a child of the 1960s," he said, laughing. He expressed the opinion that the ban will not have much of a financial impact on restaurants.
"We're really talking about [paying] a fraction of a penny more for a different container," he said. "If [restaurants] raise their prices one cent, they'll be making more profit. If you're really concerned about a fraction of a cent on every food order, you're probably in the wrong business."
Latonia Earl, co-owner of Robert Earl's BBQ, is also transitioning to using different materials in the restaurant she operates with her husband. "We haven't conformed all the way, but the [alternatives to Styrofoam products] we use are biodegradable plastic," she said. "We're trying to transition into what they use in the South. They use paper."
Although she expressed some concern about the cost of alternative materials, Earl said she would like to contribute to helping the environment. "If it helps the environment, then I support [the ban]. . . . [But] we just opened up our business five years ago. I want to make sure we stay in business."
The Los Angeles County Business Federation, known as BizFed, voiced "strong opposition," stating, "consumer choice, not government bans, make our communities flourish." BizFed is an alliance of more than 390,000 employers with more than 3.5 million employees in L.A. County, according to information from the organization.
According to an official statement provided by BizFed,"[The ban] is a popular idea that does way more harm than good. Single-use polystyrene and expanded polystyrene are essential to the business community and our customers. It is used for drinks, take-out food, containers, straws and much more. . . . The cost to switch from expanded polystyrene to compostable substitutes is expensive and will reduce jobs in both the manufacturing industry and food sector. Many restaurants, particularly the mom and pop small businesses, will not be able to accommodate this change given their slim profit margins."
According to information from the city, 101 California cities have instated regulations on polystyrene. Malibu, Laguna Beach, Pasadena and Culver City are among those that have adopted restrictions for public facilities, food establishments and retail.
"I think it's Long Beach's turn, especially as we have an uptick in our local economy and new investment coming in," Gonzalez stated. "It's important to our city because we have community groups cleaning up our neighborhoods every weekend. . . . We have beautiful waterways near our city that require us to be environmentally mindful."