Tight Home Supply Continues To Drive Single-Family Market Dynamics
The sales volume of single-family homes and condominiums in Long Beach was hampered in the first quarter due to low inventory of homes available for purchase, according to local real estate professionals. Strong demand to purchase homes in the city continues to drive up sales prices.
"It was a quiet first quarter, even by first quarter standards, primarily because of the lack of inventory," Phil Jones, owner and CEO of Coldwell Banker Coastal Alliance, told the Business Journal. Typically, the first quarter is known as the slow season in single-family real estate.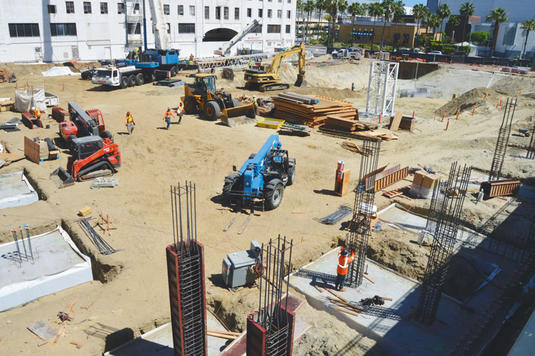 Oceanaire, the 216-unit apartment complex by Lennar, broke ground on December 6 at 150 W. Ocean Blvd. at Pacific Avenue. The seven-story project includes 1,500 square feet of retail space and a massive slide from the street level down to a new public dog park on Seaside Way. The project is slated for completion in 2018. (Photograph by the Business Journal's Larry Duncan)
"We're seeing sales continue to be constricted by very short inventory," Jones said. "At the end of March, there was only a supply in single-family detached [homes] of 1.9 months." This means that given the amount of demand at the time, all homes on the market would have sold within that time frame. In March, there were 2.3 months worth of inventory of condos for sale in Long Beach, he noted.
Geoff McIntosh, president of the California Association of Realtors and owner of Long Beach's Main Street Realtors, pointed out that the inventory of mid-priced homes is even lower. "If you're looking at entry-level [homes] up to about $800,000, the inventory is truly days. It's probably 16 or 17 days," he said.
"The number of closed sales in March was identical to March of last year, but the pending sales were down 32.5%," Jones said, calling the decrease "substantial." Pending sales of condos decreased by 29.9% from March of 2016 to the same month this year, he said.
"There were only 573 properties total on the market in Long Beach at the end of March," Jones noted. "Historically, we're at 1,500 to 2,000."
McIntosh estimated that there is about two months of inventory of condos for sale in Long Beach. Jones estimated the sales prices of condos in Long Beach increased by 3% from March 2016 to March 2017.
In April, Jones said his firm began to see increased listing activity, which he said is typical of the spring season, but cited as an encouraging sign.
Home prices in Long Beach have been appreciating at a rate of 5% to 6% so far this year, according to Jones. "Because of the demand being so strong and the interest rates so low, you would really expect to see more rapid price appreciation, particularly because we are seeing multiple offers on virtually every transaction," he explained. "We are seeing moderate price increases, which is healthy," he said.
Moving forward, both McIntosh and Jones expect similar market dynamics to remain at play through the year. Each emphasized the need to increase the supply of housing both in Long Beach and throughout California.
Jones supports rolling back state regulations to encourage residential development. "We need amendments to the California Environmental Quality Act – CEQA," he said. CEQA is a state regulation that requires stringent environmental assessments before proceeding with development projects. "That needs to be amended or gotten rid of because it adds so much in cost to building and it adds to the affordability issue," he added.
"There is a lot of discussion going on in Long Beach currently about how we encourage the supply of affordable workforce housing. We're having more problems housing the working population here," McIntosh said. "[In] the San Francisco Bay Area, for example, people are commuting two hours each way to work to get to affordable housing stock. And we're in danger of similar things happening here if we don't find ways to dramatically increase supply."
McIntosh views increasing density of housing as a solution but noted that many people are opposed to this concept. "We need to look at density because, as much as many people frown on the idea of increasing density due to the increase in traffic and so forth, there are benefits to increasing density. It brings in more retailers, which brings in more tax revenue," he said. "So the city would actually perhaps experience a more robust economy if we were to allow an increase in density."
Downtown Long Beach represents an opportunity to create housing density, according to McIntosh. "I think that downtown has probably a better chance of providing the kind of density and redevelopment that we need because people aren't as opposed to redevelopment in the more dense areas," he observed. "But we need housing of every kind."
Two proposals for single-family developments in Long Beach have been stalled by litigation. The development of 131 single-family homes near Bixby Knolls, a project called Riverwalk, was initially proposed in 2015. But the plan was stalled when a citizens group filed suit. The group was granted concessions in November, which included scaling back the three-story height of the proposed buildings.
Plans for another single-family development, this one in East Long Beach on the site of the now-shuttered El Dorado Park Community Church, include 40 single-family homes. That project is tied up in litigation as the property owner negotiates a settlement with Warren Blesofsky, a local known for pursuing lawsuits against residential developments.
"Everybody agrees we need more housing, but nobody wants it in their backyard," McIntosh observed.
Sales Of Long Beach Multi-Family Properties On The Rise
Although the inventory of available multi-family properties for sale in Long Beach remains low, local apartment real estate specialists are seeing an uptrend in sales transactions as sellers look to cash in on their property equity and buyers hope to capitalize on low interest rates and rising rents.
Steve "Bogie" Bogoyevac, first vice president of investments with Marcus & Millichap, recently sold a portfolio of 20 apartment buildings in Long Beach listed by one seller for $40,955,000. The sales to multiple investors closed within 3% of asking price.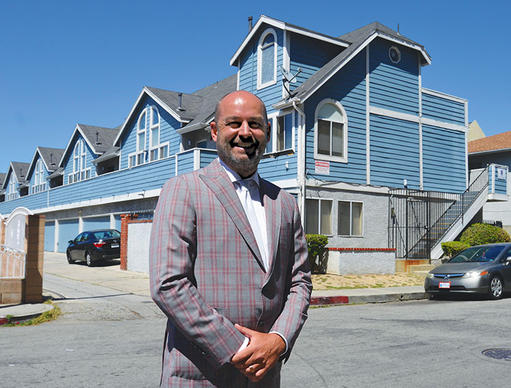 Steve "Bogie" Bogoyevac, first vice president of investments for Marcus & Millichap, recently sold a portfolio of 20 Long Beach apartment buildings, including this 18-unit complex at 533 E. 11th St. (Photograph by the Business Journal's Larry Duncan)
"It's kind of an interesting market in the fact that it's a good time to buy because rates are still low and you can still get good financing," Bogoyevac told the Business Journal. "There is opportunity out there and lots of properties where you can improve value and increase rents and get a decent price in return. And for owners that have been thinking about selling, values are incredibly high and it's a good time for them, so it's kind of an interesting balance."
Lenders increased interest rates in the first quarter, which threw a wrench in a few pending deals in which rates had not been locked down yet, Bogoyevac noted.
Eric Christopher, senior associate with INCO Commercial, said that increasing interest rates – and the anticipation that the Federal Reserve will raise rates two to three times this year – are creating a sense of urgency among both buyers and sellers. Buyers wish to take advantage of low interest rates to create the best return on their investment, and sellers recognize that window of opportunity.
Robert Stepp, principal of Stepp Commercial, said he is seeing a high velocity of sales this year. Marketwide, he estimated about $450 million in closed sales have been made so far this year. His own firm has closed about $90 million in multi-family transactions.
"We are on pace to do $250 million this year. And last year we did $200 million," he said. "Prices are higher. That helps. There is more velocity on the market. That helps."
While inventory is low, Stepp believes property owners are warming to the prospect of selling.
"I think sellers want to cash in on their equity," he said. "They have got quite a bit of equity in their buildings, and they want to either exchange into bigger buildings and increase their cash flow, or they just simply may want to cash out because of the prices at today's rate."
Still, inventory is fairly tight, the real estate professionals agreed. "We're definitely seeing more off-market deals than we ever have before. I would say probably 35% of deals done right now are off market," Stepp observed.
Someone who bought an apartment building in Long Beach in 2012 and made no improvements to it would likely earn a 30% to 40% profit margin on the property, Christopher said. That kind of organic price appreciation has likely topped out, he speculated. However, for owners who continue to improve their properties and raise rents, they will be able to continue to push up their asking prices, he explained.
Bogoyevac pointed out that many property owners in Long Beach are behind the market when it comes to rental rates. For this reason, despite rental rates increasing citywide, "I think there is still potential for a lot of properties to increase rents," he said.
"Rents are like anywhere else. They have gone through the roof in Long Beach," Stepp said. Christopher estimated landlords should be able to push for $25 to $50 rent increases every six months.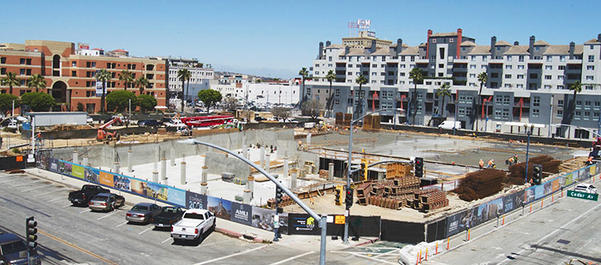 Development project Park Broadway (foreground) is under construction at 245 W. Broadway, between Cedar and Pacific avenues. The project consists of 222 residential units and 8,500 square feet of retail space. Just behind Park Broadway is the site of the Sares-Regis Group project 3rd + Pacific. The eight-story, multi-family residential development includes 163 residential units and 261 subterranean parking spaces. (Photograph by the Business Journal's Larry Duncan)
All three pointed out that property owners and prospective buyers are concerned about rhetoric among local activist groups pushing for rent control.
"The pressure is on pretty much all over metro areas in the state for rent controls. And now we're seeing that right here in Long Beach," Christopher said.
"I get a lot of phone calls from owners in the market asking, 'Is this really going to happen? Are we really going to see rent control? And if we do, how is that going to affect my value?'" Bogoyevac said.
"There is a perception out there that rent control is coming," Stepp said. "It's not good for the City of Long Beach. It's not good for development. It would kill development." Stepp said he relayed this concern to Mayor Robert Garcia, whom he recently met with.
"He told me that he is one hundred percent positive that rent control will not happen in Long Beach," Stepp said.
In the coming months, rising interest rates could act as a bit of a detractor to market activity, but overall, Christopher expects more of the same. "I think everybody is scratching their head about, like, what is the net effect of all these things that [President] Trump is trying to do [and] where does it land us." he said. "But if you drill down into like Long Beach multi-family, I don't see a lot that's going to change our dynamics in the next year other than interest rates."