Janice Paculba's passion for the Toyota Grand Prix of Long Beach began as a teenager, when she cheered in the stands as a spectator. Now she attends the event every year as a volunteer, a tradition she has maintained for 36 years.
"I love volunteering for something I enjoy," she said. "I've always loved Long Beach. When I was a kid, there were Navy ships in the harbor and roller coasters. I've seen Long Beach grow. It's so beautiful now. Everybody falls in love with this city."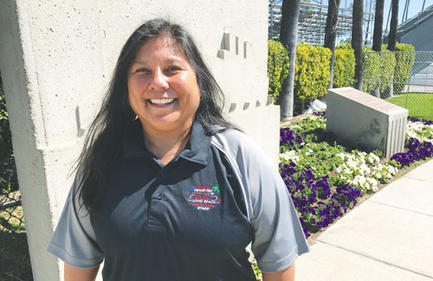 Janice Paculba, 58, has served as a volunteer for the Toyota Grand Prix of Long Beach for the past 36 years. "The Grand Prix brings everybody together," she said. "It's like one big, happy family." (Photograph by the Business Journal's Anne Artley)
Paculba, 58, was born and raised in Carson, where she still lives today. She works at Port Hueneme in Oxnard, loading and unloading cargo from ships. Paculba became involved in the Grand Prix through her connection to another longtime volunteer, who is a family friend. "[One day] I came home to my mom and dad's house and his car was there. It had a Toyota Grand Prix bumper sticker on it," Paculba said. "I said, 'Please will you get me in?' and he did."
In her role, Paculba ensures that spectators in the hospitality suites are comfortable and that the caterers "are on their game." The suites include amenities such as a lounge area, passes for convenient parking and wait staff service. When the Grand Prix held its Toyota Pro/Celebrity race for actors and sports stars, Paculba had the opportunity to meet several celebrities, including actors Paul Walker and Patrick Dempsey. The event was discontinued after 2016.
In fact, meeting actor Paul Newman about 20 years ago is Paculba's favorite memory as a volunteer. "It was really windy, and he had a tall suite," she recollected. "All this debris blew in and he was trying to pick it up. I offered to get him a vacuum cleaner and he said, 'if you could do that you are awesome.' And I did it," she said, laughing.
Paculba described the Grand Prix volunteers as "like family," and said that they treat the spectators as such when they attend the event. "The Grand Prix brings everybody together," she said. "The spectators love us; they keep coming back. That's why I like the Toyota Grand Prix, it's like one big, happy family."