The City of Long Beach is littered with art – from official venues such as galleries, performing arts facilities, music venues and museums to countless outdoor music festivals, street art and pop-up art installations. With the support of Mayor Robert Garcia and the city councilmembers, the arts community has gained momentum, and permanent venue executive directors and presidents are looking to capitalize on and expand collaboration within the city.
"That's an important movement for the arts community," Ron Nelson, executive director of the Long Beach Museum of Art, said. "I think a lot of art has been really isolated. And I think there's never been a time when there is new management filled with enthusiasm and excitement, and that goes from the mayor down. It's an exciting time."
Long Beach Museum of Art
For nearly 70 years, the Long Beach Museum of Art has brought contemporary art from Southern California and around the world to Long Beach. The museum is currently showing the work of Rafael Soriano, a Cuban artist who was exiled to Florida where he continued his work. The exhibit, titled "The Artist as Mystic" includes 100 paintings, drawings and pastels from before and after the artist's exile. Nelson said it is an interesting show and that many visitors have been emotionally impacted by it.
Upcoming exhibits include a collection of Henri Matisse pieces curated by Ellsworth Kelly, who will also have work featured in a separate room of the exhibit. Nelson said the exhibit is slated for next summer and that he is thrilled to have been able to pull it together.
"I've got another one that's really great, but I shouldn't talk about it yet. It's based around immigrants and Southern California," Nelson said. "This was planned before, but the timing of it is going to be critical and the work is spectacular. And the stories that go along with it are amazing. Part of the museum's purpose is for social justice and commentary on our time and not just to hang pretty things up."
When speaking about the future of the museum, Nelson said collaboration is key – collaboration with the city as well as with other members of the arts community. He explained that working to break down barriers for all ages is important so residents realize there is a place in the city where they can continuously connect with the arts and history.
Education is a large presence at the museum, with more than 1,000 students visiting every year. Nelson said that he and his staff will continue to push and expand the educational aspects of the museum, which depends solely on donated funds and grants. He said having the ability to change the lives of children is very meaningful.
"I think the museum's reach has to be all throughout the city, and that's why we do educational classes all throughout the city," Nelson said. "An art museum is a huge part of that quality of life, and we really want to be the beacon of that. And we really take very seriously what we are doing."
Museum of Latin American Art
According to Dr. Lourdes Ramos, president and CEO of the Museum of Latin American Art (MOLAA), the future direction of the museum has to be in line with the 21st century. Ramos said this means inclusion and accessibility. She stressed that while the museum focuses on Latino and Latin American art, the goal is not to exclude other ethnic groups but rather to share with them a different culture and background.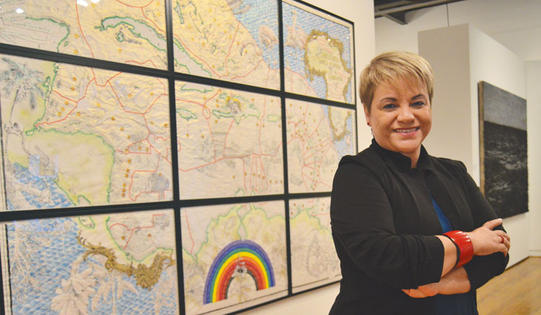 Dr. Lourdes Ramos, president and CEO of the Museum of Latin American Art in Downtown Long Beach, said the museum is working to increase inclusion and accessibility, as well as drive community engagement and innovation. (Photograph by the Business Journal's Larry Duncan)
Ramos and her staff are currently in the planning process to drive the museum to the next level by pushing community engagement and becoming a leader in the community as well as internationally.
"Innovation through the exhibitions is the driving force of new research by different curators, not just local but international," Ramos said. "We want to be part of the force of the Long Beach community in the process of the transformation of the city. Working together with other museums in the city and in the State of California is a must in this context of innovation."
While artists are often granted residencies at museums or galleries, Ramos said curators do now. She explained that she hopes to bring in talented curators for residencies who would be able to talk not just about Latino and Latin American art but also about what's going on within the city in terms of culture and the arts.
Ramos said she has extraordinary relationships with other museums, theaters, performing arts centers, galleries and the Aquarium, and she hopes to continue and expand collaboration to make Long Beach a cultural hub, which she said is important in "The International City."
MOLAA supported the street art event POW! WOW! and has recently partnered with the Long Beach Opera for the show "Frida." As for the museum's permanent collection, which she described as marvelous, Ramos said she hopes to expand it over the long term.
Education is also important at MOLAA, according to Ramos. Students from Long Beach and surrounding communities visit the museum every year, a practice Ramos said she would like to expand to additional schools and districts.
Coming to the museum next year are shows such as the history of tattooing in Long Beach and the Navy, which will eventually travel the country as a temporary exhibit, and an exhibition of work by Judithe Hernández, a well-known Chicano artist.
"We are a cultural center, and the vision of the museum in the 21st century is more about how we can share knowledge under different labels of art, not just exhibition," Ramos said. "We want to build up that collaboration with all different aspects of art and enforce the importance and financially grow the collection of MOLAA."
The Beverly O'Neill and Terrace Theaters
at the Long Beach Convention & Entertainment Center
John Braun, assistant general manager of the Long Beach Convention & Entertainment Center, said the Terrace and Beverly O'Neill theaters will continue to host local performing arts groups and acts moving forward. However, he noted that the Terrace Theater is seeing more interest from national entertainment promoters.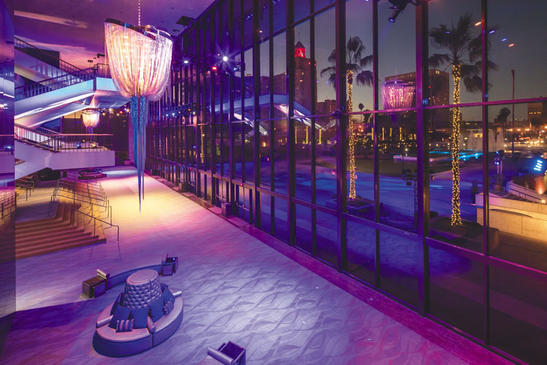 The completely renovated Terrace Theater Plaza and Lobby, home to some of the city's most memorable events, provide stunning views of Downtown Long Beach. (Photograph provided by the Long Beach Convention & Visitors Bureau)
While the Beverly O'Neill Theater continues to host the Camerata Singers, Musica Angelica, Musical Theatre West, International City Theater and the Long Beach Opera, the Terrace Theater is home to the Long Beach Symphony. Braun said that recently, the Terrace Theater has become a target for popular entertainment events, including standup comedy shows.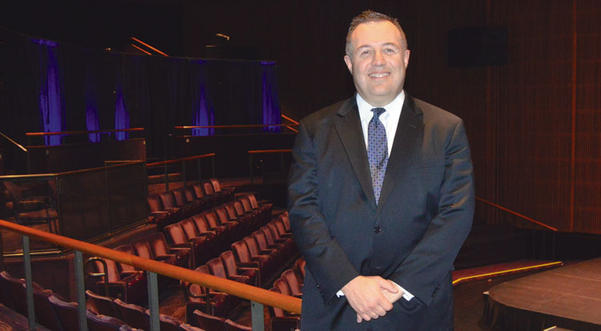 The Terrace Theater is gaining interest from Hollywood and New York promoters and agents, particularly in the standup comedy world, according to John Braun, assistant general manager of the Long Beach Convention & Entertainment Center. Braun also noted that work is being done to assist local groups in growing their audience for performances at the Beverly O'Neill Theater. (Photograph by the Business Journal's Larry Duncan)
"We just had Jim Jefferies here a couple weeks ago. Earlier in the year we had Louis C.K. And we've got Joe Rogan, Brian Regan and Kevin Hart coming this year," Braun said. "We're getting a lot more of those mid-range acts for music – [we] had Chicago this year – and we have various holds for the Terrace Theater for that."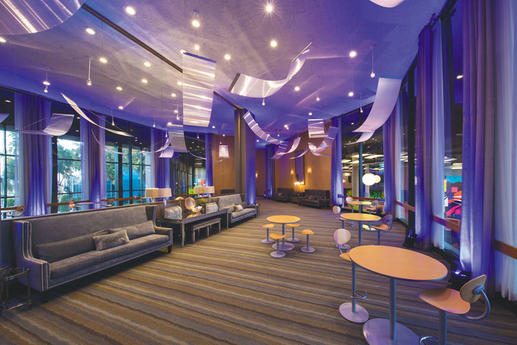 The Beverly O'Neill Theater
Looking at the future of the Terrace Theater, Braun said the convention center is building up a reputation and demand for promoters and agents out of Hollywood and New York for these types of shows. Even when interest is shown and the show ends up somewhere else, he said it's a good sign. When competing with Los Angeles and Orange County markets, Braun explained that it really comes down to the needs and expectations of a particular show in terms of venue size and tour routing.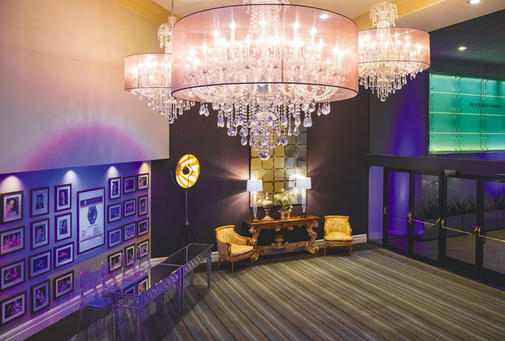 The Beverly O'Neill Theater is an elegant performance and special event venue that impresses with its stylish décor and upscale demeanor. This intimate, 800-seat theater has become a hub for culture with seasonal programming of five Long Beach performing arts groups. (Photographs provided by the Long Beach Convention & Visitors Bureau)
Moving forward, Braun said the goal is to continue promoting the local groups that perform at the Beverly O'Neill Theater, helping them to grow their audiences and awareness. Between the regular performances by arts groups and convention uses, Braun explained that the gaps are filled with other community performances such as high school plays.
Though there is no work planned for either of the theater spaces, Braun noted that plans are moving forward to update the fountain in front of the Terrace Theater. He said the idea is for more of a Bellagio-style fountain with movement and light. This feature would make the space an entertainment venue from the moment a person stepped into the plaza all the way to their seat inside.
Expo Arts Center
While most of the arts venues are focused in and around Downtown Long Beach and on the eastside, the Expo Arts Center sits on the north side of the Bixby Knolls neighborhood. The community space serves as the field office for 8th District Councilmember Al Austin and the office of the Bixby Knolls Business Improvement Association (BKBIA), as well as a meeting and arts community space.
"We moved our offices on-site because it would be better for everybody," Blair Cohn, executive director of the BKBIA, said. "Now that we've been here, we manage the sub-tenants – the two theater groups that are here – community meetings and any one-off events that come through here. Of course, the biggest, every First Friday it's filled with artists."
Cohn said that building improvements are going to be underway soon utilizing Measure A funds set aside by the city. Carpets, floors and lighting will be replaced and upgraded, new ADA approved doors are being installed on the front and side of the building, and the north side of the building is getting a new roof.
One of the most important improvements is occurring in the main room, where arts events take place. Cohn said the space is vacuous and sound echoes relentlessly off the walls. A portion of the Measure A funds are going to be used for sound dampening tiles, which will make for an overall better meeting, event and gallery space.
The exterior of the building has already received attention, being the location of two separate POW! WOW! murals with the remaining walls painted with colors matching the art. Once the inside is improved – which should be completed by the end of the year, according to Cohn – it would be easier to maximize the space with two events occurring simultaneously, such as a community meeting and a theater rehearsal.
A long-term goal for Cohn would be to bring on an event manager to program the space and to be on-site during all events to troubleshoot, which would alleviate the work of his current staff. Also, he is looking forward to expanding the programming of the space to draw more people into the neighborhood.
Aquarium of the Pacific
One of the city's most unconventional arts spaces is the Aquarium of the Pacific, which hosts countless cultural and art events every year.
"The Aquarium is a firm believer in using the arts to connect people to science. We have had various visual and performing arts programs for several years now," Cecile Fisher, vice president of marketing and communications for the Aquarium, said. "One major component of Pacific Visions, our upcoming expansion, is an art gallery. When people go through and enter into the new Pacific Visions wing, they will encounter an art gallery."
Aquarium staff has not determined what the opening exhibit of the gallery will be or how often exhibits will rotate, according to Fisher. However, she explained that the vision is to create an emotional connection to the ocean and nature using the arts. She said the gallery will not focus on educational content, as that is what the rest of the expansion and Aquarium are for. Rather, the gallery will focus on inspiring visitors through a variety of artistic mediums, such as photography, painting, mixed-media installations and digital art.
The Pacific Visions expansion also includes performance space that can be utilized after regular aquarium hours for various community groups. Fisher said the space should be particularly ideal for dance performances, which are sometimes held in the great hall with some difficulty. Music and drama would also be possible, and the Aquarium is open to exploring those options when the space opens.
One of the Aquarium's most popular events, Night Dive, currently takes place quarterly after regular business hours and often includes live music and DJs, as well as art installations and demonstrations. Beginning next year, Fisher said the event is expanding to six per year. She explained the event has been particularly successful in engaging young adults.
"We are opening up a new exhibit called 'Weather on Steroids: The Art of Climate Change Science' on October 24, and that's going to go through February 26," Fisher said. "That's from the La Jolla Historical Society, where there was a collaboration between artists and climate change scientists to create artworks that engage people on climate change."
Also in October, Fisher said the Aquarium is featuring an evening of music from India, which it has not done before. The event includes a traditional Indian dinner accompanied by a musical performance by a local Long Beach group using traditional Indian instruments.
In addition to new programming, Fisher said the Aquarium is continuing with its annual cultural festivals such as Moompetam Native American Festival, Baja Splash, Southeast Asia Day and the Autumn Festival. Also, the annual Urban Ocean Festival will remain, including art, poetry and fashion contests.
"We believe science can be something that can be intimidating for people to understand. So we feel that the arts is a wonderful way to engage people on an emotional level to want to learn more about science," Fisher said. "It's also very important to us to engage our community. Our local communities are very important to us, and one of the ways to connect to those communities is through the arts."
Richard and Karen Carpenter Performing Arts Center
Megan Kline-Crockett, interim executive director of the Carpenter Performing Arts Center, said the venue is going to continue its tradition of programming the world-class performances audiences have come to expect. She said she is interested in bringing in new talent that audiences would be thrilled to discover.
Entertainment and laughter is important as an integral part of humanity, especially with so much discord currently in the world, according to Kline-Crockett. She explained that people want a place to have a sense of community where they can truly experience all their senses and that the center provides that.
"I'm also thinking a lot about our place here in the community and how we are serving Long Beach," Kline-Crockett said. "Our own campus has such an incredible diversity, and I'm thinking a lot about that when doing our programming. Are we serving the community? Are we serving our students? How can we do that better?"
Kline-Crockett said she has started reaching out to community leaders and faculty to work on engaging the community more, as well as connecting to the school's academic units in order to incorporate performances into the curriculum. For instance, she said she booked author Jeffrey Toobin, who is also a CNN legal analyst and writer for The New Yorker, to speak to the community regarding where the country is politically. The show will offer a student discount to encourage academic engagement.
Choreographer Jessica Lang's group is scheduled to perform "Thousand Yard Stare," a performance about post-traumatic stress disorder that Kline-Crockett described as beautiful and stunning. She said Lang wanted to honor veterans' experiences and patriotism. In the same spirit, Kline-Crockett said she is reaching out to veterans on campus to experience the show as her guests.
Another upcoming act features the first Native American to headline the Carpenter Center, Martha Redbone. The blues, jazz and soul singer tells her multi-generational story of growing up with a Native American mother and an African-American father through a cast of musicians. Kline-Crockett explained that she is working with ethnic studies professors on the show.
"What's so incredible about where we live is there are so many tastes and communities," Kline-Crockett said. "We can really offer a variety here, and I love that about the center. It's just continuing to find performances that engage people intellectually. And sometimes people just want to laugh. I don't think we're changing that much. It's just really considering who we are and who we're serving and reflecting our community, the incredible diversity of Long Beach, and our campus."
University Art Museum
www.csulb.edu/university-art-museum
With recent announcements about the inclusion of Cal State Long Beach in two large-scale Downtown Long Beach developments, Kimberli Meyer, executive director of the University Art Museum, said she is contemplating the arts uses and expansion of university art space to the area.
Despite the possibility of expansion, Meyer said the museum on campus remains important to the community. She said the museum has increased its focus on its art collection, which is significant and substantial, and is continuing to work hard to make the collection and exhibits relevant to students in order to help them understand the world around them.
"We consider ourselves very firmly rooted to doing the kind of work that one can only do on a university, which is really have a lot of interaction with students and with the curriculum," Meyer said. "We take our teaching responsibilities very seriously. So what we are thinking about doing is really doubling down on what we are doing on campus."
Expansion downtown merely allows the museum to reach new audiences that may never have experienced university arts on the eastside of town, Meyer explained. However, the primary focus remains a true university component which allows for intellectual creative space for people to ask questions and to learn. That is not to say that Meyer is not excited at the prospects.
Looking at future programming of the campus museum, Meyer said she is looking to dig deeper than the superficial surface of art and its subjects and themes and its history. She explained that in their daily lives, people encounter and engage items and products without understanding how they came to be and that the same goes for the arts.
One example of digging deeper is an upcoming exhibition of art by Argentinian artist David Lamelas, a nomadic artist who spent a lot of time in Los Angeles during his travels over the last 30 to 40 years. While the connection between a nomadic Argentinian artist and Long Beach may seem nonexistent on the surface, Lamelas was one of the early artists involved in the video program at the Long Beach Museum of Art, which is why he came to the Los Angeles area in the first place. She said these are the types of layers she hopes to peel away to reveal community connection to the arts.
"In January, we will be opening a show on the work of Robert Irwin. He's famous for . . . the garden at the Getty Center," Meyer said. "The very first [site-responsive work] he ever did was right here on the Cal State Long Beach campus in 1975. Meanwhile, he's gotten super famous, but it's interesting that there's this root right here."
ArtExchange Long Beach
Jay Hong, executive director and asset manager of the Art Exchange Long Beach, retired three years ago and eventually helped launch the art space out of incubation in October 2016. He said the Downtown Long Beach area is evolving and maturing and that the Art Exchange is a part of that maturation process.
As executive director, Hong said he is working to establish financial stability for the space, as well as reaching out to the various communities in the city so that people understand what the Art Exchange offers and how fragile permanent art space is unless it receives community support through engagement and monetary funding.
"When you look at Long Beach, there are a lot of philanthropic families and businesses here, and I think that these people that have the wherewithal to move the city forward need to get more involved," Hong said. "I think the community needs to realize that without their support, optional things like art and museums and galleries are going to take longer to evolve unless the community gets behind it."
The Art Exchange is taking a multi-pronged approach to developing an arts community campus that will benefit residents citywide, Hong explained. The first prong was to bring in a diverse group of four artists to inhabit the campus studios to work, sell and manage their art.
The second prong is art education. Hong said the group has been successful in securing grants and private donations, which allowed more than 1,000 students from the Long Beach Unified School District to visit the campus for a tour of the gallery space and participate in an application class to explore their own creativity. He said allowing students to participate rather than simply gaze at art truly encapsulates what the Art Exchange is all about.
The third prong, according to Hong, is the gallery space itself, which is 3,000 square feet and currently includes about 125 curated pieces of art. The current exhibit, which runs through the end of October, is being held in conjunction with the Long Beach City College Department of Art. On November 11, the Art Exchange is opening its Holiday Salon, where any artist may submit a piece of art for evaluation and the chance to have it on display in the gallery.
"All of the art is for sale. And if a piece is sold, the proceeds go back to the artist," Hong said. "So what the Art Exchange is trying to do is give Long Beach artists a vehicle to display their art, for the community to come and look at that art. If they buy it, then we've just provided a commercial transaction for that artist where they get a little bit of revenue for their art."
The gallery shows all mediums of art and will continue to do so with the support of the community, Hong said. He explained that the Art Exchange is a perfect real estate footprint to create an artistic and cultural environment in Long Beach.
"I think that there is a lot of potential. If you have a world-class city, you need foundational museums and galleries and art community campuses like we are trying to nourish and build," Hong said. "If we want a world-class city and we strive to be one, we have to have art."