In many respects, Long Beach is a city with momentum. Unemployment is at a historic low. Cranes dot the downtown skyline. New schools have been built. The university may soon expand into Downtown Long Beach. Investments in new housing, retail and commercial properties are holding strong citywide. In recent years, Long Beach has even welcomed some of the world's most recognizable corporate citizens – Mercedes-Benz and Virgin, among others.
This momentum extends to the city's major performing arts organizations, which are working to grow programming, uphold artistic quality, appeal to new and diverse audiences, and expand their footprints to make a greater impact. Sharing their visions for the future direction of their organizations, local performing arts leaders expressed a common desire to reach more of the Long Beach community and build upon their educational programming for the benefit of area youth.
International City Theatre
"There is the art form itself and our responsibility for it, and then our responsibility to the community at the same time: building audiences and making them aware of the value of theater to society and making sure they have affordable, quality work," caryn desai, artistic director and producer of International City Theatre (ICT), said of her priorities.
ICT is a regional theater that has been based in Long Beach since it was founded 31 years ago. The theater produces a full season of five plays at the Beverly O'Neill Theater at the Long Beach Convention & Entertainment Center and also provides a series of community and educational programming.
"Long Beach is blessed to have a regional theater in their community because it plays an important role," desai said. "We have to continue to provide relevant, thought-provoking and entertaining work because it's our role to continue to educate our society."
In planning ICT's seasons, desai seeks out plays that will resonate with audiences. "Our future depends on, as far as the art forms are concerned, maintaining quality productions," she said.
Also of utmost importance to desai is ensuring that ICT invests in talent. "It is also our job to continue to invest in the artists. If you're not producing new or relevant works, then those writers are not going to continue to write for the theater," she said. desai noted that she hopes to commission new plays to debut at the theater, both to support writers and to build the theater's brand and reputation.
Investing in the next generation of potential theatergoers is also a focus for desai. The theater has six educational programs to expose youth to theater and help them understand the role of art in society. "We made 480 classroom visits to third grade last year," she noted.
"In order for this art form to thrive, we need to continue to train. The art form needs to be nourished and supported."
Long Beach Ballet
Now in its 37th year, the Long Beach Ballet is 500 students strong. Although its artistic director, David Wilcox, does not intend to grow the organization itself, he does have big plans for its role in the Long Beach arts community as a whole.
"I am really happy right now with where we are. We have a very stable organization," Wilcox said. "We produce professional dancers, we put on major productions that people love, and we are fiscally very sound. As a nonprofit organization, we are almost exceptionally sound."
The Long Beach Ballet produces two major performances every year, including a June ballet at the Carpenter Performing Arts Center and an annual holiday production of "The Nutcracker" at the Terrace Theater. The latter is about to enter its 35th year running, Wilcox noted.
"We also tour and perform every year in China in the summer. And then we are also very involved with the Youth America Grand Prix, which is the major international ballet competition every year," Wilcox noted.
Wilcox pointed out that if there were more venues available for performances, Long Beach Ballet might put on more productions. "There is just nothing available. . . . It is really difficult to get dates for anything," he said.
But he might have a solution for that.
"I do have one thing that I would like to pursue. And this is a big thing," Wilcox said. "There is a big building right across the street from the Long Beach Ballet. It's about 24,000 square feet and has a really big, high ceiling. And it could be converted into an amazing studio theater complex."
Wilcox hopes to partner with other arts organizations to form a nonprofit and purchase the property. "It would be really nice to have a theater that was just for small arts organizations to be able to put on performances like a contemporary new choreographed ballet. It could be used 365 days a year, I'm sure," he said.
Long Beach Camerata Singers
Long Beach Camerata Singers is kicking off its 2017-18 season with new leadership under artistic director Dr. James Bass, who is taking the longtime professional choir in a new direction, according to Board President Jan Hower.
"There are some changes in our programming as a result of his coming to our organization," Hower said. "The first big change is the establishment of the Camerata Peace Project, which we will be [debuting] on October 8. We have committed to this project for about the next five years," she said. "We'll be presenting different iterations all around the same theme, which is peaceful interaction through music in the community. This year, our overarching theme is diversity and inclusion."
The project includes a community roundtable discussion with other arts groups and leaders in the community, according to Hower. "It's a new, very different approach to Camerata. . . . [It's] an ethical expression of why we're artists and why we make music."
Camerata Singers is also experimenting with new programming. The organization's annual Bach Festival is being replaced this year in lieu of a new concept, ChoralFest Long Beach. "Everybody loves baroque music, but it was time to put a fresher spin on it," Hower said.
In the future, Hower hopes the organization will work more closely with the Long Beach Symphony and its new music director, Eckart Preu. "He has a background in choral music, so I suspect that it is going to be a very happy relationship between our two groups," Hower said.
"We would love to greatly expand our education programs," Hower said. "We would love to be able to go into the schools and work in the schools. We would love to be able to present more small concerts around the community to nursing homes or developmentally disabled or children's groups." Expanding such programs would require additional funding. "As community support for us increases, I have a whole list of programs that we could bring forth."
Long Beach Opera
Long Beach Opera is known for producing infrequently performed operas in unique spaces, and the organization will continue to do so, according to Executive Director and CEO Jerold Kappel.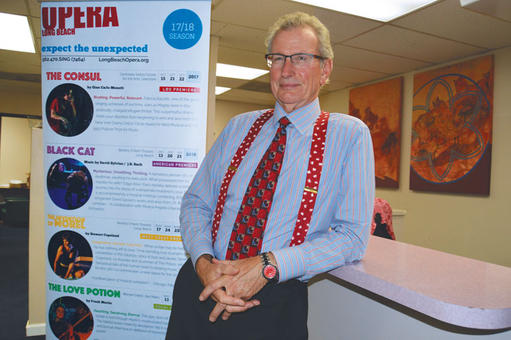 Jerrold Kappel, executive director and CEO of Long Beach Opera, is pictured at the organization's new offices in Long Beach's 9th District. He hopes to forge strong ties within that community. (Photograph by the Business Journal's Larry Duncan)
"Artistically, our vision remains the same as it has [been], and that is to present operas that are rarely done or newly commissioned, or new versions," Kappel said. A recent example of such a production was 2016's "Fallujah," a premiere work about a vet returning from Fallujah with severe PTSD. "We did that at the Long Beach Armory. . . . It was a new opera, it was done in a site-specific place, and we worked with organizations within the community."
The guiding goals for the organization are to be outside of the box, provocative, engaging, relevant and adventurous. "It is kind of coy. It spells 'opera,'" Kappel said, referring to the first letter of each goal.
Long Beach Opera, which was founded in 1979, typically produces four productions per year. Productions often focus on issues with modern relevance, including October's "The Consul," which is about a World War II refugee. "Right now, there are more refugees in the world than at any time since the end of World War II. And refugees and immigration and the acceptance of refugees, that whole issue is at an all-time high," Kappel noted.
Last year, the organization's board approved a new strategic agenda that provided for increased emphasis on community, according to Kappel. "A goal is to strengthen our community engagement and our educational offerings. For instance, Long Beach Opera is very pleased to be an arts community partner for the L.A. Unified School District," he said. "But we want to get even more involved in the Long Beach schools."
Long Beach Opera recently opened a new office in the city's 9th District. "We moved into the 9th District from downtown about a year ago, and we want to be very much a part of the North Long Beach community," Kappel said.
Long Beach Playhouse
This year, the Long Beach Playhouse gained new leadership when Madison Mooney, a longtime employee and volunteer with the theater, was appointed executive director. The playhouse also has a new artistic director, Sean Gray.
"When we both came into the positions in January, we talked a lot about what we want to do [and] keeping with what the playhouse has done the past 88 years," Mooney said. "But we also want to make sure that moving forward, we represent our community as the community playhouse of Long Beach – making sure that we are doing lots of different types of shows to appeal to everyone in the city and surrounding area."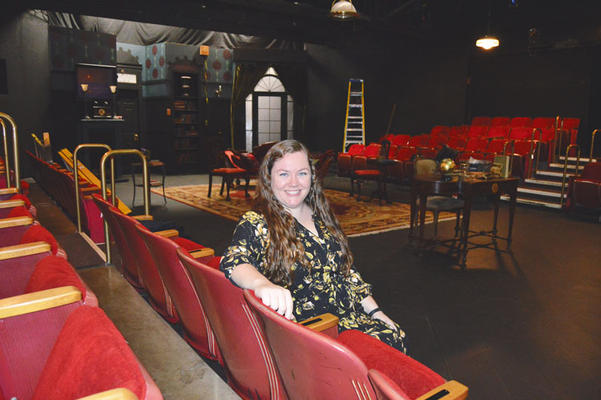 Madison Mooney became the executive director of the Long Beach Playhouse in January, after having served as its business and operations manager since 2012. Prior to that, she volunteered at the theater in a variety of capacities, and even appeared there as an actor. (Photograph by the Business Journal's Larry Duncan)
The playhouse's new leadership is committed to ensuring its productions reflect the diversity of the community. "[That means] making sure that we have female playwrights and minority issue-driven plays throughout the year to make sure that we are representing everyone in our community," Mooney said.
The playhouse has two stages and features about 13 productions each year. "We do comedies. We do dramas. We do classics. We do two musicals a year to close out each season. And then we will also do murder mysteries and contemporary works," Mooney said.
Additionally, the theater annually hosts a collaborative series featuring productions by outside performing arts groups, as well as a festival showcasing two brand new theatrical productions. "We have a literary committee that reads about 90 to 100 plays that are submitted that are completely new and have never been performed before," Mooney said. "They pick the top two, and then we have a new works festival where we have a staged reading of the winning plays, which is the first time they are read aloud with actors."
Mooney said the playhouse is continuing to support local education by hosting its summer youth musical theater conservatory. "They do acting, singing, dancing, improv, theater appreciation, a bit of theater history," she said. "It's a great program."
Long Beach Symphony
With new artistic leadership, strong community ties and solid financial footing, Executive Director Kelly Lucera is excited about the future direction of the Long Beach Symphony.
"We are experiencing a renaissance at the Long Beach Symphony. It is actually a very exciting time," she said. "Ticket sales and contributions are strong. We are serving over 60,000 people every year. We are fiscally stable, and now we are poised for new artistic growth and increased collaboration."
Lucera said the organization has spent the past two years bolstering relationships and partnerships within the community, which puts the symphony in a position to facilitate dialogue about the future of the arts in the city. "We think that we could be a great catalyst for that kind of education, empowerment and change. That's a big focus for us," she said.
This is the first season for Music Director Eckart Preu, who is bringing a new artistic vision to the symphony. "He is very excited about extending the concert experience so that when you come up to the Terrace [Theater] or the arena, the entire experience is fun and thematic and accessible – sort of bringing the concert into the lobby in a way that energizes and engages everyone," Lucera said.
Lucera said she is looking into ways to better connect the symphony with communities outside of the downtown area, including providing shuttle service to symphony performances. The symphony is also launching a Sunday matinee series that will include a free pre-performance program for children.
The symphony stands to have a new summer venue years in the future, when the proposed Queen Mary Island development is completed. Plans include a 7,000-seat amphitheater that would serve as the symphony's summer home, Lucera said. "We are spending a lot of time working with Urban Commons and the city to provide an outdoor venue unlike any other right on the water that would better serve the community in all of its diversity," she said.
Musica Angelica
Musica Angelica, a historically informed baroque orchestra, has called Long Beach its home since 2015, after relocating from Santa Monica. Led by Music Director Martin Haselböck, a Viennese conductor, the orchestra has built a solid audience base here, according to Alexandra Opsahl, the organization's new executive director. Opsahl, a classical cornetto musician, started the position in mid-September.
"Musica Angelica based itself in Long Beach three years ago. And they have managed to build an incredibly good audience," Opsahl said. "I am very excited about how quickly we are growing our audience in Long Beach," she said, adding that Musica Angelica has so far been adept at community outreach.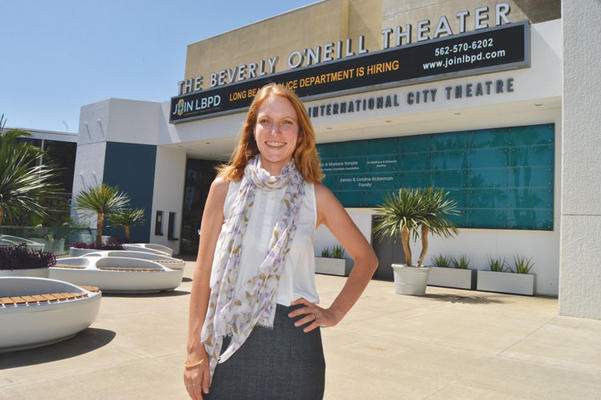 Alexandra Opsahl is the new executive director of Long Beach-based baroque orchestra Musica Angelica. The orchestra, which performs at the Beverly O'Neill Theater, uses historic and replica era-specific instruments. (Photograph by the Business Journal's Larry Duncan)
Musica Angelica falls into what Opsahl called a "little faction of baroque music" in which musicians use historic or replica instruments specific to the time period. "A baroque violin is [as] equally interesting to hear as a classical or modern violin," she said. "I do think that's an important message we do try to bring to the children."
The orchestra partners with the Long Beach Unified School District to allow school children to attend concerts with their families. The program includes an educational lecture. The orchestra also provides free master classes to California State University, Long Beach students, according to its website.
"We have traditionally performed five concerts per season – three larger orchestral concerts and two smaller chamber concerts – and we will stick with that," Opsahl said. However, the group may work with other organizations in town, such as Long Beach Opera, for special collaborations, she noted.
Musical Theatre West
Now in its 65th season, Musical Theatre West is going strong. The theater company, which typically produces a four-production season, has added a fifth show this year. And, according to Artistic Director Paul Garman, other exciting new plans are in the works.
"We are now in our 65th season, and we are going to continue to explore newer Broadway shows that we can bring to our local audiences," Garman said. "We have a couple coming down the pike that we are hopefully going to be able to be the first West Coast producer for."
Availability at MTW's performance venue, the Carpenter Center, allowed the theater company to add a fifth production this year: the holiday classic, "White Christmas." "Hopefully we can start the tradition of an annual holiday show," Garman said.
The organization strives to create a lineup that appeals to different parts of the Long Beach community, according to Garman. "We particularly chose 'In the Heights' this year because . . . it will speak to large segments of the community," he said, referencing Lin-Manuel Miranda's musical about a largely Dominican neighborhood in New York. "It really does speak to generational issues and to family issues."
The organization's Reiner Reading Series is coming to an end after this season due to prohibitive new changes put in place by the actors' union, according to Garman. However, MTW is continuing its new Broadway in Concert series at the Beverly O'Neill Theater.
One of Garman's main points of focus is on educational outreach. For each production, MTW puts on weekday matinee performances for school children, he noted. "We hope to be able to expand that program."
The organization plans to acquire a second facility to use for educational programs. "We are looking forward to the acquisition of a second facility that would be strictly for education outreach activities to have year-round classes and more programming for kids," Garman said. "It is definitely on the horizon for us and something we plan to do before too long."