With several commercial development projects in the works, Long Beach's strong retail, office and industrial markets will only see more activity.
Irvine-based property management company Sares-Regis Group currently has several projects in Douglas Park in escrow, including a 270,000-square-foot retail center by Newport Beach developer Burnham USA and a four-building, 100,000-square-foot office project by Long Beach developer Urbana.
Sares-Regis also has a 470,000-square-foot, three-building industrial complex called Pacific Pointe East under construction. With market prices fluctuating so rapidly, Larry Lukanish, senior vice president of Sares-Regis, said he is unsure how much each space will lease for.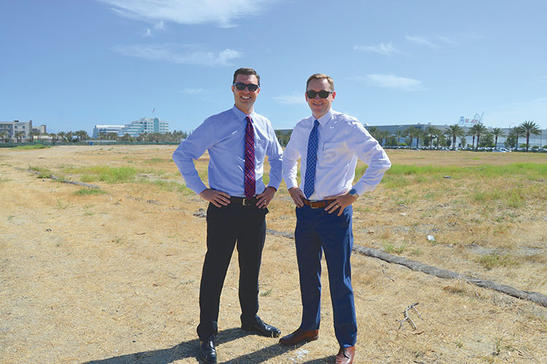 Jeff Coburn, left, and Shaun McCullough, principals at Lee & Associates Commercial Real Estate Services, stand at the site of the future Terminal at Douglas Park project. (Photograph by the Business Journal's Larry Duncan)
"When we are building new buildings, they go up unpriced because the market is changing pretty rapidly, so it's all to be determined," Lukanish said. "When the user approaches us, we look at what their build-out needs to be, and we quote a rate at that point. But right now we're not quoting rates and not selling buildings, just leasing."
Nexus Development, a Santa Ana-based developer, recently broke ground on four acres in Douglas Park at the corner of Lakewood Boulevard and Cover Street. The developer is constructing a dual-branded hotel that will contain 241 rooms. This project is side-by-side with a two-acre site that will be the new 40,000-square-foot corporate headquarters of United Pacific (formerly United Oil).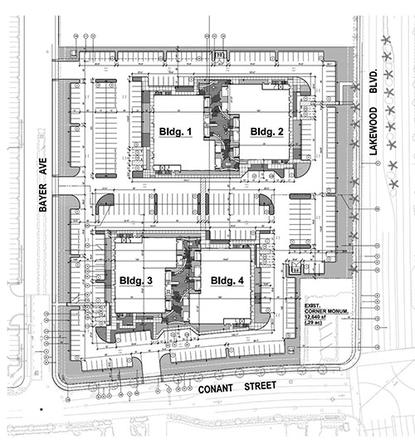 Located on the southwest corner of Lakewood Boulevard and Conant Street, Terminal is a four-building project (see inset) that will create more than 100,000 square feet of creative office space designed to encourage "natural light and ventilation into the workspace." (Photograph by the Business Journal's Larry Duncan)
When talking about development projects that will have a positive impact on the city's retail market, Coldwell Banker Commercial BLAIR WESTMAC Vice President Brian Russell said, "I think the big ones are: The Pike at Rainbow Harbor being converted to an outlet mall – that's huge. The Queen Mary – there's 30 to 40 acres right there on the coastal part of downtown that was kind of a failure for years, the way it was developed just not being right. I was at the task force meeting a couple weeks ago, and that was very compelling."
Doug Shea, president of INCO Commercial Realty Inc., mentioned the "roaring success" of Huntington Beach's Pacific City, a new retail development full of restaurants and shops. Shea said Long Beach would have similar success if such a center were to be built at the corner of 2nd Street and Pacific Coast Highway in place of the SeaPort Marina Hotel.
"You position it on the water, give a good product, you're going to do well," Shea said. "2nd Street is still doing well, but they still have the tendency to overprice – you're seeing people come and go."
Tilted Kilt, at the Marketplace Long Beach, was the most recent establishment to close, which Shea also attributes to exceedingly high rents. "They are asking way too much money for that. I'd say rent is averaging around $25,000 per month right now. So you really have to put out some numbers to be successful on that and really have some high-end ownership and management."
Shea believes that only a large, corporate brand can hold down locations with such high rents and doesn't foresee landlords lowering prices. He predicts that a restaurant such as BJ's Restaurant and Brewhouse or Chili's Grill & Bar will replace the Tilted Kilt location.
Even without completed development projects, Russell describes the retail market in Long Beach as very robust with a strong demand.
"People must feel good about the direction the city is going because at the polls they elected for all these taxes to go on for community college and sales tax and everything else. So they must feel reasonably confident. I think that's evident in the leasing activity that we're seeing and the sales activity."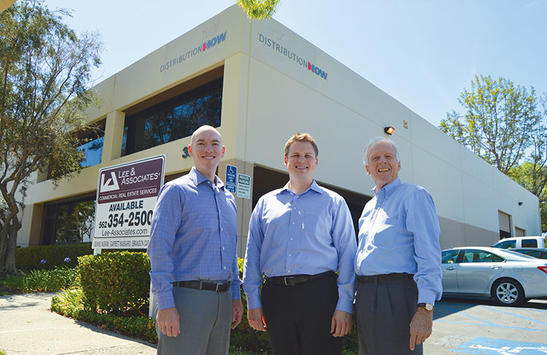 Though he describes the industrial real estate market as anemic, Brandon Carrillo, left, a principal at Lee & Associates Commercial Real Estate Services, said it speaks to the high demand for property in Long Beach. Carrillo is pictured in front of the building at 3920 Gillman St. with Garrett Massaro, center, and Dennis Ingram, both of Lee & Associates. Located in the Long Beach Business Center, the building provides 13,010 square feet of industrial space, including 18-foot clearance, a loading dock and 4,770 square feet of office space. (Photo by the Business Journal's Larry Duncan)
Since March 1, Russell said there have been 87 lease deals and 107 sales transactions in Long Beach with $60 million in the pipeline. During the first quarter, the average price per square foot was $212.25, according to Russell. For the second quarter, the average jumped to $291.82 per square foot.
Recently, Pacific Collective Real Estate Investments bought a 5,000-square-foot retail strip center on the northwest corner of Redondo Avenue and 3rd Street for $2.33 million at $466 per square foot.
From July 1 to July 19, there have already been four transactions totaling about $4.6 million with another eight deals still in escrow worth $15.7 million. Russell said the average price per square foot spiked to $408.55, partially due to the 8,179-square-foot property at 5258-5272 E. 2nd St. that sold for $1,369 per square foot and skewed the numbers. He also noted the city has seen a lot of out-of-state money coming into the real estate market.
"Long Beach has pretty compelling commercial opportunities. It's still cheaper than Manhattan Beach, Newport Beach and things like that, so we still have value." However, Russell added, "With the vanishing market out there, I hope it doesn't get too overheated. That's my concern."
The market for office space is also doing very well, according to Shaun McCullough, a principal at Lee & Associates Commercial Real Estate Services. He said a lot of space downtown has begun to fill up, and there has been a resurgence in downtown with new ownership pumping money into existing buildings.
"In terms of leasing, there has been some decent absorption over the past six months," McCullough said. "If you look at the opportunities where users want to start buying, there really is nothing available out there that is of substance or quality."
Lee & Associates' client, Urbana, hopes to add quality to the market when it breaks ground on a 100,000-square-foot, four-building project in October. The project, Terminal at Douglas Park, is estimated to be completed by summer 2017. It will include creative office spaces from 2,600 square feet up to 25,000 square feet on the corner of Lakewood Boulevard and Conant Street.
Just up the street from the development project, McCullough said Lee & Associates' buildings at 4811 Airport Pl. and 5000 E. Spring St. are 100% and 95% leased, respectively. Leasing prices near the airport range from $2.25 to $2.75 per square foot.
"With the activity on the leasing front, you still have some holes in downtown that need to get filled in a few buildings," McCullough said. "It will be fun to see how long it will take for those to get filled up."
Coldwell Banker Commercial BLAIR WESTMAC President Becky Blair echoed McCullough, saying that this has been a busy time for her company. She said she is really pleased with the amount of activity and development happening downtown and around the city.
"I know the national office market is forecast to absorb 36 million square feet of office space in 2016, down from 62 million square feet in 2015," Blair said. "The current forecast of net office space is to regain some strength in 2017 at 42 million square feet. The reason that is important is because we want to know how that is going to affect the Long Beach market and our market regionally."
Currently, the office market vacancy rate in Long Beach is 15% to 18% depending on which report is looked at, Blair said. The city is seeing a significant amount of creative space being created by converting 10,000- to 30,000-square-foot, single-purpose buildings. Blair explained that in the central areas of the city, buildings are selling for around $110 to $120 per square foot, and leasing rates are much lower than they are in the markets near the airport and downtown.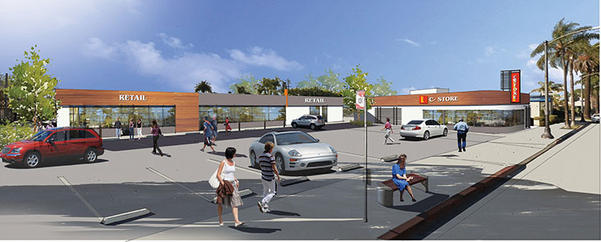 A conceptual rendering depicts what the retail strip center at the northwest corner of 3rd Street and Redondo Avenue in Long Beach may look like after its new owner, Santa Monica-based Pacific Collective Real Estate, revamps it. The firm purchased the nearly 5,000-square-foot property, which formerly housed a health store, a liquor store and other retail businesses, for $2.33 million, according to Rahul Paliwal, managing director. "We think it has great potential. We just love the neighborhood it is in and that it is a corner lot right up the way from Belmont Shore," Paliwal told the Business Journal. "That's why we invested in it." The purchase was financed with a $2.25 million loan from Los Angeles-based iBorrow. Brian Good, iBorrow's CEO, said in a statement that the center "was an attractive investment for us because it is truly urban infill property that has been underutilized for a long time." He continued, "The strong demographics in the immediate surrounding area plus the pre-leasing the borrower has done made us comfortable being involved in the project."(Rendering provided by Pacific Collective Real Estate)
"Long Beach continues to be a very popular place to do business," Blair said. "We're excited that businesses are coming into the area and are buying their own buildings, maybe 10,000 square feet or less. But now we're seeing that more attention is being paid to the leasing sector because there is only so much supply. So I think some businesses are deciding to lease now, instead of purchase."
Blair commended the city on its recent work in selling off former redevelopment properties. It's helping businesses focus and making more business owners want to come into the city, not only for the workspace but because their employees will have access to market-rate and affordable housing, he said.
The city's industrial real estate market vacancy rate sits at less than 1%, while the national vacancy rate is just above 6% – the lowest it's been in 16 years, according to Lance Ryan, the senior vice president of marketing and leasing for Watson Land Company in Carson.
He explained that Los Angeles County has the lowest vacancy nationally, which makes the high demand difficult to keep up with. Because of the low inventory, Long Beach and surrounding areas are seeing rising property rents, multiple bids per property and even industrial properties being leased before construction is completed.
"The bottom line is there is really a lack of available space," Ryan said. "So any user looking to gain warehouse space is going to be looking at buildings that aren't even on the market yet, because most tenants are trying to renew [their leases] as they are realizing what a tight market it is. In terms of rates, we've seen increases in the 10% area year over year."
Ryan said the driving factor for businesses wanting to be located in the city is its adjacency to the ports of L.A. and Long Beach, as they are the two largest ports in the country. Another factor is the easy, efficient access to much of the West Coast from the area. Lastly, Ryan said the quality of life draws companies to Long Beach. It's not just the weather, he said, but the housing and the number of highly educated employees who want to live and stay in Southern California.
"The outlook is very good. And this dynamic is going to remain in place through the end of 2016, for certain, and continue on into 2017," Ryan said.
While Ryan is ever hopeful for continued success, Brandon Carrillo, a principal at Lee & Associates, has several concerns at the state and national level that could potentially have negative effects on the industrial market and real estate in general.
On the national stage, Carrillo thinks that concerns regarding the direction of the country during an election year will force companies to slow down their growth until it is known what economic policies are going to be put in place.
"After November, there's going to be people upset and concerned with where we're going, no matter who wins," Carrillo said. "You see how heated things are getting in regard to the issues that are being brought up by both parties, and it's just concerning heading into this election year how businesses are going to react."
At the state level, Carrillo said he is curious to see how the legalization of marijuana plays out. In November, the Adult Use of Marijuana Act will be on the ballot for approval by California residents. If approved, the recreational use of marijuana would be made legal, much like in other states such as Colorado.
According to Carrillo, Lee & Associates has an office in Denver that saw drastic changes in the industrial real estate market after the legalization of recreational marijuana. He explained that in Denver they noticed other industries being priced out of the local economy by those in the marijuana business and the industrial market tightening even more than it already was.
"Also, with the raising of minimum wage, a lot of the conversations I've been having with businesses are about relocating, which is concerning because those are additional jobs that we will be losing here," Carrillo said. "It's just going to be interesting to see how our businesses in California react."