Over the years, improved health care for acute illnesses has resulted in longer life expectancies. The problem? People are living longer.
As individuals age, they can be impacted by one or more chronic conditions with various degrees of severity. According to the Centers for Disease Control and Prevention (CDC), seven of 10 deaths each year can be attributed to chronic conditions, while the National Council on Aging reports that more than 80% of adults age 65 and older have at least one chronic condition and 68% have two or more conditions.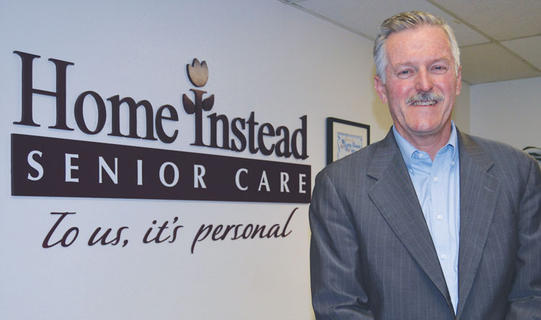 Involving home care specialists in the overall health management of their senior clients helps ensure medications and physician directives are administered properly, thereby improving outcomes, according to Don Pierce, president of Home Instead Senior Care. (Photograph by the Business Journal's Larry Duncan)
The CDC also notes that chronic illnesses – which include common conditions such as hypertension, type 2 diabetes, arthritis and heart disease – are among the preventable.
Health care industry experts agree that many chronic conditions can be manageable. The prescription for effective chronic disease management among the senior population, they say, includes a variety of proactive measures that can tremendously lessen the severity of such conditions.
Behavioral Changes
"Over the past couple of decades, our lifestyle has become more sedentary [and] our diet patterns have changed," says Romilla Batra, chief medical officer at SCAN Health Plan, noting that these factors can accelerate the onset of chronic conditions such as arthritis, high blood pressure, diabetes, and the worsening of heart disease.
"That being said, part of these conditions are genetic, so you cannot only blame your personal behavior," she says. "Unfortunately, you cannot modify the genes that you have, but perhaps you could modify the behaviors you set for yourself."
According to health care industry professionals, exercising routinely and regularly, consuming a healthy diet – such as a low-sodium, high-potassium diet to manage conditions such as high blood pressure – and regularly taking prescribed medications are important proactive approaches to stabilizing a chronic disease or delaying its progression.
In addition, for many seniors, the existence of mental and behavioral health conditions such as depression, mood disorders and dementia, can have a significant impact on one's medical condition.
"About 20% of seniors will have a diagnosis of mental illness of some sort, and generally, depression seems to be the most prevalent," says MemorialCare Medical Group family medicine physician Dr. Brooke LaDuca, who notes that the prevalence of mental illness has increased by roughly 70% from the 1990s to 2006, partly attributed to increased screenings and diagnoses.
"People with depression tend to have noncompliance with medications . . . and they don't want to participate much in their health care in terms of exercising and eating healthy," LaDuca adds. "It really contributes to all of their other chronic diseases as well and can sometimes precipitate other chronic diseases if they're not taking care of themselves."
Recognizing that social isolation can be a contributing factor to depression and the worsening of chronic conditions, the Bazzeni Wellness Center at Dignity Health St. Mary Medical Center offers a variety of evidence-based socialization and exercise programs for older adults.
Its behavior workshop, "Living a Healthier Life with Chronic Conditions," for instance, provides information on skills and techniques to help seniors manage their conditions and improve their quality of life through diet and nutrition, sleep, exercise and communication.
The center boasts a core group of 300 to 400 seniors who actively participate in one or more of its activities monthly, including tai chi, day and overnight trips and social events, among other things.
"Exercise and socialization are really important because all the social issues around your chronic conditions, whatever that may be, gets more highly impacted if you don't socialize, if you don't exercise, and if you don't do things to help yourself on a full level," says Kit G. Kaz, Bazzeni Wellness Center's director of community health.
"We all want to stay healthy, active and independent and at home for as long as possible," Katz adds. "That's all of our individual goals, and that's the goal of our senior population, so we try to help them maintain those goals in every way possible."
Part of that management includes proactively monitoring a senior's health condition and being cognizant of any subtle changes in behaviors, such as food intake and nutrition, mood and disposition, and cognition, says Machelle Thompson, president and CEO of Keen Home Care, which provides geriatric care management and private home care.
"It's important to monitor them for a subtle change in condition that may include short-term delirium or confusion. And while that's alarming, it's a trigger that there's something going on," she says. "Being proactive is the most effective way to catch a problem early – when it's easier to manage – to potentially minimize the impact of the problem that's brewing underneath. [It is] the most effective way to manage chronic illnesses and prevent avoidable hospitalizations and injuries."
Coordinated Care
A variety of psychosocial factors contribute to how seniors approach chronic disease management and how effective they are in doing so. Health literacy, language barriers, social demographics and income level are just some of the factors that impact how well a senior is able to manage their condition, Batra says.
"Certainly in my patient population there tends to be a bit lower socioeconomic levels," LaDuca adds. "Many of the older adults who have chronic diseases are low-income, and minorities bear a disproportionate burden of hypertension, diabetes [and] stroke, and they're more likely to suffer from diabetes-related complications."
With so many factors in play, health care industry professionals agree that at the heart of chronic disease management is coordinated care among patients, their support systems and healthcare providers.
"What we have noticed is that you may have the best plan, the best evidence-based guidelines and the best ways to educate seniors in what they need to do, but if you don't have the psychosocial wraparound services available to the seniors where they are – it may be in assisted living or in their own home – your plan will not take them to the best outcomes possible," Batra explains. "There are so many things that could go wrong between what you decide to do with the senior and what the senior actually does based on their health literacy, their social demographic factors [and] what's available to them."
"It's becoming more apparent in studies that just having the best clinical care possible is not going to yield the best outcomes because there are so many other things that you need to look at in a holistic way," she adds.
LaDuca similarly notes that developing a multidisciplinary, patient-centered approach to chronic disease management is key. She recommends utilizing health educators to engage senior patients on a regular basis to address behaviors related to diet and exercise, and to help resolve some of their individual barriers to disease management.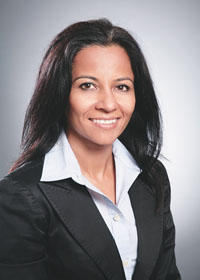 Dr. Romilla Batra, chief medical officer of SCAN Health Plan, emphasizes the importance of psychosocial services in caring for seniors with chronic conditions. Ensuring such resources are available helps improve the outcomes of their clinical care. (Photograph provided by SCAN Health Plan)
For Don Pierce, president of Home Instead Senior Care, which places caregivers in seniors' homes to enable them to age in place, being involved in a senior's overall health care management plan is key to helping them effectively manage chronic conditions.
"We have some families who use us as another set of eyes and ears so that we can capture all of the information from the doctor to share that with the family members," Pierce says. "We would like to encourage more seniors to do that because statistics have shown, based on studies that have been done, that the typical senior understands about half of what the doctor says, remembers less than that, and executes on even less than that."
"If we can help to capture all of that information and make sure that when we're in the home we can encourage the patient to do the things the doctor has recommended, that results in a better outcome for patients," he explains.
The future of patient-centered, coordinated care is also largely dependent on the price tag associated with chronic disease management and how health systems are able to utilize their dollars, according to LaDuca.
"Cost is always a factor, especially in the current political environment where we may be facing fewer dollars being allotted to health care," LaDuca says. "From a health care standpoint, right now I think there's a lot of insecurity in where those dollars are going to be coming from. I think most health care systems, certainly MemorialCare, want to have the best patient outcomes, and they want to be able to implement patient-centered coordinated care, but that takes dollars, as well. I know our system is certainly moving in that direction; they're being proactive, and they're ready to weather the storm if they need to, in order to provide better patient care."
Support Systems
Industry experts note that a big part of coordinated care plans includes the support systems that seniors have in place. Whether it is family, friends, neighbors or caregivers, support systems help provide care and oversight in managing seniors' chronic conditions, including monitoring prescribed medications, ensuring proper diet and nutrition, and providing transportation when needed.
Otherwise, their conditions may deteriorate more quickly, experts say.
"There's so many seniors out there who don't have a support system," Thompson says. "Unfortunately, while they're trying so diligently to manage their care on their own, [they] run into difficult situations where they don't realize they're experiencing a change in condition or that they're not managing well, and unfortunately, they may suffer the consequences of not having oversight."
Additionally, one of the biggest challenges to effective chronic disease management may be a senior's reluctance to accept help, Pierce says.
"For the first 16, 17, 18 years of your life, you're fiercely fighting for your independence, and you're independent for a long time," he explains. "And then you become a senior who gets some sort of chronic condition that doesn't allow you to continue to be independent – and that's a really tough blow. . . . But as seniors get accustomed to having someone helping them, they see that we're not trying to take their independence away – we're helping them to maintain their independence."
Similarly, Thompson encourages seniors to invite support systems into their lives.
"The importance of having a support system and asking for help before the big rainy day when the incident occurs is invaluable," she says. "I hope seniors feel comfortable to do that, and I hope more advocates step up to help them when they do."