Westside Long Beach is known as a hub for industrial businesses, some of which have operated in the area for decades – or in the case of Phillips Steel Company, more than a century. Due to numerous long-term tenants, who are happy with their facilities and locations, the industrial real estate market has retained an extremely low vacancy rate.
"We're hovering around about 1%. It fluctuates here and there with deals going off and deals coming on," Brandon Carrillo, principal at Lee & Associates Commercial Real Estate Services, said. "Another tough thing is you've got some [people] just not putting properties live on the market and trying to shop the deals themselves. That is something that skews the numbers sometimes.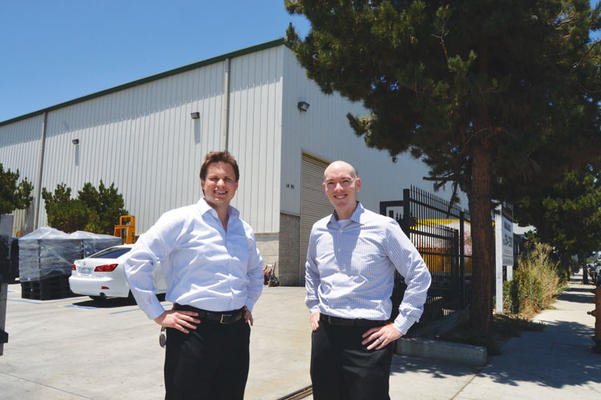 Garrett Massaro, left, and Brandon Carrillo are pictured at a 25,000-square-foot industrial building for sale at 1495 Seabright Ave. Carrillo said that despite "outlandishly" high offers from those in the medical marijuana industry, the building's owner is refusing to sell to such a user. (Photograph by the Business Journal's Larry Duncan)
Carrillo said proximity to the ports is a key factor in what makes the area so desirable for businesses looking to open or expand there. During a Commercial Real Estate Development Association convention on June 8, Carrillo said an economist noted the ever-evolving dynamics of e-commerce would not change the need for warehouse space in such areas. He said Long Beach's Westside is strategically located to house goods for resident consumption.
One of the major changes facing the Westside real estate market is the introduction of medical marijuana growers, manufacturers and distributors. In November, voters approved Measure MM, which allows medical marijuana businesses to operate in the City of Long Beach. However, the ordinance puts restrictions on how close marijuana businesses can be to schools, parks, libraries, beaches and other such areas, making the Westside an ideal location.
"The biggest challenge is trying to filter through the real deal from someone who just has no ability to perform," Carrillo said. "If you open escrow with one of these groups that are only opening escrow to tie you up and see if they can get a permit or not through the city, well, now you are missing all these other potential deals."
Sales and lease prices for space on the Westside are skyrocketing, according to Carrillo. He explained that marijuana companies are often willing to offer more than double an asking rent or sales price to ensure them the space.
However, when it comes to leasing, Carrillo noted that some property owners do not want to get mixed up with the business of marijuana. He cited a property at 1302 15th St. that was recently on the market, where the owner wanted to test the market to see if the mythical marijuana business offers were true. Carrillo said high offers did come in but that the owner decided he was not comfortable getting involved in the business and opted to expand Neill Aircraft Co., a current tenant, into the space.
When it comes to the sale of property, Carrillo said owners are more likely to those in the marijuana industry.
"If someone can get their sale price, they don't care what the person does. It's just one of those things that's market driven," Carrillo said. "We saw this in Denver, and it's just one of those unfortunate things where if someone didn't do a long-term lease with lock-in rates for their business, they're finding themselves exposed to a high watermark in the industry."
Not all property owners will sell to a marijuana business, however. Carrillo noted the owner of a 25,000-square-foot building at 1495 Seabright Ave. who set the price based on a normal industrial user and received outlandish offers from marijuana businesses, which were promptly turned down.
The Westside has always been a resilient market. According to Carrillo, even during the peak of the recession, the Westside vacancy rate was never higher than 12%. A major issue in the market is a lack of available space for new companies to enter or current ones to expand.
"There's a lack of available product. Lots of activity from the cannabis industry," Bill Townsend, president of INCO Commercial Realty, said. "There's still activity from the other sectors, such as manufacturing. It's a very good, active market."
In light of the marijuana activity, Townsend said it was important that other industries, such as manufacturing, aerospace, oil and others, are still showing great interest in the area when space is available.
"If you're doing any work for the port or the refineries, it doesn't get much closer than the Westside," Townsend said. "You're within minutes of the port and refineries and those activities, so it is a geographical, X-marks-the-spot location. Close to the freeways. Good access. It's a great location."
Neither Townsend nor Carrillo could say what the long-term effects of the marijuana industry would be on the Westside. However, Carrillo said many in the industrial real estate industry look to Denver to gauge how legalized marijuana plays out in the markets. Based on that, Carrillo said he thinks current activity patterns will slow down in Long Beach and stabilize. Regardless, Townsend and Carrillo foresee the Westside real estate market will continue to be strong.
"There is such a great mix of businesses there with long histories," Carrillo said. "It's just reflective of the Long Beach culture."