Hundreds of millions of dollars are being invested in new hotel developments in Long Beach, with the downtown area alone to see the introduction of nearly 1,000 new hotel rooms over the next several years. Many existing hotels have millions of dollars in renovations planned and will unveil new lobbies, restaurants, bars and event spaces within a year.
"What we see is a market that is in significant transition. The opportunity to be on the waterfront in a market like that, with all the investment that's going into it – we just see all the signs pointing in the right direction," Chris Atkinson, managing partner of commercial developer Pacific Property Partners, said. "It's now just a matter of being very strategic about what the best fit is for these different projects and what's going to work well for the city and the community. We are very bullish about the opportunities in Long Beach."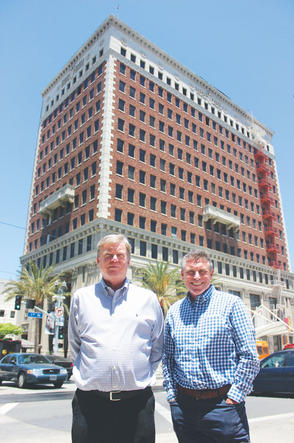 Pacific Property Partners (PPP) purchased the historic Security Pacific National Bank building at 110 N. Pine last year. The development company has submitted the initial project proposal to the city for a roughly 200-room Cambria hotel. Pictured: PPP Managing Partners Barry Beitler, left, and Christopher Atkinson. (Photograph by the Business Journal's Brandon Richardson)
Pacific Property Partners has plans to bring 400 or more new hotel rooms within blocks of the Long Beach Convention & Entertainment Center. The most publicized is the conversion of the historic Security Pacific National Bank building at 110 Pine Ave. to a 200-plus room boutique hotel to be named Cambria Hotel. The ground floor and basement of the building will remain occupied by restaurant, bar and venue The Federal Bar. The remainder of the building, which formerly housed offices, is already vacated.
An initial project submission has been submitted to the city, according to Atkinson, who said a time is being scheduled for the company to go over the city's feedback. He explained that, if everything goes smoothly, he hopes to start construction by the first quarter of next year. The buildout is expected to take 16 to 18 months, with completion expected in mid-2020, Atkinson added.
The hotel will have a rooftop venue of some sort and will include some element of food service in addition to The Federal Bar offering, Atkinson said. He added that Cambria hotels are known for their high-tech guest rooms and fitness rooms, as well as meeting space that caters to convention groups.
The purchase of 110 N. Pine Ave. by Pacific Property Partners last year included the parking structure at 123 W. 1st St. between L'Opera Italian Restaurant and another parking structure on the corner of 1st Street and Pacific Avenue. The company is also in escrow to purchase the 12-story Salvation Army Building at 180 E. Ocean Blvd., which currently houses offices.  One of these two properties will be converted into another 200-plus room hotel, but the company has not yet decided which.
If 180 Ocean does not become a hotel, Atkinson said the company has also considered maintaining its office use or converting it to a residential building. The 1st Street parking structure would be demolished to make way for a hotel, residential units or both.
"What we were thinking on 1st Street is we are looking at the possibility of hotel with residential above it," Atkinson said. "We're playing with various designs and looking at feedback from the city, but I think we're pushing [for] 25 floors or so."
Once the company completes all three projects, Atkinson said the combined investment could be upward of $250 million.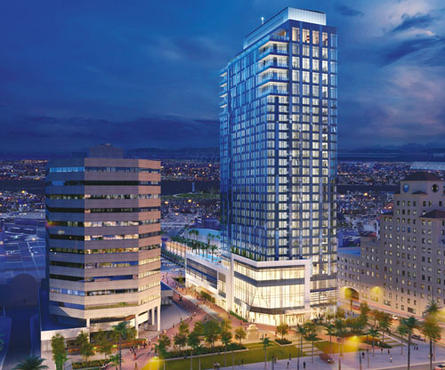 American Life Inc. has unveiled plans for the largest new hotel proposed in the city at the former Jergins Trust Building site near the Long Beach Convention & Entertainment Center. The 30-story hotel will include about 426 rooms and the highest rooftop bar on the Southern California Coast, according the American Life President Greg Steinhauer. This will be the first new, major, full-service hotel to be built in Long Beach in 27 years, he added. (Rendering courtesy of American Life)
The largest new hotel proposed in Long Beach is a 30-story structure by Seattle-based American Life Inc. Located at the former site of the historic Jergins Trust Building, which has been vacant for 30 years and currently serves as a parking lot, the hotel will include around 426 rooms, according to American Life President Greg Steinhauer. Current designs also call for 22,500 square feet of meeting space and the highest rooftop bar on the coast of Southern California, he added.
The project is currently in entitlement and undergoing environmental review, Steinhauer explained. He said the company hopes to have planning commission approval by August. A groundbreaking is anticipated for late spring next year. The buildout is estimated to take 18 to 20 months, with a target opening during the fourth quarter of 2021, Steinhauer said.
"We think it's the 50-yard line of Long Beach at the intersection of Ocean and Pine, adjacent to the convention center. It's a great location," Steinhauer said. "It's a market that is rapidly changing and becoming much more dynamic and we wanted to be part of that. And there hasn't been a new, major, full-service hotel built in Long Beach in about 27 years. So, I think it's time."
John Molina and his partners at locally based investment firm Pacific6 are working to complete designs for their previously announced repositioning of The Breakers, a historic building located at 210 E. Ocean Blvd., into a boutique hotel. Molina explained that progress is being made toward the final designs, with architectural and design teams on board for the project. He said the lobby design is going to be stunning and unlike anything in Long Beach.
The project will likely have about 170 rooms, though Molina said the number may fluctuate a bit until designs are finalized. Included in plans is an overhaul of The Sky Room, which will reopen within the hotel under the same name. The Cielo rooftop bar will also be refreshed and enlarged, and will open under a new name. The boutique hotel will also have a pool deck overlooking the Long Beach Performing Arts Center, a jazz club, a spa and a lobby bar and restaurant, Molina added.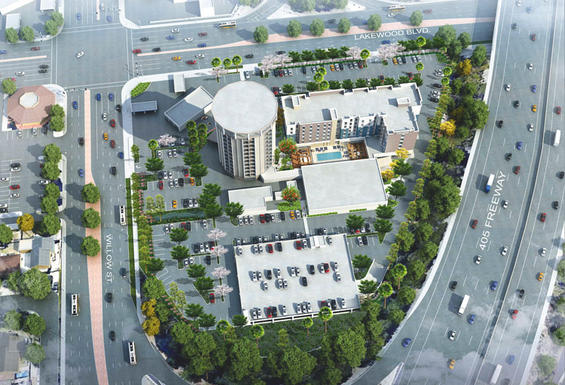 Part of the Holiday Inn Long Beach Airport is scheduled to be demolished in the coming weeks to make way for a 125-room Staybridge Suites concept, according to General Manager Mooyon Kim. The project is expected to break ground toward the end of July or beginning of August and is anticipated to open in November or December 2019. (Rendering courtesy of Holiday Inn)
Aside from appealing to the guests, Molina said he hopes the project will appeal to Long Beach residents and that its bars and restaurants become local hot spots. The project is going through the permitting process now, and Molina is hoping for a first quarter of 2020 opening, but noted it may not be until the second quarter.
"The nice thing about all hotels in Long Beach is the great service. You can tell how much the employees at those places care. We're going to take that and we're going to knock it up a notch. Not to put them down, but you're going to get the five-star, white-glove service at The Breakers," Molina said. "We're just really excited. The Breakers opened in 1920, so we will be bringing the 1920s into the 2020s."
This summer, Pacific6 will be serving up food around the city out of a food truck called Breakers Roadshow. Molina explained that the food truck is launching as a way to introduce the community to what can be expected in terms of service and food when The Breakers reopens.
Highgate Hotels purchased The Westin Long Beach in August of last year and is now gearing up for $20 million in renovations, according to hotel Managing Director John Ault. About $6 million is to be spent renovating the soft goods in the guest tower, including lighting, carpet, vinyl and paint in the hallways and guest rooms, as well as new bedding and TVs. The hotel will also increase its bandwidth to one gigabyte later this year and add the new Marriott entertainment platform to all rooms, allowing guests to access their Netflix, Hulu and other streaming services. All nine elevators will also be modernized, Ault added.
"The lobby is going to transition to a completely different look than we have now. It will be more current, modern and it will take on a nice Long Beach feel for arrival, for gathering, for collaboration," Ault said. "Probably the biggest change in our hotel is the restaurant. The bar will be out front and center of the restaurant. We're going to change our menu to a modern California cuisine. We're looking for some top chefs to be a consultant on our project."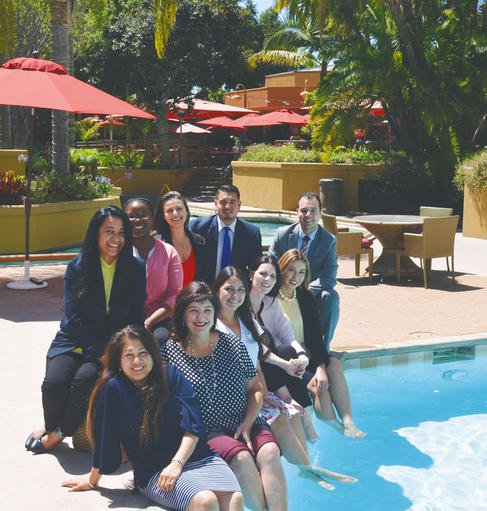 The 310-room Long Beach Marriott at Lakewood Boulevard and Spring Street is planning on upgrading its rooms and corridors, according to General Manager Imran Ahmed. Pictured is the hotel's sales team, top row from left: Catering Sales Manager Daisy Prestwood; On-Site Revenue Manager Shannon Cattron; Executive Sales Assistant Jessica Martinez; Associate Director Of Sales Hector Martinez; and Executive Meeting Manager Gerald Ariza. Bottom row from left: Sales And Events Manager Marlene Robbins; Events Manager Patty Burns; Executive Sales Assistant Alex Cantu; Director of Sales & Marketing Crystal Sierra; and Senior Catering Sales Manager Marla Miralles. (Photograph by the Business Journal's Anne Artley)
The Westin will also have a licensed Starbucks location next to the new restaurant, adjacent to the plaza between the hotel and the Shoreline Square office building. Ault explained that everything in the lobby is going to change, from the marble-tile flooring to the carpet to the lighting, and even the color scheme. The front desk is slated for a redesign so that customer service employees can move freely to assist customers better, Ault added. The lobby and restaurant designs also include large collaborative tables.
Room renovations are expected to begin around November, with work being done to one or two floors at a time to avoid disrupting hotel services. With holiday parties already scheduled at the hotel, Ault said the lobby overhaul will likely begin after the holiday season. The Starbucks is likely to be completed first, sometime around the end of January. The renovation schedule is only tentative, Ault explained, but he hopes everything will be completed by mid-to-late March.
"We want to be done as soon as we can, but we don't want to harm any of the citywide business that's coming in, including [creating] any delays [going] into the Long Beach Grand Prix. So, our goal is to get it done quickly but get it done right," Ault said. "The Orange County market is very competitive, the L.A. market is very competitive, and we want to put ourselves on the map. That is why this $20 million investment is so important to us."
The Renaissance Long Beach Hotel's main lobby space is going to be updated and renovated beginning in the first quarter of next year, according to General Manager Pam Ryan. After seeing the success of the Sip Bar and Lounge in the lobby and adjoining patio area, Ryan said the hotel is going to expand on that space into other areas of the lobby. The anterior bar and patio space will have a light refresh, including minor design work and color alterations, but the rest of the lobby will see more extreme changes.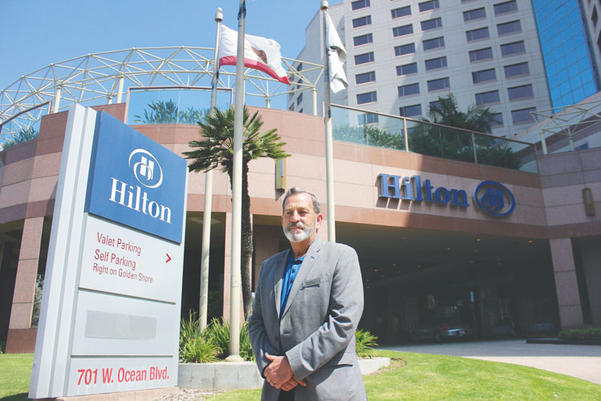 Greg Keebler, general manager of the 399-room Hilton Long Beach, said regular investment into hotels is necessary in order to keep up with guest expectations. He explained that hotels spend millions of dollars per year on infrastructure that often goes unnoticed by guests. (Photograph by the Business Journal's Brandon Richardson)
The hotel's licensed Starbucks will be gutted and completely refreshed beginning in November or December. Ryan said the coffee shop's footprint will not change but the store will be updated to include the company's newer, more modern and urban concept. The 21,000 square feet of meeting space on the first, second and third floors will also be renovated, targeted to begin in September and be completed within four to six weeks.
"We want to continue to enhance the customer experience. And there is a lot of competition out there," Ryan said. "The competition has extended way beyond meeting rooms to freestanding restaurants, bars, event venues – nowadays people are looking for experiences way beyond just a meeting room and we are working around that."
Recently, Ryan was given authorization by the Long Beach Fire Department to host events on the 2,500-square-foot rooftop helipad of the hotel. Though the space is not being promoted just yet, Ryan said it will be available for small receptions before the end of the year. The target events for the space are receptions of up to 100 people and weddings with between 80 and 100 guests. The hotel has hosted two events on the helipad, according to Ryan. She said details around safety and the aesthetic of the space are still being worked out.
The public areas within the Long Beach Marriott were updated in 2013, so there are no current plans to renovate those spaces, according to General Manager Imran Ahmed. However, the hotel's rooms and corridors are renovated every 10 years, and plans are awaiting approval to begin those upgrades at the end of this year or the beginning of 2019.
The updates to the 310 hotel rooms will include new vinyl, carpet, bedding, furniture and TVs – essentially everything in the rooms. Once renovations begin, Ahmed said every room should be done within six to eight months.
"Hotels go through a lot of wear and tear, so if you don't keep your property up to date and refreshed at a minimum of every 10 years, then it will look tired and your guests will not be happy," Ahmed said. "That's why it's imperative that any hotel go through their recommended renovation logs and keep the property up to date."
When the 399-room Hilton Long Beach was purchased in 2012 by Atrium Hospitality, the company instantly began looking at renovating the property from top to bottom. In 2015 and 2016, that is exactly what was done, according to General Manager Greg Keebler. He said that during the Great Recession many hotels did not have the funds to maintain usual renovation schedules, which are typically every five to 10 years.
"It's the guest expectation. It enables hotels to remain solvent and drive occupancy and hopefully some [increased] rates, with fresh products. Just like your home, you have to improve it over time or it's not going to be a nice home anymore," Keebler said. "There are always things that are done every single year, but they are things that don't make the headlines because they are not things the guests will see. Hotels are spending millions of dollars per year on infrastructure items, particularly in the older hotels in Long Beach."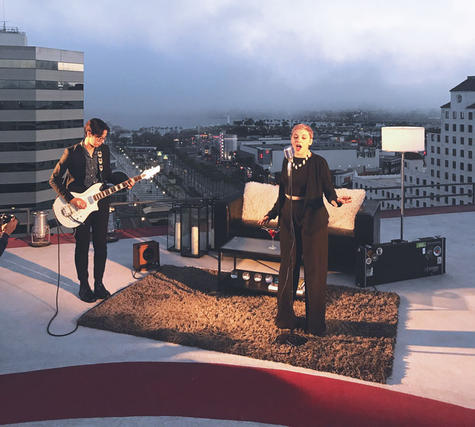 The Renaissance Long Beach hotel recently received authorization to host events on its rooftop helipad, according to General Manager Pam Ryan. Targeted events include receptions of up to 100 people and weddings with between 80 and 100 guests, she said. The rooftop venue will give guests "an unforgettable experience with breathtaking views," Ryan said. (Photograph courtesy of Renaissance Long Beach)
Investment in new hotel construction is also happening outside of the downtown area. At the end of last year, the 241-room Hampton Inn and Homewood Suites dual hotel by Hilton opened at Douglas Park. Just up the street, demolition is set to begin on the two-story portion of the Holiday Inn Long Beach Airport on the northeast corner of Lakewood Boulevard and Willow Street by the end of June or early July, according to General Manager Mooyon Kim.
The existing building consists of 50 hotel rooms and is already vacated. The site will be home to a new, six-story Staybridge Suites. The hotel will include 125 rooms and 3,000 square feet of meeting space that can divided into six meeting rooms as well as two boardrooms, Kim said.
"We saw the need for an extended stay hotel. Long Beach is booming – we've had families stay with us for an extended period of time waiting for the house to be ready. Also, we have many corporate guests stay with us for an extended period of time," Kim said. "The project will really revitalize the whole campus. We'll be able to offer more options to our guests in terms of accommodations and amenities."
The new hotel will serve complimentary breakfast every morning and offer evening social events Monday through Thursday, Kim explained. Rooms will consist of studio suites, one-bedroom suites and two-bedroom suites, and feature full kitchens with full-sized refrigerators to accommodate extended stays. The lobby will feature a marketplace that Kim described as a mini convenience store. Guests will be able to order groceries similar to typical room service and hotel employees will deliver the food and stock the fridge.
The new hotel will feature a state-of-the-art fitness center with a floor-to-ceiling glass wall overlooking a brand-new pool area to include a 2,800-square-foot deck between the Staybridge and Holiday Inn tower for the hotels to share. Two hot tubs are included in the pool area, one for all guests and one reserved for guests age 21 and over, Kim added.
In addition to the built-in amenities, Kim said the Staybridge will offer activities such as yoga, pool exercise classes and other events throughout the week.
The demolition process is estimated to take three or four weeks, Kim explained, with a groundbreaking ceremony to be held toward the end of July or early August. Once construction begins, the buildout is estimated to take about 16 months, putting the opening of the new hotel around November or December of 2019, according to Kim. The Holiday Inn tower will remain, having been fully remodeled last year.
Maintaining A Sustainable Market
With the nearly 1,000 new hotel rooms proposed for the Downtown Long Beach market alone, questions of market sustainability and oversaturation have arisen. Bruce Baltin, managing director of CBRE Hotels, said the market should be able to absorb the additional rooms over time, especially if their introduction is staggered over the next several years.
"L.A County as a whole has been undersupplied in hotel rooms for so long that we're operating at occupancies that are really above long-term averages and levels that are sustainable," Baltin said. "For example, year-to-date, the Long Beach market through April is at 81% occupancy, the same as it was last year, which means the [capacity of the] Hampton Inn and Homewood Suites that opened by the airport was fully absorbed immediately."
Baltin explained that, if a hotel closes a year at an 81% occupancy rate, that means there were about 150 to 180 days where the hotel was at capacity. In 2016, Long Beach's hotel occupancy was 78%, and last year it was 79%. CBRE Hotel's forecast for Long Beach in 2018 was 78.6%. Though the current year-to-date rate is above that level, Baltin said the fourth quarter is typically slower for hotels in many markets. That should bring Long Beach occupancy down to previously projected levels.
The Long Beach market is considered extremely strong, according to Baltin, with the national average occupancy currently at an all-time high of 66%. He noted that, from 2012 to 2018, hotel supply in Long Beach has increased 1.6% on a compound annual growth basis, while the volume of occupied rooms grew by 3%. These numbers show that the demand for more hotel rooms in Long Beach is there, he said.
Steve Goodling, president and CEO of the Long Beach Area Convention and Visitors Bureau, agreed with Baltin and took it a step further, saying two projects will bring a whole new niche market to the city. He explained that boutique hotel projects at The Breakers and the Security Pacific National Bank building will fill out the Long Beach hotel offerings by becoming destination hotels due to the historic nature of the sites, a niche previously not catered to in the walkable Downtown Long Beach area.
"We've recently targeted new associations that previously could not meet at the convention center because we did not have enough downtown hotel rooms immediately around the convention center," Goodling said. "We just got verbal approval for a convention in 2026 from a board and it's 1,600 rooms on peak nights. This type of new inventory will help us attract those types of groups. These projects are great opportunities for Long Beach [toward] . . . becoming an even better-known destination."