Natasha Mata became Wells Fargo's new region bank president for the greater Central Los Angeles area, which includes Long Beach as well as some North Orange County cities, on July 31. She started in the banking industry 26 years ago as a teller, and a few years later joined Wells Fargo as a banking center manager. Over her 22-year career with Wells Fargo, she has risen through the ranks holding several positions, including branch manager and district manager.
Mata now oversees about 1,200 Wells Fargo team members among seven districts and 75 branches – 11 of which are in Long Beach and Signal Hill. She most recently served as area president for the Four Rivers Market area in Northern California.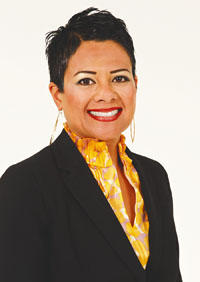 Natasha Mata stepped into the role of Wells Fargo region bank president for the Central Los Angeles region on July 31. She is based in Corona, and her service area includes Long Beach. (Photograph courtesy of Wells Fargo)
"Long Beach is an area that is center to my territory and certainly a very important and instrumental piece to our particular region," Mata said. "I am going to put a lot of attention into really being a part of all the different organizations that are within Long Beach so we can continue to help our customers and our communities thrive."
Mata's initial priority is to get to know the communities within her region as well as the Wells Fargo team members serving those areas. "Spending time out in the branches and visiting with the customers [and] really getting to know our community leaders is very important to the success of us being able to establish certain protocols . . . to help our customers in the best way that we possibly can," she said.
Mata's move comes at a time of change for Wells Fargo as the bank works to "Change for the Better," as its improvement campaign is called. The bank launched the initiative following revelations that it had created fake accounts and enrolled customers in online bill pay without their consent.
"Our vision and values have always been center to what we do," Mata said, adding that the Change for the Better initiative is about "reshaping the Wells Fargo experience overall." Wells Fargo took feedback from employees and customers into consideration when planning its Change for the Better initiative, she noted.
"What I appreciate about the changes we have been able to make with our processes and the protocols that we have put in place . . . [is that] this really allowed us to be much more genuine and authentic in our conversations and interactions . . . with our customers," Mata said. "It's a consistent and a very uniform experience that they are receiving."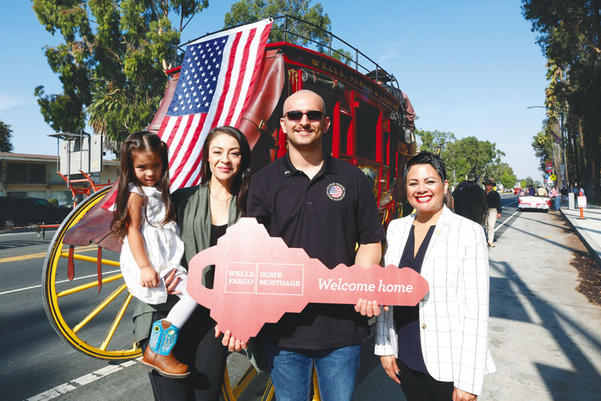 During the annual Long Beach Veterans' Day Parade on November 11, Wells Fargo Central Los Angeles Region President Natasha Mata (far right) presented former U.S. Marine Corps Corporal Harvey Calderon, his wife Maggie and their daughter Abigail, with the deed to a mortgage-free home. Calderon, a native of Long Beach, and his family rode in the Wells Fargo stagecoach during the parade. Calderon was a participant in the nonprofit Military Warriors Support Foundation's program, which awards mortgage free homes to veterans after three years of family and financial mentoring.  Calderon served in Iraq as a squad automatic weapon gunner and in Afghanistan as a team leader and vehicle commander. He was shot in Afghanistan and awarded the Purple Heart. "We are proud to collaborate with Military Warriors Support Foundation to provide mortgage free homes to veterans," Mata said. "Well Fargo has donated more than 350 homes, valued at over $55 million to veterans in all 50 states," according to a statement from the bank. (Photograph courtesy of Wells Fargo)
Wells Fargo has changed up its format for morning team meetings within its branches, which previously followed a set schedule of topics of discussion. "We had pretty prescriptive types of topics that we had pretty much designed for them to discuss every single day, and we found that every branch is going to be in a different community that's going to service different types of customer needs," Mata said. Now, each branch's leadership is able to decide upon topics that best suit their needs, she explained.
Various enhancements have also been made to the bank's systems processes, according to Mata. "We have also provided a very consistent process in terms of being more transparent with all of our Wells Fargo business lines across our organization to ensure that they are helping to support our efforts," she noted. "Putting our customers first and creating a level of support and partnership across the organization is part of the Change for the Better initiative, allowing us to continue to work towards reshaping that Wells Fargo experience."
Mata reflected, "For as long as I can remember, even when I first started with the bank, the vision and values of our organization have always been center and important to what we do and why we do it." Wells Fargo is focused on making changes that promote the goal of providing the best services and products for customers to succeed financially, she noted. "We continue to look for ways . . . to be more efficient."