In the spirit of the citywide effort to reduce its carbon footprint, Long Beach Transit (LBT) unveiled its new zero-emissions buses at an event on Monday, September 26.
Located at The Promenade North at 1st Street, the event was open to the public and included a brief press conference. Then, members of the press and public escaped the sweltering heat during a short, air-conditioned bus ride around the downtown area.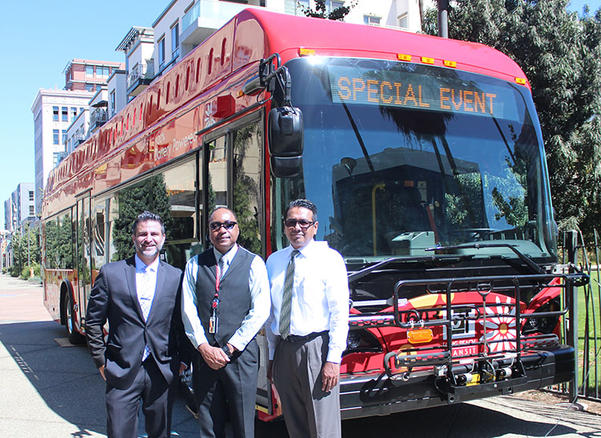 On September 26 Long Beach Transit (LBT) unveiled the company's new battery-electric buses. The 10 buses, which cost around $1 million each, were purchased from BYD Motors and will begin servicing Long Beach in November. Pictured from left are: Kevin Lee, public information officer for LBT, Dino Smith, manager of training and development for LBT, and Pat Hernandez, training manager for LBT. (Photograph by the Business Journal's Brandon Richardson)
"Long Beach Transit's Downtown Passport route will be 100% battery powered. We will be sending additional battery-powered buses around our greater service area so that all of our customers can experience these new, state-of-the-art buses," Kenneth McDonald, LBT chief executive officer, said. "In November, our first 10 battery buses will be deployed into service. LBT is dedicated to making everyday life better for our customers but also for the entire community that we serve."
Kevin Lee, LBT's public information officer, elaborated and said the Passport route only requires seven buses on peak days, so the remaining three buses will be sent throughout the service area at random. He added that he will post on social media which routes the buses will be driving so riders can be aware in advance.
During the press conference, LBT Board Chairperson Marciela de Rivera and Long Beach Area Convention & Visitors Bureau Chief Executive Officer Steve Goodling also spoke. Mayor Robert Garcia was scheduled to speak at the event but had a conflict.
After driving the bus' inaugural trips around downtown, Pat Hernandez, LBT's training supervisor, said, "It's much easier. It's a nice bus to drive. [There is] some different training since it's an electric bus. It feels a little bit different. Some gauges are different from the traditional bus."
The purchase of 10 buses from BYD Motors, the American branch of Chinese electric vehicle manufacturer BYD Co. Ltd, was approved in April 2015, 13 months after a previous deal between Long Beach and BYD was terminated. The original deal was made in March 2013, but the Federal Transit Administration (FTA) objected, claiming BYD was not eligible for a contract involving federal grant dollars.
According to Lee, the company is hoping to be completely alternatively fueled by 2020. He said LBT currently has approximately 250 buses that serve Long Beach and 12 other cities in its service area. Over the next few years, the company will retire all remaining diesel buses, as well as its earlier hybrid buses, which are not as efficient as more current models.
A standard diesel bus emits around 600 pounds of CO2 daily, depending on the length of its route, Lee said. Therefore, once the 10 buses begin to drive routes for LBT, the company will boast a 6,000-pound per day reduction in CO2 emissions. But this is not the only reduction Lee is excited about.
"When you think about the noise, we're doing a lot of outdoor dining and parklets around the city, and you're going to see more of that since we have sunshine most of the year," Lee said. "So when you look at this model of having a really quiet bus, it's great because you can still have a quiet bus running down the street, and you're not disturbing customers of outdoor dining or outdoor entertainment. I think it works for everyone."
Each of the new buses costs around $1 million, compared to the $500,000 price tag of a compressed natural gas (CNG) bus, according to Lee. He explained that this is simply a case of supply and demand. Currently, demand is low for these pricey buses, as many agencies still opt for low-emission CNG buses. However, Lee said that even though demand is low now, the whole public transportation industry is moving toward low- or zero-emission options, which will bring the $1 million price tag down in the coming years.
To help pay for buses, the FTA awarded LBT a grant of about $6.5 million from its Transit Investments for Greenhouse Gas and Energy Reduction (TIGGER) program, according to Lee. TIGGER was initiated in 2009 as part of the American Recovery & Reinvestment Act, with a total of $49.9 million appropriated for grants to public transit agencies to reduce energy consumption or greenhouse gas emissions. The Port of Long Beach also awarded LBT a $700,000 grant for the project.
After the unveiling event, the transit board awarded Chatsworth-based general contractor Eco Energy Solutions Inc. a $1 million contract to build a parking lot and charging station for the new buses at LBT's depot near its headquarters at Cherry Avenue and Anaheim Street in Cambodia Town.
In July, the board also awarded a $1.5 million contract to Culver City-based Fast-Track Construction Corp. for the installation of a wireless charging system near the Long Beach Convention & Entertainment Center, according to an LBT document. The Wireless Advanced Vehicle Electrification Inc. system will charge buses wirelessly at the bus pad near the convention center – similar to wireless phone-charging systems.
"Public transit, in general, is environmentally friendly. Because if you can get 30 to 40 people on a bus, as opposed to 30 to 40 cars, that's already great. You're already reducing carbon emissions," Lee said. "Now you have a bus that has no carbon emissions – or is very low – and that multiplies it greatly."