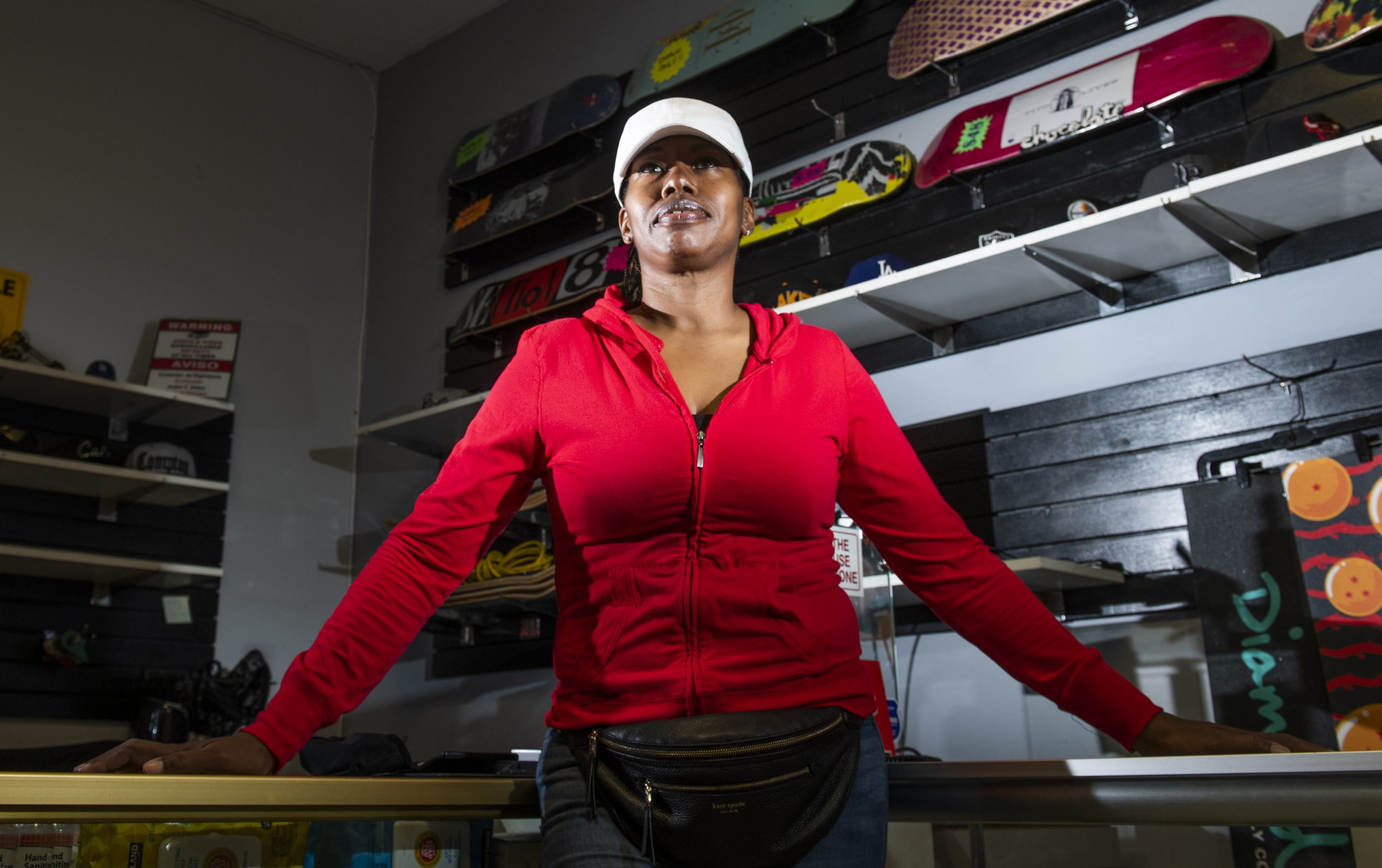 Long Beach resident Lena Durr had been working in the health-insurance industry for over 18 years before being laid off in 2017 just before she could officially retire.
Her side hustle–printing custom shirts out of a hole-in-the-wall shop at 6188 Atlantic Ave. in North Long Beach–quickly became her main job, but her clientele helped expand it to offer more than just T-shirts. Durr said she's planning to reopen her store on Friday, after several months of closure due to the coronavirus pandemic.
The skateboarders that frequent Houghton Park's skate park across the street from Durr's shop, Ikonic Customs, would often stop by for a T-shirt or a hat. As time went on, they began asking for stickers from well known skating brands. From stickers, they requested wheels, trucks and bearings for their skateboards.
Before she knew it, Durr's T-shirt shop morphed into a fully functioning skate shop that offered stylized grip tape, custom boards and a workshoping bench for local skating aficionados to repair and calibrate their boards.
"We started with a little, and then it grew into a full-blown skateboard shop," Durr said. 
Through YouTube tutorials and advice from neighbors familiar with skateboards, Durr taught herself how to serve the skating community. Some patrons donated their old wheels to the shop, which Durr would give out to young riders that didn't have much money to buy newer ones.
"I did my research–I know how to grip a board," she said. "I learned a lot from the kids. It's been a blessing."
Ikonic Customs is arguably situated in a perfect location for skaters to buy their supplies. Most of the other skateboard shops are too far for kids to travel, Durr said, but having a popular skatepark sitting just across the street helps, too.
"They have to go to the Lakewood mall, Downtown on Seventh Street or Bellflower," she said. 
In the span of a year, Durr's small store carried more merchandise to sell, a prime location and the support of a dedicated niche community–it was truly riding the waves of success. But like many others, the spread of COVID-19 in early 2020, and the restriction on businesses to slow the spread, forced her shop to close.
Durr's custom shirt buyers, who lived out of state, began to cancel orders as travel restrictions got tighter. All 36 of her accounts eventually closed. 
"Now all we have is what we make during the week," she said.
To keep her business going throughout the early months of quarantine, Durr began selling gloves, masks and hand sanitizer.
Skaters took notice of the limited activity coming from the closed shop, and began asking Durr if they could buy items for their boards.
"I let them buy wheels, but they had to stay outside," she said.
The local appreciation for Ikonic Customs shop took notice from local musicians, prompting them to lend a hand. Durr said a young man collected donations through social media and gifted it to Durr for her shop.
"That was a total blessing, they didn't have to do that," she said. "They just wanted to help us out."
The recent looting that took place following police brutality protests proved to be another hurdle Durr and her shop were faced with. Two weeks ago, her storefront glass was broken, however, most of her merchandise was moved out of the store before any looting could take place.
"It scared me because this is all I have," she said. "This is my way of life."
Due to the fear of agitators planning to loot again as civil unrest continues, Durr is planning to keep her shop bordered up, but folks passing by the store will see a large "open" banner hung outside the shop. 
As the state begins to ease more coronavirus restrictions, the store will undergo a makeover, according to Durr, with social-distancing markers on the ground, hand-sanitizer dispensers and plexiglass covers for the cashier.
"By the grace of God, we've been blessed and been able to pay the lease on the building," Durr said. "It's not what we're used to making, but we're OK."