After a rough and uncertain 2016 in which oil prices hit a 13-year low of around $26 per barrel, the oil and gas industry has stabilized and is expected to stay as such, according to industry experts.
"We've seen a gradual improvement over the year in the price, so I think there's a cautious optimism," Robert Barnes, executive vice president of operations for California Resources Corporation (CRC), said. "There's been a steady ramp-up in activity but by no means a boom. People are starting to have just a little bit more cautious activity."
According to Barnes, CRC has the most rigs running in the state right now, with nine, which is an increase in activity for the company. He explained that the company is also investing in some exploration and other development and infield well work to increase production, which remains flat at around 130,000 barrels per day.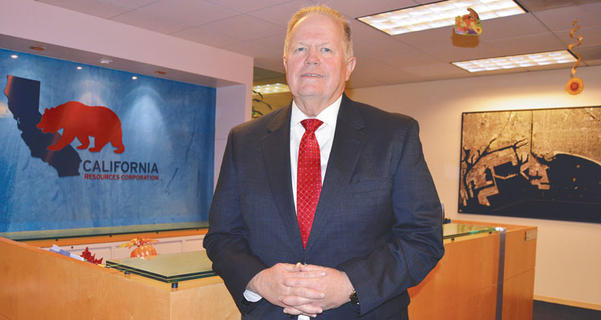 With oil prices stabilizing in the $50 range, California Resources Corporation Vice President of Operations Robert Barnes, pictured at the company's Long Beach offices, said the industry is enjoying some cautious optimism. (Photograph by the Business Journal's Larry Duncan)
Hovering just above $50 per barrel, Barnes said it is encouraging to see prices coming up and staying up. He noted that inventories around the world have been decreasing over the last year, with many major projects being cancelled due to poor economic conditions. Despite this, Barnes said he is proud of CRC's performance and employees.
"There are new sets of regulations coming down all the time. We try to take a proactive approach to the new regulations," Barnes said. "We try to educate the regulatory agencies how it works, how the oil field operations are conducted just to make sure we are on the same page in our understanding of what the operation is."
Currently, most new regulations related to oil and gas operations are in draft form, according to Barnes. Because of this, he said, it is difficult to say which, if any, would have a drastic impact on CRC operations. However, he said the company will continue being proactive in working with regulators to ensure an environmentally conscious and robust oil and gas industry.
When oil prices began dropping drastically in 2014, Signal Hill Petroleum (SHP) was forced to downsize personnel to offset losses, according to David Slater, chief operating officer and executive vice president of SHP.
"Personnel wise, we have stayed at that level since then. We are contemplating some growth going into next year," Slater said. "The company is strong and we've managed the cash flow by managing expenses. We have no control over the price of our product. The only thing we have control over is how much product we produce and at what cost."
When prices dipped, Slater explained the company quickly wound down all drilling activity and mothballed its two drilling rigs. However, he noted SHP is working on plans to reactivate one of its rigs in the first half of 2018.
With oil well yields' natural decline over time and no new drilling, Slater said SHP's technical operators have worked hard to offset losses by working on existing wells to produce more oil by pumping more efficiently. Because of these efforts, SHP's oil production has remained relatively flat at around 1 million barrels per year.
In addition to oil, SHP produces natural gas, which the company cleans and uses itself as part of its sustainability goals. Slater said the company generates 70% of the electricity needed to run the oil field using one the cleanest burning electrical generators in the Western United States.
To ensure the safety of surrounding residents and the environment, SHP has field operators on duty 24 hours per day, seven days per week. These operators do routine checks of all wells regularly to ensure proper functionality. Additionally, SHP has a third party engineering technician test 75,000 tagged and identified components that are potential leak points every quarter. Slater said the tests usually pinpoint two or three minor leaks, which are promptly repaired.
"We consider our primary mission to be stewards of our community and stewards of the environment. The safety of our personnel and the safety of the public is paramount to our company," Slater explained. "We're very proud of our track record but that doesn't mean that we can't improve. That's the attitude of our company: get better every day."
While other companies and corporations are not increasing oil production, Carson and Wilmington oil refinery operator Andeavor, formerly Tesoro, is investing more than $460 million into its Los Angeles Refinery Integration and Compliance (LARIC) project. The project, which celebrated its offical groundbreaking on October 10, integrates its two refineries to make operations cleaner and more efficient.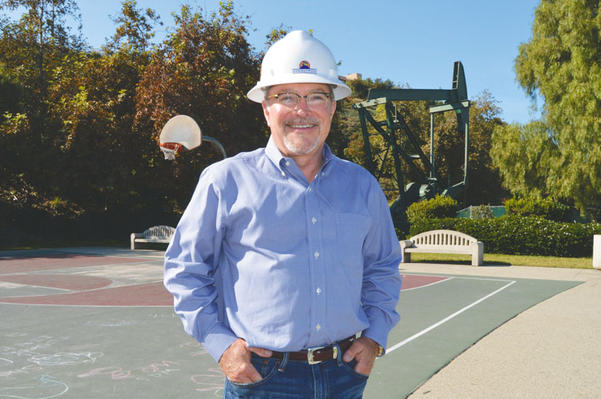 According to CEO and Executive Vice President David Slater, Signal Hill Petroleum has not had new drilling operations since 2014. However, he said the company is currently working on plans to reactivate one of its drilling rigs to commence drilling during the first half of 2018. (Photograph by the Business Journal's Larry Duncan)
According to CJ Warner, executive vice president of operations for Andeavor, upon completion, LARIC would reduce greenhouse gas emissions, including NOx, SOx, particulate matter and carbon, equivalent to removing 13,500 vehicles from roads every day, while increasing processing capability by about 2% or 6,000 barrels per day.
"Sometimes we find ourselves in the tough battle of the environment versus jobs. I think they can coexist and I think this project is a prime example of working with the community," State Sen. Steven Bradford said during a groundbreaking ceremony. "As an individual who worked for an environmental nonprofit, I'm a strong proponent of what you do here. This industry has cleaned itself up over the last 20 years far beyond what anyone really wants to give you credit for."
The project received more than 1,800 letters of support that were submitted to the South Coast Air Quality Management District, which, along with the cities, had to sign off on the project. During peak construction, it is estimated the project will create 700 construction jobs, while the overall investment will create more than 4,000 jobs and nearly $265 million in local labor income. Additionally, Andeavor estimates the project to generate more than $86+ million in tax revenue, while adding more than $702 million in local business revenues in Southern California.
Matt Baebler, senior manager of capital projects for Andeavor & LARIC project manager, said LARIC is the largest project Andeavor is undertaking right now. He said the project is modifying eight units in Carson, four in Wilmington and includes a new rail facility to streamline unloading product. A new pipeline bundle is being installed to interconnect the two refineries.
"Engineering started on this project over three years ago and construction finally started just a couple months ago. Most of the major unit modifications and infrastructure should be completed by the end of 2018, including the shutdown of a large emissions source in Wilmington," Baebler said. "This is a massive project. We have over 32 miles of new pipe, including almost 10 miles in this center-connecting bundle. We have 826 tons of structural steel and the bores alone will pull out 2.8 million pounds of dirt."
Andeavor settled with the City of Carson to the tune of $45 million, according to Carson Mayor Albert Robles. During the groundbreaking ceremony, Robles praised the Andeavor Foundation for also contributing more than $1 million for the construction of a park for children of all levels of ability.
"If you have a child or have a friend who has a child of different abilities, you know that having a park that is available for them to participate and have fun just like all other kids is absolutely important," Robles said. "I think Andeavor is a valuable stakeholder in the City of Carson and by highlighting the park I wanted to highlight that they invested in the community."
Ralph Combs, manager of regulatory, community and government affairs for The Termo Company, said the market remains challenging but the company is hanging in there. He explained the company worked hard to maintain production at a steady level, between 140 and 200 barrels per day from its 21 Long Beach and Signal Hill wells.
According to Combs, California operators manage to meet 40% of the state's oil needs, with the remainder being imported. He added that operators would like to be able to produce 100% of the state's oil, however, the stringent regulations hinder projects and current prices don't allow for large scale investment.
"Termo has no new drilling activity going on in Long Beach or L.A. County. That's not to say we wouldn't like to, but rather we have focused on maintaining production by keeping the wells running properly," Combs said. "There are some ideas that we have that we would like to work with the city to implement, but as it stands we don't have any current plans to drill any wells in the City of Long Beach."
The stable oil prices have not increased drilling for Long Beach Gas & Oil (LBGO), according to Director Bob Dowell. He said the contractor is currently drilling about 1.5 wells per month and that no major changes are expected, as oil prices are forecasted to remain relatively unchanged through 2018.
So far, 2017 has seen an average of 20,100 barrels of oil produced by LBGO per day. However, Dowell said only 19,000 barrels per day are expected in 2018 due to the natural decline in wells. He explained that, unless prices increase and LBGO ramps up drilling operations, oil production will continue to decline.
"There are always challenges out there. The entire State of California is contemplating going to no fossil fuels by 2040. Increased regulations, both from the state and federal side, as far as oil and gas operations," Dowell said. "It's just the ongoing concern over global warming and any impact that the industry contributes to that. So, things that are controllable and can be regulated are."
Regarding natural gas operations, Dowell noted prices have gone down slightly from a year ago but are anticipated to remain flat at around $3 per one million British Thermal Units through 2018. He explained that energy efficiency programs and building standards have succeeded in reducing inefficiencies, which has caused natural gas consumption in homes to decline.
The Southern California Gas Company (SoCal Gas), provides natural gas to more than 20 million consumers in Central and Southern California, according to Lisa Alexander, vice president of customer solutions and communications. She said the 150-year-old utilities company reaches more than 550 communities from Fresno to the Mexican border and utilizes more than 100,000 miles of pipeline.
"Now we are in a really interesting time. As we look to the future, we recognize that we are in a state with some very bold climate and environmental goals," Alexander said. "We're very bullish on the role of natural gas and maximizing the state's renewable energy use and consumption. It will play a really large role in enabling wind and solar power. And we are also very excited about opportunities with renewable gas."
Alexander explained that SoCal Gas is exploring options to capture methane from dairy farms, wastewater treatment plants, landfills and other areas where decomposition of organic material occurs, as a source of renewable gas. Such projects would be beneficial in two ways, first by capturing greenhouse gases before they are emitted to the atmosphere and second by reducing the carbon footprint of the natural gas distribution utility system by utilizing those greenhouse gases instead of other fuel sources.
Today, 60% of compressed natural gas transportation fuel used in the region is produced using renewable gas sources out of state, according to Alexander. She explained that SoCal Gas is working with the state and industry partners to explore bringing renewable natural gas production to California, with a major project near Long Beach to be announced in 2018.
The vision of renewable gas is not limited to organic sources, as is evident with SoCal Gas's work with UC Irvine in utilizing power-to-gas techniques. The demonstration project takes excess renewable electricity generated by the university campuses solar panels, runs it through water to separate the hydrogen from oxygen and placing the hydrogen in the campus pipeline system to be used to run the university's cogeneration plant.
"Whenever we're talking about the oil and gas business, recognize that safety is our highest priority above all. As a utility, we are not only committed to meeting but exceeding all standards for safety," Alexander said. "We're very actively engaged in hiring the most highly trained and responsible energy professionals to ensure the safe and reliable delivery of energy to homes, business and industrial operations."