On October 17, Long Beach joined the ranks of more than 100 California cities in banning the use of polystyrene (Styrofoam) products, including to-go food containers, and other non-recyclable or compostable materials within the city with a unanimous vote by the city council.
The ban is being implemented in phases, with city-owned properties and large businesses – defined as those having 101 or more seats – having to comply within nine months of the ordinance's passage. Smaller restaurants have 18 months to comply with the ordinance; however, the city council requested a study of impacts of similar bans in other cities to be done prior to the deadline, which could alter regulation on small businesses. An earlier iteration of the proposal defined large restaurants as those with 31 or more seats.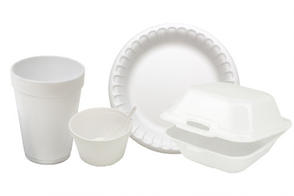 "Honestly, I think that it's great. I think it's something that is long past overdue. I think we should have been looking at this a few years ago," Luis Navarro, owner of both locations of Lola's Mexican Cuisine. "When we went away from Styrofoam, which was about 2010, our take-out business went up. I understand that, at the end of the day, the restaurant business is about literally pennies. But you've got to open your perspective a little bit more."
The ban sparked controversy when it was first introduced by 1st District Councilmember Lena Gonzalez on December 26. Those in support of the ban focused on the fact that these products take 500 years or more to decompose, and in the meantime the substance known to be a reasonably anticipated human carcinogen can enter the food chain and contaminate the environment.
According to city staff and the California Restaurant Association (CRA), more than 100 letters from restaurants were submitted to the city opposing the ban. Opponents of the proposal claimed the ban would have severe negative impacts on small mom-and-pop restaurants. Neil Strawder, owner of Bigmista's Barbecue, said small businesses such as his rely on Styrofoam containers for cost effectiveness. He said these containers cost 8 cents each, while alternatives made of sugarcane or wheat straw cost 48 cents and 56 cents each, respectively, while being less effective.
"My objection to the ban in the first place was not necessarily the product as it was the fact that there is no affordable alternative for it," Strawder said. "It will affect small businesses like me because that's a big extra cost and it's a mandated cost. We have no choice in the matter. The real problem is not so much the product, the problem is that people are littering."
A main point of contention for those who opposed the ban was the fact that banning Styrofoam products would not reduce the amount of litter in the city, but rather change its form to whatever alternatives are chosen. Navarro argued that, while this would most likely be the case, Styrofoam breaks down to miniscule pieces making it difficult to clean up, whereas other products stay intact and are easily disposed of during such events as beach cleanups.
Strawder and CRA spokesperson Chris Duggan viewed the council's decision for additional study on the impacts the ban may have on smaller restaurants as a welcome addition to the proposal, as well as smart politically.
"I believe they're trying to look at it. They did make a gesture and I appreciate that. In all fairness, that was probably the most that they could do politically," Strawder said. "At some point nobody wants to say, 'No, you keep using Styrofoam. I know it's bad for the environment but I don't care.' They can't do that."
"We are encouraged that the council will take a measured approach in determining the true economic impact a proposed ban would have on Long Beach mom and pop restaurants," Duggan added in a prepared statement. "We look forward to working with the city and providing any data that would be meaningful in assessing whether a ban is the right policy for the city."
In addition to restaurant uses, the council included items such as Styrofoam ice chests, certain craft store products and bean bag chairs stuffed with polystyrene beads in the ban. The proposal includes education programs, enforcement provisions, incentives and assistance, including an undue hardship waiver.