California's oil and gas industry remains a significant economic driver in the state. According to a recent report by the Los Angeles Economic Development Corporation (LAEDC), the industry employed 152,000 Californians in 2017. The report, which was commissioned by the Western States Petroleum Association (WSPA), states that the industry supported an additional 213,860 auxiliary jobs that same year.
"We think it is very important for our industry to provide high-wage opportunities to all individuals and communities across a wide range of skills and education," WSPA President Catherine Reheis-Boyd told the Business Journal. Reheis-Boyd said she was particularly proud of the strides the industry has made in achieving racial and ethnic diversity.
According to the report, 28% of employees across the industry identified as Hispanic or Latino, 10.8% as Asian, 6% as Black, with the remaining 52% identifying as White. For comparison, 39% of all Californians identify as Hispanic or Latino, 36% identify as White alone (not including those who also identify as Hispanic or Latino), 15.3% as Asian and 6.5% as Black, according to the U.S. Census Bureau's 2018 population estimates.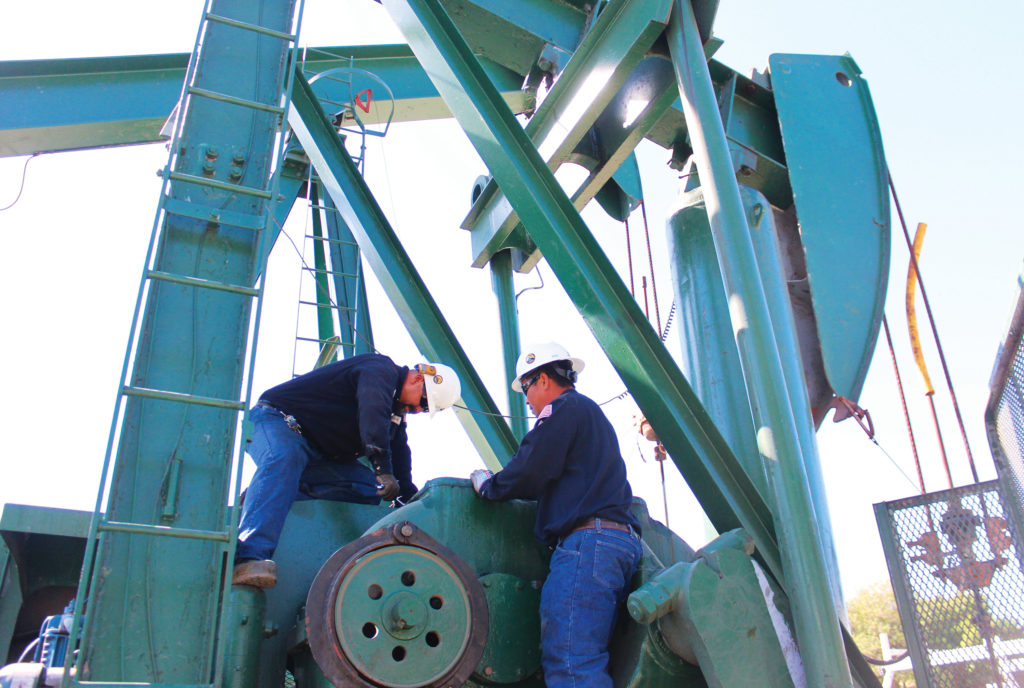 The industry also boasts a diversity of educational backgrounds. While over a third of workers hold at least a bachelor's degree, that group is closely followed by those who have completed associate's degrees or some level of college. A fifth of all workers in the industry listed a high school degree as their highest level of education, while 11% said they did not complete a high school education.
"We are committed to helping our state and its diverse communities achieve and sustain a vibrant and inclusive future for generations to come," William Gillespie, coastal assets operations manager at the California Resources Corporation (CRC), told the Business Journal. CRC is a publicly traded oil and natural gas exploration and production company, and is the largest oil and natural gas producer in California. "[The industry's] high-quality jobs provide economic mobility and a path to the middle class."
The WSPA/LAEDC report estimated that the industry generated $12.1 billion in direct labor income in 2017, resulting in an average salary of $79,335 per worker, based on employment data provided in the report.
For new recruits, the oil and gas industry provides opportunities for lifelong careers with competitive salaries, Signal Hill Petroleum (SHP) Executive Vice President and Chief Operating Officer David Slater pointed out. "Our industry creates jobs where dedicated young people can come to work, with or without a college degree, and find a place where they can grow on the job," Slater said.
As in many industries, those in the oil and gas workforce have to adapt to new technologies on a regular basis. "It's been interesting and fun to watch how our industry and the people [who] work in it have embraced technology," Slater said. In turn, new technologies have allowed his company to keep production steady and become increasingly energy efficient.
SHP was the first company in the Los Angeles Basin to use seismic imaging technology, combing through current and historic data in search of undiscovered oil production sites. The company also uses a technique called secondary recovery – commonly referred to as waterflooding – to retrieve residual oil reserves. Following the primary recovery of oil through traditional wells, this technique involves pumping saltwater into the reservoir, which washes out residual oil reserves. "Oil and gas reservoirs have a natural decline in their production rates," Slater explained. However, Slater stated "we have been able to keep production from this field flat for over 20 years."
The saltwater used for secondary recovery is fully recycled and used for future waterflooding cycles, Slater explained. Additionally, the company's operations are powered in part by natural gas produced on site. "We generate a significant amount of the electricity we need," Slater said.
Gillespie noted that CRC has already achieved some success in working toward its 2030 sustainability goals on emissions, water recycling and the integration of renewable energy sources. Alongside other achievements, Gillespie said the company has been able to reduce its methane emissions by 60% since 2013.
Energy companies big and small have taken steps to reduce their reliance on outside power, make their operations more efficient and incorporate renewable energy, Reheis-Boyd noted, pointing to the solar and thermal power plant at the Belridge oil field as an example. The plant, which is currently being built on a 770-acre site near Bakersfield, will be used to power Aera Energy's local oil operations and – once completed – will be the largest solar field in California, according to its developer, Glasspoint. "That's an exciting step in the right direction," Reheis-Boyd said.
While the industry has begun to embrace renewable energy to power part of its operations, Reheis-Boyd said that fossil fuels will still have a place in California for many years to come. "California still has 26 million combustion engines to move [39] million people around," she pointed out. "Even though it's very exciting that the electric vehicle market has certainly increased and continues to increase, it's at 600,000 [vehicles], so we [have] a long way to go."
Slater said eventually it will be consumers' responsibility to decide the future of fossil fuels in the state. "If nobody bought gasoline in California, we'd be out of business really quickly," he said. But Reheis-Boyd observed that public policy and urban design also play a role, especially when it comes to moving millions of Californians across the state's rural plains and urban sprawl. "[We] really have to talk about different modes of transportation than the traditional California dream of everybody owning a car," she explained.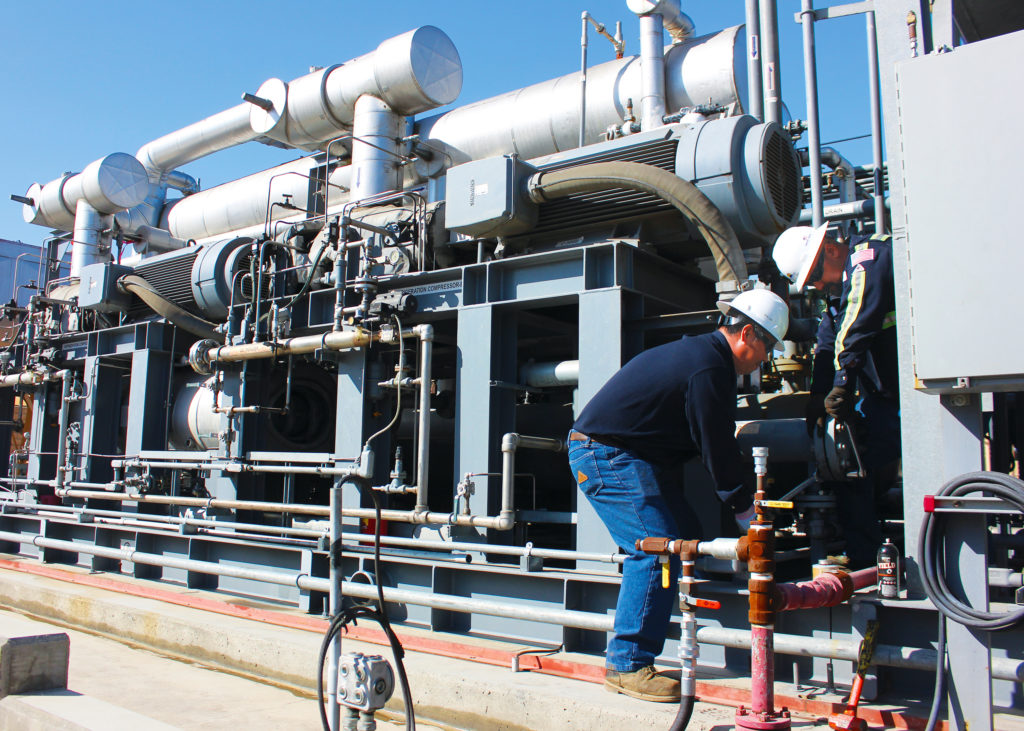 Aside from concerns over greenhouse gas emissions' climate changing effects, the L.A. Basin is also impacted by the detrimental effect car emissions have on local air quality. Ongoing efforts to reduce car emissions in the state have made a significant difference when it comes to air quality, Slater said, and he welcomes the state's efforts to achieve similar goals in the energy production sector.
"Attacking automotive emissions back in the 1980s made a huge difference in air quality in L.A., and now regulators are looking more at smaller potential sources," Slater said. "That's assisted us in understanding and operating a virtually leak-free system." While some of the equipment standards, monitoring and reporting requirements set forward by state agencies can be labor-intensive and costly to implement, Slater said he approves of the state's regulatory environment overall. "We view the regulatory environment as really necessary for our society, so that we keep everybody above a reasonable bar," he explained.
Both Reheis-Boyd and Slater said there were still many conversations to be had to ensure that California's efforts to reduce emissions and create a sustainable energy mix for the future reach their full potential, while maintaining the economic gains of oil and gas production in the state. "Our state government and the federal government are diametrically opposed on fossil fuels," Slater pointed out. "Directing our efforts at national and international solutions is really our hope. That the effort [focuses] in that direction, where we can really make a difference."