In 1991, engineers Kent and Kevin Peterson struck out on their own in the midst of a recession – two 27-year-olds with young families, making career moves neither had planned on until their mid-30s or early 40s. But, armed with a business plan and mentor-partner John Sosoka, the twins felt it was the right time.
In March of '91, they opened PSI Engineers – now called P2S Engineering – in a Bixby Knolls office at San Antonio Drive and Orange Avenue with three other employees. Within a year, they had 24 employees.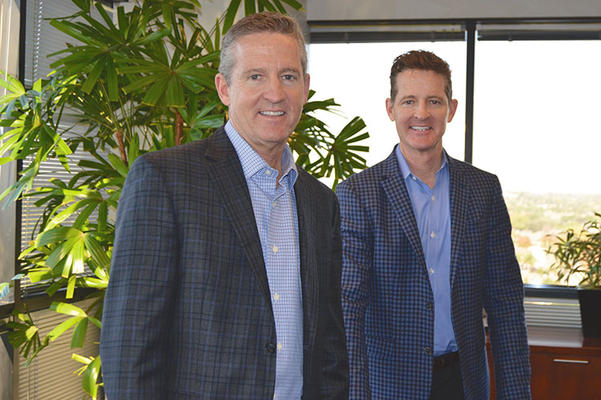 Brothers Kent (left) and Kevin Peterson formed their engineering firm, P2S Engineering, with partner John Sosoka at the age of 27. Since then, the firm has grown to encompass two floors of an office building at the Long Beach Airport Business Park, and has 151 employees and a satellite office in San Diego. The two said they plan to open offices in other areas, including Northern California. (Photograph by the Business Journal's Larry Duncan)
Kent has been in the engineering field since age 18, when he went to work for Sosoka on his birthday in 1981. Kevin worked as an engineer through college (both brothers attended California State University, Long Beach), but for another firm. In 1990, the company Kevin was working for bought the firm Kent was working for, and the two ended up in the same company as chief mechanical engineer and chief electrical engineer, respectively.
"We did that for nine months; then we said, 'We can do this on our own.' " Kent, now vice president and chief engineer for the firm, recalled.
"We kind of anticipated we would get together and start an engineering firm. And we thought it would probably be when we were in our mid-30s or early 40s," Kevin, who is president and CEO, said. "We were 27 when we started P2S. California was in a deep recession in 1990 to '91. McDonnell Douglas over here was laying off half of their 80,000 employees. And the firm we were working for just wasn't making some of the tough decisions necessary to survive, in our opinion," he recalled. "We thought, well, OK, we thought it would be later in life that we'd do this, but now might be the best time."
There was no option to fail. "We both had families we had just started. We had both just gotten into mortgages," Kent said. "You're starting your life with your families, and it is one of those things when you decide you're going to do it, you jump in with both feet and both hands. There's no stepping back."
The Petersons were unsure about starting a new firm during a recession, Kevin said. "When we wrote our business plan, our number one concern when we sat down was would we be able to get enough work in the recession." he recalled. "It was not our problem at all. We had way more work than we could do."
In 12 months, the firm quadrupled in size. Due to the recession, plenty of talented engineers were looking for work, Kevin explained. "There was a lot of talent available. So we grew substantially in the first year," he said.
The brothers attribute the fast growth and success – which neither had expected – to the approach they took to running their business. "In the original business plan, one of the tenets . . . was that we wanted to provide real engineering solutions to clients' issues," Kevin said. "But there were a lot of larger firms out there that were applying 20- or 30-year-old solutions to engineering."
As Kent put it, many other firms would "pull the same plans out of the drawers, then change them a little," rather than developing a project-specific or new approach.
"We started out as a mechanical, electrical, plumbing engineering firm, which is pretty standard in Southern California," Kent said. Six months after P2S moved into its current location in the Long Beach Airport Business Park in 1996, the firm made its first acquisition, purchasing a firm specializing in telecommunications infrastructure.
From the start, the goal was to find ways to be "more energy efficient and more sustainable" in developing solutions for clients, Kevin said. P2S was also focused on developing more cost-effective solutions designed for client comfort. This forward-thinking approach appealed to their client base and helped them gain new business, the brothers explained.
Over the years, the firm has expanded its engineering services by absorbing companies and hiring new talent skilled in certain fields. "We usually will either hire a subject matter expert in an area, or we will get a group of people and bring it in to expand the service areas," Kevin said.
"We broadened our markets," Kent said. "Three years ago we brought in a 50-year-old health care engineering company. We ended up absorbing them, and we brought all that experience in and more people."
While the brothers never expected their company to grow so quickly – they now have 151 employees, with eight at a satellite office in San Diego – they always thought big when it came to their scope of work. "One of the visions when we did our business plan was we wanted to work on larger projects. . . . To work on larger projects, you have to be a bigger company."
P2S's services are now mostly divided between engineering related to infrastructure and engineering for new buildings. The company – marking its 25th anniversary this year – specializes in many services, including utility and telecommunications infrastructure, green building design, central cooling and heating plants, feasibility studies, third-party commissioning of developments, lighting design and more. The work is frequently in the education and health care industries, as well as maritime.
Over the years, P2S has done more than 400 projects for the Petersons' alma mater, CSULB. "We built their central heating and cooling plant back in the mid-to-late '90s," Kent recalled. More recently, the firm worked on CSULB's new student recreation center and its new science building.
"We also do a lot of projects at Long Beach City College," Kent continued. "They have been spending a lot of money modernizing and expanding their facilities. . . . And we're involved in the vast majority of all those projects."
Higher education is the biggest client base for P2S. "Higher education is our number one market sector throughout the state," Kent said. "We've worked with and gotten close to 60 college and university campuses in the State of California."
P2S is also well known for its work with the Port of Long Beach. "We do electrically support the port quite a bit – shore power projects and electrical infrastructure," Kevin said. "Probably one of the largest projects is the Middle Harbor Redevelopment Project at the Port of Long Beach, which we have done all the electrical engineering on for the last 10 years. It will still go on for another four to five years." That project is hailed as one of the greenest terminals in the world, if not the greenest, due to its nearly all-electric equipment, most of which generates zero emissions.
The firm also does some work for Boeing in Southern California and has been heavily involved in the design of the Aquarium of the Pacific's planned expansion, according to Kevin. A major project P2S is currently working on is the new Long Beach Civic Center, for which it is providing commissioning (quality assurance) services.
P2S is defined by its "culture of innovation," Kent said. Kevin noted that entrepreneurialism is also important to the company's culture. He and his brother don't consider themselves the "kingpins" of the business but rather are focused on helping all their employees succeed. Employees at P2S often come up with business plans for a new market line or a process improvement within the firm, and they know that the Petersons will be open to hearing the pitch, they said.
"We have an incubator group within the company that we started almost five years ago," Kent said. This team, which includes 25% of the staff, develops new business ideas and mentors new employees. "It's a great opportunity for us to sit down with them on a monthly basis and listen to what their ideas are and then give them feedback," he added.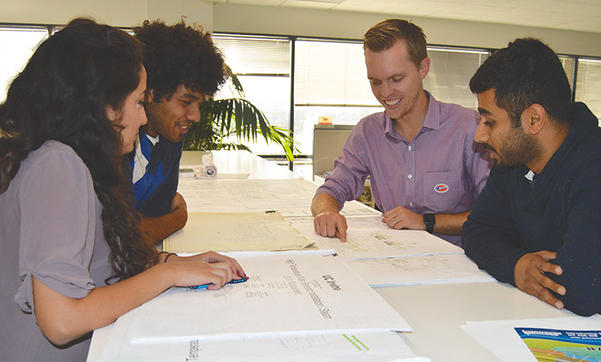 P2S Engineering encourages its employees to develop innovative ideas to improve the company and its business strategies. Pictured from left are: Taraneh Shoorideh and Shadi Abouseif, mechanical design engineers; and Steven Peterson and Mandar Manjarekar, electrical design engineers. (Photograph by the Business Journal's Larry Duncan)
"I think professional development sets us aside from some of our competitors," Kevin reflected. "We spend a lot of money on making sure our engineers are leaders in certain subject areas."
The Petersons encourage and support their employees' involvement in industry-related efforts beyond the workplace. "We actually have our people on committees that are writing the standards and writing the codes that are being used in our industry," Kent said. "They're the ones actually giving the presentations and teaching people."
Local to the Long Beach area since moving here at the age of five when their father accepted a job with McDonnell Douglas, the Petersons have become quite entrenched in the community. While Kent lives in Huntington Beach, Kevin has lived here for most of his life and even "married a Long Beach girl," he said. But both place strong emphasis on giving back to and being involved in Long Beach.
When asked about the extent of their involvement in the community, Kevin replied, "How long do we have for this?" He listed: "I have served as chair of the Community Hospital board [and am] the current chair of the YMCA Greater Long Beach. I'm still on the Long Beach Memorial Medical Foundation board. Kent is the incoming chair for the [Long Beach Area] Chamber of Commerce."
Kent started the chamber's Green Business Council, now known as Sustainable Business Long Beach. "I have been on the leadership council for the last three years, but I have been on the board for about the last five years," he said of the group. "I have been active since 2008 on the Cal State Long Beach College of Engineering Dean's Advisory Council, and I have chaired that council."
P2S has supported many local nonprofits, including the Ronald McDonald House, the Aquarium of the Pacific and others.
The two have also made sure that P2S has had international reach. "Eleven years ago, I was the president of the IEEE [Institute of Electrical and Electronics Engineers Industry Applications Society], with 12,000 members worldwide," Kevin said. "And then Kent was president of ASHRAE [American Society of Heating, Refrigeration and Air Conditioning Engineers], which is much larger," he added. Kent estimated that organization has more than 60,000 members.
"Then we kind of came back and said, OK, we have done all that. We have made a reputation for ourselves internationally. Why don't we be more involved in the community and get our employees more involved in the community as much as we can, too," Kevin said.
In the past year, P2S has grown by about 25%, the brothers estimated. After taking an additional floor in the building this year, the firm now occupies two full floors, with room in them to grow. But the firm is likely to expand even beyond that.
"Well, we just got out of strategic planning earlier this year, and we're looking at doubling in size in less than five years," Kent said. They plan to open more offices, particularly in Northern California, where they already service many clients.