That Long Beach has a law school comes as a surprise to many locals. Located on the third floor of an office building just outside the Traffic Circle, perhaps it's no wonder that the 90-year-old Pacific Coast University, School of Law flies under the radar. But its storied history, notable alumni, diverse student body and dedication to affordability tell a story of a university with staying power – a story Dean of Students Maren Carmona hopes will become increasingly known within the Long Beach community.
Pacific Coast University was founded in Los Angeles in 1927 as a collection of schools in business, architecture, divinity and law. During the Great Depression, all but the law school shut down, according to Carmona. "The law school survived, and it moved to Long Beach," she said.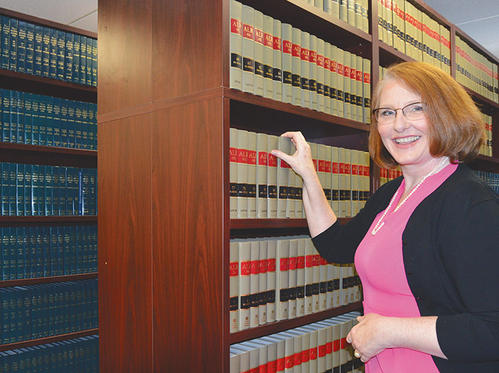 Maren Carmona is dean of students at Pacific Coast University Law School. (Photograph by the Business Journal's Larry Duncan)
The law school's founding dean, Carl Manson, kept the school going through another tumultuous period: World War II. "Dean Manson kept the school going, and he ran it out of his garage during World War II," Carmona recounted. "He taught all of the classes." Manson remained dean for 40 years. Irving Schleimer, a member of the faculty, became dean in 1981. He was succeeded by Dean William Lewis.
Dean Andrea Lua (who is Carmona's sister) now leads the university, along with Dean of Academic Standards Sherry Diamond and Carmona.
PCU has always operated as a night school and for much of its history rented out space at Wilson High School after hours, according to Carmona. In 2000, the school's board made the decision to acquire a library and establish its own facility in order to take steps to become accredited. "All those changes were made and the school grew, and we acquired accreditation in 2012," Carmona said.
Previous deans had not pursued accreditation. Schleimer, for example, was "a feisty man," Carmona, who studied at PCU under Schleimer, recalled. "He wanted to stay unaccredited. He liked the freedom of doing whatever we wanted and the 'stick it to the man' type of thing."
There have been debates among the California legal community over the years about whether to allow unaccredited law schools to operate, so when Lewis took over operation of the university, accreditation seemed like the prudent step to take, Carmona recounted.
Pacific Coast University of Law has always operated as a nonprofit. In part because of its financial structure and in part because of the school's mission, it has remained affordable. "Our mission statement is that we are to provide a quality legal education at an affordable price," Carmona said.
"We are, of the California Bar examiner schools, the cheapest statewide," she said. Funding for the school comes in the form of student tuition, which is collected on a pay-as-you-go basis, according to Carmona. Funding primarily pays for staff and instructors' salaries, as well as rent for the facility.
"We have a prudent reserve which is enough to perform what we would call a teach-out if something were to happen and the school were to close. We would have to finish graduating all of our students," Carmona said. "We never anticipate that happening, but that is at least the prudent amount that any school should maintain."
Due to its affordability and night-class scheduling, PCU is what Carmona calls an "opportunity law school," meaning that it is accessible to underserved communities. Most, if not all, PCU students have full-time employment. Many also have families, Carmona noted.
Carmona was one such PCU student. She had planned to pursue a dual master's degree in history and library sciences, but chose to enroll at PCU when her husband, a longshore worker, was seriously injured on the job. "His career possibilities didn't look like they would be that great," she said. The same day Carmona started school at PCU, her daughter had her first day of kindergarten class.
After graduating, Carmona eventually took a position as an instructor at the school. She later took a position on the board before taking on her role as a dean.
"We probably have the most diverse student body of any law school in the country. Last year one of our graduates was 81, and we had another graduate in her early 20s," Carmona noted. Since it was founded, a large share of the law school's student body has been women. "I believe currently our student population is more than half women," she said.
The first female California Superior Court Judge, Kathleen Parker, was a graduate of PCU, as was one of the first African-American court judges in Southern California, William Ross, according to Carmona.
PCU's students come from throughout Southern California because of the university's affordability and its location central to Los Angeles and Orange County. "We are probably the best situated of the California bar examiner schools because we are right in the center," Carmona said.
The university's staff of 25 faculty members includes new and established attorneys, a commissioner in a superior court, an administrative law judge, injury attorneys, public defenders and more.
PCU's program prepares students to pass the bar and enter any field of law with the exception of patent law, which requires additional training. Many graduates work in service fields of law such as workers' comp, but a fair share also work in public defenders' offices, Carmona said.
Classes at PCU are small. Its largest graduating class consisted of 52 people, Carmona estimated. "That was the second class that entered after the Great Recession [2007]," she said. There are two tracks per class year, so classroom sizes are small, she noted.
Following the recession, the university experienced a surge of small business owners enrolling at the school. "What we witnessed the year after 2009 [was that] a large number of our applicants were small business people who were fearful that their business and income might dry up," Carmona said. These individuals felt that becoming lawyers would provide job stability, she explained.
"The past year or two we have seen our application pool shrink a bit, but it's more in line with what we traditionally received, which is people all over the spectrum," Carmona said.
While bar passage rates among PCU graduates fluctuates, the last administration of the bar exam was disappointing, according to Carmona. This is not uncommon, however. For the past three years running, fewer than half of those who took the California Bar Exam passed it, according to abovethelaw.com. Last year, 43% passed, which was a 32-year low.
"Our students don't always pass the California bar exam on the first try for a number of reasons. The single most reason is that they generally don't have time before the first time they take it to adequately study," Carmona explained. This is because PCU students typically work full time and have families, so they cannot afford to take time off from their busy lives to study adequately right after finishing law school. "We have implemented a number of programs to help our students try to get the tools to pass from here on out," she added.
"My top priority is to make sure that students are getting a quality education and that anything that might be impeding them, be it personal or institutional, is addressed in the proper manner," Carmona said.
"Right now, our greatest plan is to make sure that our educational program is the best that it can be and that our graduates are prepared to go pass the bar and enter the legal profession," she explained. Eventually, she hopes the school obtains its own building or structure, but she said PCU would stay at 1650 Ximeno Ave., Suite 300, for at least another five years.
"It's amazing that we managed to reach 90 years and produce attorneys that are wildly successful and do amazing things. And that we still remain the best kept secret in Long Beach," Carmona said.
Pacific Coast University of Law is holding a formal gala on May 6 to celebrate its 90th anniversary, raise funds for scholarships and honor local graduates. City Attorney Charles Parkin will receive an award named for William Ross, while City Auditor Laura Doud will receive an award named for Kathleen Parker. Mayor Robert Garcia will be awarded an honorary juris doctorate degree for his commitment to education in the City of Long Beach.