It wasn't enough for COVID to force the cancellations of dining out, sporting events, festivals and just about everything else people do during the course of what was once termed everyday life. It also put weddings on hiatus.
People who had planned to pledge their eternal undying love to one another for the rest of their lives were told to have a seat and put off their wedding plans until this whole thing blows over. Some couldn't wait and went ahead and did their "I do's" in their backyards with a handful of masked attendants and guests, while others decided to put their love in abeyance altogether until things became safer. That time is now.
Wedding venues around Long Beach have suffered almost as much as long-engaged couples, and now they're beginning to rebound after a brutal, loveless year. Some are making changes to attract more couples and adjusting their business model to bring in more safety measures.
Most are also trying to keep up with an influx of business from couples hoping, however cautiously, to finally make their devotion to one another nice and legal.
The Grand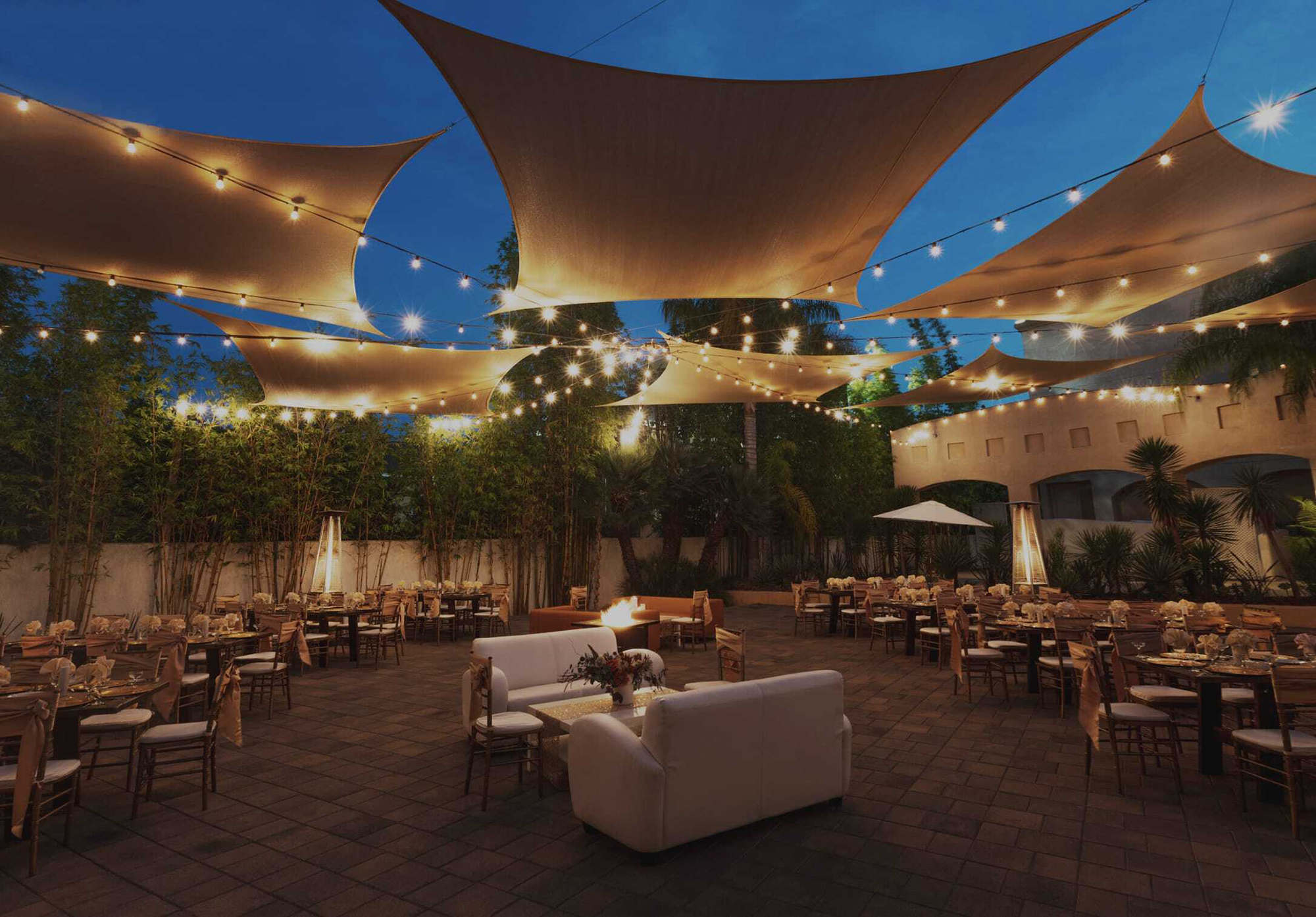 "It was lifeless," said Dan D'Sa, director of The Grand in Long Beach about the past year. "It was a beautiful shell that didn't have a heartbeat."
Among the multitude of licenses that the luxurious venue has, its restaurant license allowed the outside space to open as a parklet, functioning as a restaurant and a space for micro-weddings, brought to popularity by pandemic safety protocols.
"It felt so weird seeing just a sliver of what the celebration typically and historically has looked like when it comes to weddings," said D'Sa.
Last year, The Grand hosted only five weddings, two of which only had three people.
"You have people going into something, probably the worst thing that this world in our lives have ever experienced and will ever experience. You have something so tragic and traumatic happen and people are really still wanting to connect for the rest of their lives," said D'Sa.
Even as restrictions ease, D'Sa anticipates caution surrounding wedding planning indefinitely.
"I don't want to overcome someone's fear. I want to sympathize with them. And I want to do everything I can, so they can still entertain and have this experience," he said.
D'Sa said he anticipates that Zooming in friends and relatives will likely continue to be a part of future weddings.
Rather than creating specific wedding packages for couples to select based on COVID-19 safety protocols, The Grand has instead become more involved in the design process of weddings, creating a personal, but social-distanced, experience for each wedding.
Now, D'Sa said that the "phone hasn't stopped ringing," with around 75 weddings scheduled for 2021 into 2022. The Grand has maintained its 2019 pricing, D'Sa said.
Hotel Maya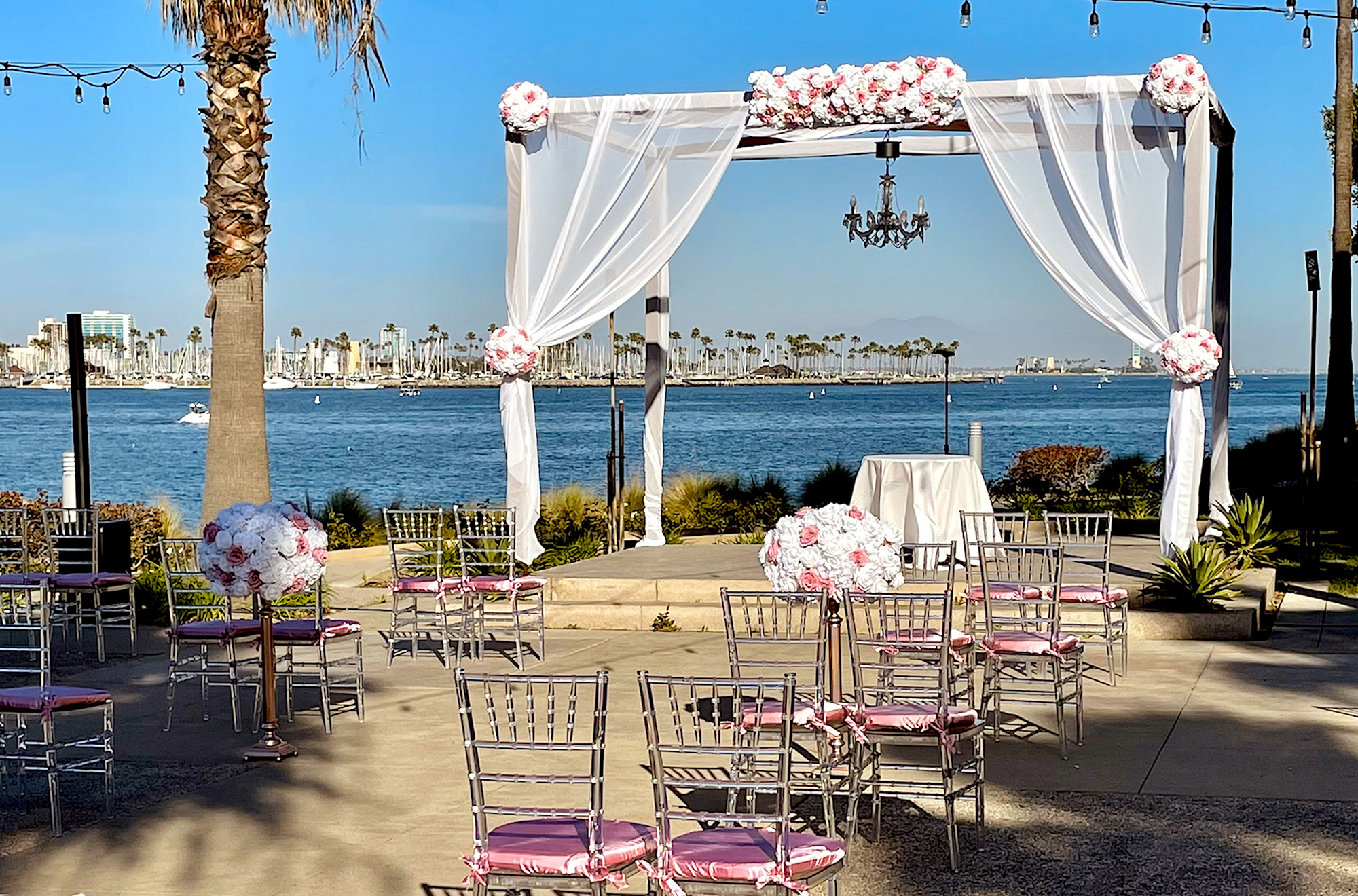 When pandemic restrictions eased a bit to allow for cultural and religious ceremonies, Hotel Maya adapted a new "Minimoni Package" that proved to be quite successful, said Lisa Duncan, director of catering and convention services.
Although the package limited the ceremony to no more than 25 guests, and did not offer food or beverages or any of the typical festivities usually associated with weddings, 15 couples utilized the package in the second half of 2020, and the package is continuing to be offered for this year, said Duncan.
"It might have looked a little bit different but the important thing was that the couples were officially able to get married in front of a smaller group of family and friends," she said.
A lot of couples are still trying to minimize, said Duncan, and she anticipates a trend of smaller weddings continuing.
Other changes include food and drink service; buffets and family style meals are a thing of the past, and servers now take drink orders at the table rather than having guests congregate at a bar.
Generally couples plan their weddings nine to 12 months out, but Duncan has seen many couples plan for late 2022, out of an abundance of caution. On the flipside, Hotel Maya has also accommodated weddings only a couple weeks in advance, for couples eager to marry as restrictions lift and their family members become vaccinated.
Hotel Maya has strived to be accommodating to guests through the unpredictability of the pandemic, including allowing flexibility in changing dates.
Pricing has not fluctuated in order to compensate for lost revenue over the past year, said Duncan, aside from "small incremental increases here and there to accommodate for the updates to the service style that we have to follow," such as more servers, for example.
In April of this year, Hotel Maya saw a 40% increase in inquiries compared to April of 2019.
"Even if it's a smaller dinner for 25 people, it's just really nice to see people celebrating and doing it safely, and having our staff here. Everyone's just really happy, it's just a really good vibe and a good energy, and we certainly missed it," said Duncan.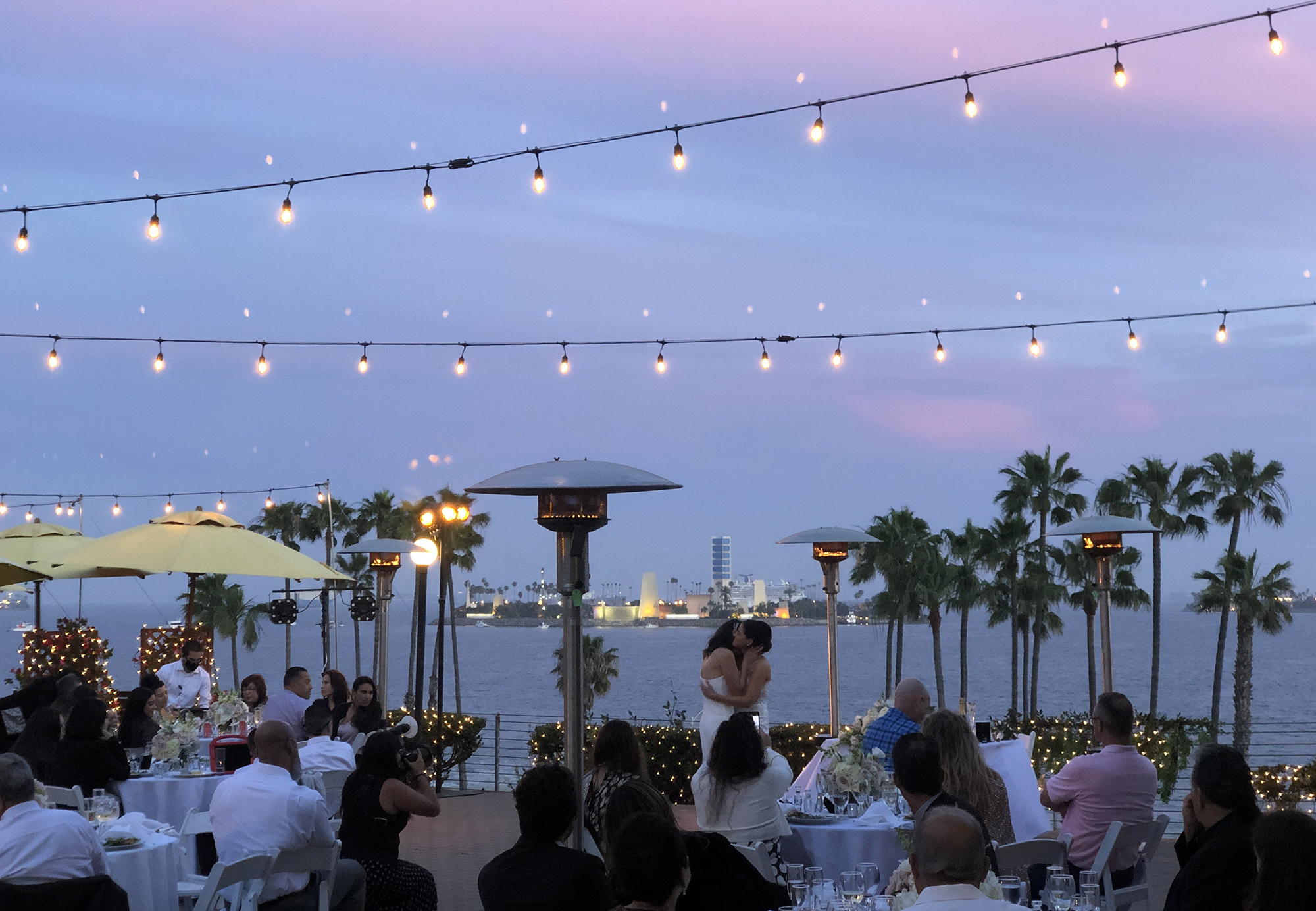 The Long Beach Museum of Art initially had 46 weddings scheduled for 2020, a number that shrunk down to only one last year, said executive director Ron Nelson.
It was a five-minute ceremony, with just the couple, the officiant, and one of the grooms' mothers in attendance.
Despite this, Nelson said, "It's uplifting, spiritually renewing. I got married here and I think the place sells itself."
Amid the museum's financial concerns over the past year, after witnessing vendors such as photographers and florists not return any deposits to couples, Nelson ensured that each couple received 100% of their deposit back from the museum.
"And it's not that I had the money to do it, but I really wanted to make sure I could find that money and make sure they were whole. I know what the cost of weddings are, I can't imagine being that close to it and then all the money you had is for naught," said Nelson.
According to Nelson, 30% of museums across the United States had to either close or use their reserves to survive the pandemic, but luckily the museum was able to receive a "large influx" of money. "Everybody really wanted to make sure we were OK," he said.
As restrictions have eased, wedding bookings have increased, with events scheduled "every day," said Nelson.
"If everything holds, June 15 is indeed the day that we go back to a real world. I think weddings are going to get larger. I think they're going to be more celebratory," Nelson said of the date the governor has slated to lift most COVID-19 restrictions.
While the museum already offered a micro-wedding package prior to the pandemic, it just wasn't advertised until the pandemic created an increased need for lower-occupancy weddings.
Additionally, prices have increased slightly, to compensate for the losses of the past year.
Rancho Los Cerritos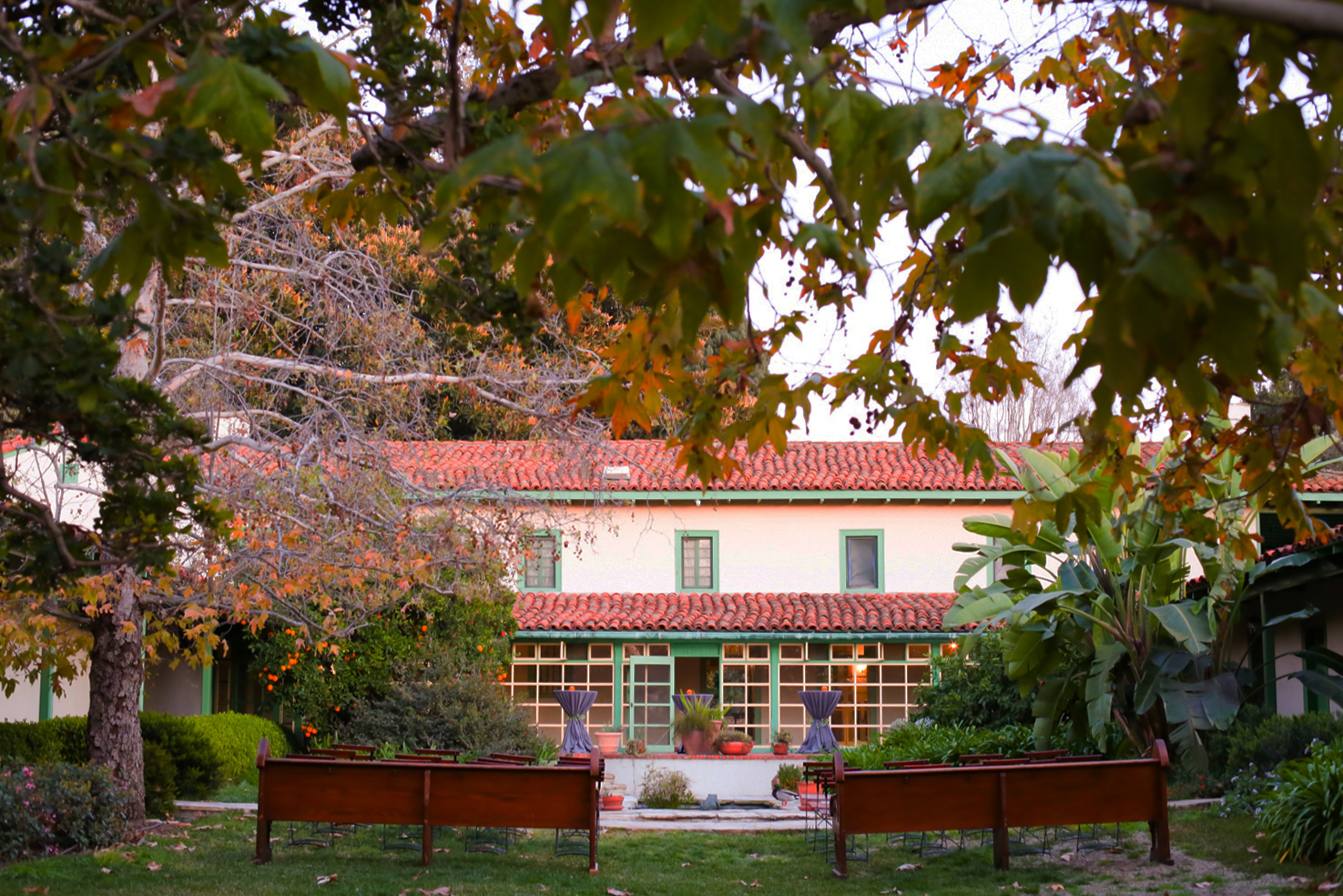 Rancho Los Cerritos, "a hidden gem in Long Beach," according to special events coordinator Mallory Rydell, is unique in that it was able to remain open to the public for the majority of the pandemic as a public garden and museum.
Although its weddings were drastically reduced over the past year, with a shift toward small, intimate, and mostly livestreamed events.
To accommodate for the changing and social-distanced needs of couples, Rancho Los Cerritos developed an elopement and micro-wedding package, complete with a livestream add-on.
As an already outdoor-only venue, not much had to be modified, said Rydell. Changes including a shift in food service, and of course an increase of COVID-19 safety precautions.
On an average year, the gardens host around a dozen weddings per year, but in 2021, that number has doubled, said Rydell.
While guest counts have downsized drastically over the past year, Rydell said most couples have kept their budgets the same.
"That allows them to have more amenities or customization for their guests, more elaborate party favors, more elaborate meals, even providing customized masks or PPE for their guests. So it gives them a little bit more leeway to have kind of more elaborate customized experiences," she said.
While the micro-wedding has become the go-to style amid the pandemic, Rydell said she foresees a return to large events.
"I think people are ready to party," she said.
The Wedding Center
The Wedding Center is not a venue, but instead offers affordable and efficient weddings to couples throughout Southern California, providing both the marriage license and the ceremony on the same day, without a reception or other festivities.
Many of the couples served by the center have urgent needs to get married, such as for immigration or health insurance reasons, said Peter Otto, manager and officiant at the center.
Through the pandemic, the center instituted "drive-up" weddings, which will continue to be offered even as restrictions ease. Typically, weddings could occur at the site, or at various other locations such as the beach or at the couples' home. The center has served over 10,000 couples in its 14 years, said Otto.According to Otto, the Long Beach location had to temporarily close amid the pandemic, and it now solely operates out of its South Bay location, but he hopes for a return to Long Beach soon.
Since the pandemic, the office has only been managed by two people including Otto, which he said was difficult particularly when the county clerk's office was closed, and people instead called the center for marriage licenses.
"That was hard taking all those calls during the time, but overall we found that people during the pandemic were very nice, very understanding, very grateful for the service we're providing. And we had, I would say, a pleasant time serving people during the pandemic," said Otto.
Prices have remained consistent through the pandemic, except special discounts that were previously available will no longer be available.