The longtime home of the El Dorado Park Community Church will soon be demolished to make way for a 40-home, gated community. The church vacated the six-acre site located at 3655 N. Norwalk Blvd. in February, and demolition of the current structures is scheduled to begin in March, according to Matt Hamilton, a partner at Newport Beach-based community planning firm Preface.
"We're excited. It's going to be gated and private with paseos and walkways," Hamilton said. "Big streets and lots of parking within the project. It's kind of just a traditional, single-family subdivision that you don't see too often anymore on infill sites."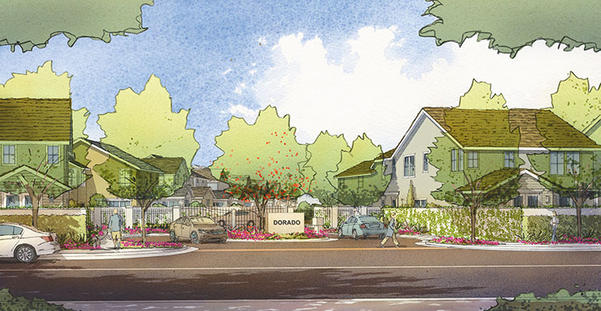 The gated community being developed by Preface will include 40 single-family homes ranging from 2,475 to 2,700 square feet and will sell for between $800,000 and $900,000, according to Preface partner Matt Hamilton. Residents will also enjoy a walking trail, a tot lot, barbeque and open-space areas, as well as private yards on their property. (Rendering courtesy of Preface)
The homes will range from 2,475 to 2,700 square feet and are expected to sell for $800,000 to $900,000 based on resale values of the surrounding area, according to Hamilton. Preface has hosted several outreach meetings for the surrounding community, which thinks the project is a good fit, Hamilton said.
Inside the community, which will be managed by a homeowners association, residents will enjoy a walking trail, a tot lot, barbeques, picnic tables and an open-space grass area, as well as private yards on their properties. Hamilton described the single-family homes as having a big, open concept, which will include a kitchen, living and dining areas, loft space, a laundry room and four bedrooms.
"Since Eldorado Park Estates, which this is kind of an extension of, is a really great family neighborhood – they've got a great neighborhood school over here, Newcomb Elementary – we really think there is a good demand for families," Hamilton explained. "There's just no new homes in this area. These were all built in the '50s and '60s mostly."
Though the property was vacated this year, Preface purchased the property from the church two years ago. The church then entered into a lease agreement with Preface while it searched for a new home. Hamilton said the buildings were too much upkeep for the church that first bought the land in 1961 and broke ground for construction two years later.
During its 53 years of ownership and two additional years of leasing, El Dorado Park Community constructed several buildings and erected a towering cross just outside the fellowship hall, which a member of the church is working on relocating. From 1971 to 1981, the church had peak attendance at 1,800 parishioners per week.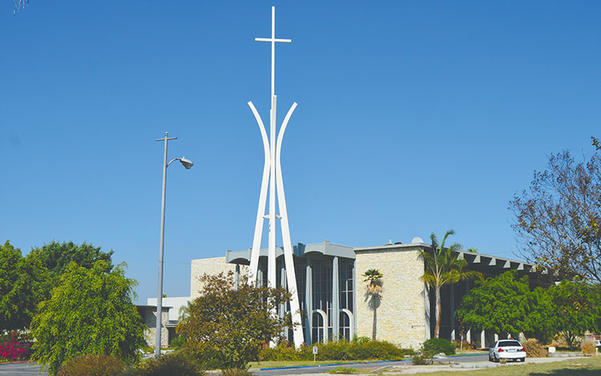 After being located at 3655 N. Norwalk Blvd. for 55 years, El Dorado Park Community Church vacated the premises in February. Newport Beach-based community planning firm Preface will begin demolition of the site in March to make way for a 40-home gated community, estimated to be completed in late 2018 or early 2019. (Photograph by the Business Journal's Larry Duncan)
With dwindling numbers and members who were located in Orange County, the church decided to sell the property and relocate to a smaller facility closer to its members. In 2014, the church sold the property to Preface for $6.5 million and entered into the lease agreement. Since vacating, the church has rented a location in Los Alamitos but is still looking for a permanent home.
The project has been through the design review process but is waiting for the California Environmental Quality Act (CEQA) document to circulate for the mandatory 45 days, which is up on December 5, according to Derek Burnham, principal at Burnham Planning & Development.
"From there, we go to a planning commission hearing, and then we'll have a city council hearing following that because one of the actions is to change the zone here," Burnham said. "It's an institutional zone, and they want to go to a residential zone, obviously more compatible with its surroundings. So that's the goal here. We don't have firm dates for either of those two hearings yet."
Burnham explained that with the new zoning, the project will actually fall two homes under the maximum allowable density. He said this is because the approach of the developer was not to maximize homes but to create a living environment with amenities people will enjoy.
According to Hamilton, the entire project will cost around $30 million, and if work starts this spring as planned, he estimates the project will be completed in late 2018 or early 2019.