As the economy chugs along with steady business growth, Long Beach commercial real estate trends remain relatively unchanged in all sectors, with mild changes in lease rates and vacancy. Much of the success in terms of rental rates and occupancy levels of commercial product is being determined by its type, such as traditional office space versus creative office space.
Office
"Creative office space has got the buzz. It's very nice looking and interesting space. The Millennials are a big factor in that," Robert Garey, a senior director at Cushman & Wakefield, said. "They are looking for more inspirational space – something that gets people's interest and focus, and makes them want to come to work."
Creative office space is often more open than traditional offices, utilizing common areas to promote collaboration between employees. It can be pricey to convert traditional office space to creative space, but Garey said he expects to see the trend continue as property owners adapt to the shifting landscape to attract tenants. Building upgrades to creative space could also be motivated by owners wanting to sell the property in the near future, Garey explained.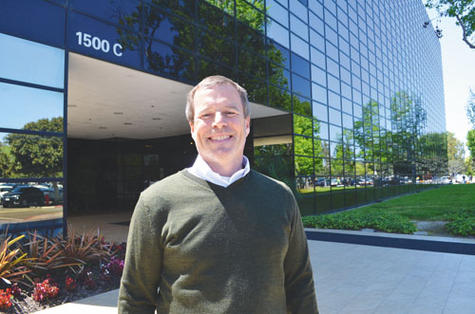 The Children's Institute, a nonprofit organization that offers services to child victims of domestic abuse, recently signed a 20,069-square-foot lease on the ground floor of 1500 Hughes Way, near the 405/710 interchange. Pictured is Children's Institute Executive Vice President Eugene Straub. (Photograph by the Business Journal's Pat Flynn)
In the suburban Long Beach market, the overall vacancy rate for office space was 10.1%, according to Cushman & Wakefield's first quarter market report. The vacancy rate in the Downtown Long Beach market was much higher at 18.5%. CBRE Senior Vice President David Smith said two-thirds of downtown vacancy can be attributed to Molina Healthcare vacating 140,000 square feet in the World Trade Center building.
Office buildings being converted to residential units, such as the plans recently announced for the Ocean Center building at 110 W. Ocean Blvd., is a trend that Garey thinks will continue as well. He noted that there are other office building owners who are considering converting properties, which would tighten up the office market in two ways – by removing product from the market and by forcing displaced companies to occupy currently vacant space.
"Hiring will follow that growth path, and that generally drives demand for office space. But companies are finding they are a little more efficient in their use of space, so we're not seeing as much demand even though the economy is humming along at a nice, healthy pace," Garey said. "That is keeping a cap on the amount of absorption at the moment."
Absorption of space has remained relatively flat due to companies leaving and other companies taking their place. Even though new businesses may be moving into the area, there is not much net growth because those firms are often moving into space previously occupied by another business that is moving out of the area.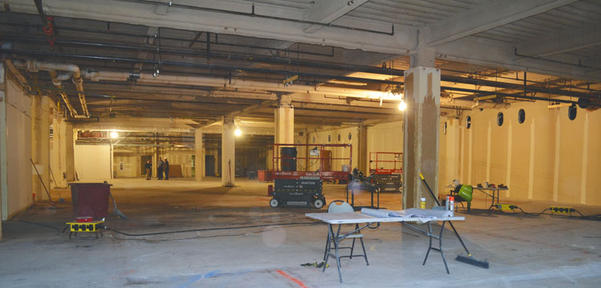 Tenant improvements are underway at The Children's Institute's new office. (Photograph by the Business Journal's Pat Flynn)
Despite the moderate vacancy rate, lease rates on office space have continued to rise slowly due to upward pressure on rates in surrounding areas, Smith explained. Lease rates in surrounding markets are growing much faster, which means Long Beach remains a good value alternative to areas such as El Segundo, West Los Angeles, Irvine and Newport Beach, he added.
The current average lease rate in downtown Class A buildings is $2.85 per square foot, while Class B stock is $2.14, according to Smith. Class A space in the suburban market is leasing at $2.74 per square foot, and Class B is $1.95. Smith noted that in both markets the Class B rates are skewed downward by other office stock. He said quality Class B product in those markets actually go for between $2.30 to $2.55 per square foot downtown and between $2.10 and $2.25 per square foot in the suburbs.
"The last few months have seen a big uptick in activity in tours and interest from various tenants, but we have not seen a lot signed in the way of new leases. But the interest level and the activity level throughout both markets seem to be as strong as I've seen it in years," Smith said. "Certainly there is no sign of slowing down at this point. You never know what global events might change things, but at the moment I would expect strong leasing activity throughout 2018 and into 2019."
Retail
The environment of the retail real estate market continues to shift away from traditional shopping centers and stores, with a heavy emphasis on food, experiential shopping and service-based business, according to Noël Aguirre, a principal with Lee & Associates Commercial Real Estate Services.
"Chain stores and similar concepts are closing shop because of their large footprints, and they are getting hit more with the online competition," Aguirre said. "But smaller boutique stores have a fan base because they offer something more unique and offer good customer service. At the end of the day, people still want to talk to people and physically see products."
On the southwest corner of Lakewood Boulevard and Carson Street, businesses are beginning to open at Burnham-Ward Properties' 26-acre Long Beach Exchange retail center. The center emphasizes the experiential landscape of retail through its walkability and architecture. Its key feature is The Hangar, which will house 14 small, local food vendors and boutique retailers.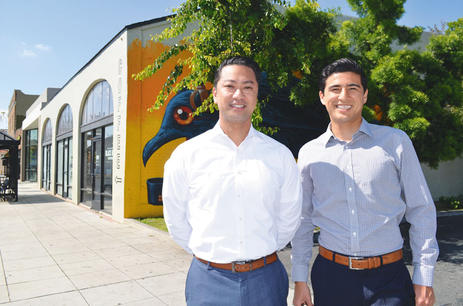 Lee & Associates Principal Noël Aguirre and Senior Associate Sean Lieppman recently sold Virginia Village, a small retail strip located at 5365-5373 Long Beach Blvd., to the undisclosed owner of a lifestyle retailer. Two of the three storefronts are leased by Black Ring Coffee and Northside Records, with the last to be occupied by the owner. Virginia Village was a former redevelopment agency site, which features two buildings built in 1925 and 1945. Brett and Marry Walker purchased and restored the property in 2016. (Photograph by the Business Journal's Pat Flynn)
In the downtown market, Aguirre said most of the leasing is just small infill. He noted that much of the ground floor retail is occupied and stable. Continued investment in the construction of residential units in Downtown Long Beach makes it a desirable location for retailers big and small, which is why that retail market has remained strong, Aguirre explained. More units mean more foot traffic, which means strong sales for downtown retailers.
The vacancy rate for retail space in the downtown market is 4.1%, according to a Lee & Associate's first quarter market report. Vacancy in the suburban market is 4.7%.
Paul Phillips, an associate with INCO Commercial, said retail lease rates have been relatively flat overall, but are strong. He said the company's buildings in low-traffic areas are being marketed at $2 per square foot, while more desirable locations are listed upward of $3.50 per square foot.
In small retail centers, it can be difficult to fill the last one or two vacancies, according to Phillips. He explained that, because eateries and services are often the desired uses, centers often can become oversaturated. However, Phillips noted that properties that can handle food or medical uses are not often on the market long.
"It's been tough to get these less desirable spaces where they sell soft goods like clothing and that kind of thing," Phillips said. "Food is on fire. That is easy to lease."
Marcus & Millichap First Vice President of Investments Joe Linkogle said the buyer pool for retail properties remains strong. However, he noted that last year's fear of rising interest rates has become a reality, which makes buyers more sensitive to cap rates.
Increasing interest rates has already led buyers to seek price adjustments, Linkogle explained. But this has not stifled the market, as other fundamentals such as leasing activity remain strong, he added. This shift will likely mean a halt in sales price appreciation, which Linkogle said he believes has plateaued.
Similar to Phillips, Linkogle noted the shift to food and service-based businesses in retail locations, including barber shops, salons, massage parlors and eyebrow threading – basically anything you cannot purchase online. Properties with service-based tenants are appealing to those looking to purchase.
"Nowadays, when we market a property, one of the highlights on brokers' marketing packages for a shopping center are '70% Internet-resistant tenants,' meaning they are not selling goods," Linkogle said.
Industrial
While e-commerce has negatively impacted retail by forcing the closure of numerous big-box stores, it has had the inverse effect on the industrial real estate market, which is flourishing. Overall, in Long Beach and the South Bay, the industrial market had a strong first quarter with extremely low vacancy and high demand – an ongoing trend for quite some time, according to Lance Ryan, executive vice president of Watson Land Company.
"We're finding that customers are planning much further ahead in terms of lease renewals and extensions. We have had several customers come to us and ask for extensions a year to a year and a half in advance," Ryan said. "They are just realizing that there are not a lot of other options. At the same time, I think what's encouraging to see at this point is that they are very confident with where we are in the business cycle and they are very confident in their businesses."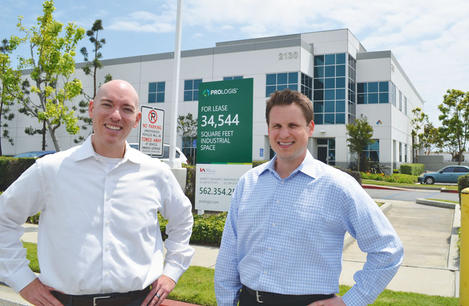 Lee & Associates Principals Brandon Carrillo, left, and Garrett Massaro have a 34,544-square-foot industrial building for lease at the Prologis South Bay Distribution Center located at 2130 Technology Pl. The Class A building includes 1,550 square feet of office space and is on an overweight corridor. (Photograph by the Business Journal's Pat Flynn)
Being near the ports of Long Beach and Los Angeles, third party logistics companies utilize a large portion of the traditional industrial space in Long Beach and surrounding areas such as the City of Carson. With a vacancy rate of just over 1%, Ryan said there is just no space in the area to produce enough industrial space to keep up with demand. Even recently announced projects such as Pacific Pointe Northwest at Douglas Park and the Pacific Edge project at the former Redondo Avenue post office site, which will deliver 494,000 and 424,050 square feet, respectively, will not ease the market, Ryan said.
The average asking rent and sales price for industrial space continued to increase during the first quarter, according to a Lee & Associates report. Average rent increased to 92 cents per square foot, while the average sales price increased to $169.02 per square foot. Lee & Associates Principal Brandon Carrillo said he expects rental rates to continue increasing through the fourth quarter, possibly reaching the $1-per-square-foot mark, before values begin to correct and soften. However, there is a cloud of uncertainty hanging over industrial users.
"There have already been some rumblings in terms of how tariffs on China are going to impact . . . exports," Carrillo said. "There are concerns that some contracts are being scaled back because of these tariffs and [concerns about] whether or not Chinese are still going to be consuming California products. How that trickles down to our local markets, time will tell."

The Granite Group of California is developing a 10-suite industrial condominium complex at 1333-1351 Orizaba Ave., which is still under construction. The company, which is led by Robert Bellevue, is in escrow on one suite and has negotiations underway on others, according to principal Brandon Carrillo of Lee & Associates, which is handling the sales. Suites range in size from 2,470 square feet up to 7,182 square feet and can be combined to create larger spaces. (Photograph by the Business Journal's Pat Flynn)
A major shift in the industrial market during the first quarter was a slowdown in inquiries by the cannabis industry for industrial space in the area, Carrillo said. When the industry was introduced to the area, countless collectives were interested in and purchased or leased space for exorbitant amounts of money. Carrillo likened this phenomenon to the Gold Rush and the dot-com bubble, where the masses flocked, oversaturating the market, but only the savviest truly succeeded in the end. He said it is the natural progression in these types of situations.
John Eddy, executive vice president of Coldwell Banker Commercial BLAIR WESTMAC, noted the same trend regarding the cannabis industry. He said his office would receive multiple inquiries per day from the cannabis industry for vacant properties. So far in 2018, he said he has received very few calls from those users. He said that most of the pioneers in the field have already leased and purchased space and are in the process of setting up shop.
"One other trend on the industrial side of Long Beach is that traditional users are not as prominent as before. We're seeing more creative uses coming into town," Eddy said. "The down and dirty industrial is being transformed into cleaner uses with a creative style."