Last year, U.S. homeowners spent more than $300 billion on home improvements, according to the Leading Indicator of Remodeling Activity (LIRA). The LIRA is released by the Remodeling Futures Program at the Joint Center for Housing Studies of Harvard University (JCHS), which projects a 6.7% growth in remodeling expenditures for 2017 totaling around $317 billion.
"Growth in home prices is continuing at a healthy pace and encouraging homeowners to make remodeling investments," Chris Herbert, managing director of JCHS, said in a January report. "Home sales are remaining on an upward trajectory as well, and this coupled with continued growth in remodeling permit activity suggests another strong year for home improvements."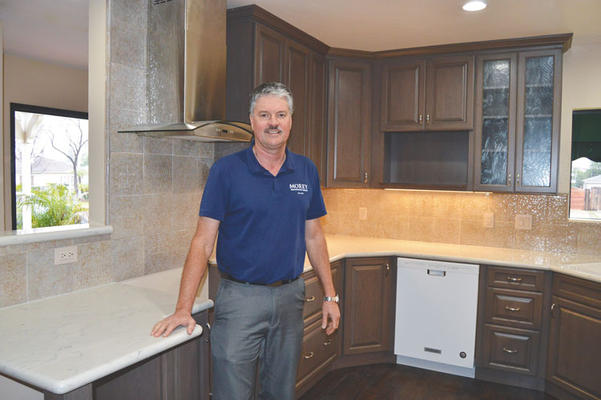 Ben Morey, president of Morey Remodeling Group in Signal Hill, said that due to rising home prices, more people are opting to remodel their current home rather than purchase a new one. (Photograph by the Business Journal's Larry Duncan)
Ben Morey, owner of Signal Hill-based Morey Remodeling Group, said rising home prices coupled with very few homes for sale on the market has encouraged residents to stay in their homes longer. He explained that buying a new home that meets every need and expectation without remodeling is increasingly difficult, so many opt to remodel where they are. Other factors could be their kids attending surrounding schools or a general love for the neighborhood they are already in.
According to Morey, many of his clients are small business owners, which is another reason he has seen a steady increase in business. He explained that under the new Trump administration, owners are more optimistic about their business, with proposed tax cuts that could boost profits.
"The trend is people we have talked to about doing projects have come back and said let's go ahead and start this design and make this project happen," Morey said. "I think it's a combination of having looked in the marketplace and what it would take to move somewhere and what that cost would entail, versus staying where they are at and making changes to their home to make it more livable."
Morey's company has 11 employees and takes on a maximum of six projects at a time. This is to enable the company to give each project the attention it deserves, Morey said. Each job has a lead carpenter on-site who deals directly with the homeowner and oversees the project. The company also employs two designers who layout the projects right down to the paint color so that the quoted completion timeframe is met.
"I think the future, as I look at it, for remodeling is going to just keep going up. The difficulty of going out into the marketplace and buying a home that will be something you can move into without having to do anything is very small right now," Morey said. "That obviously encourages people to remodel where they are at, if they're comfortable with the area they are in."
When it comes to remodeling a home, the price tag is always at the forefront of the homeowner's mind. According to homeadvisor.com, the average cost of a major kitchen remodel in Los Angeles is more than $60,000, with minor remodels averaging about $20,000 – just for the kitchen.
To help with these costs, homeowners have multiple options for loans. Raul Camaligan, branch manager of Skyline Home Loans' Downey location, said his company finances remodel loans and can even add it onto another loan.
"For example, you have a $100,000 loan and you wanted another $100,000 in renovation money and you don't have the funds," Camaligan said. "So what we do on that same $100,000 loan, we just finance $200,000 into it, and now they are paying into one loan. Most people have retirement funds, checking and savings, but they don't want to tap into their hard-earned cash."
Another option for funding is to apply for the Home Energy Renovation Opportunity (HERO) program, the largest Property Assessed Clean Energy (PACE) program in California. HERO offers financing for energy-efficient, environmentally friendly home improvements.
Recently, the HERO program announced that Long Beach homeowners had surpassed $25 million accessed for green home improvements. The program covers larger, expensive projects such as solar panels and drought-tolerant landscaping; however, it can also cover some of the cost of remodeling projects. Water-efficient toilets and shower heads, energy-efficient doors and windows, energy-saving paint – items such as these can be financed by the HERO program during a home remodel.
"The majority of what we use for HERO is usually cool roof, energy-efficient windows and doors, exterior coating, which is a special coating which is a heat reflective for the exterior," Uri Benhaim, owner of Home Renew 360, said. "LED lights and dimmers – there are so many items."
While HERO will not cover materials such as wood or tile for a remodeling project, Benhaim said his company will often integrate HERO funding into other funding sources to cover the energy-efficient items.
Aside from the environmental impacts, Matt Bevens, director of marketing communications for HERO, said the program creates a boost for the local home improvement industry, which creates jobs. Home Renew 360 began operations in August 2015 with five employees and has already increased to 25.
"I would say 70% to 80% of our business is the HERO program," Behaim said. "I can tell you that without the HERO program, many of the homeowners that we go to would not be able to improve their house because they don't have the perfect credit."
HERO is the largest PACE program available in Long Beach and is a public-private partnership between Renovate America and L.A. County, according to Bevans. He said the reason HERO has become so popular is because it is not paid back as a standard loan but rather through an additional line item on the homeowner's property tax. Also, the financial obligation is attached to the home, not the homeowner. If a home sells, the obligation is transferred to the new owner.
"There's a whole group of people out there that didn't qualify for any other source of financing before that can now improve their homes," Benhaim said. "These are usually things that are kind of necessities. It's not interior paint or a new countertop. It's roofing, windows, insulation, central heat or air."