When Imran Ahmed, general manager of the Long Beach Marriott, was told by an employee last month that a disgruntled coworker was plotting to commit a mass shooting at his hotel, his first response was to remain calm and call the Long Beach Police Department (LBPD).
A lot of things went through Ahmed's mind – "Is this being blown out of proportion? Can this really happen?" But he recalled following his hotel safety training to a tee, practicing calmness in a potentially hazardous situation. Ultimately, a potential mass shooting was thwarted. The LBPD announced in August that a Long Beach Marriott employee was arrested at his Huntington Beach home when, after serving a search warrant, they recovered various weapons.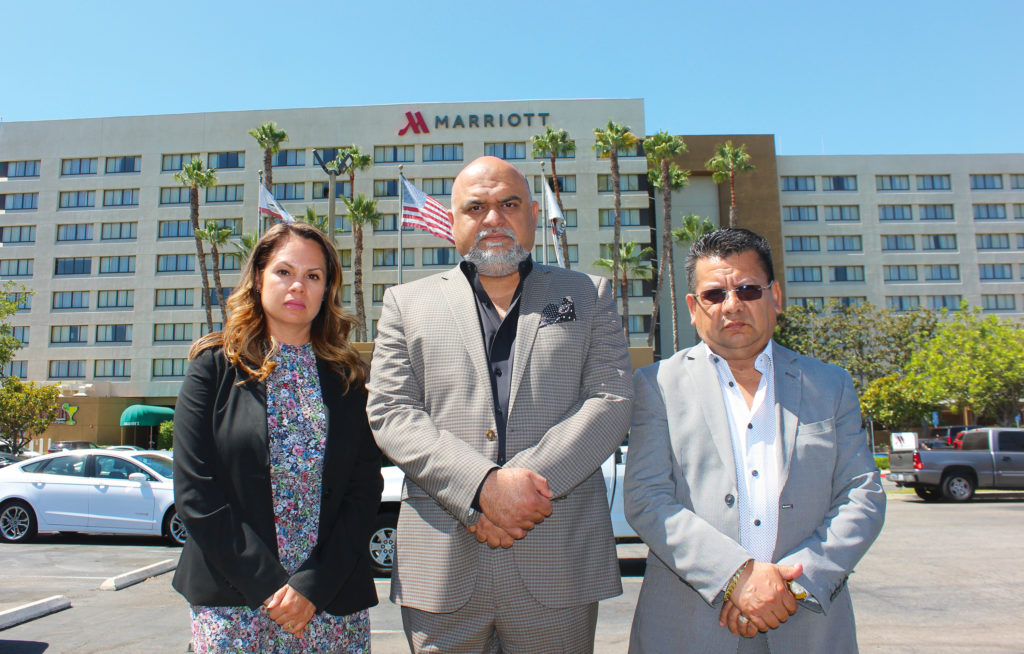 The suspect had hundreds of rounds of ammunition and tactical gear, including high-capacity magazines and an assault rifle, according to the LBPD's press release of the incident.
In light of the fact that a potential mass shooting almost took place at the hotel, officials with the Long Beach Marriott made the decision to arm their onsite security personnel to combat any future threats. "The decision to arm them came right after the incident," Ahmed said. The choice to arm security was not made lightly, he added. Ultimately, the enhanced security was approved by hotel executives after much discussion and gathering feedback from the LBPD. "Now, are we going to continue this forever? I don't know," Ahmed said. "It wasn't a panic decision. It wasn't an impulsive decision to give everybody guns. We wanted our guests to feel safe."
One of the key elements of addressing an emergency workplace situation is having proper training, said Ikenna Mmeje, chief operating officer for MemorialCare Long Beach Medical Center and Miller Children's & Women's Hospital. Both medical facilities have a safety policy in place that details what to do in specific emergency situations. The facilities have access to a workplace violence prevention trainer.
The trainer instructs different department employees on the physical layout of their workplace so they know where to go during an emergency, Mmeje said. "They [also] receive training about how to observe aggressive behavior, how to respond to that, how to de-escalate that and what to do in the unfortunate event that you have a critical incident."
In addition to the trainer, the medical facilities use a multi-disciplinary team that consists of security, human resources (HR) and employee assistance personnel to identify threats on the campus, Mmeje said. The policy outlines what employees should do in the event of a "moderate" or "high risk" situation.
The safety policy is also supported by various wellness programs that emphasize healthy behaviors, such as physical and mindfulness exercises. "These are all aspects of what we deem . . . our Good Life [Employee Wellness] Program," Mmeje said. "We have emphasized healthy communication in a way to not only emphasize gaining another teammate's perspective, but also enriching the relationship. It may seem like a very small thing, but those interactions really make an impact on the team members and how they respond to certain situations."
The LBPD has emphasized the U.S. Department of Homeland Security's slogan of "see something, say something" in recent years, according to Robert Smith, LBPD commander for the special investigations division. The intent of the slogan is to encourage community members to speak up about their knowledge of any potential threats. "When we say that, oftentimes we talk about crime in the community," Smith said. "But it's also a 'see something, say something' in your workplace."
The LBPD conducts active shooter drills, in partnership with entities such as the American Red Cross, at local institutions like the Long Beach Unified School District and Dignity Health – St. Mary Medical Center. "Partnerships are absolutely vital," Smith said. "We want to make sure that this stuff never happens."
Communication is a major reason why the potential emergency incident at the Long Beach Marriott was prevented, Ahmed said. These protocols are emphasized during safety meetings hosted every last Tuesday of the month by the hotel's HR director. The meetings vary in topics, such as how to properly lift heavy items, being aware of loose wires and what to do in emergencies. "At any given time, we have over 200 people in the hotel," he said. "We are trained to handle things if there is an earthquake, storms, what have you. . . . You can't show your panic to everybody – to your associates or to your guests. The idea is to keep the calmness, even if you're in an evacuation situation."
A few years ago, the Long Beach Area Chamber of Commerce offered mass shooter training drills and workshops through the Long Beach Hospitality Alliance, according to Jeremy Harris, senior vice president of the chamber. Although the alliance is no longer offering the training, Harris said dialogue to revive a similar service for the community started after the recent incident associated with the Long Beach Marriott.
A workplace violence workshop will be held sometime this month for interested business owners and community members. The workshop will be hosted by various HR firms, in addition to the state-mandated harassment seminars. Senate Bill 1343, approved by California Gov. Gavin Newsom in September 2018, requires that businesses with more than five employees provide at least two hours of sexual harassment training to all employees by January 1, 2020. The training would then have to take place every two years, according to the California Legislative Information website.
Specifics about the topics and actual training involved for both the harassment and violence workshops will be finalized sometime this month, Harris said. One of the entities involved is HR NETwork, Inc., a Garden Grove HR service firm.
Audrianne Adams Lee, owner of the HR NETwork, Inc., said violence can stem from simpler workplace issues that eventually grow into something serious. Addressing harassment in all its forms is important for creating a comfortable workplace, Adams Lee said. Although workplace violence is sometimes an escalation of harassment, she emphasized that there can be other factors at play. "For example, we sometimes see people that go in and are violent in the workplace after they have been terminated or just having trouble with a coworker," she said. "Sometimes it's even a personal issue that is brought to the workplace."
Small businesses are perhaps even more at risk compared to bigger corporations, Adams Lee noted. Family-owned small businesses can sometimes be caught off guard when a drastic situation occurs, she added. "What happens is that policies and rules and expectations and norms get really blurred, as opposed to being in a big company, where things are very specific," Adams Lee said. "My strategy for small businesses is that you can closely work together, but it's a business at the end of the day. You still need to have some line of distinction [and know] what the rules are so you can [have] a civil workforce."
Harris said it's an unfortunate reality that mass shootings are an ongoing trend in the nation that "may not be going away anytime soon." However, he said that the frequency of these types of incidents is exactly why people should have a plan in place for all emergency situations. "I think businesses need to be vigilant and ready for anything that may happen," he said. "The chamber is just going to serve as that platform to offer these services and be a resource for our members and the greater Long Beach business community."